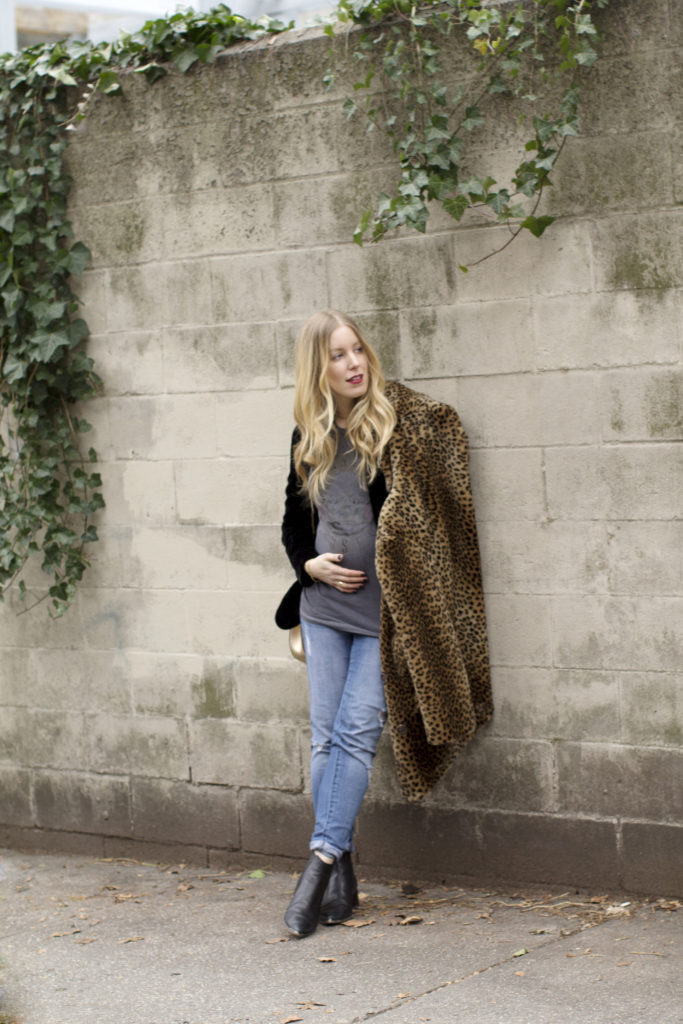 It's a new year, so that means new resolutions—especially style resolutions—to make. Of course my style is about to change this year with this growing bump and the impending mommy lifestyle, but I still want to keep my fashion sense through it all.
With my new curves and embracing new styles for maternity clothing, I've come up with some New Year's Resolutions that anyone can follow.
My style resolutions for 2017 are:
To mix more affordable fashion with my designer pieces.
Velvet is a MAJOR trend right now, so instead of investing in some 3.1 Phillip Lim boots that I'll only wear for a season, I'm going to only get a couple pieces that are wallet-friendly and are versatile enough to wear through the course of the season, like this velvet blazer, which I'll wear now and hope to even next winter (sans the bump). Even if I don't wear them next winter, I won't feel guilty.
Not to be concerned with labels and accept hand-me-down items. This is especially for maternity clothes that I'm only going to wear for a few months. Yes, I'm a stylist and a blogger and am expected to be on top of the latest and greatest in fashion, but if another fashionable friend is offering some of her hand-me-downs, I'm not going to turn them down. These maternity jeans are SO comfy and stylish enough to wear all of the time, yet I have no idea what brand they are. It could be Cosco for all I know and it wouldn't matter to me. They look good and fit well, so who cares?
To keep my comfort, but without sacrificing style.
If there's one thing I've learned from being pregnant, it's that you should embrace being comfortable. I can't wear heels or heeled boots for long, or at all anymore and my favorite YSL booties no longer fit thanks to my swollen feet, so I'm pretty limited as far as what shoes I can wear. Flat boots and sneakers are not only more practical, but can actually look great dressed up. My hubby bought me rare Adidas NMD's (apparently known in the sneaker world) and I can't wait to wear them on my photoshoots when I'm on my feet all day. There's nothing less fashionable than a girl with sore feet, complaining all day!
To embrace trends, but not blindly follow them, while sticking with what I love over what's the latest thing.
Leopard print is having a big moment right now, but this vintage coat is a perennial favorite and I would wear it anyway. Kate Moss is a style icon on mine and I can see her in this entire look, but not because it's on trend or not.
Dress in only what suits my body.
My bump is growing gradually each day to the point where some days I look at my closet and am not sure what's going to fit today. I never was a body-con or tight-clothing kind of person, but I'm finding it to be WAY more flattering on my new curves than my usual over-sized or flowy tops. It also gives me more confidence when I wear something that shows off my figure than trying to hide it because that could now make me appear even bigger.
What are your style resolutions this year? Let me know in the comments below or on social media. I'd love to hear!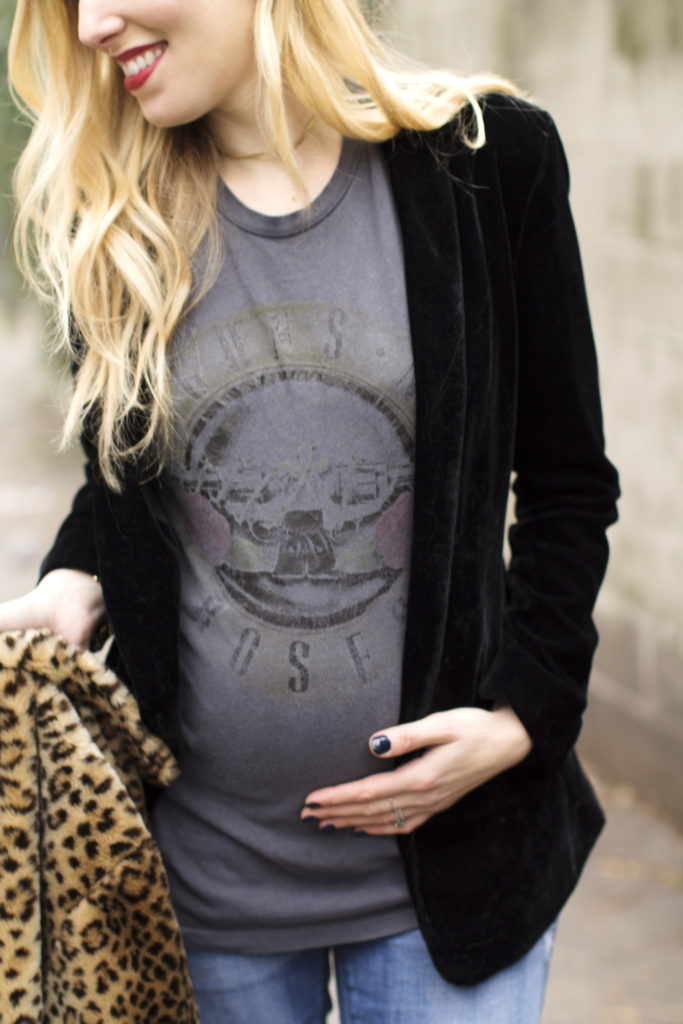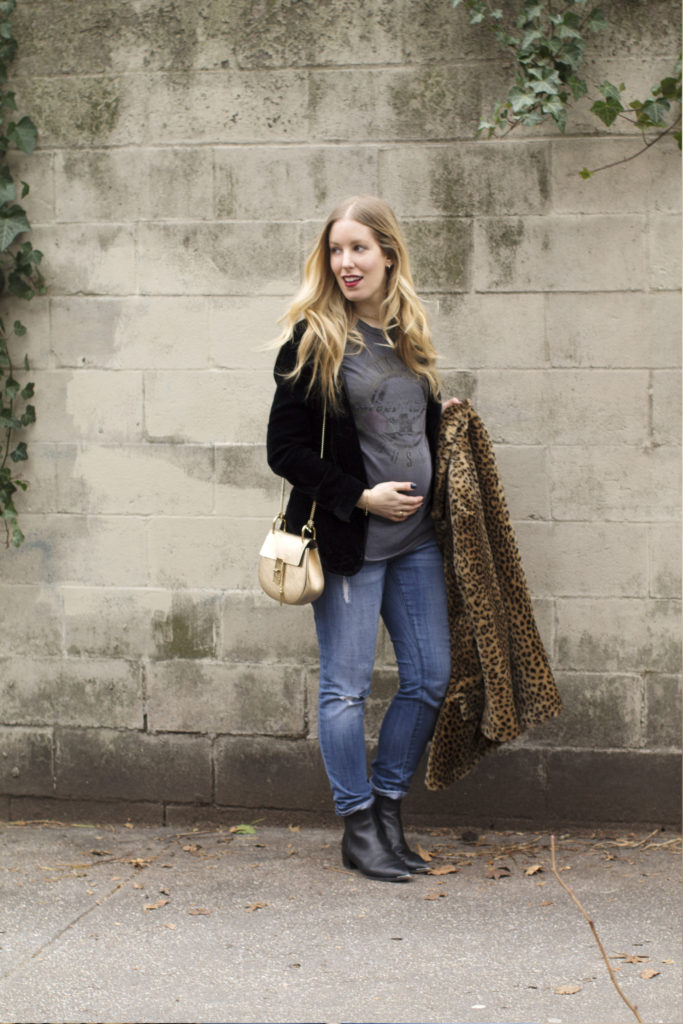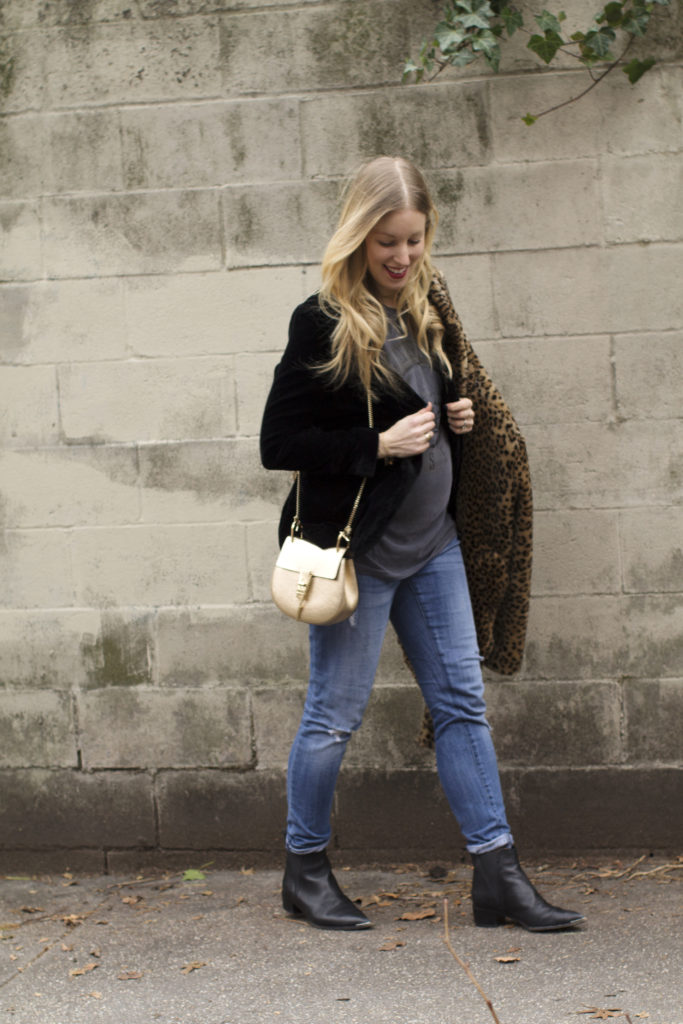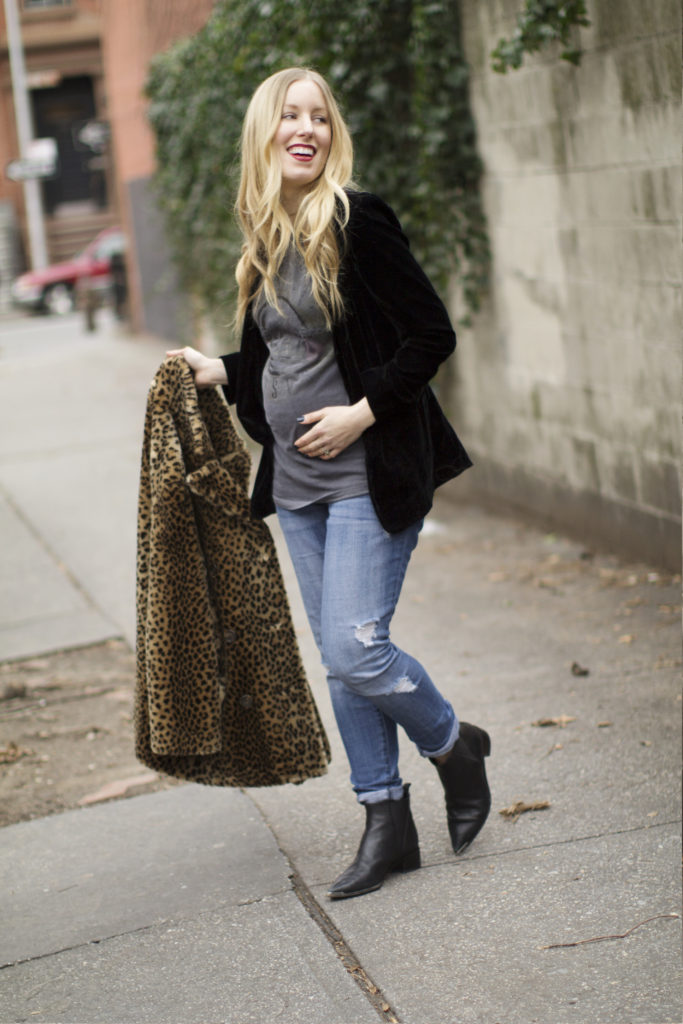 Zara blazer // Lucky Brand tee (similar here) // hand-me-down maternity jeans (similar here) // vintage coat (similar here) // Chloe bag // Acne boots
{SHOP THIS POST}