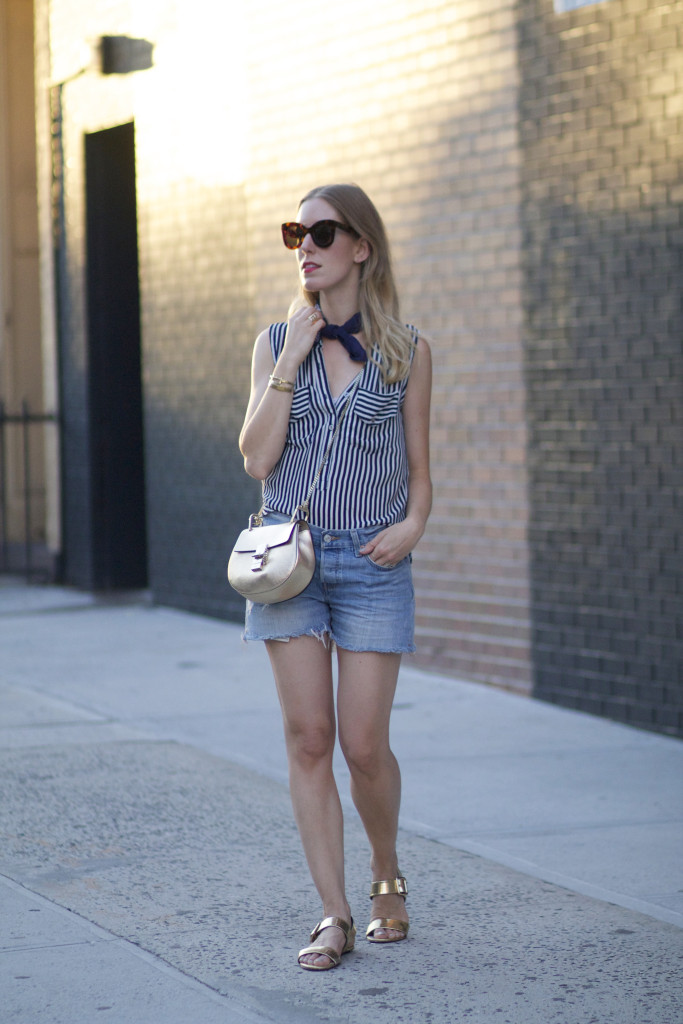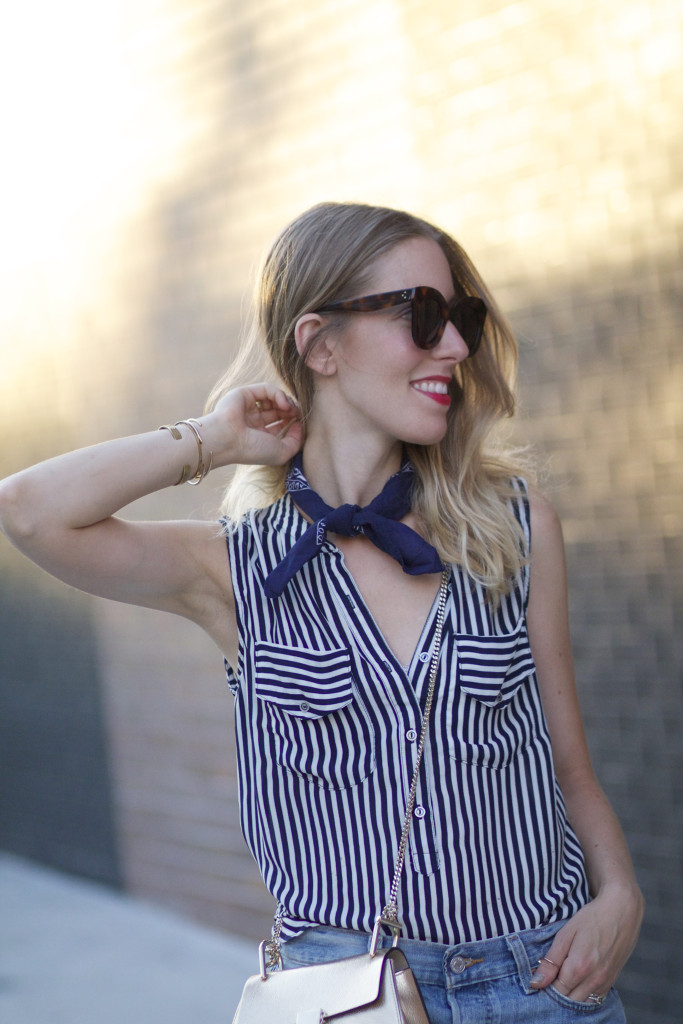 Lumiere top (similar online here) // Levi's shorts // Chloe bag // Celine sunglasses // Zara sandals (similar here) // Urban Outfitters bandana (stolen from the hubby) // Jamberry nail wraps (c/o, This style to be discontinued after this month!) // Ilia tinted lip conditioner
My name is Liz and I'm a gold accessories addict. There, I said it. It's true. I probably have 8 pairs of gold shoes in my closet. I have more gold (tone) jewelry in my arsenal than one could possibly wear in a year. I think I have a problem.
I think it began with playing with my mother's jewelry when I was a kid. Even her wedding band, which I wear daily as seen here, was a chunky gold reminiscent of the typical 70's style. It's possible that my affinity for the decade that caused it.
The truth is, metallics are a neutral and in my mind, I can wear gold with just about everything. It makes it easy to accessorize and look polished without even trying.
All of this time obsessing over gold accessories, I still for some reason never owned a gold handbag. I'm not sure why. I guess I hadn't found the perfect one, or maybe it's that I didn't want to overdo it if I wore one of my many pairs of gold shoes.
I recently found my match after fawning over the "It" bag of 2015, Chloe's "Drew" bag for months, after ripping out the ad in a magazine over the winter, longing for the 70's style silhouette. A few months later as I was about to make the splurge, I noticed every blogger and fashionista out there were wearing one and it turned me off to it.
Then I spotted this beauty in my favorite color and knew it was a rare one, not to mention it had my name on it. Maybe I'm not crazy, and there's a reason why designers are featuring more and more gold lately (aside from the huge resurgence of the 70's style right now).
Even if you're more of a silver person, try this trend out and I guarantee it will go with most of your wardrobe and instantly elevate your look. Bonus points if you wear it out during the "golden hour," the hour before the sun goes down where the light is golden and perfect as seen here.
{SHOP GOLD BAGS}