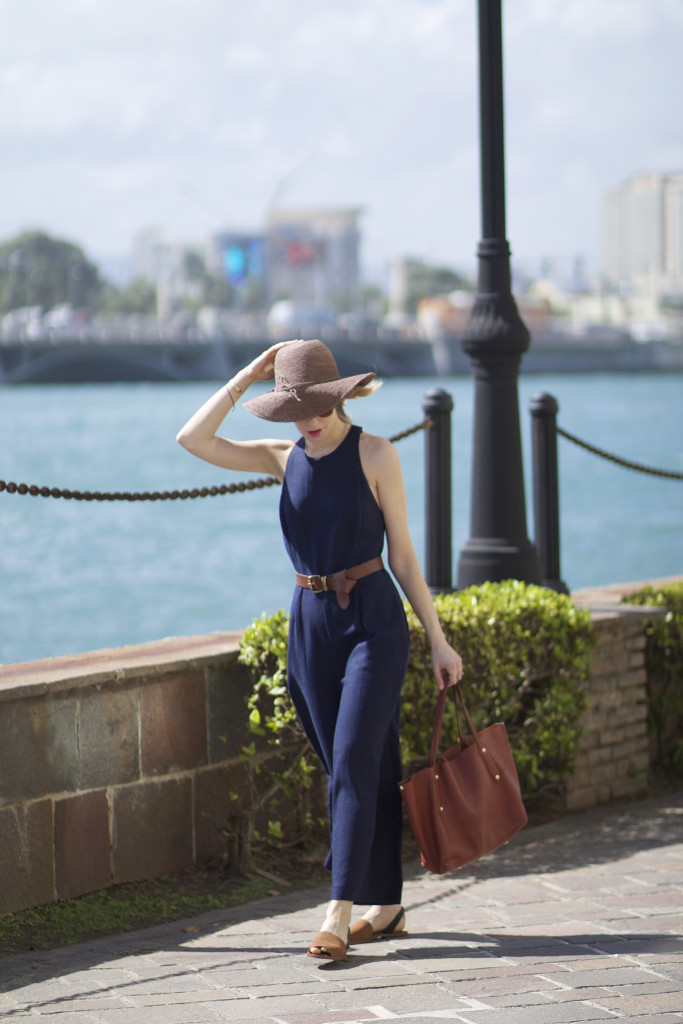 STYLIST TIP: If you buy something that's too big on you and you just don't have the time or are too lazy to get it altered, try my favorite trick; take a vintage broach and get creative. I accidentally grabbed a size 10 in this jumpsuit (I'm typically a size 2-4), but didn't notice until I got home and was packing. Yes, I should have tried it on first, but I NEVER try on in stores because I like to see how it looks in my own home paired with my own wardrobe. It needed a bit of nipping in, so I used a decorative pin to cinch in some extra fabric, as well as an old tortoise shell hair clip that did the job of taking in the top, but still looking like it's meant to be there. I'm almost tempted to not get this taken in by a seamstress because I love these accents.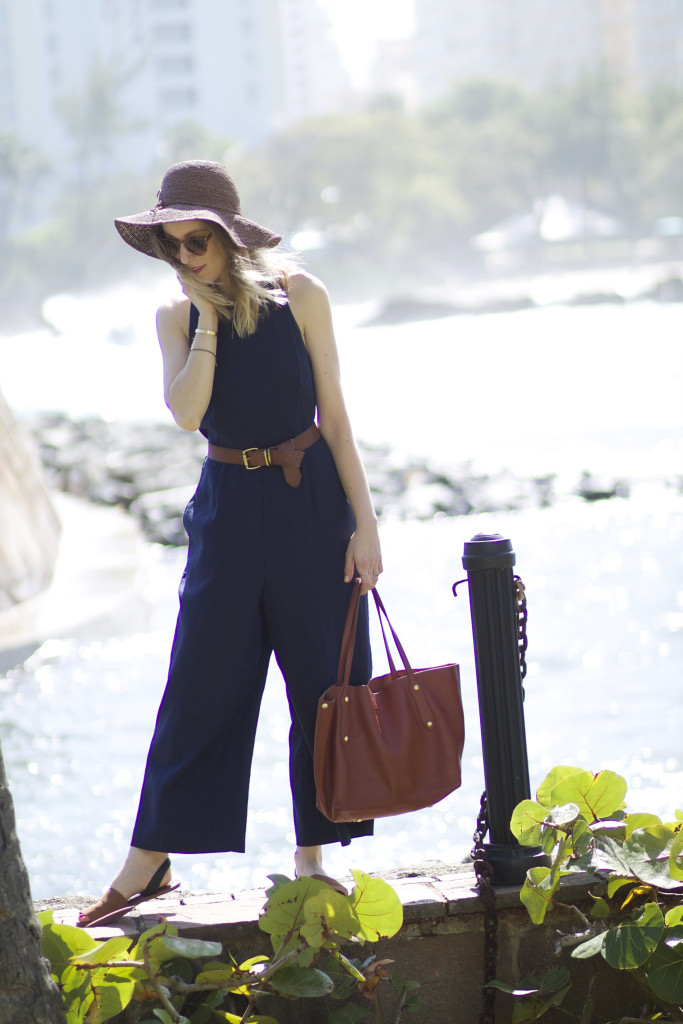 Whistles Jumpsuit // Matt Bernson sandals (similar) // Gap belt // Helen Kaminski hat (c/o) // Annabel Ingall bag // Chloe + Isabel necklace (c/o) // E.Kammeyer bracelet // ICU eyewear sunglasses (c/o) // vintage pin // Bare Minerals *new* pop of passion lipcolor (c/0)
If you've been following me on Instagram (@lizteich), you've probably noticed that I escaped the arctic tundra that NYC has been right after New York Fashion Week for a quick getaway to recharge in the sun in San Juan, Puerto Rico—which I nearly didn't leave after a few glorious days just to return to MORE snow.
It was such a last minute trip that I didn't prepare and picked up what I packed VERY last minute (hence I bought this jumpsuit, aka adult onesie, 3 or so sizes bigger than I actually am by accident. More on how to resolve this below). I was determined to pack with nothing but easy travel pieces like this jumpsuit, which always make getting dressed on trips so much quicker because your outfit is all set in one. I love that this one is exactly what you'll see everywhere this spring: wide legged and cropped, not to mention denim.
Annabel Ingall's popular totes are also perfect for any trip you may take, as you can stuff everything in them and they're incredibly durable. It doubles as the ideal carry-on, which fit a few magazines and my iPad. If you get the larger version, you can even throw in your laptop too. I'm digging the saddle color, which is right on trend for spring.
I'm also obsessed with Helen Kaminski's packable hats for traveling. Not only are they beautiful, but they arrived perfectly in their shape out of my suitcase when I got to my destination because they're crushable. I'm such a hat person, but when I'm out all day in the sun, it becomes a necessity to protect my fair skin—and why I will have no wrinkles!
Stay tuned for more spring-ready outfits and my travel guide to Puerto Rico coming soon…