June 20, 2016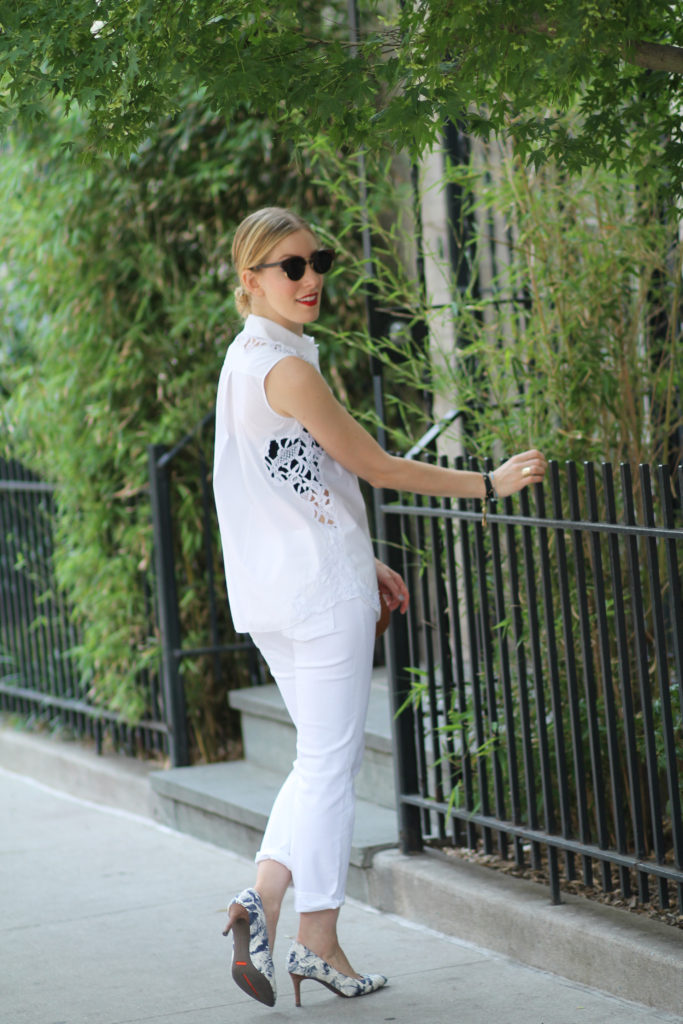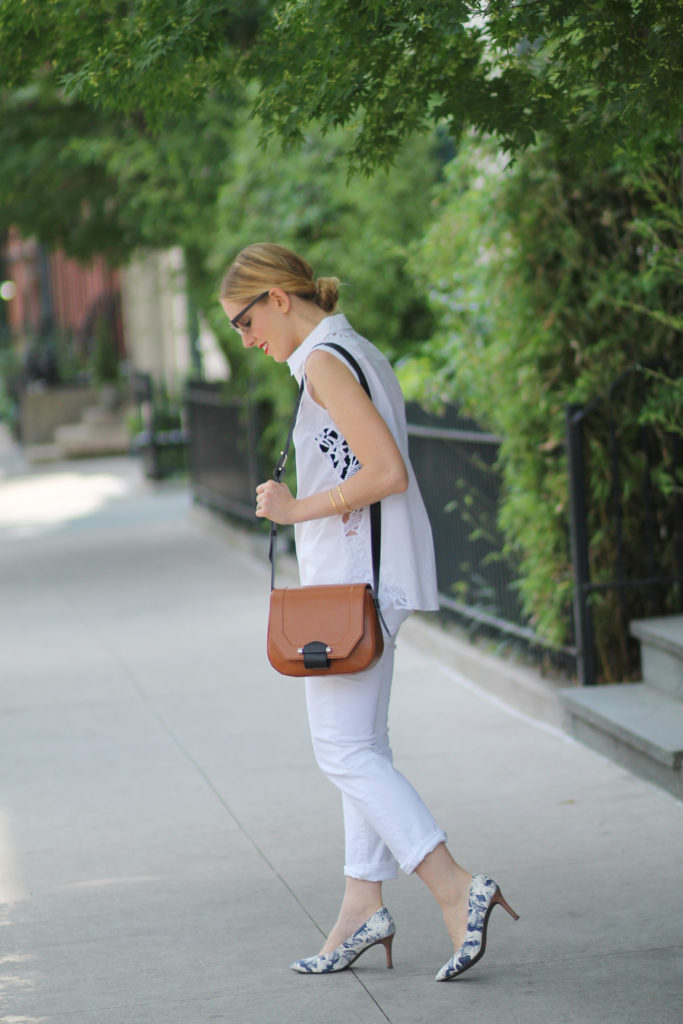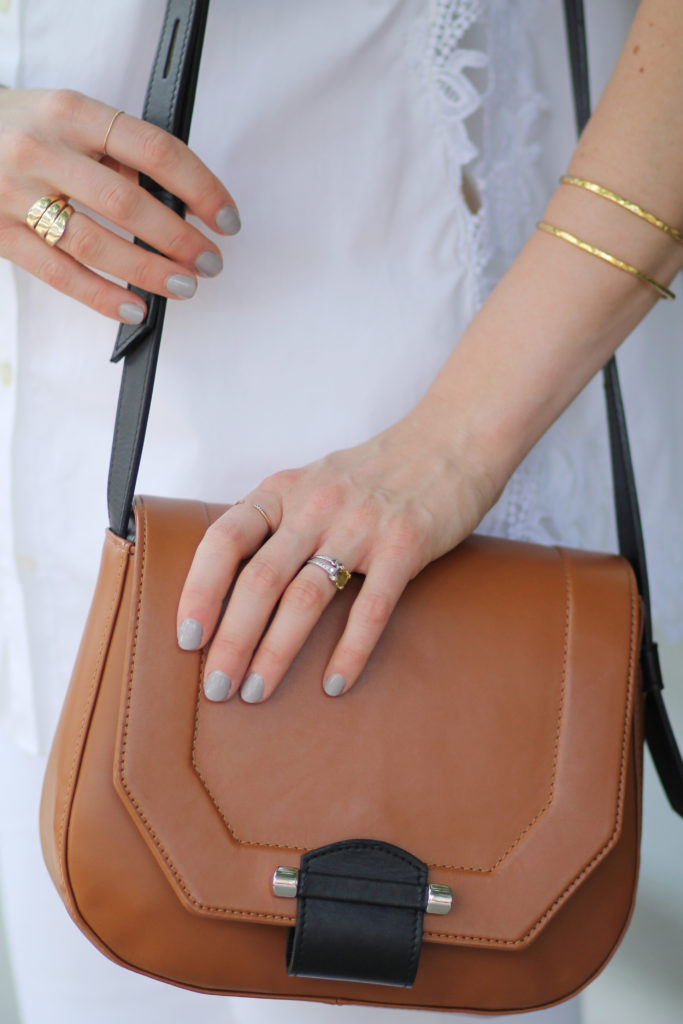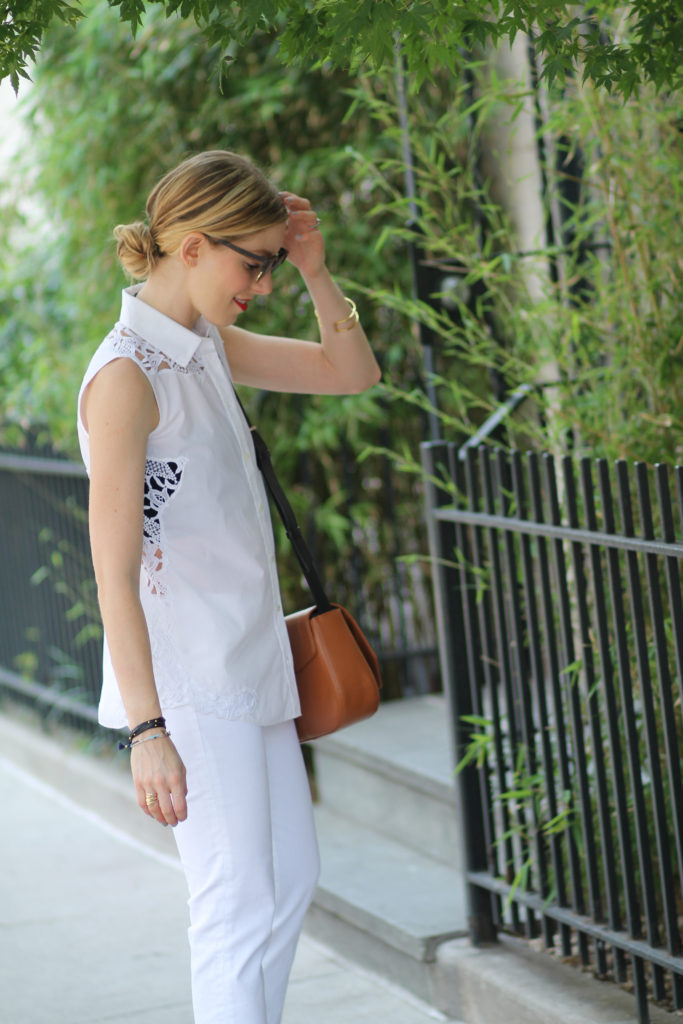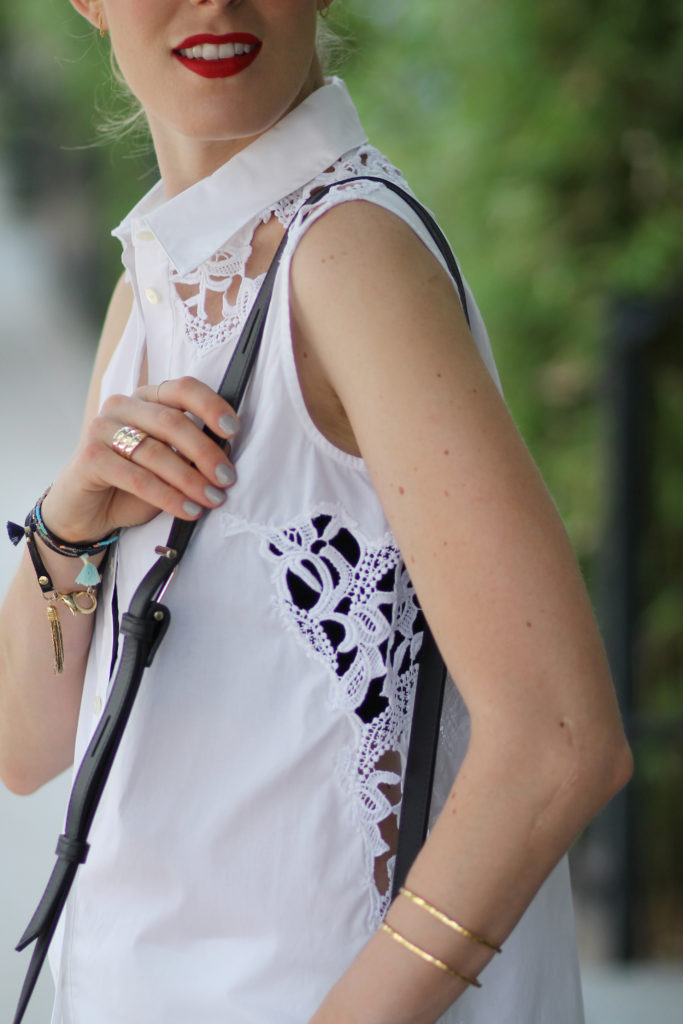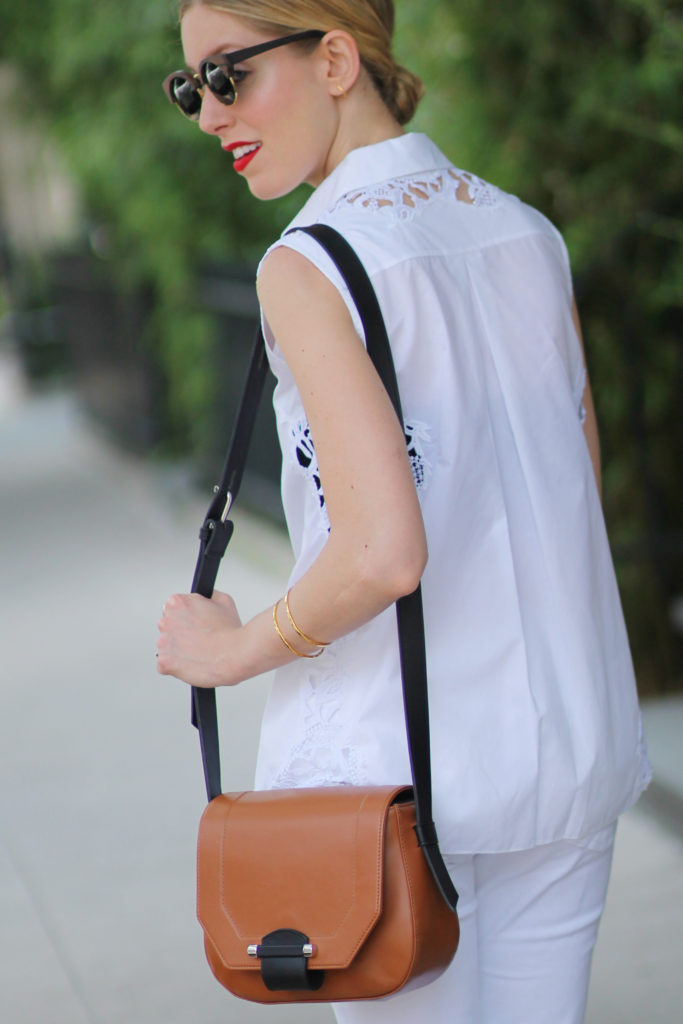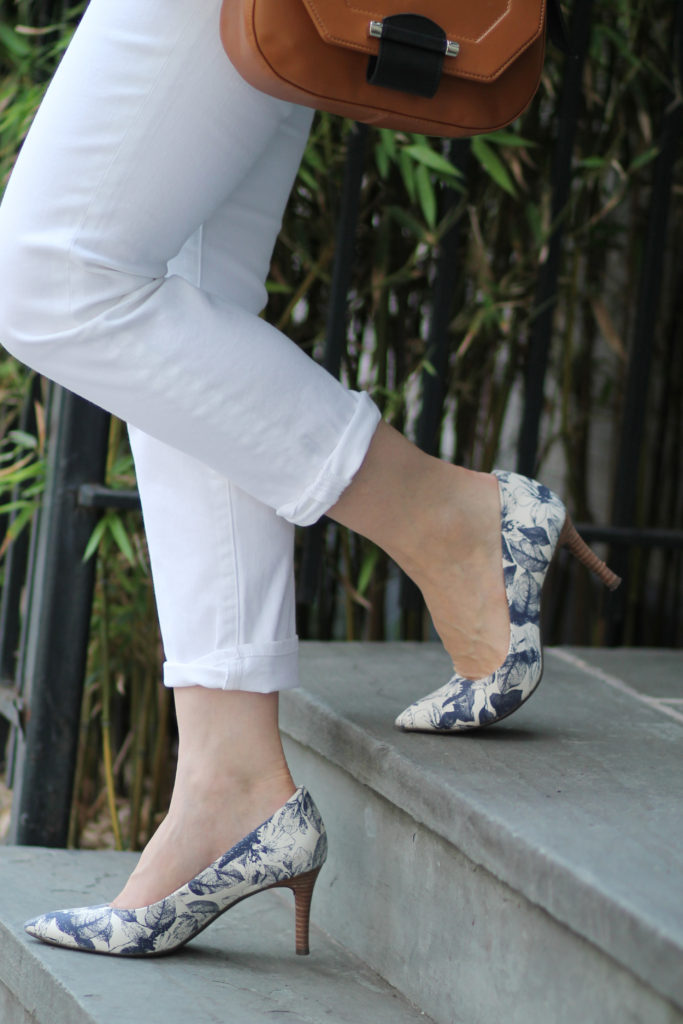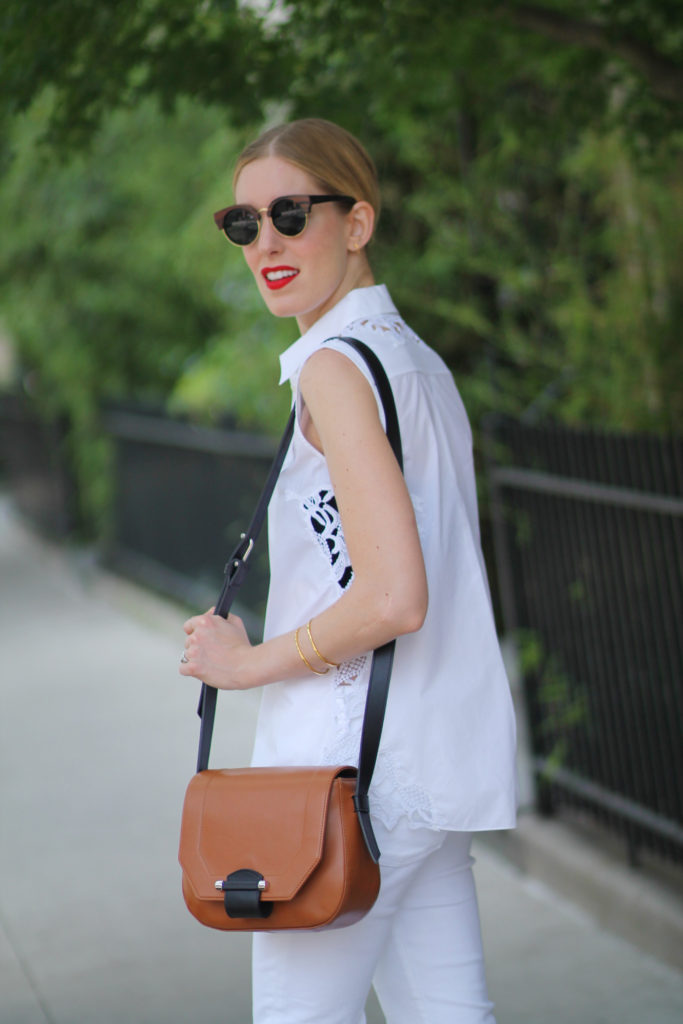 P. Diddy was onto something when he threw his all white attire parties. All white everything can be so elegant and yet effortlessly cool for summer.
Today's the first official day of summer, so this gal who turned her nose up at white pants in the past (must be the full moon too!), is now wearing head to toe white and declaring it to be the uniform for the summer. It's a great look for daytime and can even be carried over into evenings, as long as you don't get your crisp whites dirty by then.
I recently got to go to Magaschoni's NYC showroom and pick out some of my favorite pieces from their summer collection. This top was instantly a favorite of mine. It's classic, versatile, and still feels so fresh with the laser cut lace cuts outs on the sides and back.
If you're daring you can wear it with nothing underneath, or if you're modest, paired with a contrasting camisole underneath, but I went somewhere in between and chose to wear a bandeau bra top in black under to get a hint of both contrast and skin.
To avoid looking like you're in a creepy cult or like you're actually going to a P.Diddy soirée, definitely pair your summer whites with other neutrals or subtle color. I chose to pair mine with my favorite summer bag, on repeat, as well as a white heel with a subtle colored pattern, and it happens to be hands down the most comfortable heels I own. They're like wearing sandals, but I can cover my need for a pedicure with them!
It was perfect look to wear to an influencer brunch recently and then ready for the rest of what the day would bring—except when it rained. That's of course the downfall of this always on trend summer look.
STYLIST TIP: The main reason why you may be hesitant about all that white is because it's hard to keep it, well, white. Keep your whites bright by washing them in hot water and bleach. Add the bleach to your cycle along with the water BEFORE you put in the clothing, or else you can risk damaging your clothing. You can also spot treat stains right away with a good stain remover and patting with cold water (hot water sets in the stain). This is my go-to stain remover for those tough stains like wine and dirt. I keep one in my stylist kit and even bring a travel one with me to weddings/events. 
Magaschoni top (c/o, long sleeve version here) // Lucky Brand jeans // Joanna Maxham bag (c/o) // Rockport shoes (c/o) // Finlay & Co sunglasses // Gorjana cuff and earrings // E.Kammeyer wrap bracelet // Bluma Project tassel bracelets (c/o)
{SHOP THIS POST}