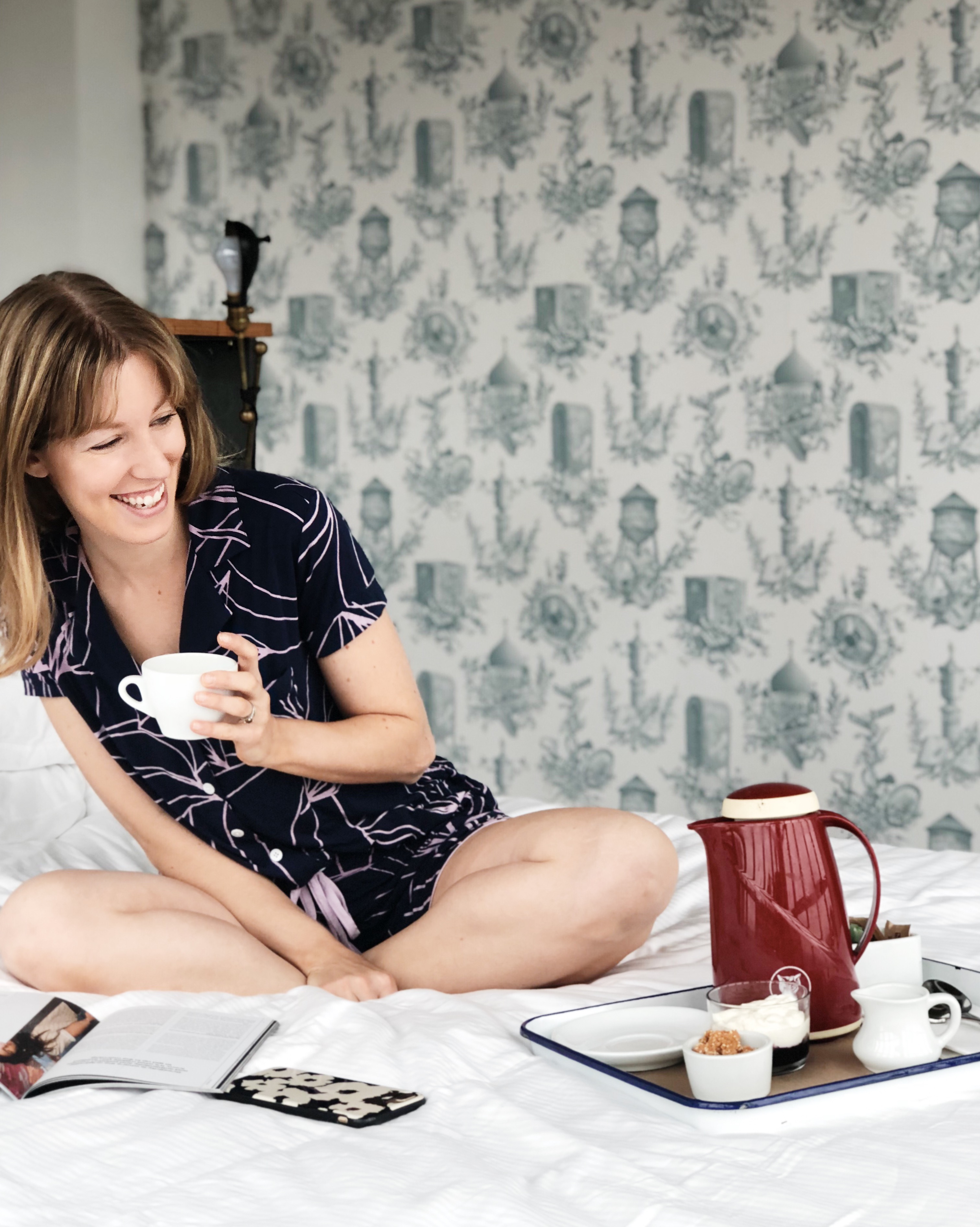 Soma Intimates PAJAMA TOP & SHORT (c/o) // Kate Spade iPHONE CASE (similar)
Josh attempted to surprise me with a staycation in our home of Brooklyn for my birthday over Memorial Day weekend. We took an Uber all the way to the other side of Brooklyn from Cobble Hill to Williamsburg and arrived at the trendy yet classy Wythe Hotel and were both nervous and looking forward to our first night away from the baby with just the two of us.
Funny story, I guess "Dadbrain" is as much of a thing as "Mombrain" because he brought us there on the wrong night! He booked the room for the following night, which was my actual birthday. Makes sense. What didn't make sense is that he booked the childcare for that night.
The front desk offered to cancel our reservation and we could try one of the other trendy hotels in the area. I've wanted to stay at The Wythe Hotel since it opened, so another hotel was just not an option! We luckily found childcare for the following night so decided to keep our room. We ended up getting upgraded from a king room to a deluxe loft room anyway likely because of my birthday, which softened the blow to Josh's ego for the mix-up.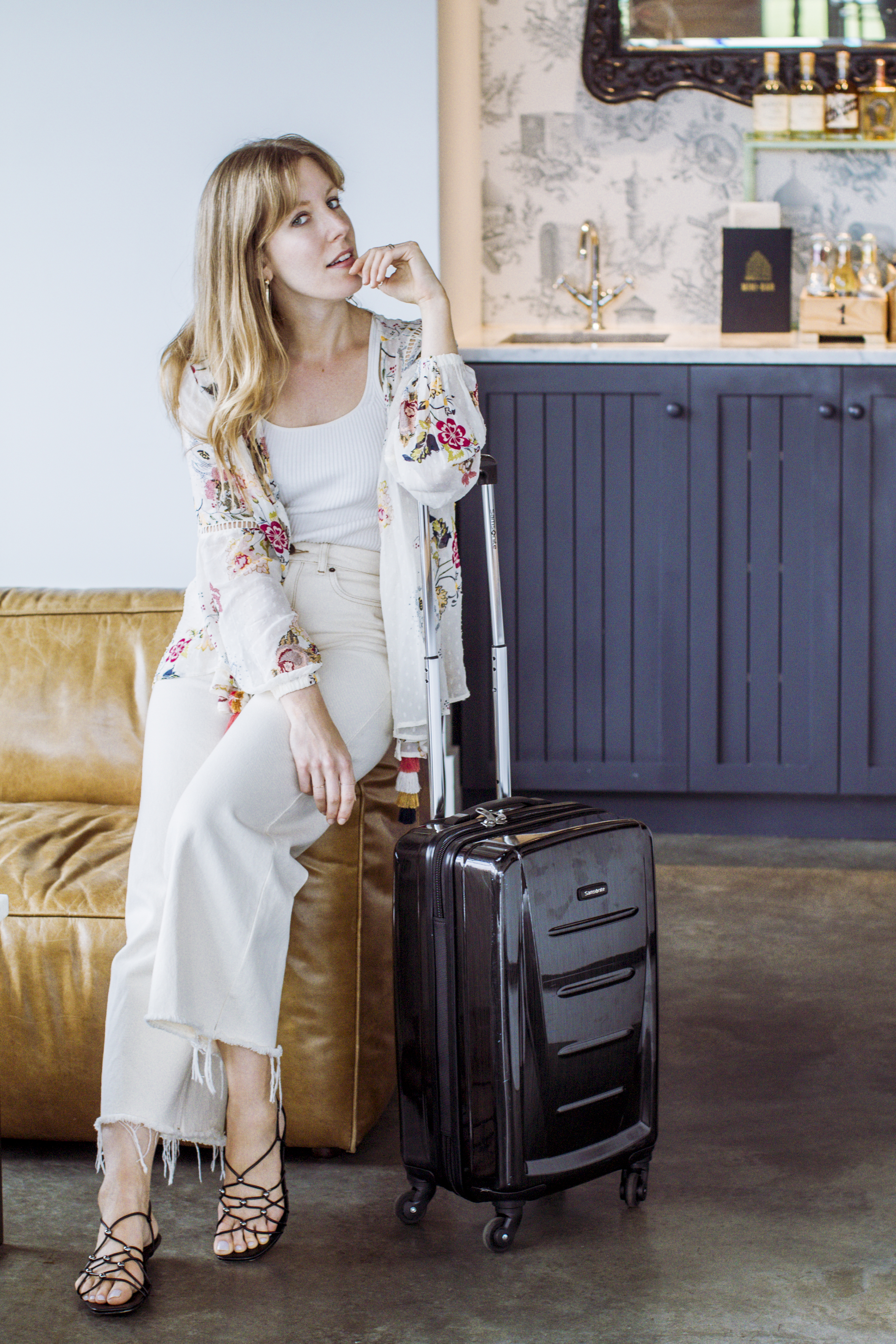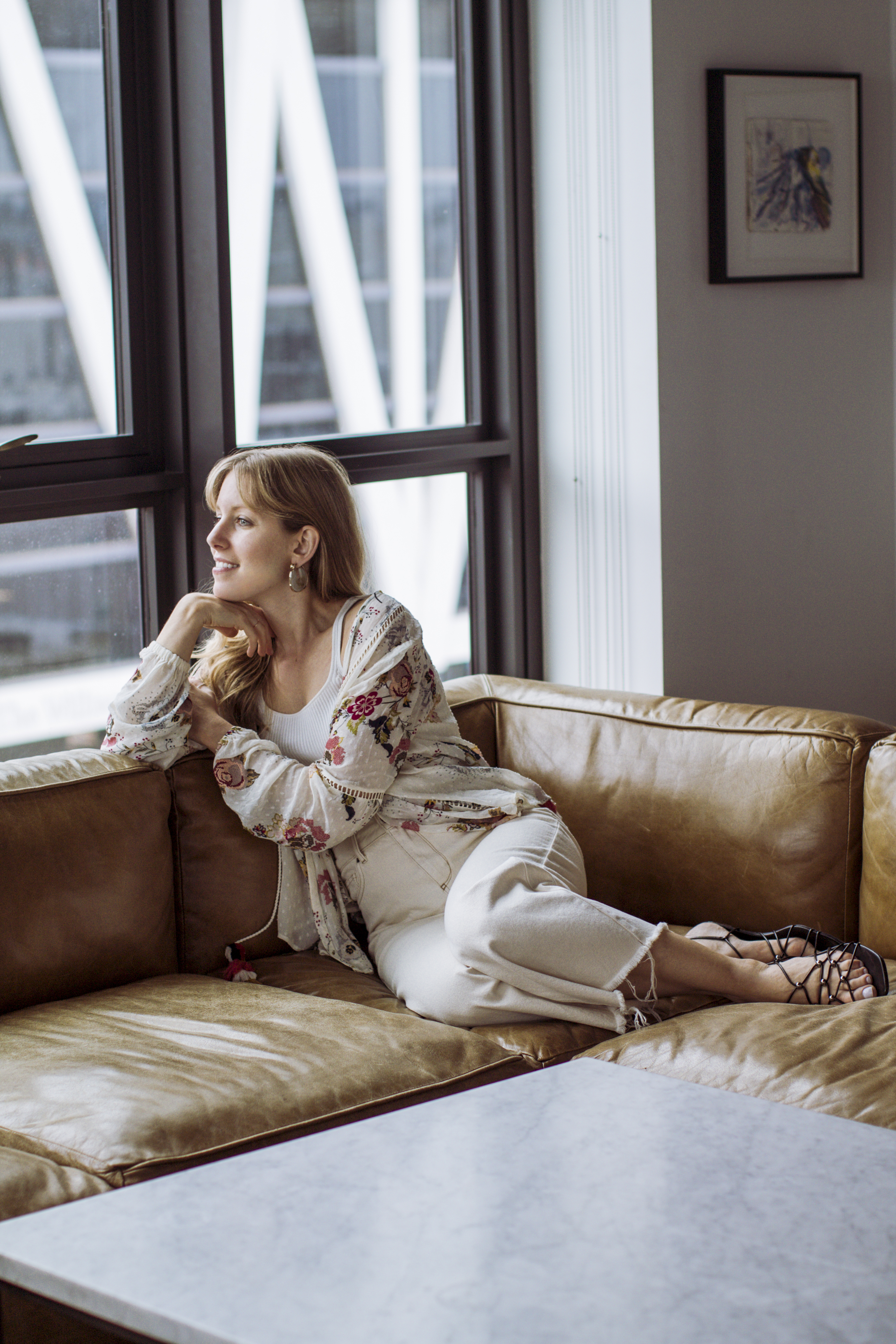 Zara KIMONO (birthday gift and picked out from my father!), EARRINGS and SANDALS // BDG JEANS // Lemaire x Uniqlo TANK (old) 
We kind of felt like celebrities staying in our upgraded swanky room, but it seemed like even the original room we booked had this stellar view of the skyline and Williamsburg, Brooklyn. The room had a nice mix of the original industrial warehouse feel mixed with old school Brooklyn and modern local art, including a wall of custom Brooklyn Flavorpaper wallpaper (which has always been on our wishlist since the showroom and friendly owner moved to our neighborhood!). The room was basically our dream apartment. The only drawback being the cool concrete floors and no slippers provided (I completely forgot to pack!). Otherwise we felt right at home and didn't want to leave!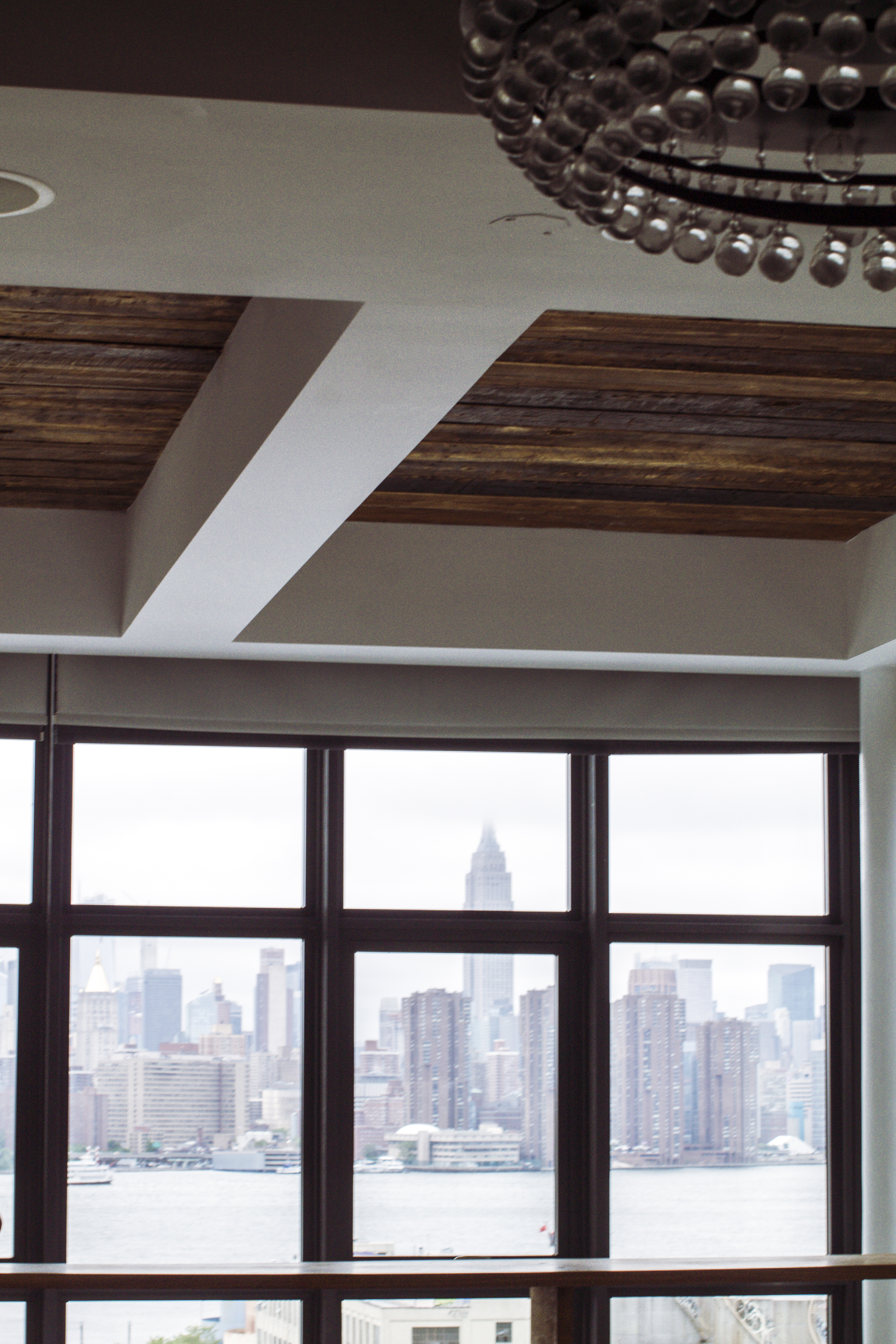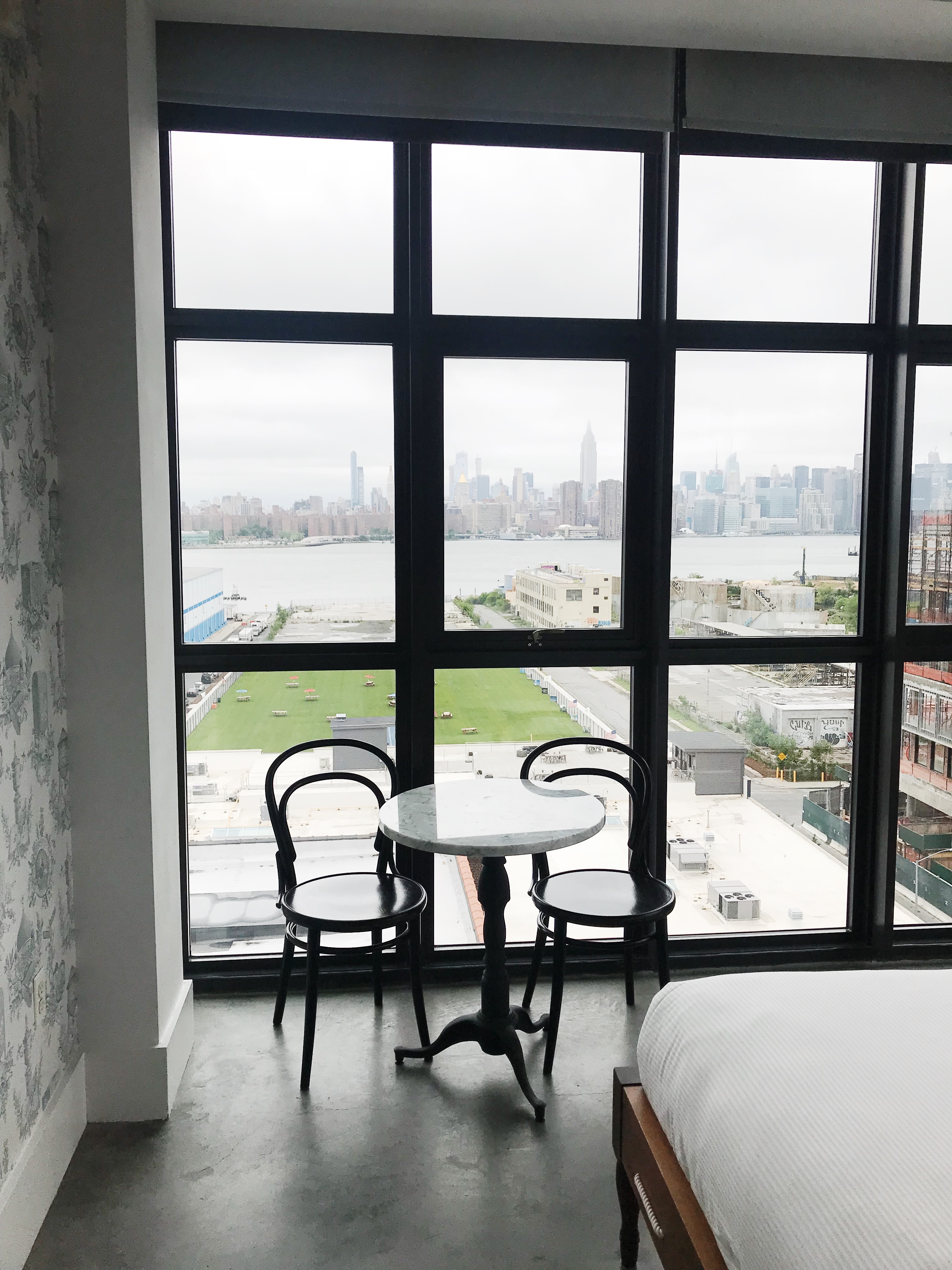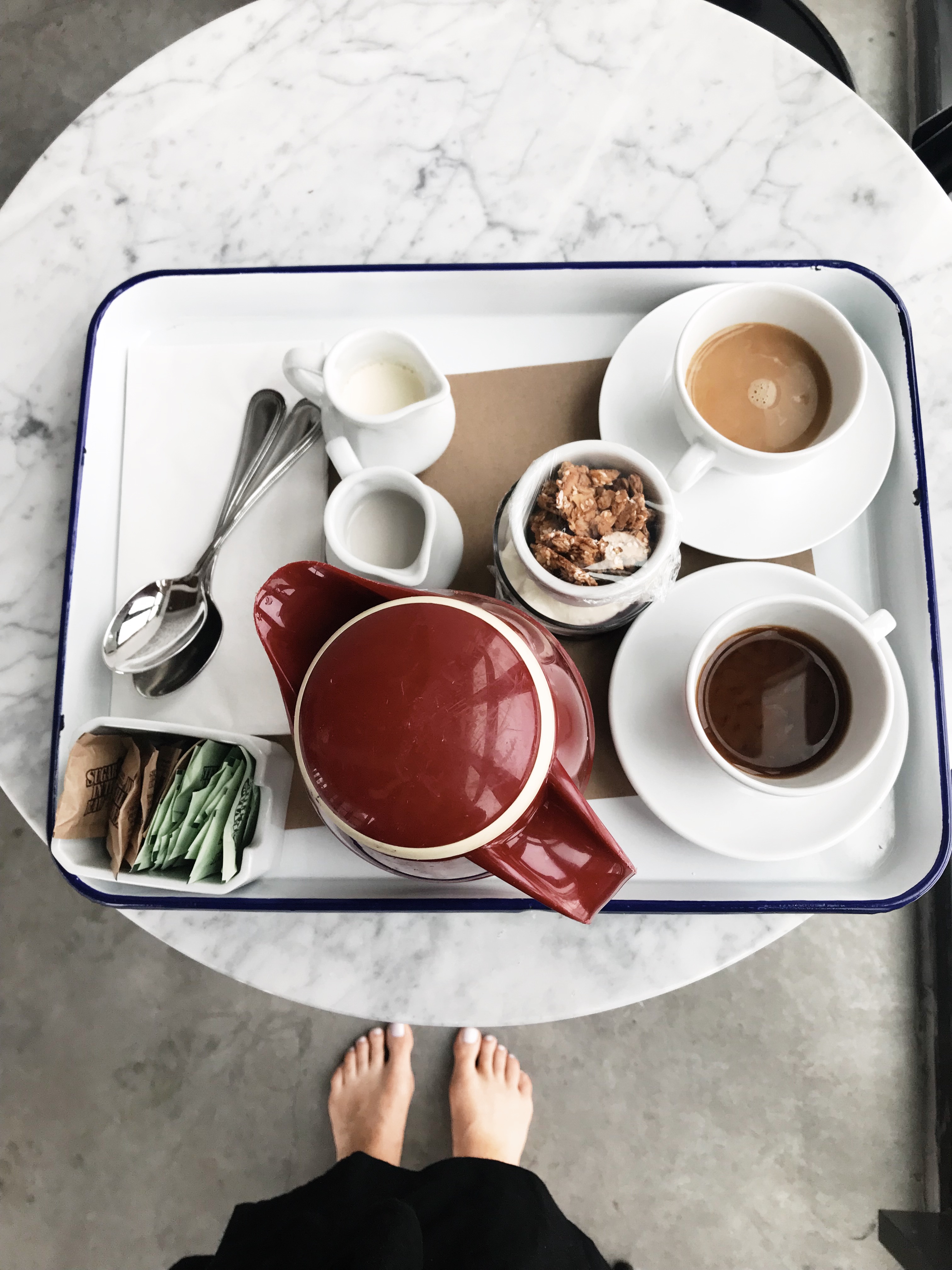 The $16 yogurt room service breakfast didn't look like much, but was surprisingly worth every penny. It was enough to split despite its small size. The coffee was exactly how we like it, but we wish there was more of it in the carafe. At least they had almond milk and a nice view for our morning cup of joe!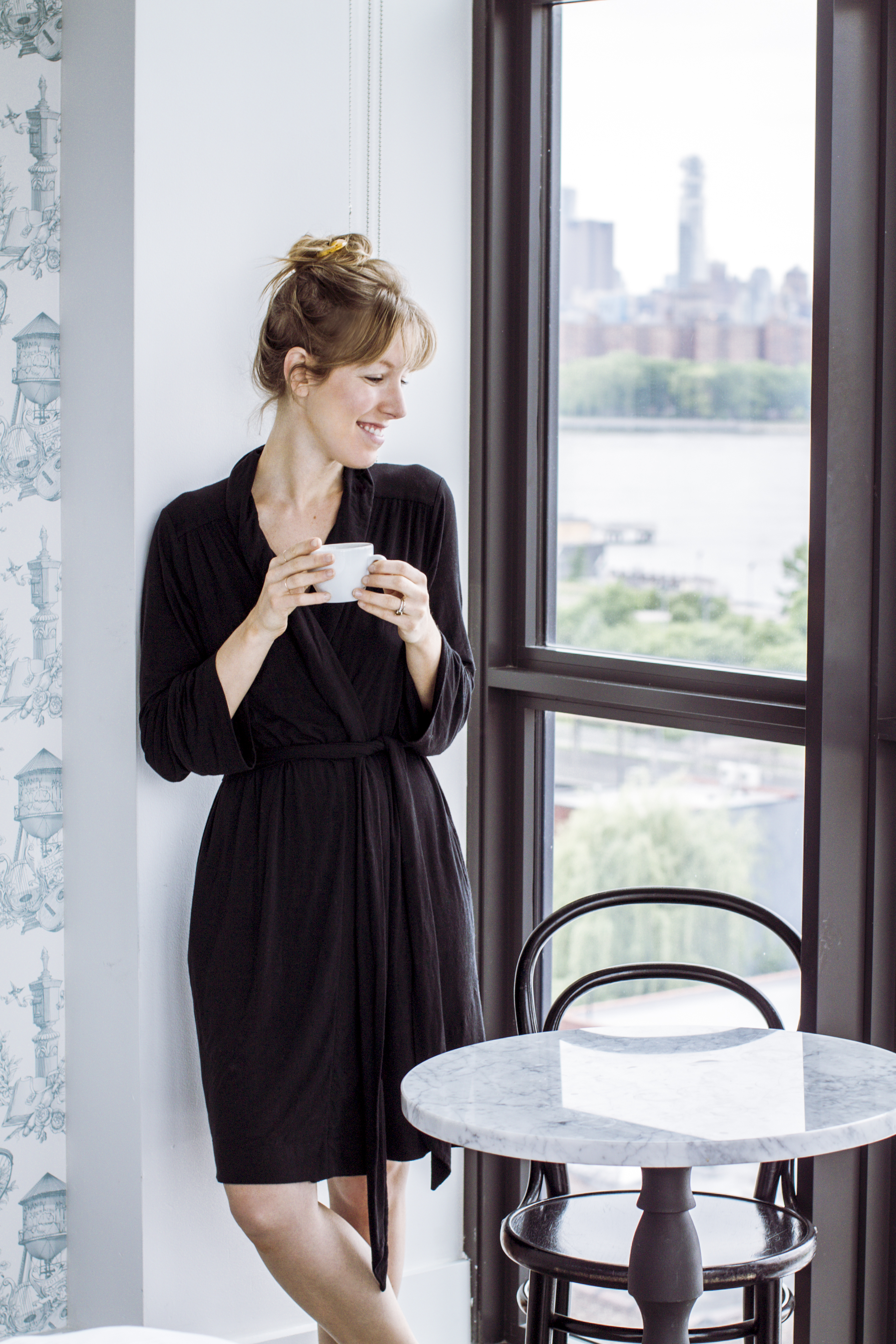 The New York Stylist's WILLIAMSBURG, BROOKLYN Travel Guide
A lot of you ask me about things to do in Williamsburg, but I actually live on the other side of Brooklyn (Cobble Hill, as Lena Dunham said in the first episode of Girls, "The Grown Up Brooklyn"), so it's like being a tourist sometimes when we go there. A lot has changed since we got married there 7 years ago as well! Here's what I've loved in one of the most vibrant, trendy and artistic areas of Brooklyn.
WHERE TO STAY
Wythe Hotel – The original hotel that opened when Brooklyn became trendy and reflects the spirit of the borough. I would highly recommend staying here over anywhere else. It's not as scene-y as the nearby William Vale, but still fit for a celebrity.
WHERE TO EAT
Reynard – Downstairs in the Wythe Hotel is home to quite possibly the best restaurant in the area, that helps put this foodie haven on the map. The cauliflower dish was so memorable that we are trying to recreate it at home. The drinks were refreshing but not too strong. Tips are included, but still reasonable prices for what it is.
MyMoon – I'm bias because we got married here, but since then it turned over management and is now a Spanish tapas restaurant. It's still known for its weekend brunch and outdoor patio.
La Superior – best Mexican in the hood, but some may argue it is La Esquina.
Peter Luger Steakhouse – a New York institution. Get the coffee with "schlag" on top when you order dessert.
St. Anselm – A local favorite and more intimate than Luger's.
Kings County Imperial – The Brooklyn take on authentic Chinese cuisine.
Win-Son – Taiwan-American fusion.
Motorino – A Williamsburg classic pizza restaurant.
WHERE TO DRINK
The Ides – cocktail bar with a view on the "rooftop" at the Wythe Hotel. Drinks are pricey but decent. You're paying for the view and tips included.
Radegast – If you like beer, it doesn't get better than this German beer hall.
Maison Premiere – Oyster and cocktail bar…and absinthe if you dare.
Huckleberry Bar – craft cocktails at this local favorite.
Brooklyn Bowl – Enjoy a drink and knocking down some bowling pins. If you stay late, you may get lucky enough to hear QuestLove spin some records. Check out their schedule in advance for concerts / events.
Northern Territory – Fantastic place to grab a drink on a summer night and enjoy the view of the city.
WHAT TO DO
Bushwick Inlet Park – Take a stroll here and enjoy the spectacular views of the NYC skyline.
Brooklyn Charm – DIY some unique and vintage jewelry here.
Brooklyn Brewery – Check out the tasting room and enjoy some local favorite beers here.
Nitehawk Cinema – Watch a movie and enjoy a bite at the same time here.
Beacon's Closet – Enjoy vintage and second hand shopping at its best.
Smorgasburg – Taste the flavors of local vendors at this weekly food market not to be missed!
The Artists & Fleas Market – A weekly flea market of vintage finds and local designers—a local gem.
Where do you like to go in Williamsburg? Comment below or send me a message if there's something I missed!