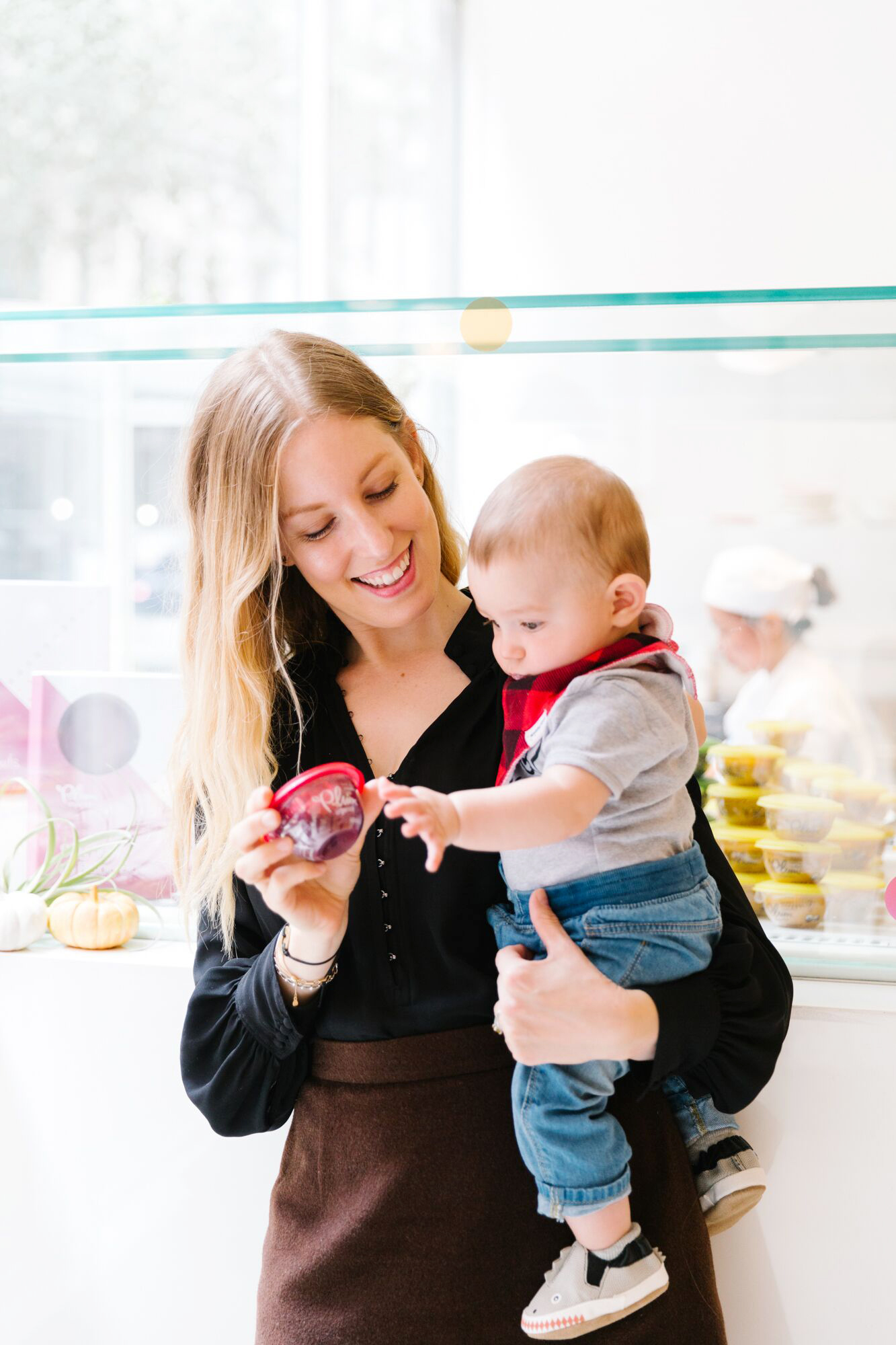 I have to start this post by saying that I normally don't cover events that I attend as a either a fashion or mommy blogger, or even as a stylist, on here but once in a while I come across something so good that I just have to share it. I'm not sponsored by the brands or obligated to write about it any way.
This weekend the family and I were invited to an incredible brunch at the plant based Jean-Georges restaurant abcV to check out the launch of Plum Organics new Baby Bowls. Our 5.5 month old, Asher, is just getting into solids, so this was pretty exciting for us to check out. I'm loving making his food when I can, but there are some days I wish I had an option to have something pre-prepared for when we're on the go.
Just like how I would always prefer a plant based, organic, natural, non-gmo, and sustainable meal like what we had at this amazing restaurant, I want the same for my little guy. Plum Organics supplied just that for the babies at the brunch while we indulged in a 3 course gourmet meal. Asher essentially got the same.
We've been on single ingredient solids for this past month, but in front of his place card (he had his own place setting!) was his own bowl of pear and prune purée. He's been loving pears lately, so I couldn't wait to try a combo like this for the first time. Sure enough, he went crazy over it. I don't blame him. With the ingredients in the bowl being only organic pear, prune and lemon juice to preserve, I would have eaten it too.
You may recognize Plum Organics from their squeeze pouches (they were the first to make them) and other snacks, but these bowls are definitely going to be the next big thing. They're perfect for busy mamas like me and because he's still in stage one, I can get a few uses out of the one bowl. You can throw one in your diaper bag when you're on the go and then serve the meal straight from the bowl. There's even an arrow to mark what day you opened it. The bowls are also BPA-free so there's peace of mind knowing it's safe for them too–not to mention that for when he almost ate the bowl itself because he enjoyed it so much!
Professional photos by Julia Robbs (the rest captured via my iPhone)
Thank you to Plum Organics, Nibble & Squeak and abcV for having me at this event. What I choose to wear, feature and all opinions are 100% honest & completely my own.