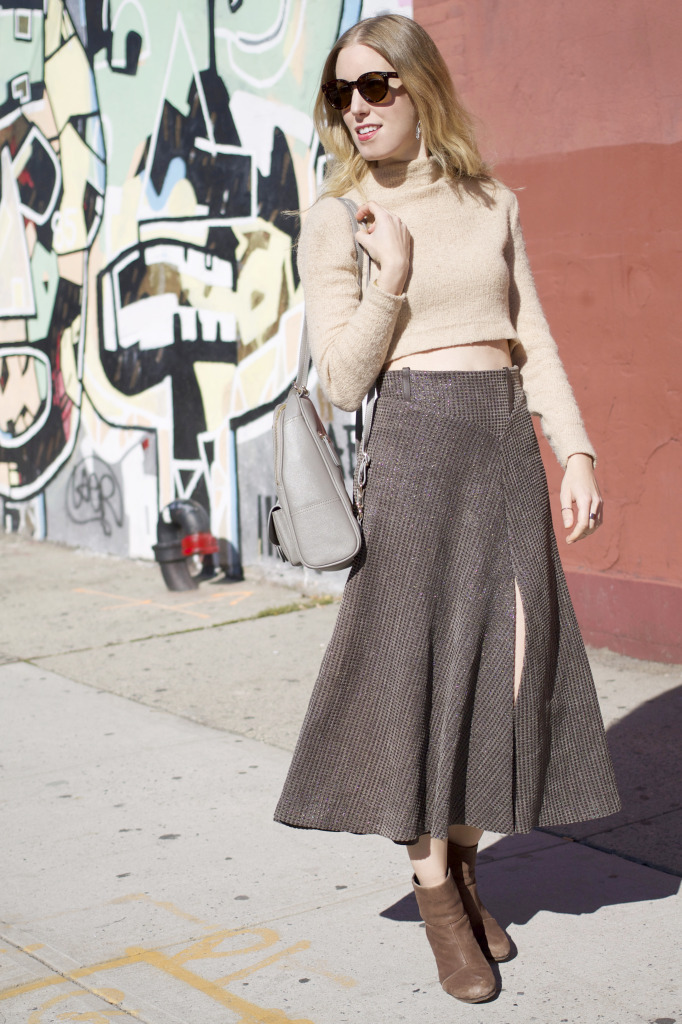 Dana-Maxx top and skirt (c/o) // Rag & Bone boots // Toms sunglasses // Nissa Jewelry rings (c/o) // Colette Malouf earrings // Sorial backpack (c/o) // Primp & Polish nail art (c/o) via The Creeds Collective Pop-Up Shop
Perhaps it's because of this news from last week, but I've had a bit of nostalgia for 90's fashion recently. Don't get me wrong, there's a lot of that era I do NOT want to revisit and I'm thrilled that wide legged pants and the 70's will be making a comeback for spring, but there's something about clean lines and simple pieces that I love about the decade.
The crop top is something I've been apprehensive about embracing once again because it just feels wrong at my age, plus I've already been there, done that.
This fall, it's cropping up—sorry, couldn't resist—yet again in a refreshing way. If you pair a cropped sweater with a high-waisted skirt (skin is totally optional!), then you're not going to look like you're stuck in the wrong era. At worst, you'll be looking more like out of the 60's, which is so hot right now. Thanks Tay Tay Swift.
If that's still too scary for you, try layering one over a button down or even over a dress with a pencil skirt silhouette for the look without risk of showing off too much midriff.
You may want to start trying this out now with some demure cropped sweaters because, trust me, it's a trend that's here to stay for yet another season this coming spring. I saw not only on the runways, but in recent press previews. That means the people are wearing this look. If you can't beat em, join em, right?
Shop this look here or other cropped sweaters below.