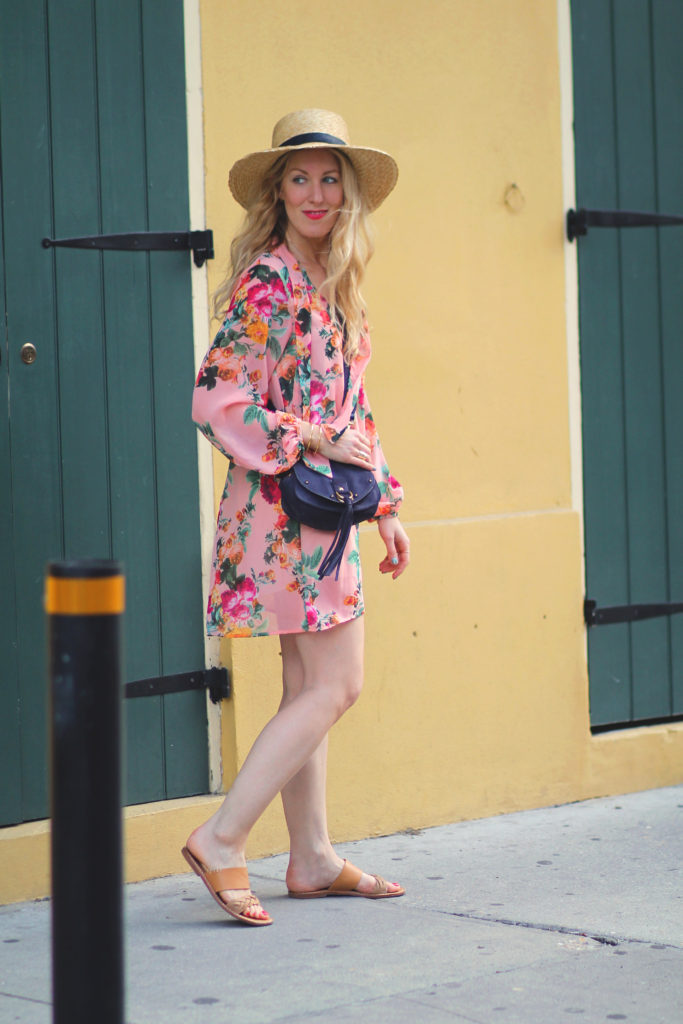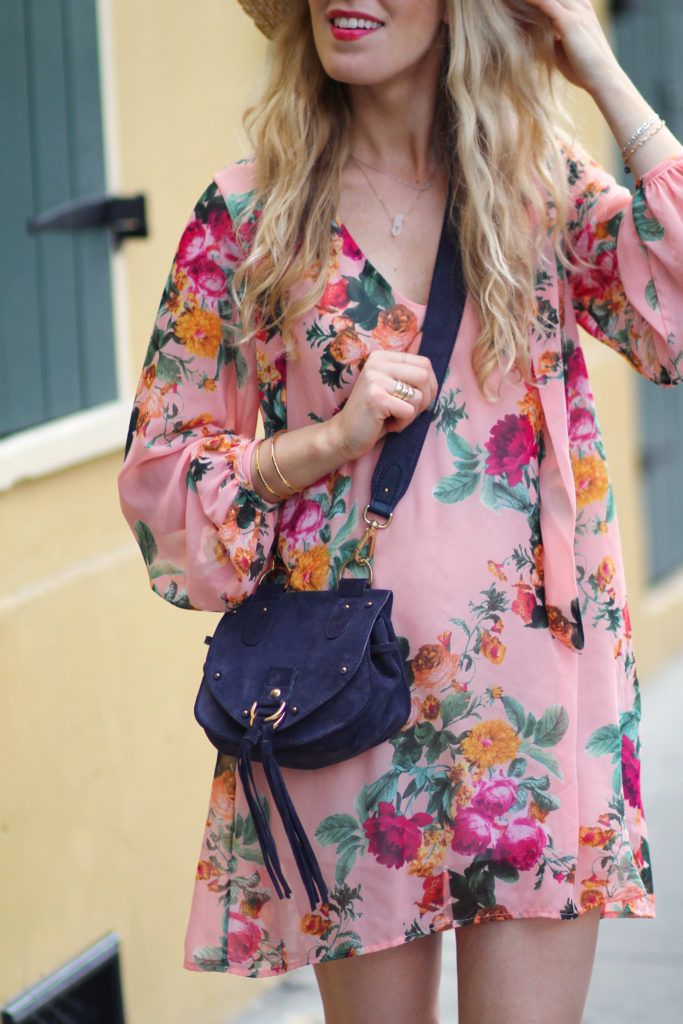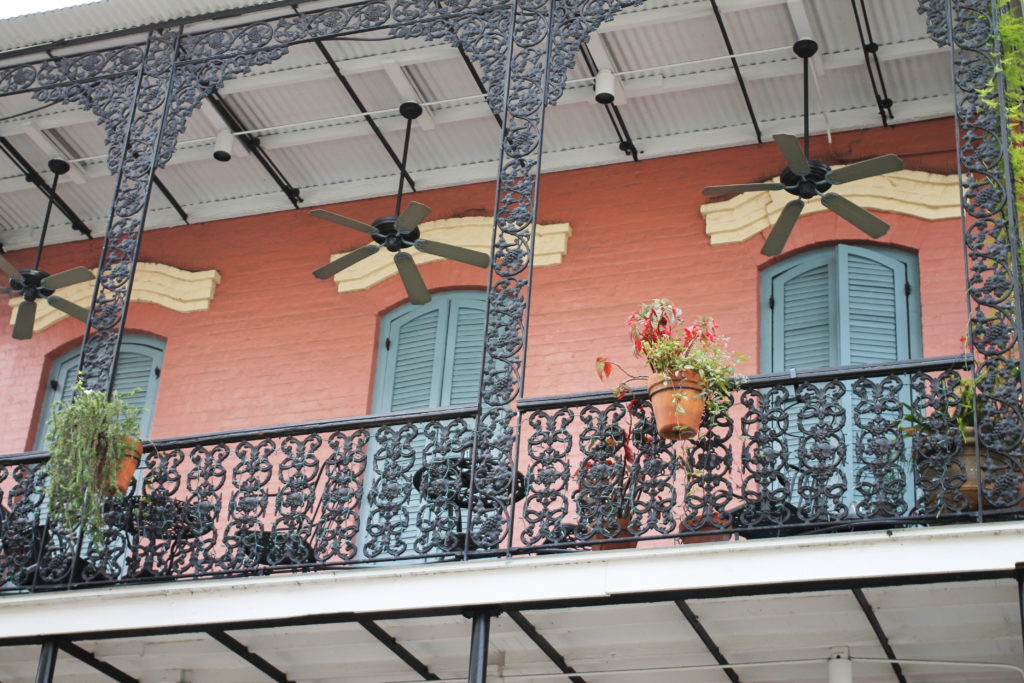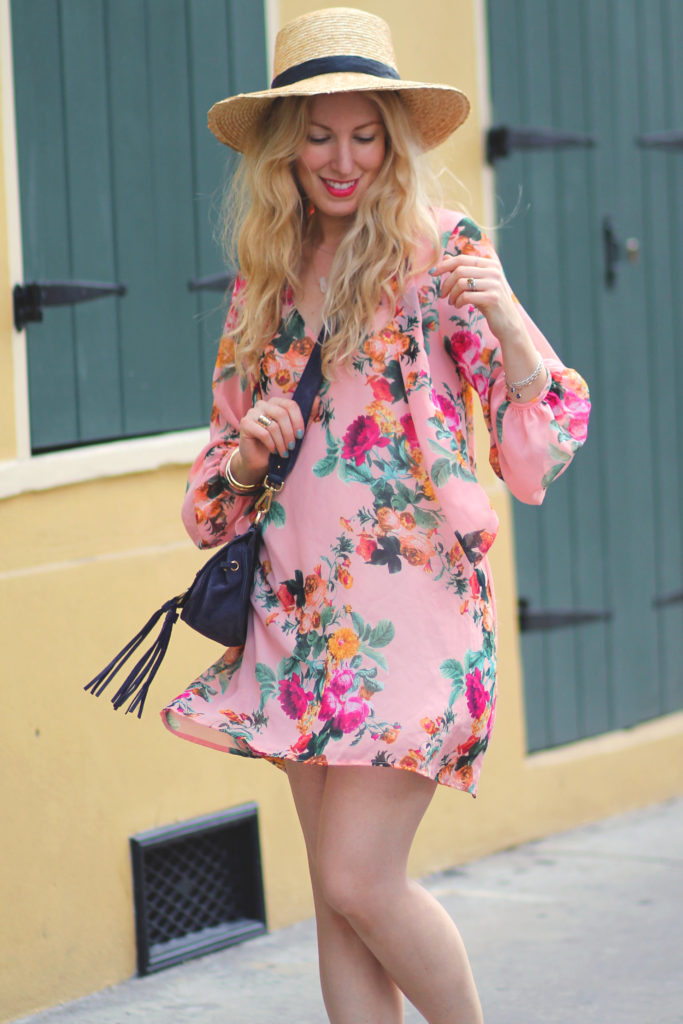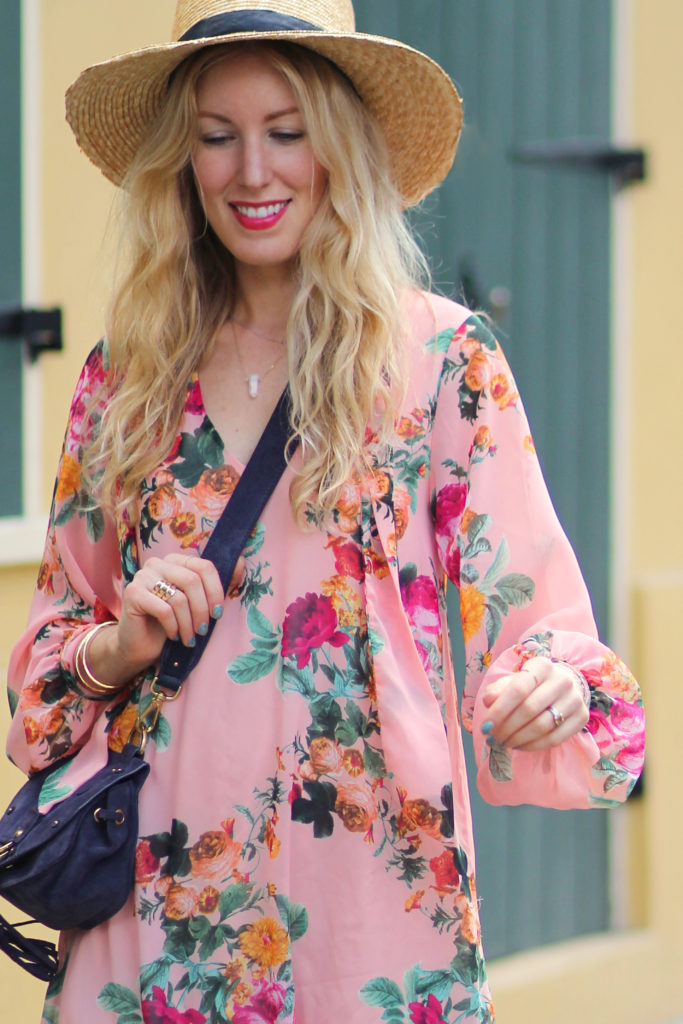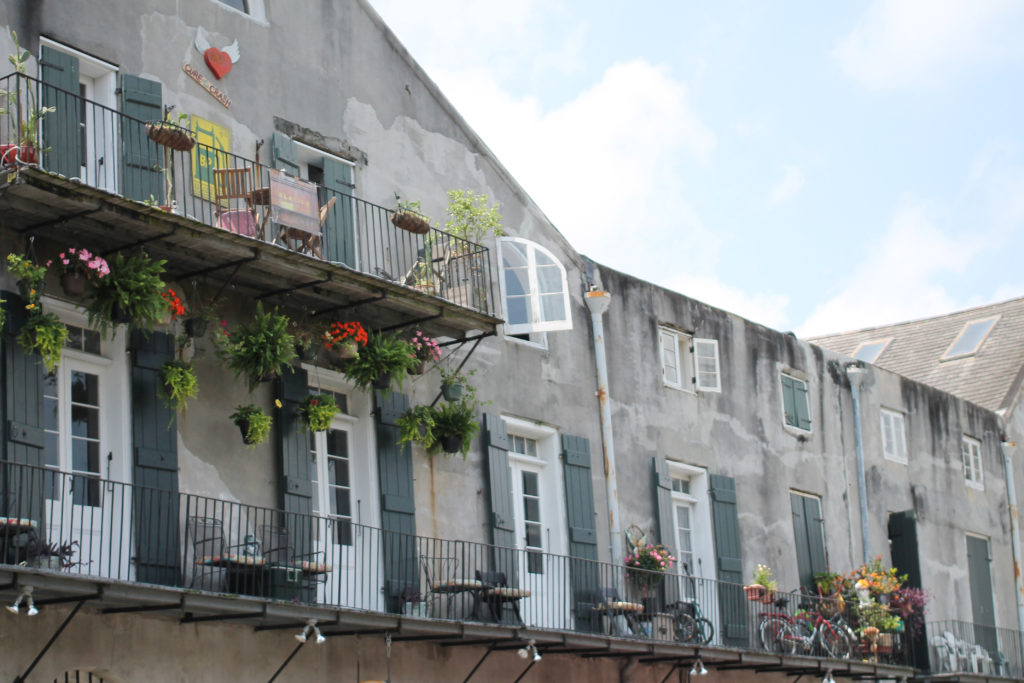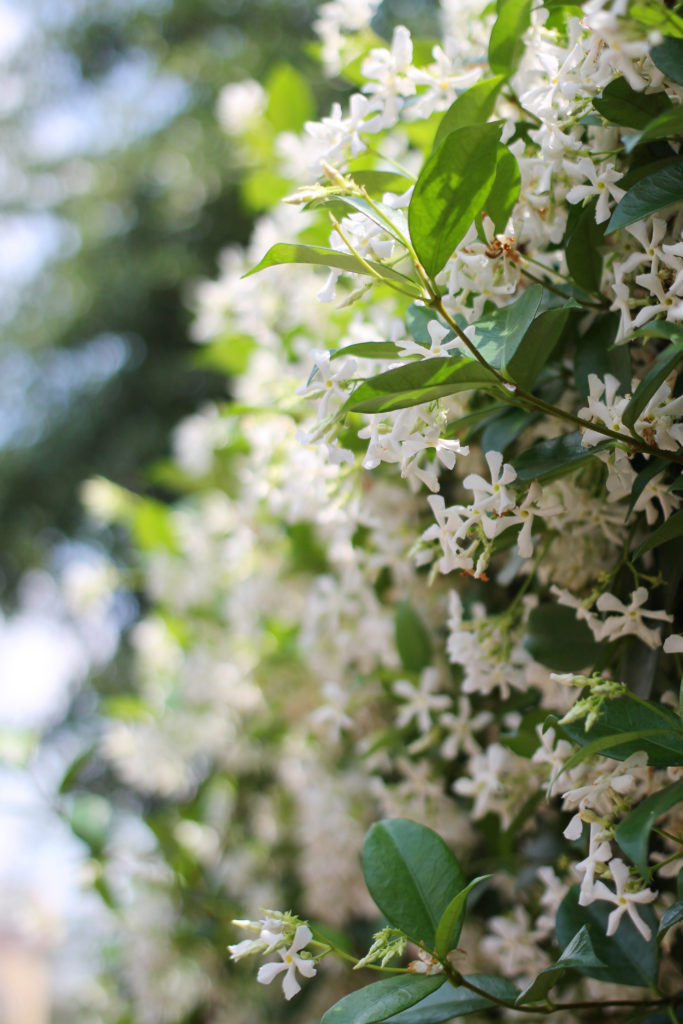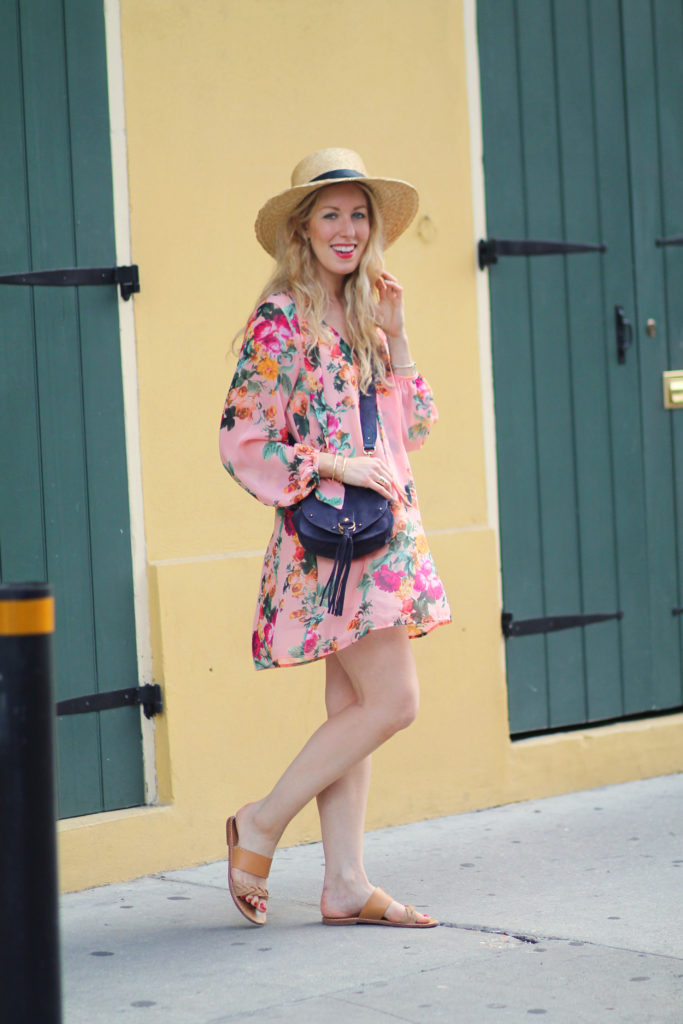 Where to Stay, Eat, Drink, Shop while Exploring New Orleans – and obviously what to wear:
————————————————————
WHERE TO STAY:
Hotel Provincial – This is where I like to stay because it's a bit removed from the tourist and Bourbon street crowds, but it's still in the center of the action in the French Quarter, but steps from cool local flare by the Frenchman Street bars and the still rough-around-the-edges Treme neighborhood. It's also the most affordable spot for your buck with a lot of history and the New Orleans charm. Upgrade your room to premium to get possibly a balcony and views away from the street where your room may be pointed out in the ghost tours hourly each night.
Hotel Monteleone – If you want to stay in luxury but don't have a fortune, then you'll love this historic landmark hotel complete with a rotating carousel bar.
The Ace Hotel  – For a cool, modern experience in the up-and-coming Warehouse district, which is sandwiched between the touristy French Quarter and the classic southern architecture of the Garden District. If you're not into the famous chicory flavored coffee in the rest of NOLA, enjoy the comfort of Stumptown served here.
Creole Cottage or Air BNB – Stay like a local in the French Quarter and save money if you are traveling with a group.
————————————————————
WHERE TO EAT/DRINK:
Bacchanal – A must not be missed experience in New Orleans—this wine shop has the best backyard party around. Select your wine and cheeses upon entering, take your table number with you, grab a bucket and some bug spray and pull up to a table near the live band and they'll deliver it all to you, along with quite a spread for your cheese. You can also order delicious Mediterranean meets Southern comfort food and take it back to your table. *Take an Uber here…it's a long walk through a not so great area*
Commander's Palace – Make reservations for brunch and put on your fanciest gear, as shorts, flip-flops and sneakers are not allowed and jackets are encouraged but only required for dinner. Enjoy the culinary experience where Emeril got his start and in a beautiful garden room setting, but stay for the 25 cent martinis where they will cut you off at 3, as "that's enough," according to the restaurant's menu.
Angeline – This newcomer has one of the best brunches in town with a fine dining feel, sans the hefty prices. If you like Bloody Mary's try their one with a Mezcal twist.
Cochon – This local favorite set in the hip Warehouse District is a favorite among many and while it's named after a pig, even this vegetarian had a great experience, as they tailored dishes for my diet. If you're looking for a top notch cajun culinary experience, then this is not to be missed. A reservation for this popular restaurant is necessary unless you want to chance it and walk in at 5pm.
August – This is one of the most popular restaurants in town so make a reservation now or else you're not likely to get in. Some say it's the best restaurant in town, but as someone who lives in the culinary capital that is NYC, I've been turned off by the prices and lack of local flavor on the menu (it's more French than Creole/Cajun/Southern), as well as never being able to get a reservation, so I have yet to try it.
Green Goddess – This is one of those hidden gems that you think, does anyone else know about this? Go for lunch/brunch and basically anything on the menu is scrumptious yet healthy. It's a nice detox from all of the fried food and booze you'd be otherwise consuming and perfect for vegetarians that want to experience the local flavor.
Monas – When you get sick of Southern cooking or just want an affordable, quick and easy bite before you head to see some live music, head over to this Middle-Eastern local chain restaurant, enjoyed by the locals. Order the Lebanese iced tea.
Jacques Imos – Take an Uber early on a Tuesday night, put your name down for a table (or if you're lucky outside on a truck, but most likely weasel your way over to eat at the bar otherwise you may be waiting for 2 hours during peak season), have a crappy drink at the bar, eat the mediocre food in a cool atmosphere and then go see local legends, Rebirth, play at the Maple Leaf next door. This was recommended to me by Helena and many locals and totally worth it.
El Gato Negro – If you're craving Mexican, this is acclaimed the best Mexican in the Quarter. It definitely is, but the mix-made drinks take it down a notch. Eat in the back garden for an upgraded experience.
Pat O'Briens – If you want to party and eat local, greasy, fried Southern food and strong sugary drinks, then this is your place. It's a must for new tourists, but okay to skip if you want to stay classy. Otherwise take your famous Hurricane drink into the piano bar or to go.
Ice House Bar – Hands down the best cocktails in the French Quarter and definitely the way local favorite drinks like the Sazerac, Hurricane, or even a Bloody Mary are supposed to taste. The bartenders James and Etienne are the best and also a wealth of knowledge about New Orleans. They're always happy to make your drinks to-go, especially during happy hour, but you'll want to stay, as it will become like your neighborhood bar.
Sazerac Bar at the Roosevelt Hotel – This is the birthplace of the local drink, the Sazerac. If you are looking for the classy side of NOLA, come here and hang with the Waldorf Astoria crowd.
Cafe Du Monde – A must-do for every tourist not on a diet or gluten free. Get the famous beignets but instead of waiting in line for an hour to sit, get yours to go and walk around with it.
CC's Coffeehouse – Yes, it may be the Starbucks of this city, but don't be put off by that fact, as it's a local favorite for some of the best chicory flavored cold brew coffee around, comparable to NYC favorite, Blue Bottle.
Croissant Dor Patisserie – If you're not keen on chicory in your coffee, then come to this local favorite spot for your morning cup of joe, along with some French pastries.
————————————————————
 WHERE TO SHOP:
The French Market – Yes it's super touristy, but you have to at least stroll through this historic six blocks of shopping and maybe pick up a souvenir or two.
Meyer The Hatter – This is the South's oldest hat shop and you may feel like you're in a time warp entering this store, but you'll definitely find a great hat. I had
Stndrd – Cool shop for Sneaker-heads.
FAM NOLA – Mens shop that will make the ladies jealous.
Frenchman Art Market – While you're stumbling around the bars on Frenchman Street, check out this cool night market with rotating talented local designers.
Secondline Art & Antiques – Great place to shop for antiques and local art by designers like Leroy's Place, where you can pick up cheeky designs like a Biggie x Bowie tee or Hall & Oates cufflinks.
Hemline – For the gal that forgot something to wear or just wants something young and fun, this trendy boutique is one of the best.
Bourbon French Perfume – If you're like me and couldn't get enough of the local scents (NOT the wretched smell that is Bourbon Street, but more like the floral scents of Sweet Olives all around), then pick up some perfume/cologne at this old school perfumery.
————————————————————
WHERE TO EXPLORE:
 -If you can catch a parade, it's a great experience. If you can get second line (marching with behind band), it's an incredible experience so get in there.
-Skip the tourist bayou tours and rent a car to go explore on your own if you can.
-Take a streetcar over to the Garden District and wander through the beautiful architecture, well-manicured properties, above-ground cemeteries, shops and restaurants.
-Skip Bourbon Street and opt for where the locals go to see music, Frenchman Street.
-Hang in Jackson Square and watch the local street artists and bands perform.
-Go see Preservation Hall Jazz Band play one night, wait in line for tickets before and then sit on the floor in front if you have to to get a good seat. It's the best experience you may have while in NOLA.
————————————————————
STYLIST TIPS: 
-Don't wear nice shoes or heels to New Orleans! With all of the walking on the dirty streets, your shoes will get destroyed. Forget about high heels.
-Bring a hat and sunblock. The sun can get brutal there. Don't forget the bug spray too.
-Dresses, especially ones with long sleeves or longer lengths, are always a good option as it can be cool in the morning and sweltering by mid-day. 
-You'll probably want to leave the straightening iron at home. The humidity will fight you on that. I opted for Bumble and Bumble Surf Spray for most of the trip. 
-If you're heading to Jazz Fest, read this.
Lulu's dress (c/o) // Soludos sandals // See by Chloe bag via Rent The Runway Unlimited, $20 off if you sign up here! (c/o) // Janessa Leone hat via Revolve // La Soula silver lightening bolt necklace (c/o, on MAJOR sale!) // Nashelle crystal necklace (c/o) // Alex and Ani gold and silver evil eye bracelets (c/o) // Gorjana cuff via Rocksbox (c/o)