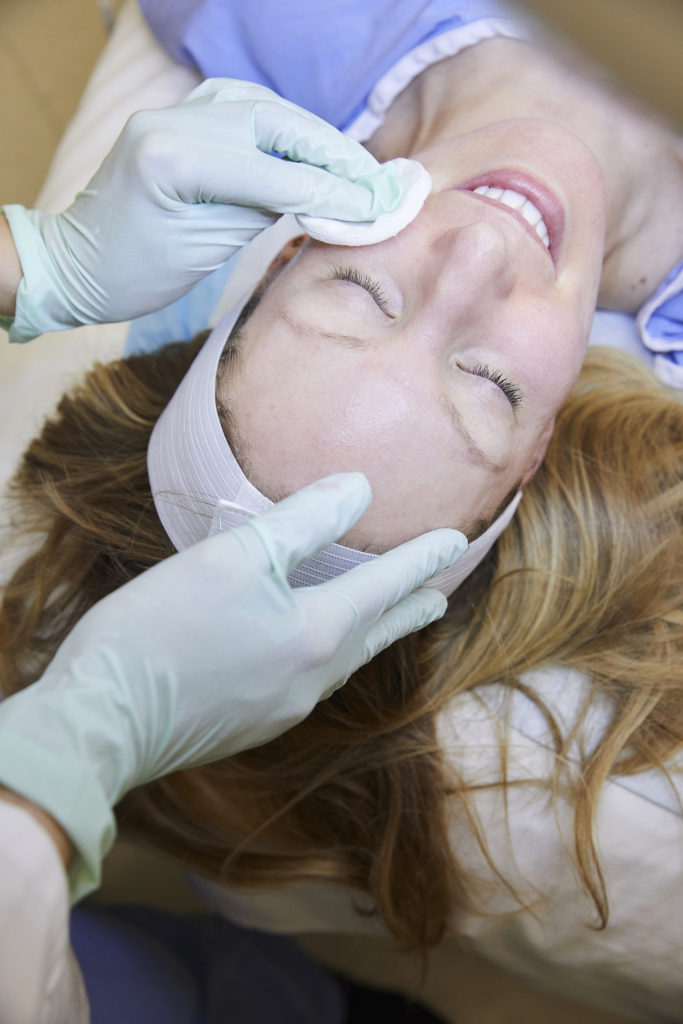 I never in a million years would have thought someone would be asking me for skincare advice, but here I am, with the better skin in my 30s than I had in my 20s.
I've battled acne since I was 12. I've been on every prescription (topical and oral), and tried every promising product out there it seemed, but it wasn't really more than bumps until my 20s when I started getting giant zits and ultimately scarring to the point where I cried when I saw myself on high def TV once.
I spent so much time and money trying to fix it but then the hormones of having a baby made it worse. I work with models that wear tons of makeup daily and still manage to have great skin and even with asking nearly every makeup artist I work with about it.
I felt hopeless and compensated with even more makeup that caused a viscous cycle of breakouts. It didn't help that I not only had the skin of a 16 year old, but I was also starting to get fine lines as well. Most products tackle either acne or wrinkles so they either dried me out or broke me out.
I never found a great solution until recently. I still get zits now and then and I still have some residual scarring on my cheeks we are working on but it's finally under control to the point where I LOVE my skin for the first time ever.
You can read more about my skincare woes here but I want to focus on what's actually working for me so I can help you if you've been struggling as well.
WHAT CHANGED MY SKIN
The single biggest thing that changed my skin was discovering Youth Corridor Clinic on the Upper East Side of NY, where I've been meeting with estheticians there once a month for treatments for the past 9 months.
I've gone to tons of medi-spas/facialists/dermatologists and not a single one has ever asked me what my lifestyle, diet and even current skincare routine is like. It makes sense that these are all factors that contribute to good skin and without making all of that work, the treatments are not as effective.
I'm vegetarian and am super healthy, but what was contributing to my breakouts wasn't as much what I'm eating (though cow dairy and sugar tend to bring on breakouts for me), but my skincare routine was a mess.
I had no idea that I was doing it all wrong:
-I wasn't cleansing properly
-I wasn't exfoliating enough
-I wasn't hydrating my skin enough
-I wasn't applying my products in the most effective order
(see my routine below how to fix any of that if you may be in the same boat!)
Now to the fun part, as you're probably wondering what treatments I get. I let my esthetician guide me to what I need so I never go in asking for this or that.
I typically get their signature "No Peel Peel" which is a glycolic acid peel with no pain or downtime and major results (as seen here). Every time I get one my scars diminish, my pores look smaller and my skin looks like an Instagram filter. It's so smooth and is the secret to how I get my skin glowing!
Lately my favorite regular treatment is dermaplaning. It looks scary as it's essentially removing the dead skin and peach fuzz with a scalpel, but it is painless (kind of feels like a cat's tongue on your skin) and my makeup goes on so much smoother when I get this done.
I've also gotten laser treatments on my face to tackle the scaring and minimize my pores / kill the bacteria from the breakouts. It's so effective that I wish they would let me do it all the time. I've also been getting laser treatments on the spider veins on my legs, but will reserve more on that amazing treatment for its own post, which it deserves.
MY SKINCARE ROUTINE
*updated from my last skincare post
AM
PM
Cleanse TWICE – I started cleaning my skin with these muslin cloths which after reading this piece from Brooklyn Blonde convinced me that I wasn't cleansing well enough and she was right. I use a new one every night to wash my face and throw it in the hamper to wash after. I use Obagi to cleanse with 2x with lukewarm water and then gently blot with a soft towl without rubbing.
Tone – I use micellar water from Bioderma daily on cotton pads until the pads are free of makeup/dirt.
Exfoliate – scrubs are way too harsh, especially daily. Every other day I use Peter Thomas Roth 8% Glycolic Toner and apply to face in one direction and two passes. (You can technically do this in your morning OR your evening regimen before you apply any active products to your skin… I choose to do it at night).
Eye Cream – (see AM)
Retinol – RetinUltimate Transforming Gel is worth every penny. I can't reiterate this enough. I've tried every retinol product, including tons of prescription ones and there's nothing out there like this! If you don't get any treatments done, this is the closest thing to getting a treatment at home. It actually is proven to get rid of and prevent wrinkles, as well as minimizing scars/sun spots. It has never irritated my skin unlike all the prescription ones and makes a huge difference with my acne and wrinkles. *NOTE* You shouldn't apply moisturizer or any other product over retinol or else it makes it less effective so I actually stopped using night cream and the oil in the morning balances it out. On days that my skin feels dry I skip this and use either Youth Corridor's Ultimate Nourishing Creme or if it's really dry, Skinceuticals Hydrating Masque overnight.
Thank you Youth Corridor Clinic for partnering with me. What I choose to write and review is 100% my own opinions.
If you're in the NY area contact Youth Corridor Clinic for an appointment and get 20% off when you mention me!
Also if you want to win a $250 gift card to Youth Corridor toward esthetic services or their products, then enter here.
photos by Candy Kennedy