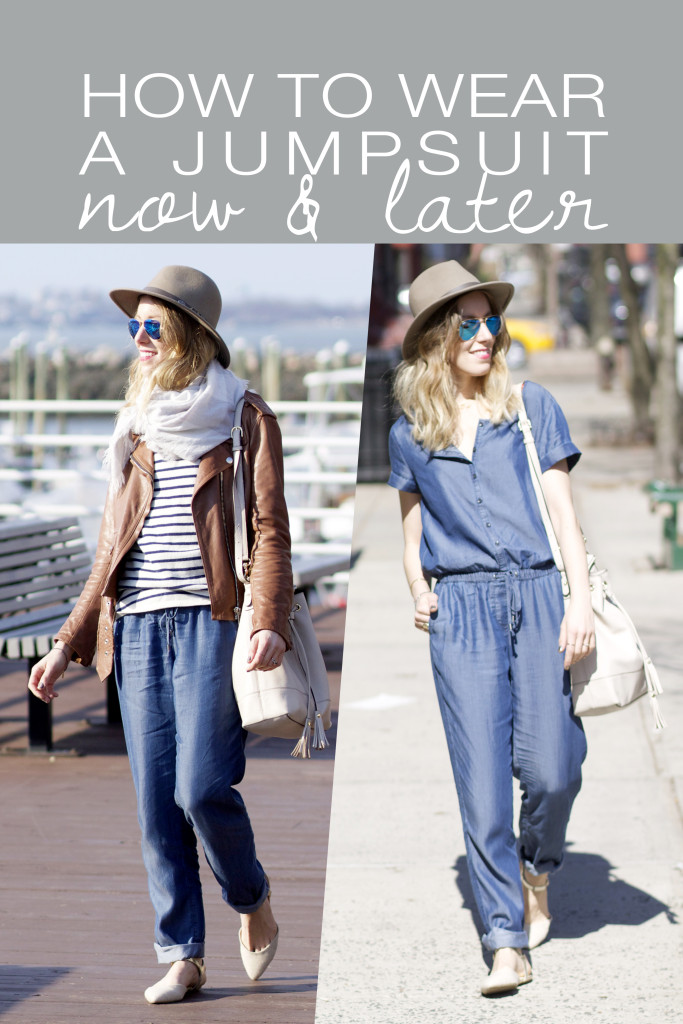 Lands' End jumpsuit, flats, bag (c/o)* // Lands' End cashmere sweater and scarf // Ray-Ban sunglasses // Acne leather jacket via SnobSwap // Bailey hat // Jamberry nail wraps (c/o) // BareMinerals lip color (c/o)

I've been all about the jumpsuit the past few seasons, as it's an effortless way to put together a stylish outfit and without any fuss—perfect for someone who spends their days dressing others, so I don't want to spend a lot of time on my own outfit. It's really one of the most easy and believe it or not, versatile pieces.
The jumpsuit is also starting to become more of a classic wardrobe piece than a trend lately. I think I now own more variations on the design than I can count in my closet and even Phillip Lim is bringing the design as a perennial statement for men each season now.
I styled this chambray jumpsuit for Lands' End's Apostrophe quarterly magazine and instantly fell in love with it, so I've been waiting for it to finally be warm enough to wear. Obviously I couldn't wait much longer, and as you can see, I finally broke it out this past weekend.
I left Brooklyn on Saturday for a quick weekend trip and it was nearly 80 degrees at home, but a 4 hour car ride to New England later, it was a chilly 50 degrees. Luckily I packed a sweater, leather jacket and lightweight scarf in my overnight bag and layered it all up over the jumpsuit. Voila! It became a whole other look.
Just by adding some layers, you can easily figure out how to wear a jumpsuit now and later in the season when it's consistently warmer you'll feel like you have a new item in your wardrobe. Even better, you can dress it up with heels and a blazer for an evening look. Now you know why jumpsuits are my go-to and especially travel wardrobe staple. Now how will you wear yours first?
*{These items are courtesy of the brand, sans compensation. What I choose to wear and my opinions on this site are always my own.}