November 2, 2018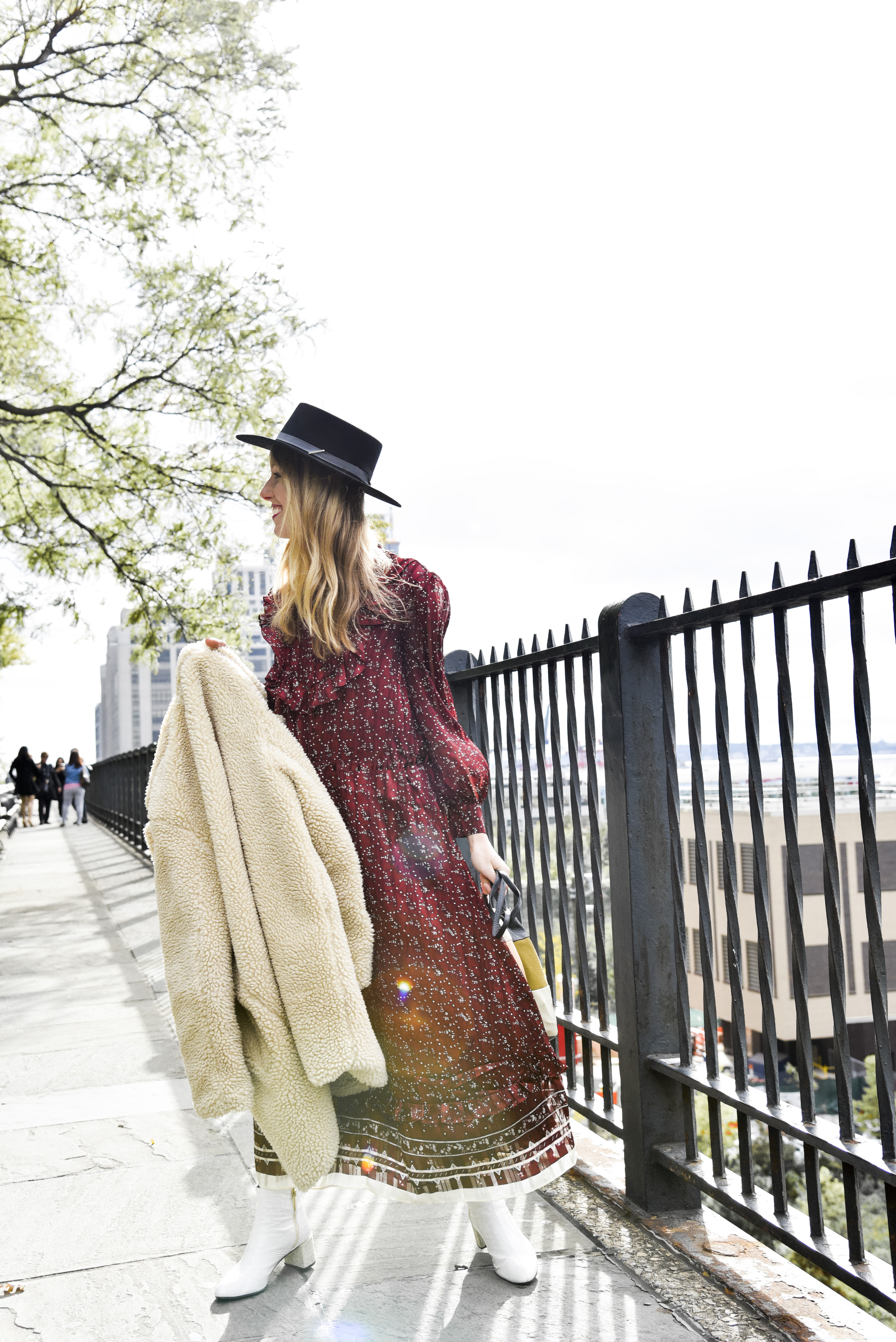 Dress: & Other Stories | Coat: H&M (old, similar here) | Boots: Dear Frances (sold out, similar here) | Hat: Kin The Label | Bag: custom by Jennifer Stewart
This week's blog post I'm taking it back old school. Like really old school… to the 1800's really. Believe it or not, "prairie chic" is a trend this season I'm actually on board this modest and once dowdy style. Now how do you wear the prairie dress trend and make it feel fresh?
I personally am into updating it with a pair of on trend white booties and a teddy coat to make it feel a bit cool girl bohemian. I love how my friend Laura wore the same prairie dress recently and I may copy that edgier look or pair it next time with sneakers. I know it seems kind of obvious to wear it with Western boots as they're also trending, but I would avoid unless subtle at risk of looking like a costume! I write this in the Halloween hangover and realized I would have had the perfect Oregon Trail costume. Next year, right?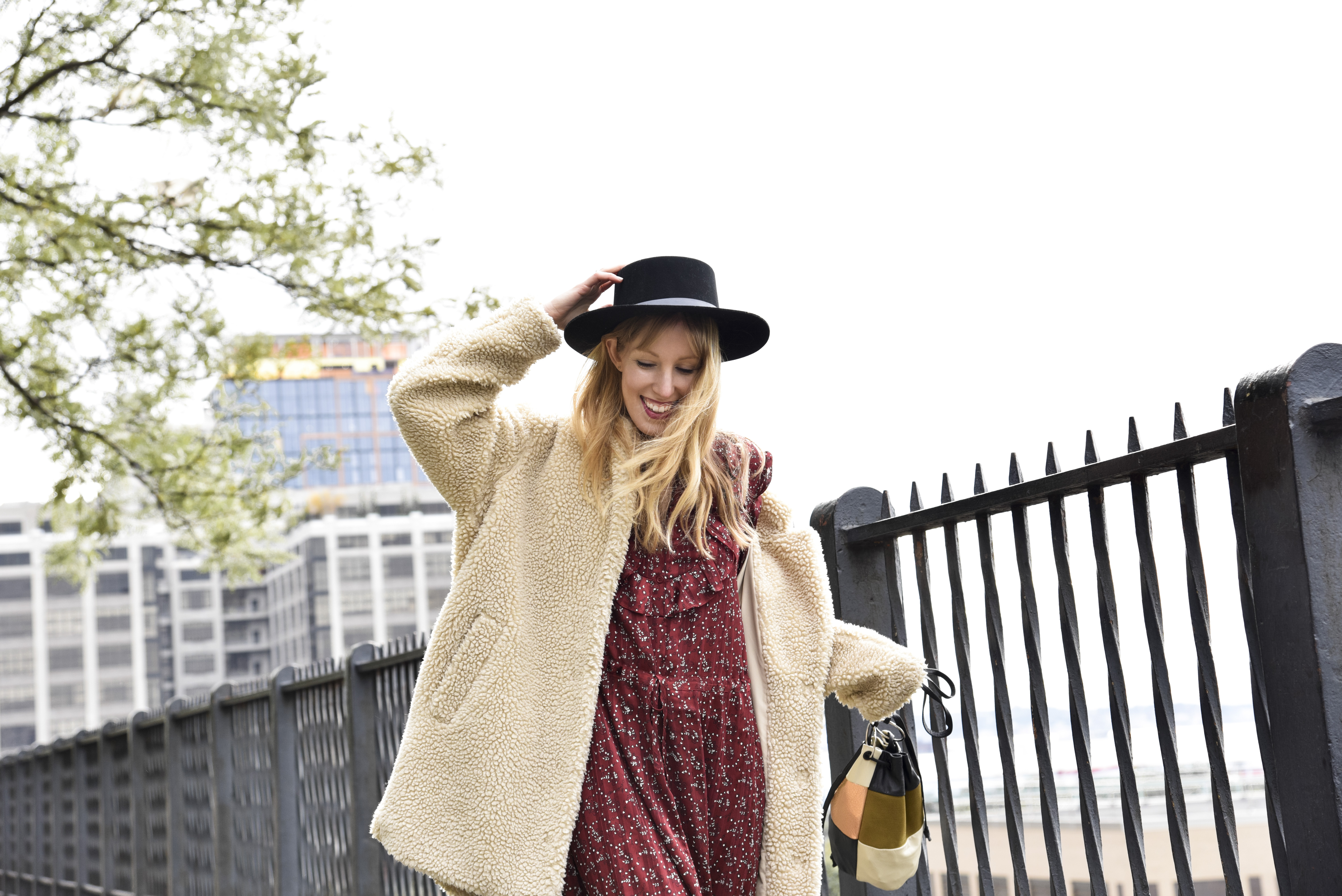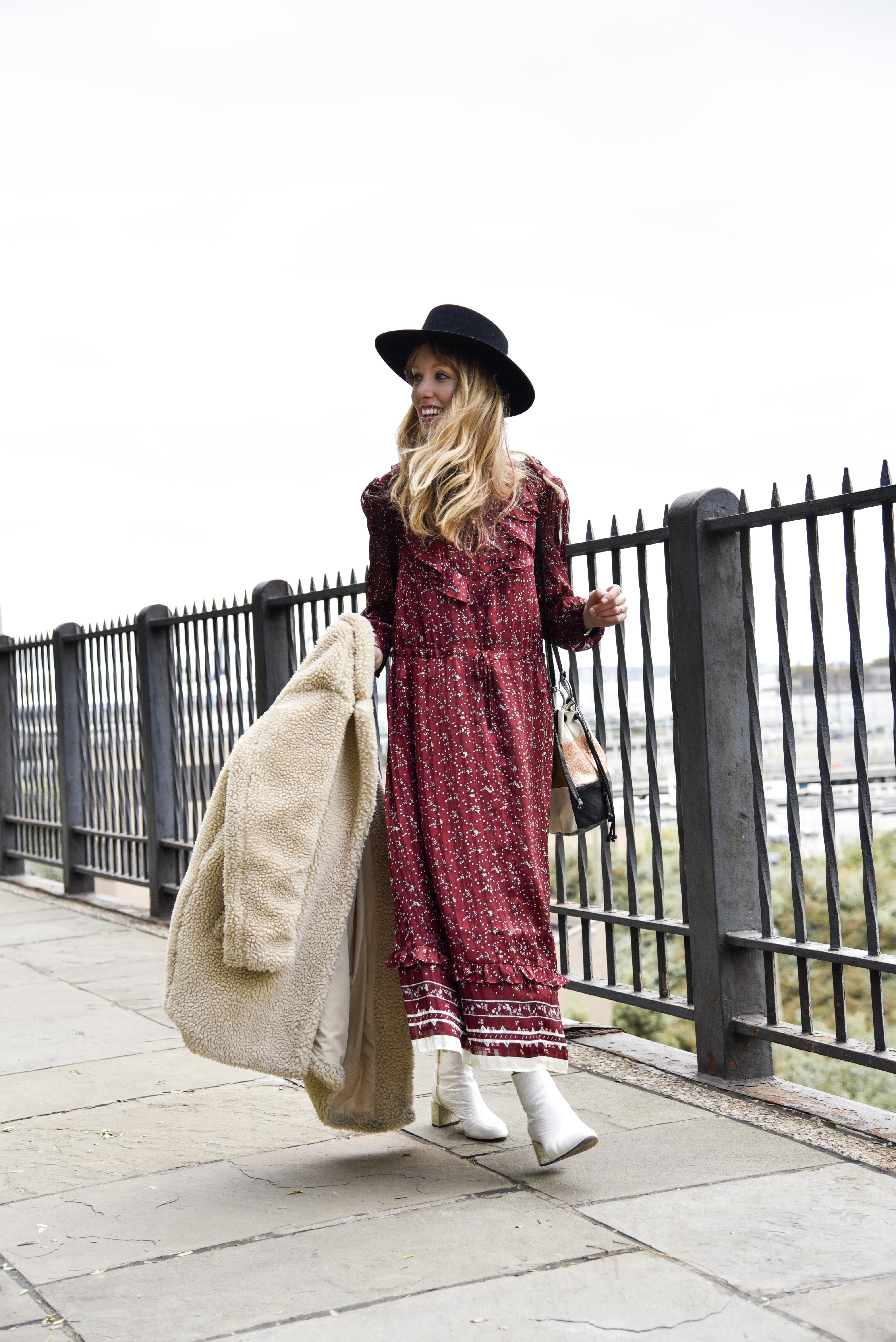 Why is this a trend now almost 200 years after it all began? My theory is that this is a reaction to both the "#MeToo" movement and women standing up for their rights in this era. Vogue recently suggested that "perhaps designers are inspired by the self-sufficiency of pioneer women. Or maybe they're taken with the moment that America became something more than a set of geographic limits. Or, hey, maybe everyone's just really into Westworld."
Whatever it is, I just want to buy it all and luckily & Other Stories has a ton of these dresses at affordable prices for me to stock up on. Don't tell anyone, but it's kind of like wearing a nightgown and not having to worry about shaving your legs—but you can totally get away with it for work, weekends and I'll even wear it chasing my toddler at the playground. Win win!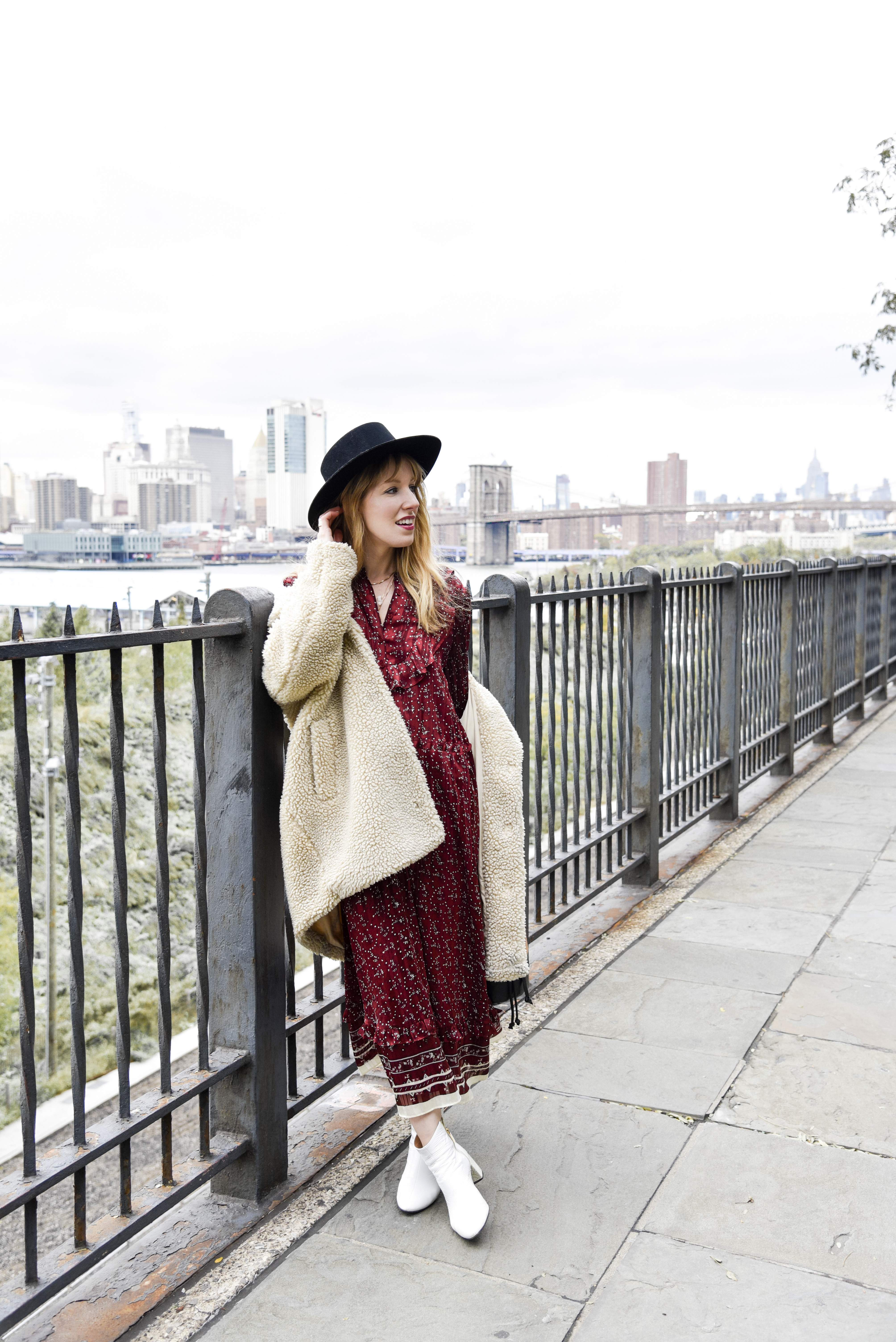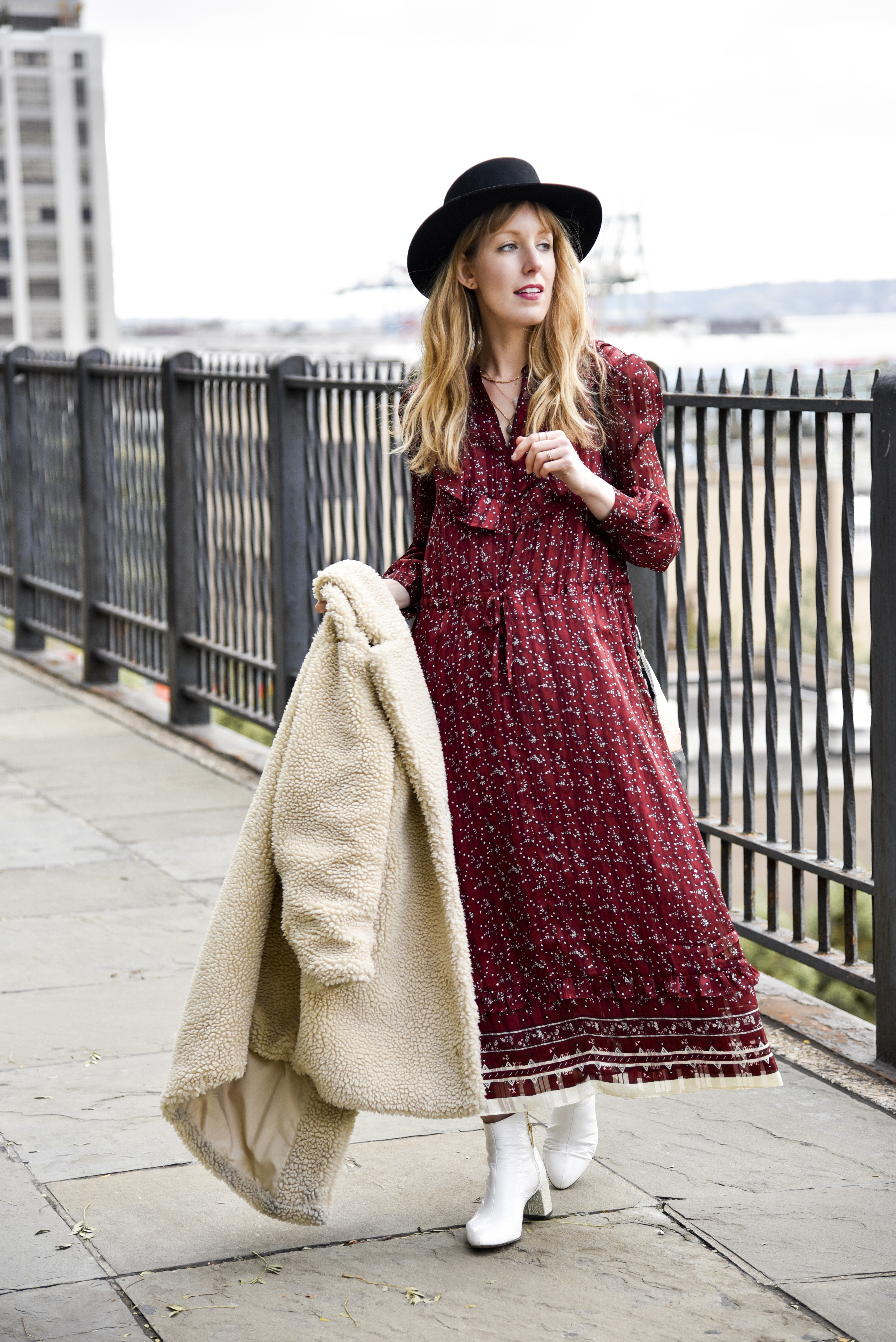 I picked out this particular dress because I loved the color (as you can tell by this post), the high quality silky fabric and the fact that it has buttons for the option of not being buttoned up all the way, as well as a drawstring waist if you want more shape—all depending on my mood (I'm a Gemini afterall!).
Would you wear this trend?
Thank you & Other Stories for partnering with me on this post. What I choose to wear and all opinions are 100% my own.
photos by Michelle Rose Photo