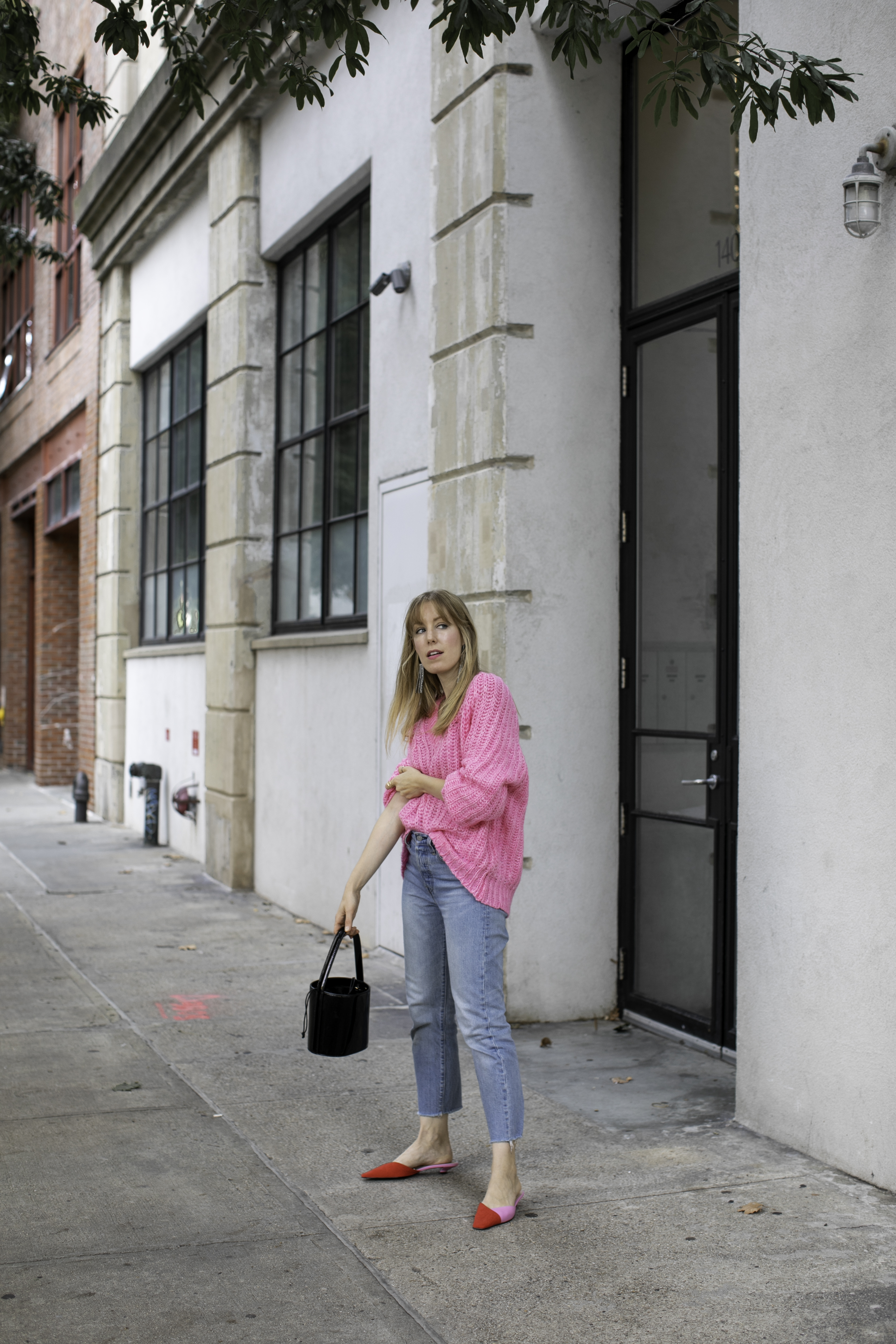 Sweater: Mango (sold out but you can get on the waitlist or get similar here, here and here that I want too!) | Jeans: Levi's | Mules: Zara (similar here) | Bag: Staud | Earrings: Mango
SHOP THIS POST
I'm a sucker for a good "momiform," as my mom friend Tara calls it. A momiform is usually when a 30-something has lost all sense of style and wears the most basic of outfits (think basic tee, skinny jeans, Ugg boots or Tory Burch flats and a Michael Kors handbag). Apologies if this is your look and there's nothing wrong with it if it is, but for me it's predictable.
To me, a good momiform is something you can just grab in your closet and go without even giving second thought to because 1) it's easy when you're trying to get out of the house with getting a little one ready and 2) it works and 3) makes you feel excited about getting dress.
The formula for my "momiform" these days tends to be:
MOM JEANS
I'm such a sucker for a high waisted, straight leg jean like these. Don't get me wrong, I'm all about the wide leg jean trend right now and I have a few skinny jeans in rotation, but there is nothing more flattering than a good pair of "mom jeans" and that's why I own a bunch of them. Guarantee you'll get compliments on them when you wear them, especially if you're a curvy girl! I even exclaimed them as something I swear by on this new site aptly called SWEARBY. Look for a pair that's high waisted, large back pockets and a straight leg that's slightly cropped (or you can cut the hem yourself). I'm debating on adding this amazing pair of mom jeans into my rotation.
OVER-SIZED SWEATER
I've been really into easy sweaters that you can throw on but also don't cost a lot. Life with a toddler means spending less on clothes because they tend to get destroyed these days between messy meals and someone tugging on me. I love that this one from Mango is in a show-stopping hot pink—which some are declaring "the new millennial pink." I have my eye on this one as well. You can do the "French tuck" (aka the messy tuck that's been done for years but recently got a name) so you can give the sweater some shape and show off that high waist.
*STYLIST TIP* When sweater shopping, you can preview whether or not the sweater will pill by rubbing a section together between your fingers. It doesn't matter how expensive the sweater is or not. IF it does pill, you can always shave it with an electric shaver like this one that I recommend to my clients.  
HANDBAG WITH SHOULDER STRAP OPTION
A bag that takes me from playground to work to play is a winner in my book. This Staud bag I've worn to death this season because it's so on trend, goes with everything and is easy. A smaller bag helps me travel with just the essentials (along with my diaper bag if with my baby) and then be ready for any occasion. This bag is a great classic option, this one if you're looking for a pop of color, and this one is so good and less than $40!
Do you have a "momiform"? I'd love to hear what yours is!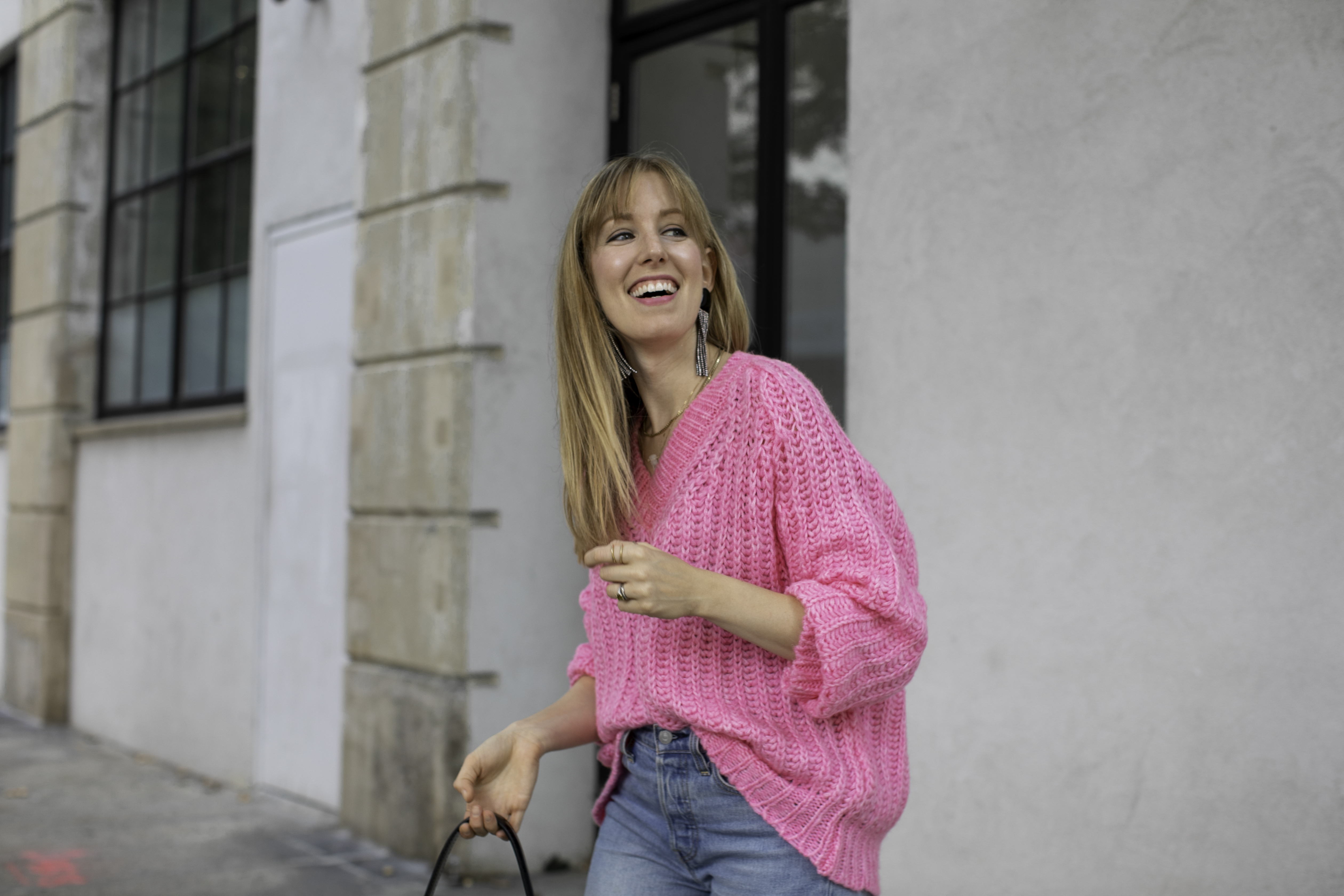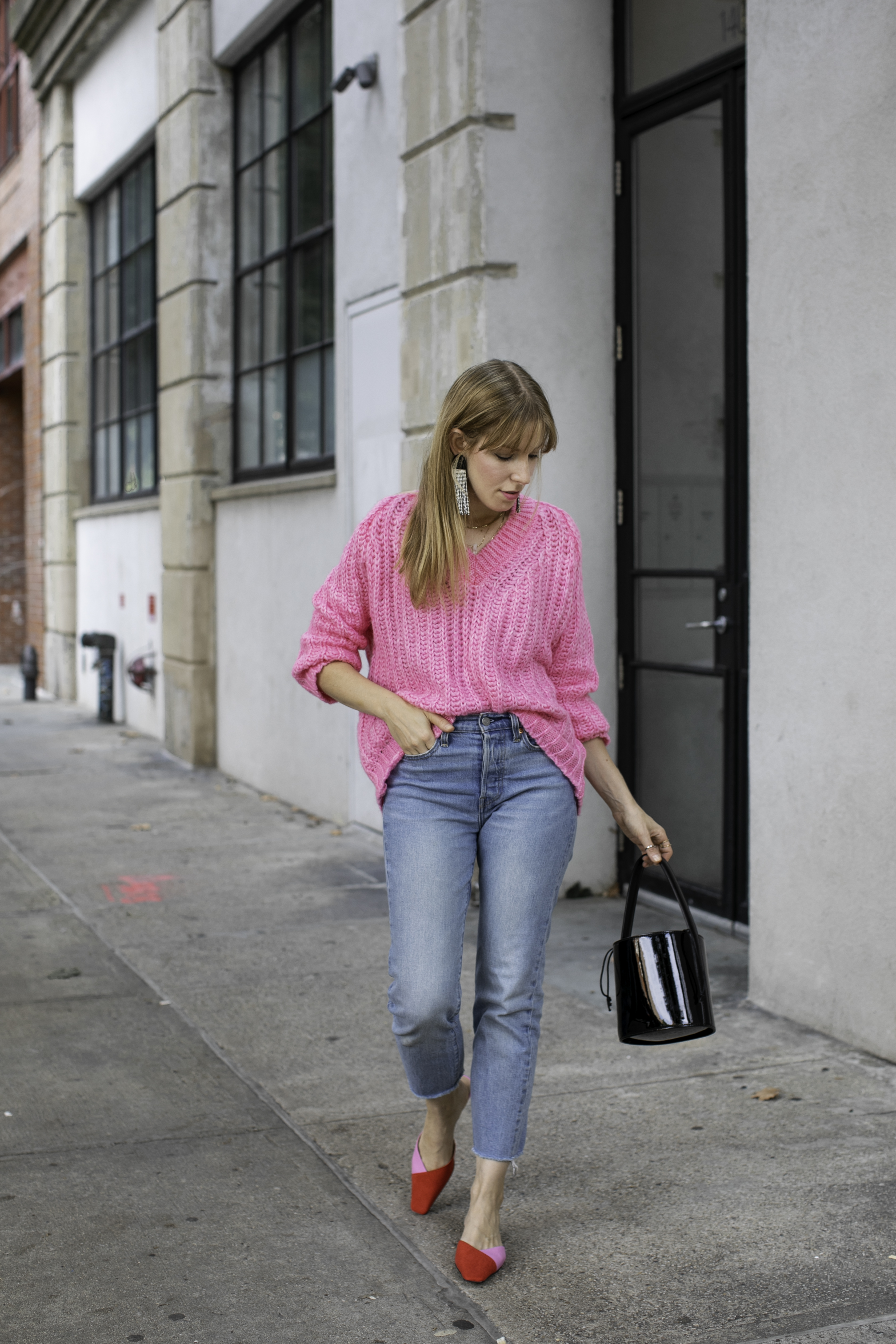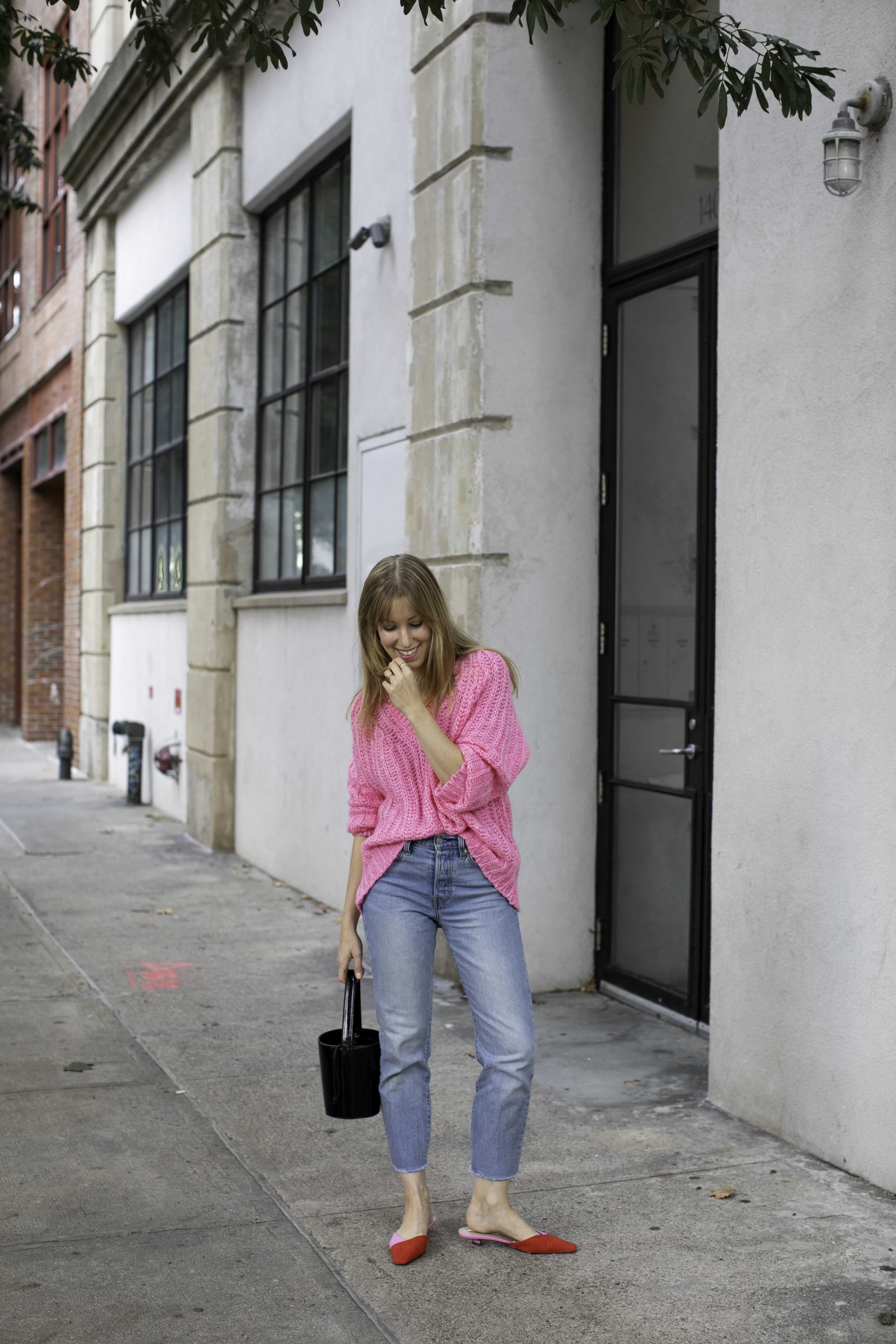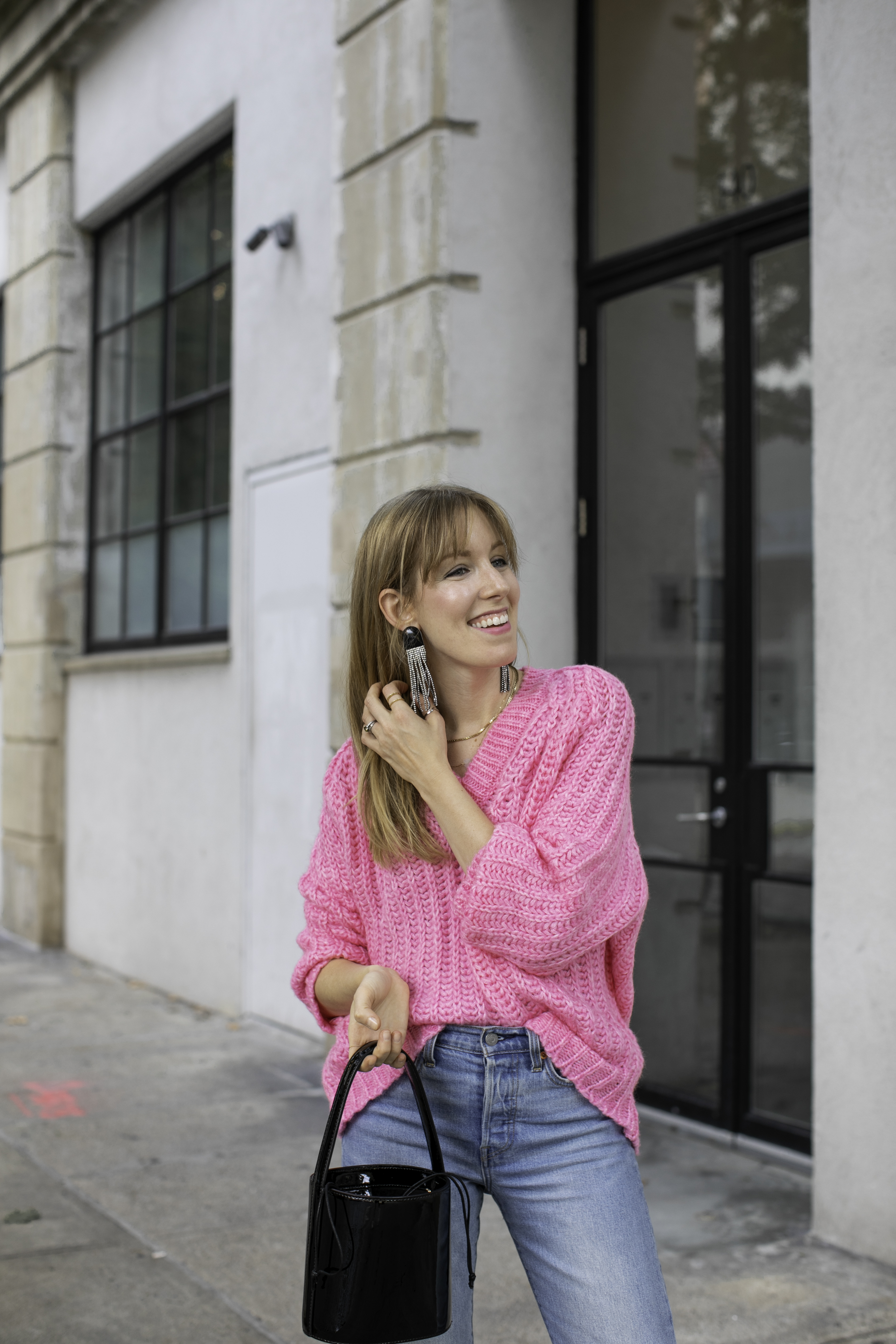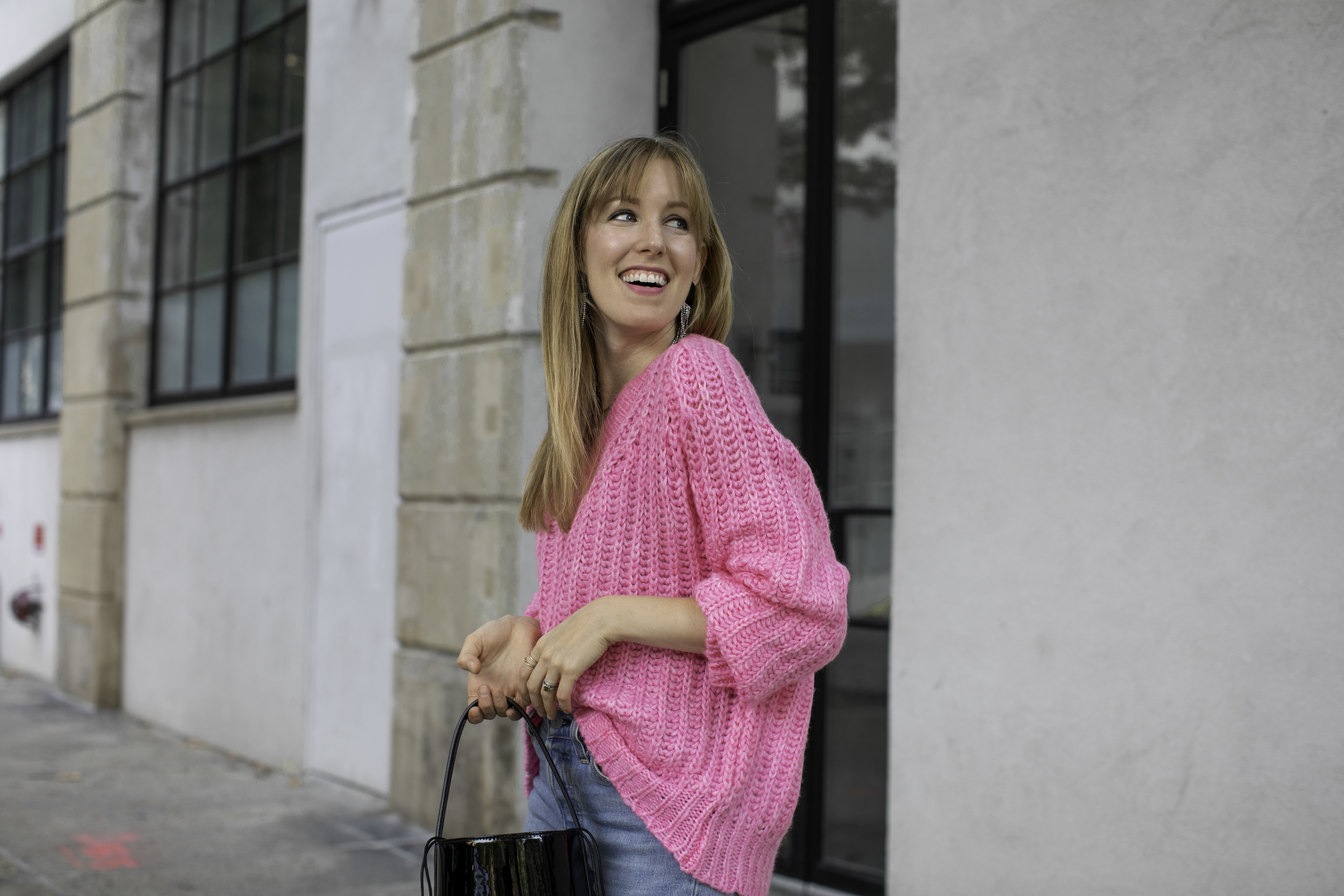 photos by Lydia Hudgens