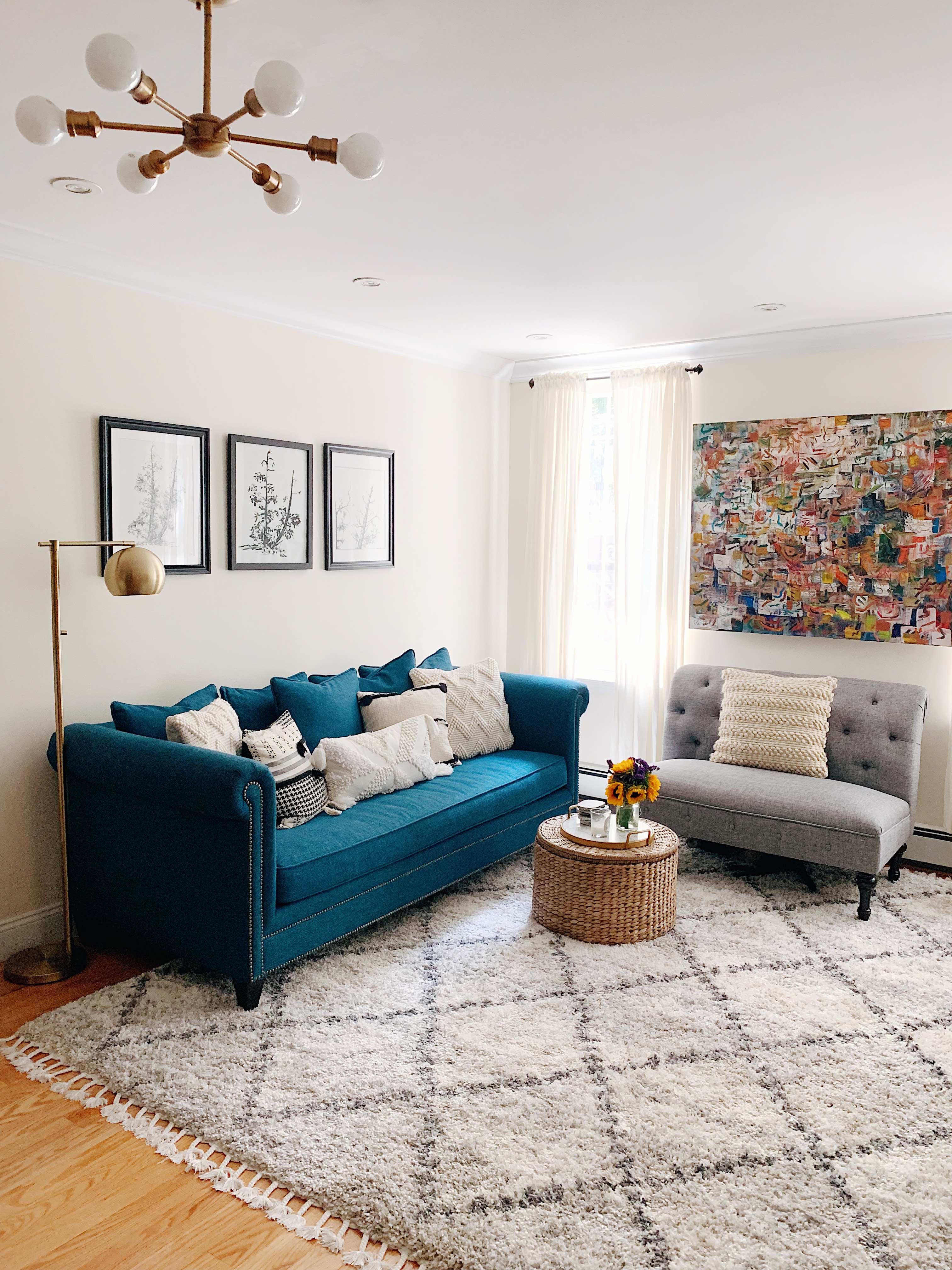 You may have seen my recent Instagram post, questioning possibly the most difficult decision we ever had to make, whether we should stay or go — continue living in Brooklyn or head to the 'burbs. We actually were house hunting for a while, but ultimately decided to stick around in our beloved Brooklyn for as long as we can do it.
When we do decide we have outgrown our space, we're going to utilize this amazing *free* service called Suburban Jungle to find exactly where we want to end up. Until then, we're going to try to make our space work for us.
As soon as we had a baby, our Brooklyn apartment started to feel smaller and smaller with all the stuff that comes along with a child. Our 1200 square foot home felt like a shoe box and we couldn't take it anymore. You can see the "before" pictures from our actual real estate listing when we got fed up and decided to sell. It felt dark and over-crowded with furniture.
Even though we bought our apartment 6 years ago, it always felt temporary because we never really tackled updating the kitchen and decorated beyond the hodge-podge of decor we pieced together affordably. We started renovating and focusing on updating our home to make it work for our life with a toddler and have been enjoying it SO much more that we decided to keep calling it home.
Here are ways that we are making our home decor work with a toddler:
1 // By getting rid of the coffee table, but replacing it with something functional and kid friendly.
My husband couldn't stand that there was no longer a place to put his feet up and I couldn't handle that guests had no where to put their drinks down. This storage ottoman was a nice compromise and my son even loves to pull the blankets out from inside.
2 // Splurging on a soft, high quality area rug for the living room.
I know a lot of you are thinking, yea right, I'd never risk that with a toddler, but you know what? It's where we spend the majority of our time and these days, we're on the floor more than the couch! I originally bought a cheap rug in fear of it getting trashed with a kid. It shed all over us, was so itchy and started to fall apart over time. As soon as I put out our new plush Nourison shag rug, my son insisted on lying on the floor there and since then, has spent more time there than anywhere else.
3 // Making my son's room his play room and anything that goes in the living space MUST be in line with our design aesthetic.
I love that now when people walk into my home, they remark on how it's not like a typical home with a toddler where the living room has been overrun with toys and kid things. It's still everyone's space. If my son wants to bring anything from his room into the living room to play, he's welcome to, as long as he puts it back after. We have a bin of art supplies that he can bring over to his beautiful mod toddler table and chair set to play in, as well as his non-toxic play dough from The Dough Project. I also loved the design of this play kitchen so much that I basically modeled ours to match. Now I just need to work on getting the gold hardware.
4 // By getting rid of or moving around bulky furniture to open up the space. 
We got rid of what felt like so much of our furniture and even move things slightly to keep the flow more open, especially with a toddler that seems to only run in our home.
5 // Upgrading what's ruined affordably. 
Nothing is worse than living in a space that makes you cringe. I had cheap pillows that my son thought it was fun to destroy even further and a loveseat that somehow was horribly stained and destroyed beyond repair between cats and a kid. A part of me was thinking what's the sense in getting something new just to risk it getting ruined again? There is! You have to live with it. What a difference some new pillows and a $200 loveseat upgrade made!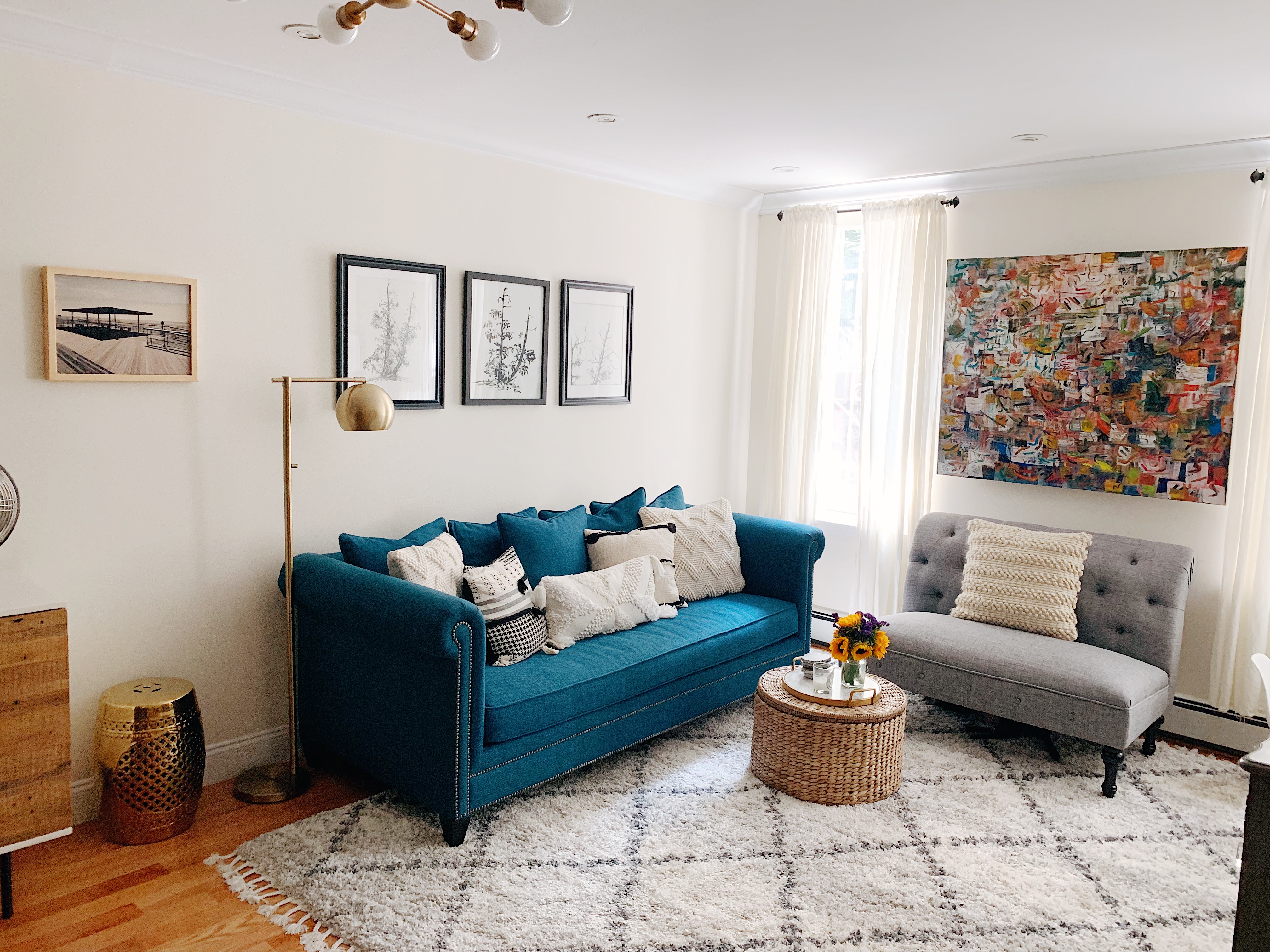 RUG: Nourison (c/o)
ZIG ZAG PILLOWS: Nourison (c/o)
BLACK & IVORY PILLOW: Nourison (c/o)
BLACK & WHITE PILLOW: Nourison (c/o)
CREAM LUMBAR PILLOW: Nourison (c/o)
LARGE BEIGE PILLOWw: Nourison (c/o)
SOFA: Crate and Barrell
STORAGE OTTOMAN: Urban Outfitters
GOLD GARDEN STOOL: Marshalls
LAMP: Target
CURTAINS: Ikea
TUFTED CHESTERFIELD LOVESEAT: Wayfair
LIGHT FIXTURE: Wayfair
PHOTOGRAPHY: Florian Innerkofler (c/o)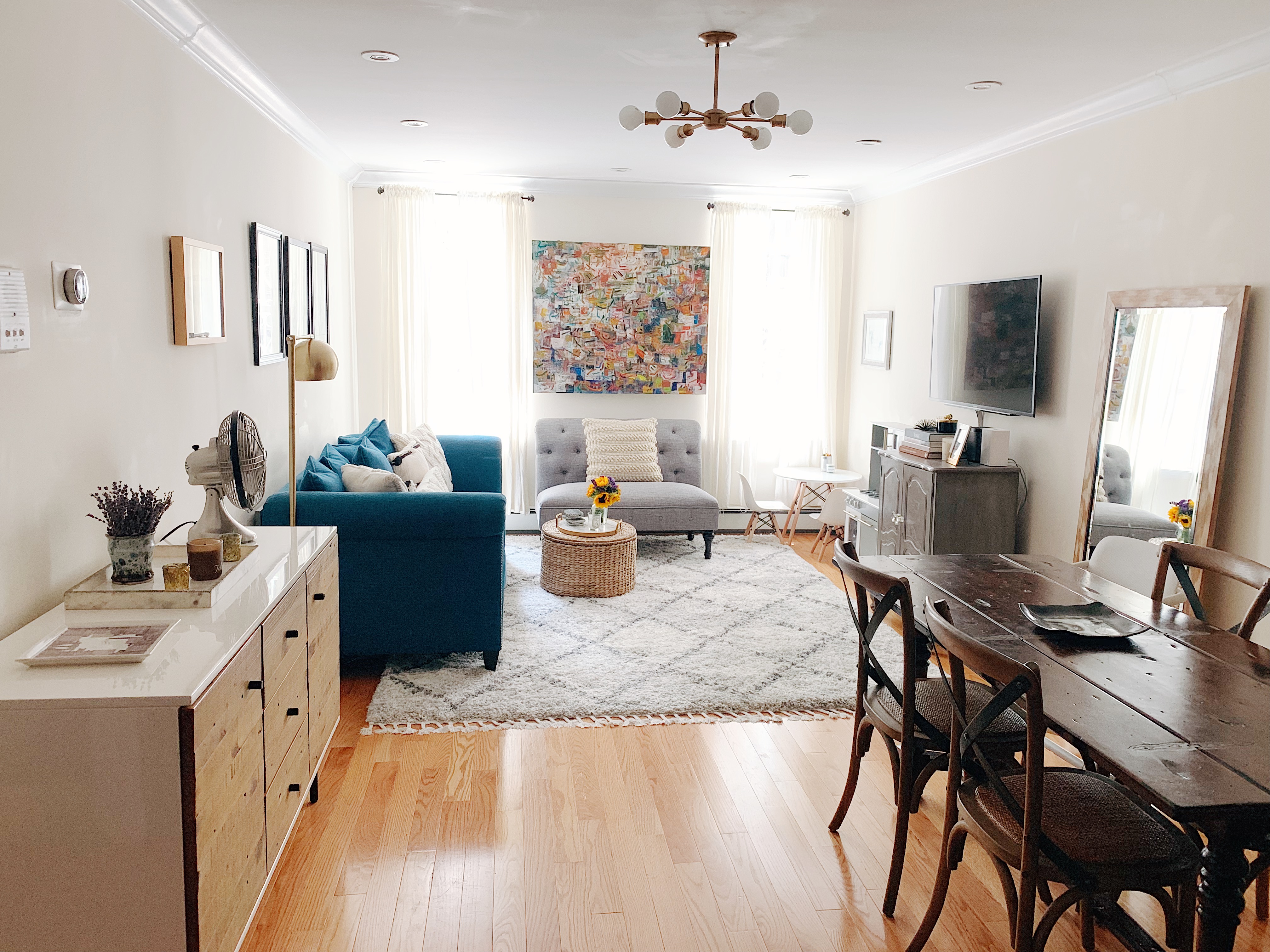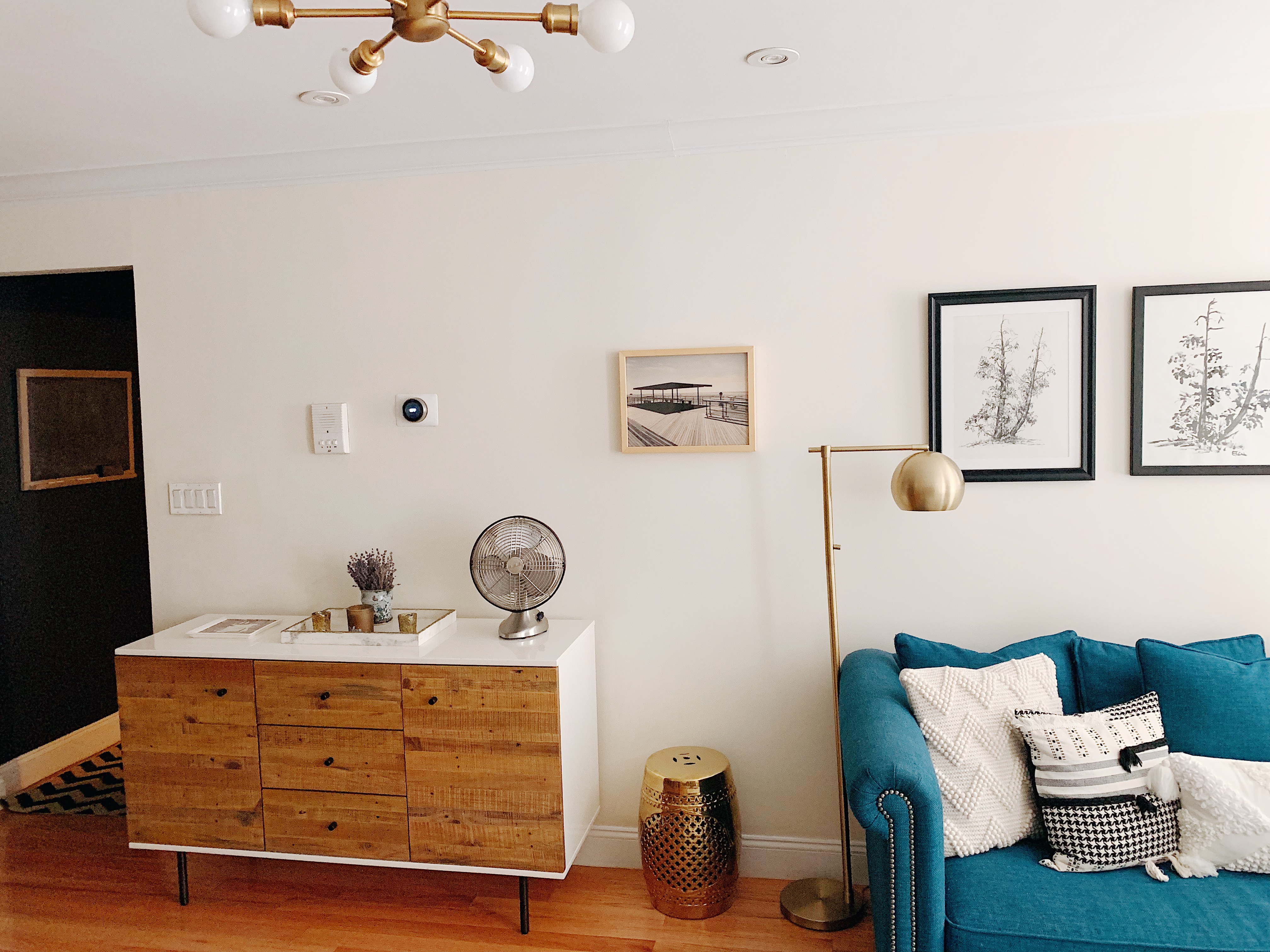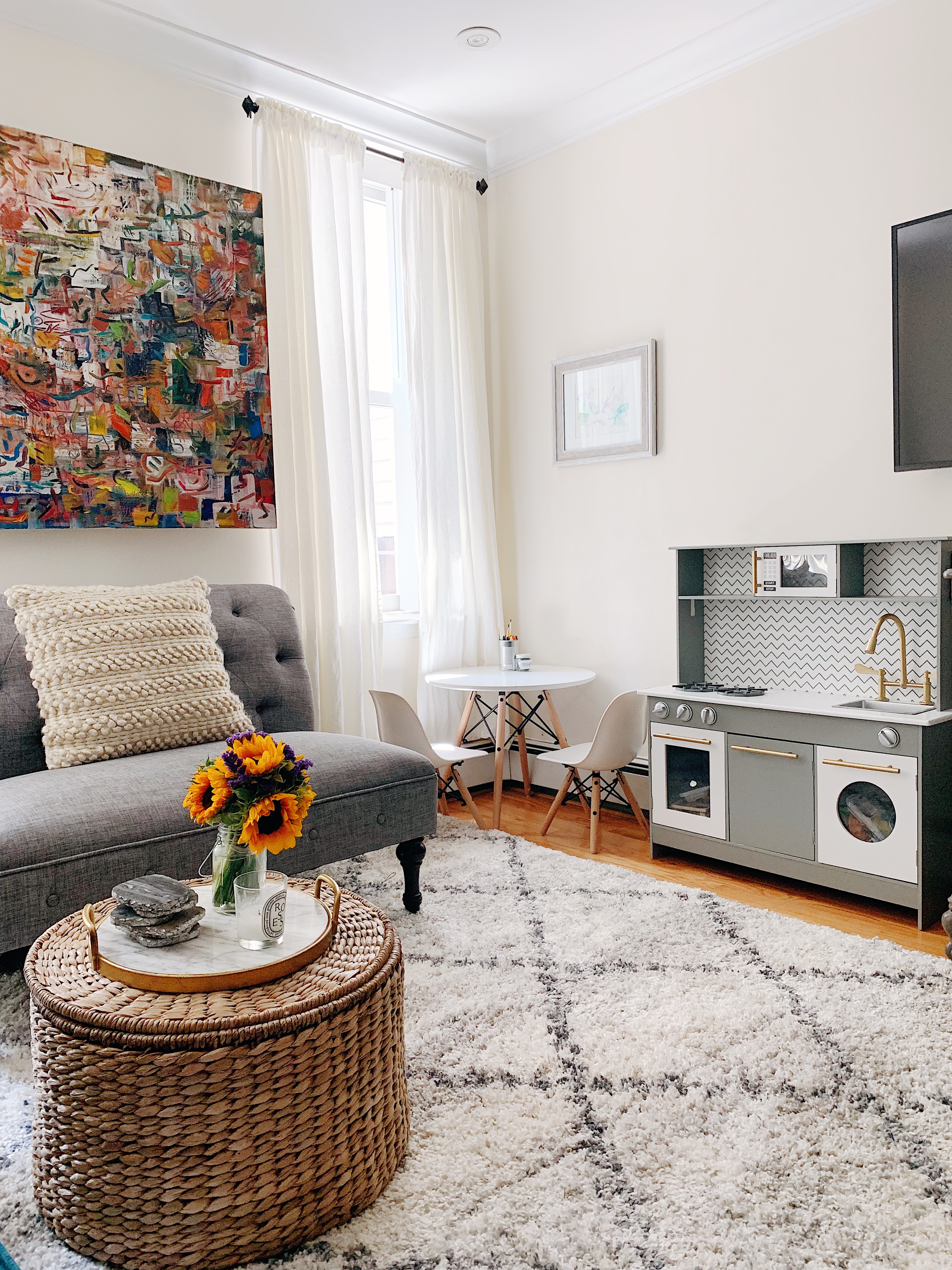 BUFFET: West Elm
Fan: Target
RETANGULAR TRAY: Homegoods
COASTERS: Homegoods
CIRCULAR TRAY: World Market
KID TABLE AND CHAIR SET: UrbanMod via Amazon
PLAY KITCHEN: Teamson Kids
CUSTOM RE-FACED KITCHEN CABINETS, FLOORING, AND BACKSPLASH: Home Depot
BAR STOOLS: ABC Carpet & Home (outlet)
MARBLE PAPER TOWEL HOLDER: Amazon
WINE RACK: Amazon
FLUSH MOUNT LIGHT FIXTURE: CB2
SHOP THIS POST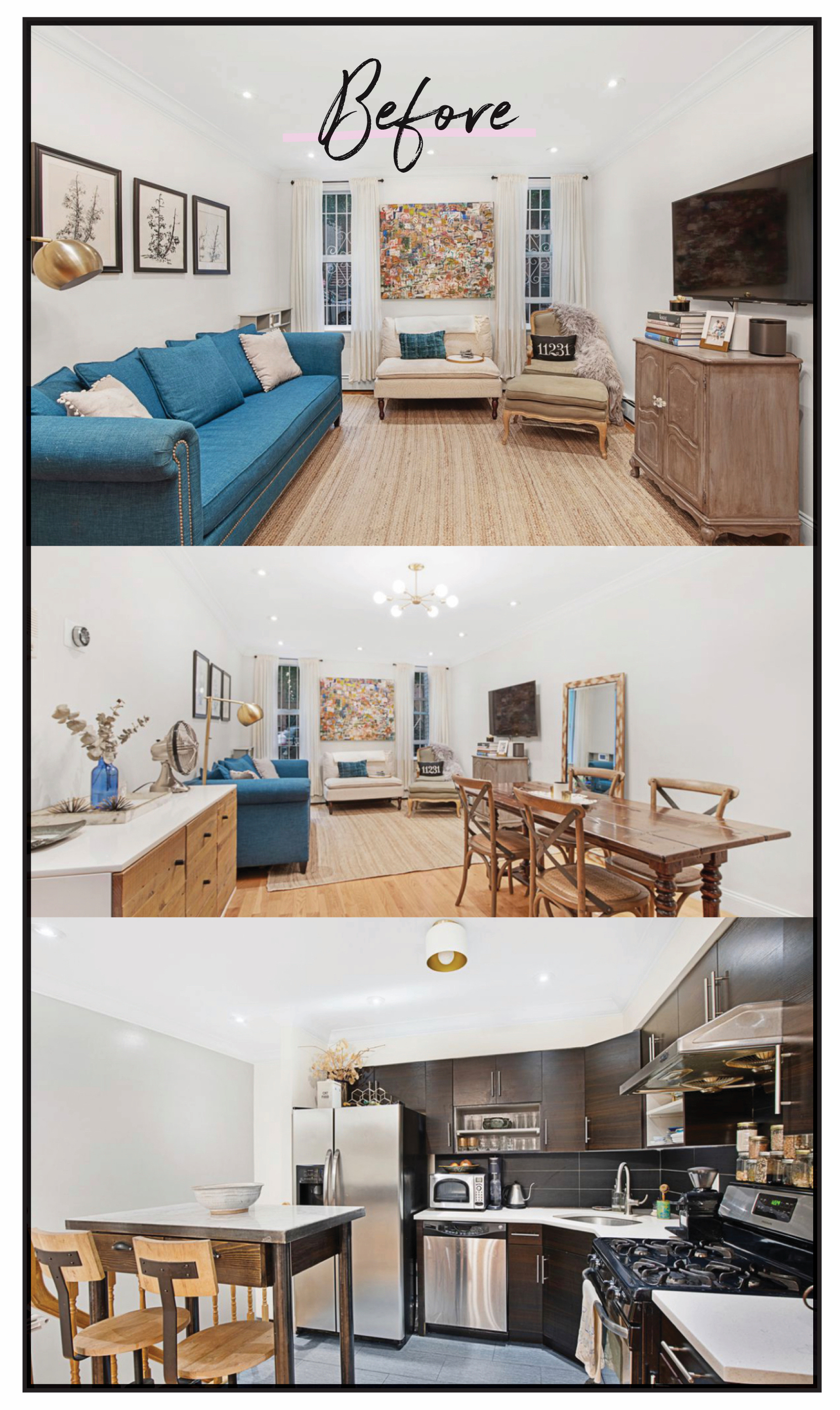 I've featured a lot on my son's room, which is my favorite room in our apartment and I can't wait to share soon how it's evolving as he's growing. Send me your home decor questions and anything else you'd like to see!