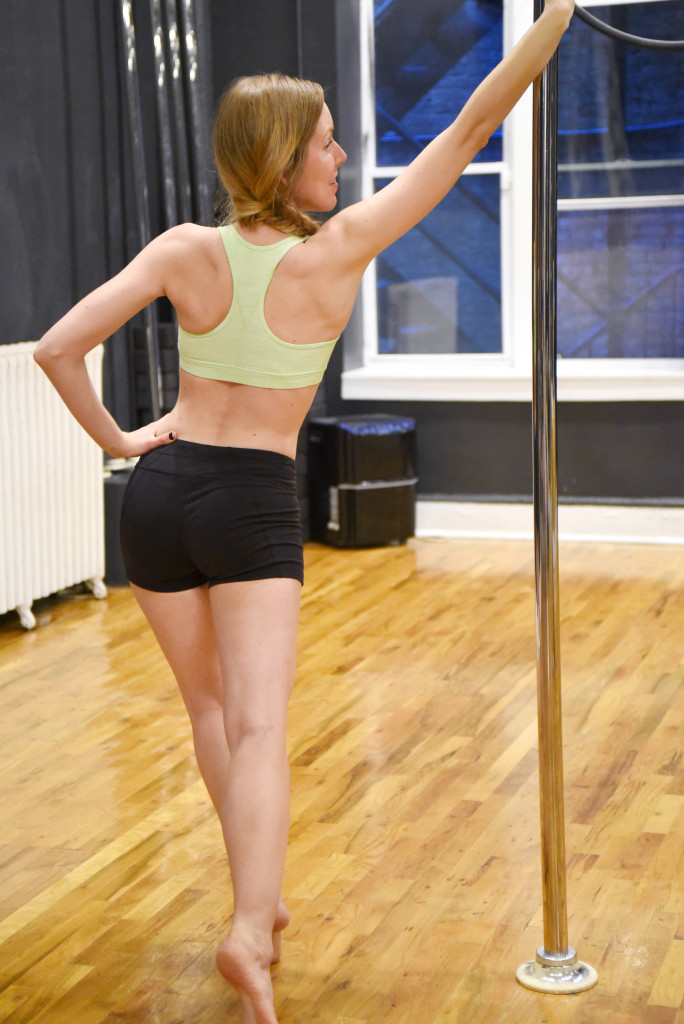 Happy 2015! Last year brought exciting new things—like the re-brand of The Brooklyn Stylist and new clients I've been styling for, but there's still so much more I want to accomplish in 2015.
For the first time in a while, I'm making health and fitness a resolution of mine. How cliché, I know, but I've been a health nut my whole life and practicing yogi for the past 8 years or so and as I get older, I realize I need to add some new things to my workout routine, so it's not a routine. I'm never motivated to actually "work out," but give me something that's active where I forget I'm actually "working out" and I'm hooked (hence, yoga in my life). I needed a new year workout plan.
After an elbow injury as a teen, I kind of gave up on being active. Before yoga, my hubby called me "skinny fat" and I could barely do a push up. Now I can balance on my hands and back bend like it's nobody's business. Still, when I saw Zoe Kantor, a competitive pole dancer and instructor at Body + Pole in NYC perform, I felt like I had a long road of fitness ahead of me until I could get that strength and flexibility. I was in awe and inspired.
I've taken one of the best fitness classes (Body Art) I've ever taken at this studio, where it combined bootcamp and yoga into an intense workout, so it was no surprise that when I took a private beginner's pole lesson with Zoe, it wasn't one of those sexy shaking your booty type of classes, it was an intense hard core workout.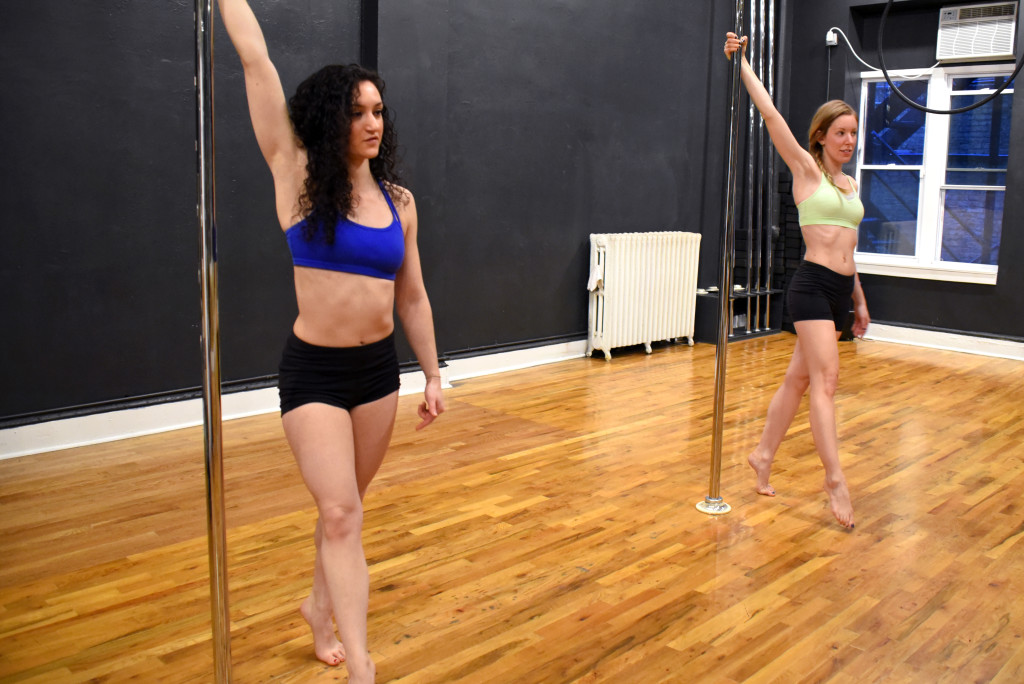 We started with learning how to walk properly around the pole, which was a lot tougher than I thought it would be to, well, walk. I should warn you that I lost most of my toe nail polish in the process of dragging my feet and Zoe laughed that you can't keep a pedicure as a competitive pole dancer.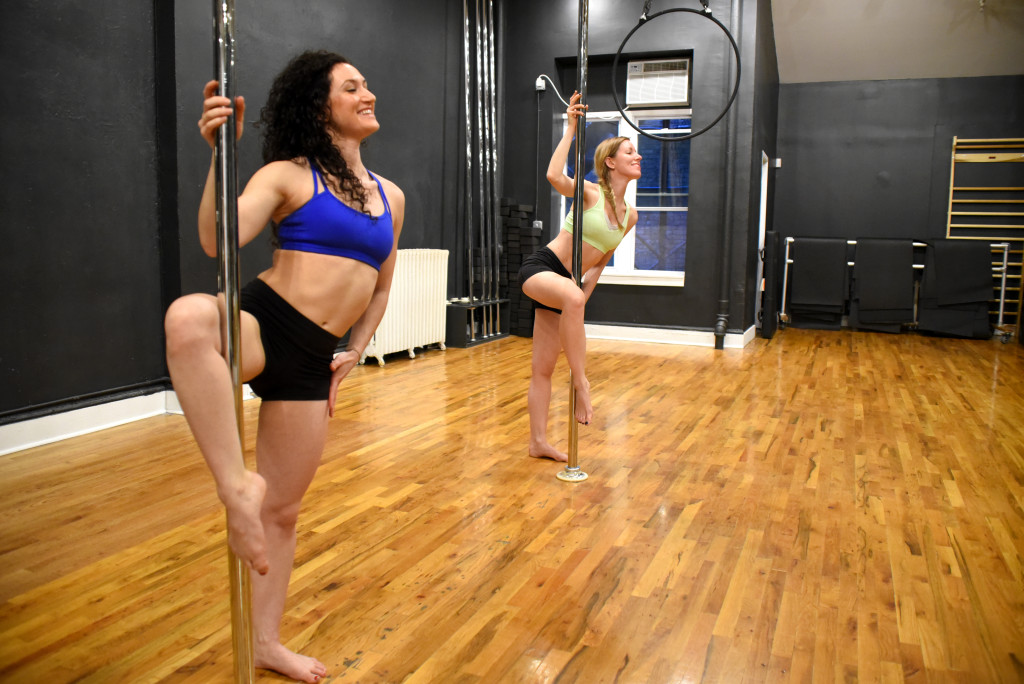 "Sexy" was the last thing on my mind when I was learning this moves and it was hard to not look awkward while I concentrated so hard to get the precise movements down.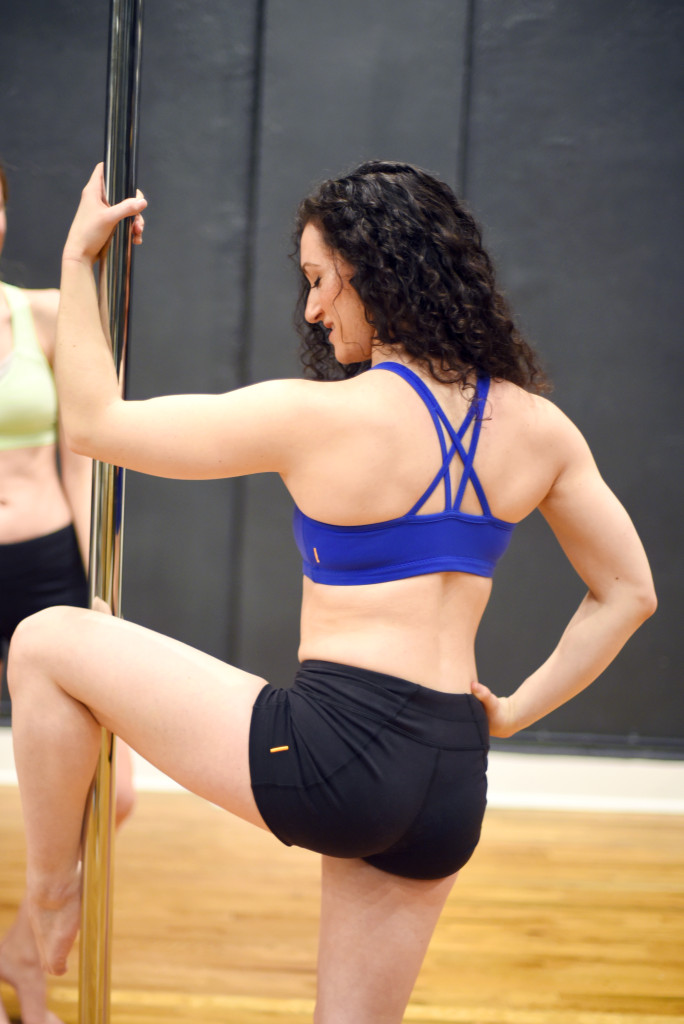 One of the toughest things for me to nail down seemed like the most effortless when I watched her do it: the dip turn. It was hard to not want to spin right into the pole, so Zoe explained that my leg was like a pencil of a compass and swings straight around before wrapping into the pole and making look like no big deal. I'm going to need a lot of practice on this one so I don't awkwardly hug the pole at the end of this move.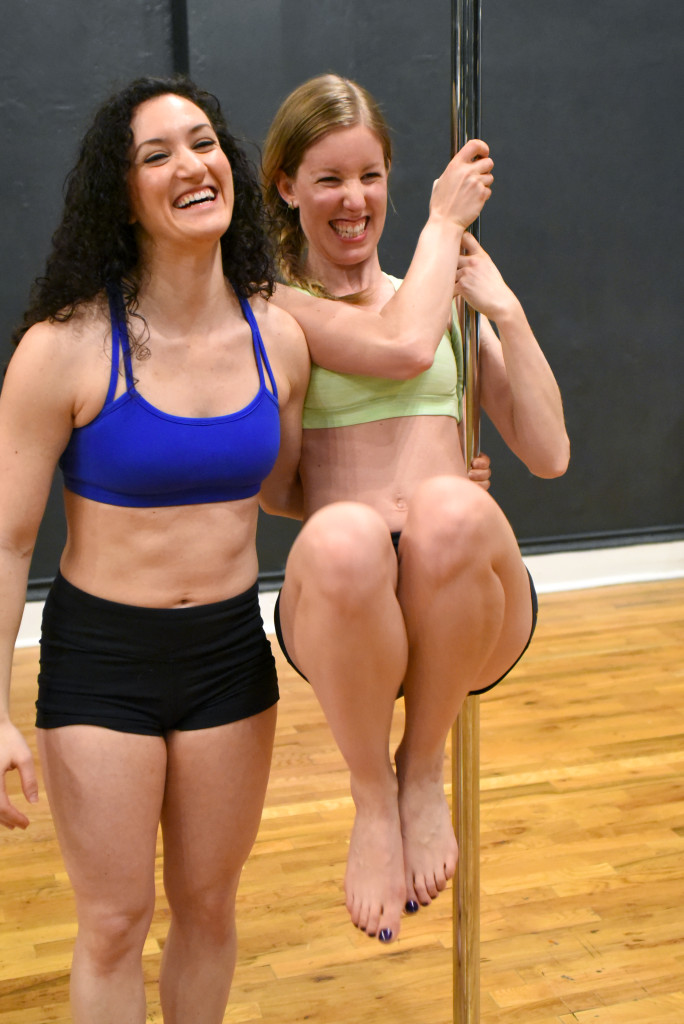 Okay, I take that back, THIS move was the toughest thing to master (as you can tell by the look on my face): The pole crunch. Zoe helped me as I hugged the pole and pulled my legs up and did a crunch. Looks like I need to work on my core a bit more after this one, but this is a great way to get those abs ready for summer.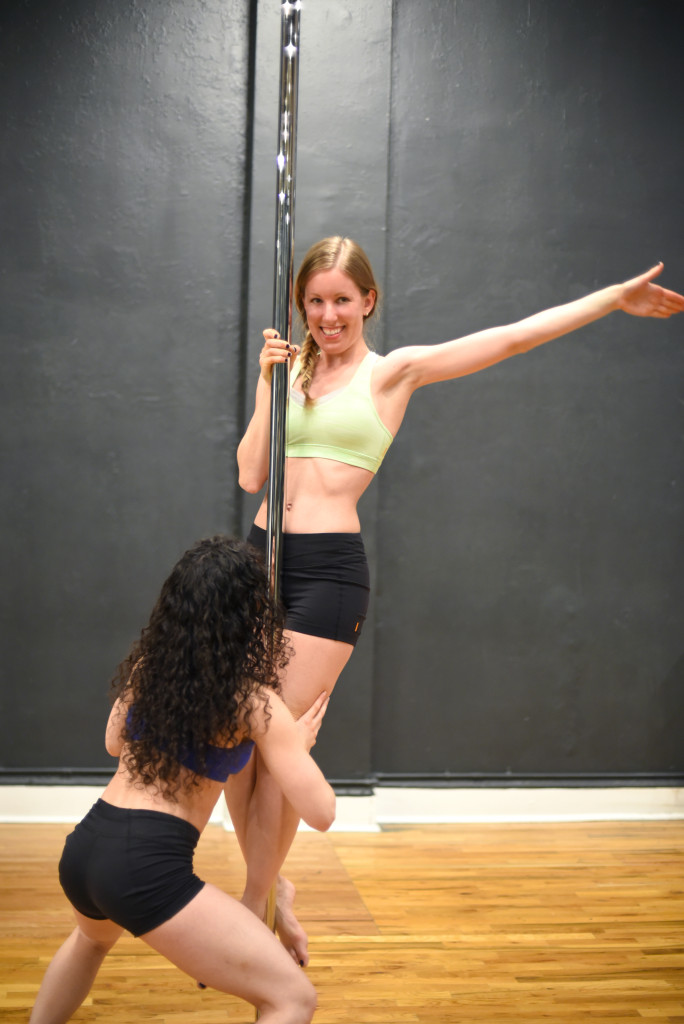 This looks way easier than it is. The pole stand looks like I'm just chilling on the pole, but when you're holding yourself up by just your legs, it's REALLY hard to leg go with your arms. Trust me.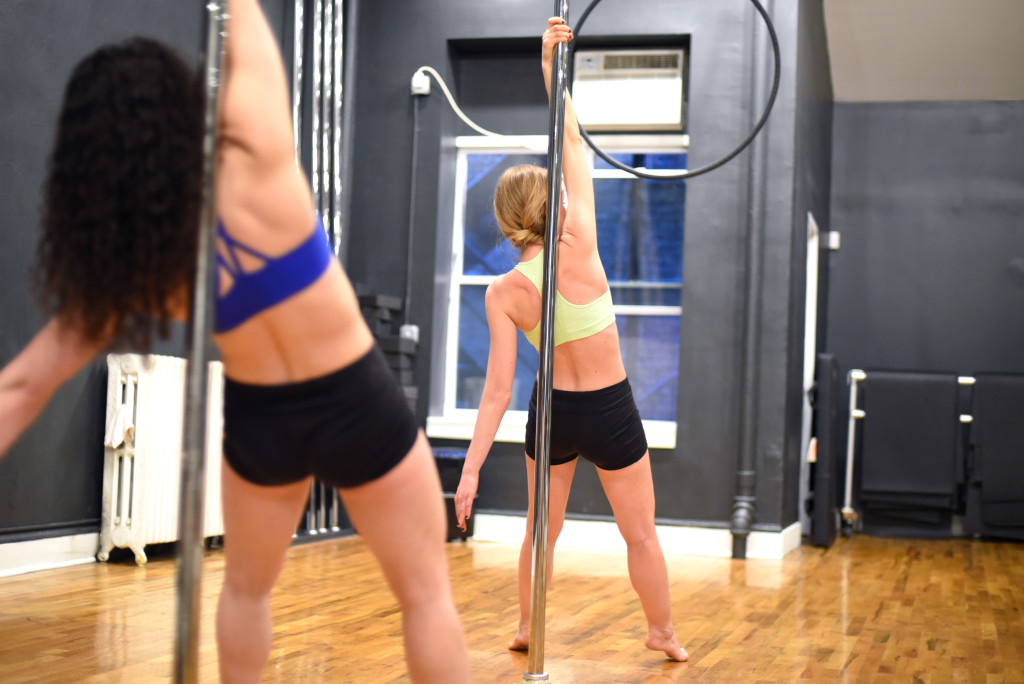 The shoulder slide was one of my favorite moves because you literally slide down from your shoulder onto the ground…so I could rest after this butt-kicking workout.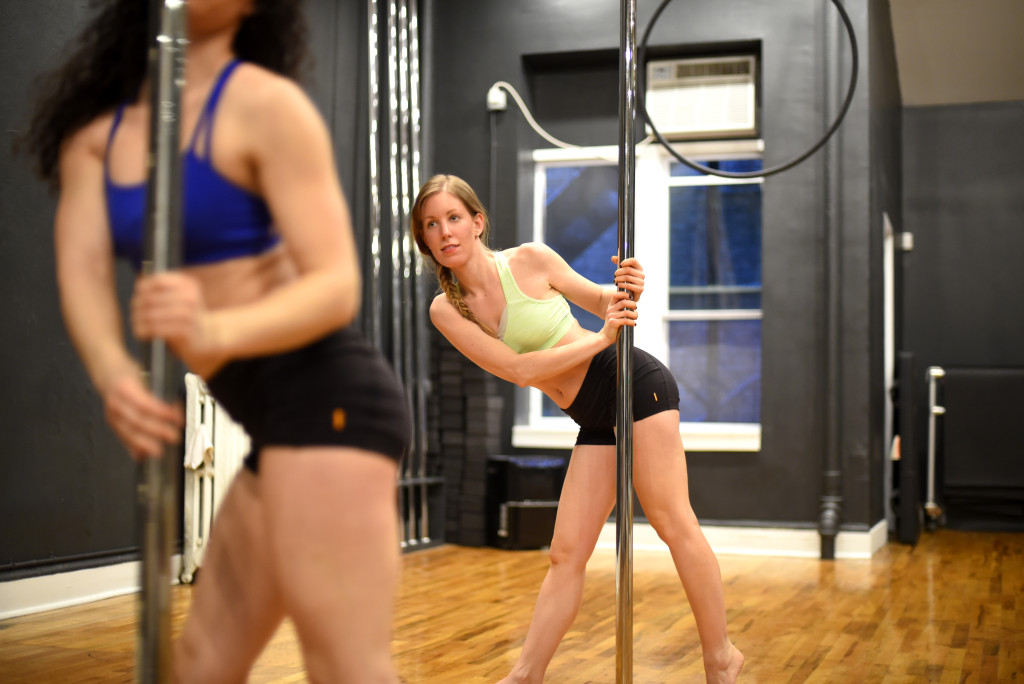 Who knew that pole dancing could be such an intense workout? I have a new respect for these dancers who make it look so easy and effortless.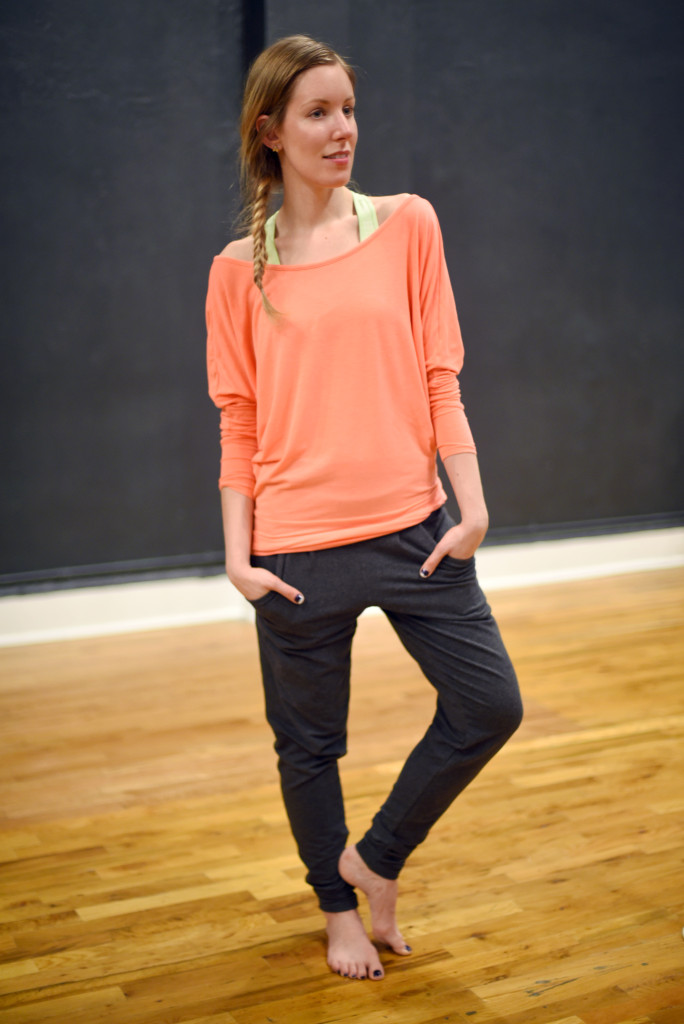 Time for a cool down, with these pieces from Lucy, that took me from the "little" workout clothes that Zoe instructed me to wear to the class, to the streets of NYC.
You can try this out too at Body + Pole in Manhattan for just $25 for your first class and get your resolution for 2015 accomplished with a fun workout.
On Liz | workout bra (other colors on sale here) // yoga long sleeve top (new colors available here) // short // cool down pant
On Zoe | "zenergy" bra // short
photos by Jeff Tan
{All wardrobe provided by Lucy Activewear, but what I choose to wear and opinions are always my own.}