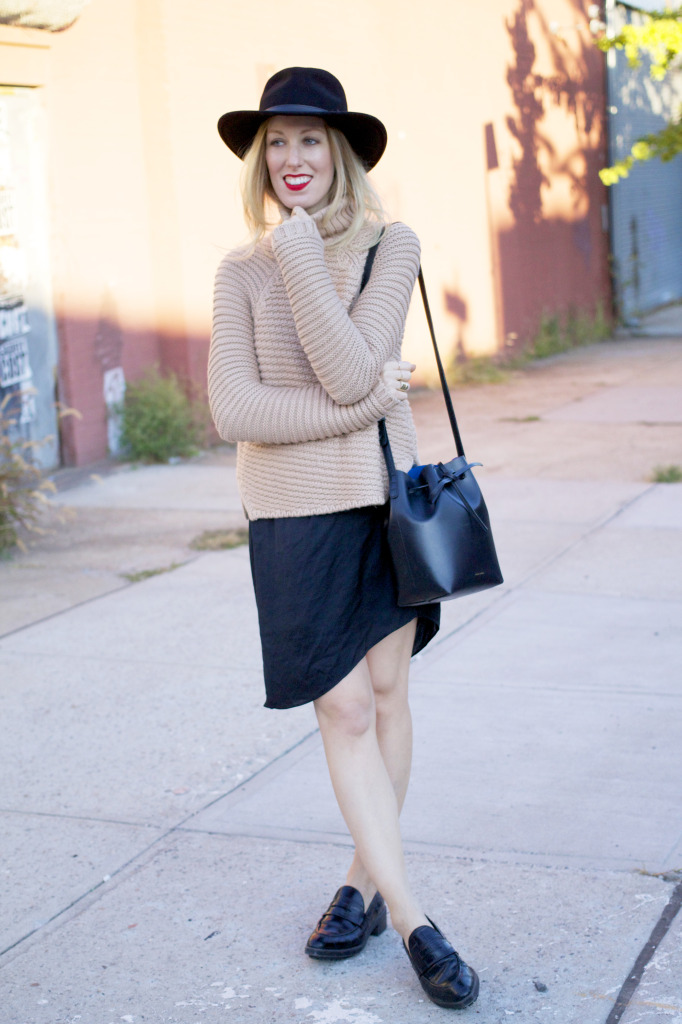 Mason by Michelle Mason turtleneck sweater // Rag & Bone dress (sample, worn under, similar online) // Zara shoes // Pendleton hat // Mansur Gavriel bag (sold out, similar online) // Maison Antonym ring (c/o) // Gorjana rings // Stila lipcolor
Remember the good ol' turtleneck? Well it's baaaaaaack. Trust me, it's not the turtleneck you wore as a kid where you were constantly pulling at your neck to avoid the feeling of choking. This season, the turtleneck is back in a chic way. Here's how to wear it this time around:
DO try a minimal look when wearing one and you'll instantly look like you've been shopping on Madison Avenue. Less is more and clean lines are key to keep it looking elevated.
DON'T fold it over like you've done all of your life. Try folding it slightly inward and letting it scrunch slightly. It looks less preppy and more effortless when you do this.
DO layer a chunky knit turtleneck over a dress and a slimmer version looks great layered under a blazer.
DON'T limit yourself to sweaters. Try them in a sleeveless or dress versions.
DO leave some of your hair tucked in a chunkier neck and let it look effortless.
{SHOP THIS POST}