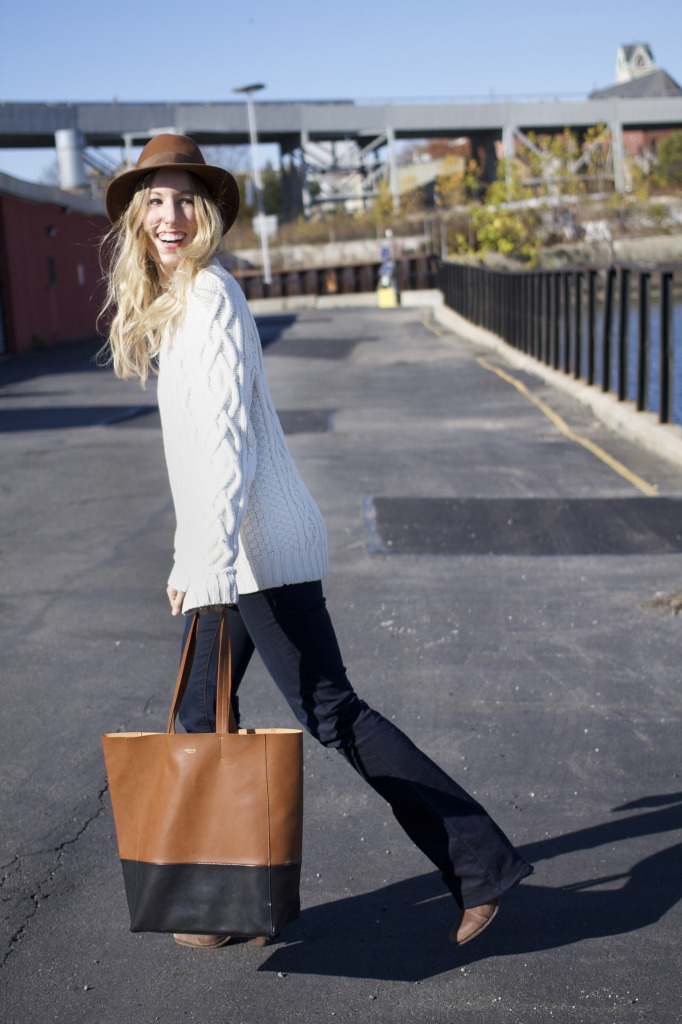 Lands' End sweater // James jeans (same style in different wash, similar wash here)  // Rag & Bone boots // Sorial bag (c/o) // vintage hat via Spooky Boutique // Meredith Kahn earring // Gabrielle Frantzen eye wrap bracelet (c/o, necklace version online here)
I've been in the market for a good fisherman style sweater for a few years now and I can't tell you how many I've bought and returned because they were too itchy, too poor quality, too fitted for my taste, or even too pricey (original hand knit versions are VERY rare and expensive). Call me Goldilocks, but I may have found my perfect sweater.
The Aran sweater (or sometimes called fisherman or Irish sweater), is a traditional wool knit that was worn by coastal fishing villagers and the type of knit identified which region/country they came from in case they were lost at sea. The style became popular for the every-day person or even the Hollywood crowd in the 50's and 60's, after travel became much easier. Grace Kelly, Steve McQueen, and Marilyn Monroe were fans and many fashionable celebs are still wearing them today. It's one of those classic styles that are always in fashion.
Who knew that I would find my dream sweater while shopping in the men's section on Lands' End for my hubby? It was everything I wanted, but it was the wrong gender. I took my chances and ordered a small, as I tend to wear my sweaters on the over-sized, cozy side. I'm glad I did, because it's exactly what I had been looking for.
It's tough for me to wear this wool sweater while I'm working on set or running around the city prepping for a shoot because I tend to over-heat if I'm wearing such heavy layers. I love that I found a cotton version of this classic sweater that's breathable and still looks expensive.
If you really want to splurge on a gorgeous sweater, there's a cashmere version too. Either way, you'll look classically stylish and not itchy! Bonus if you can share it with your man… but this one is all mine.
Lucky for you, you can get $25 off your next purchase on Lands' End!