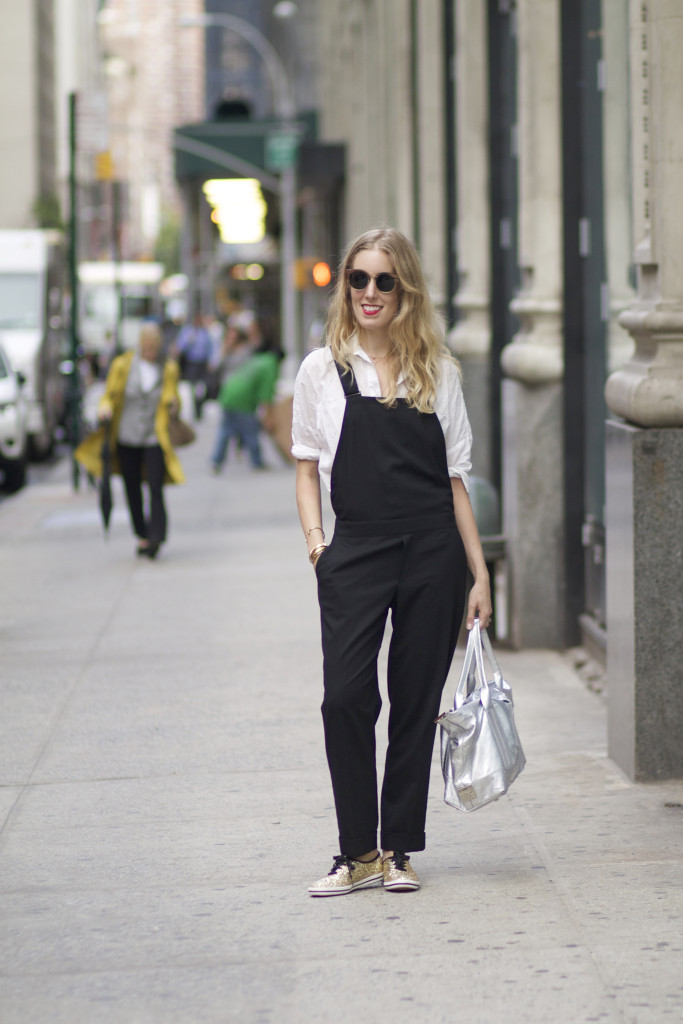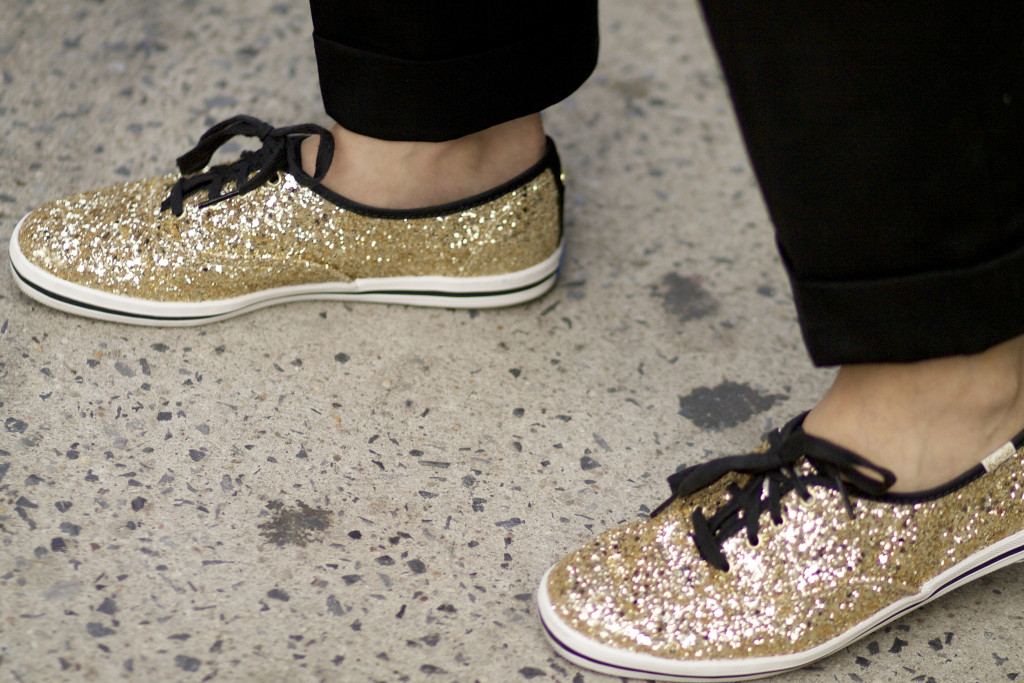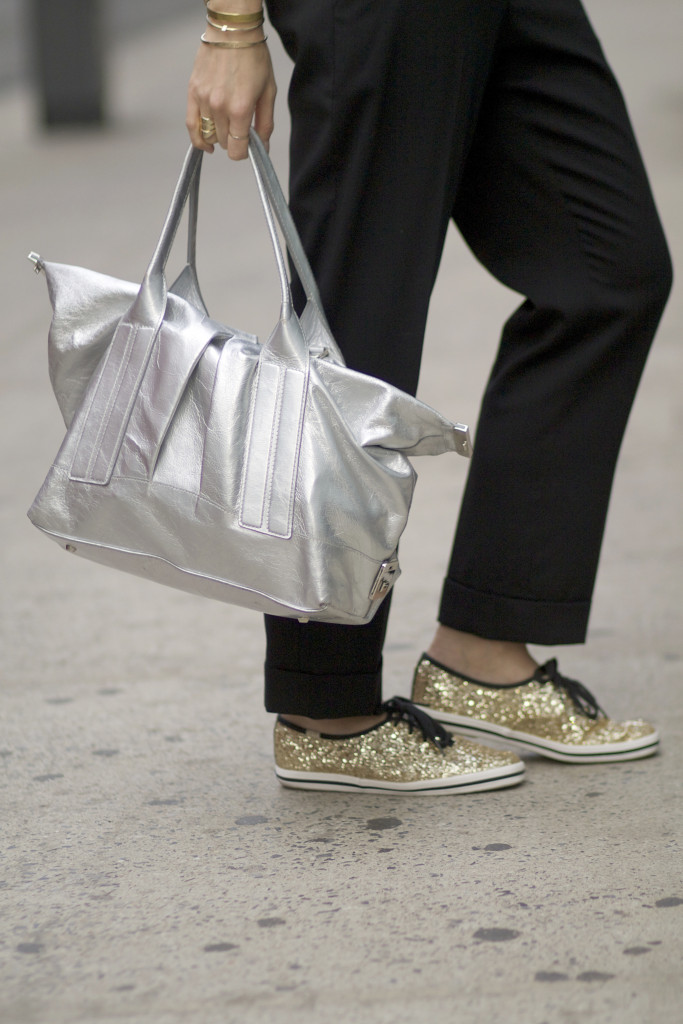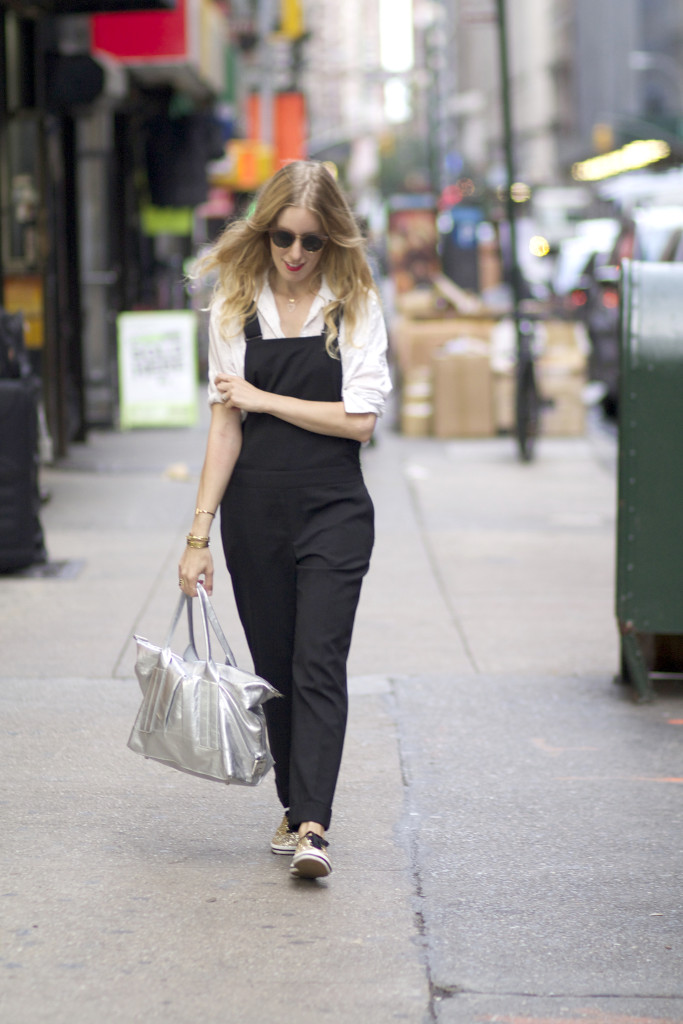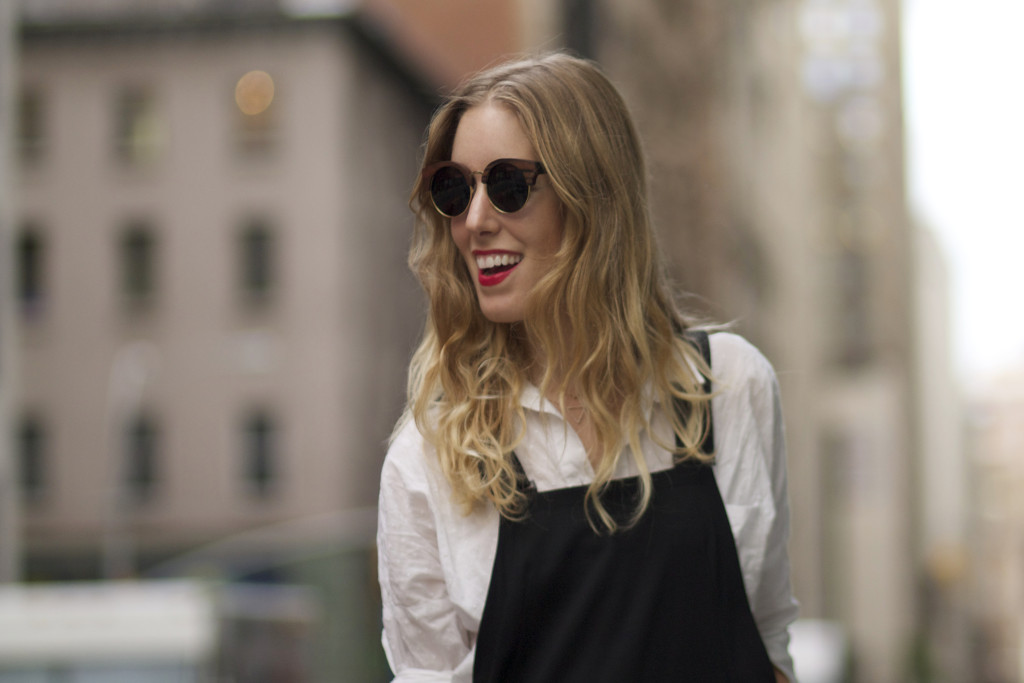 Madewell button down shirt // Club Monaco overalls // Keds x Kate Spade New York sneakers (c/o) // Finlay & Co sunglasses // Joanna Maxham handbag (c/o)
photos by Elise "Belle" of bellemeetsworld.com
When I think of wear to work looks, I think of comfortable yet polished and on trend. Then again, my "office" as a stylist is not as traditional as the typical office. Most of the time, you will find everyone on a photoshoot in some form of jeans and often sneakers, as we are on our feet all day long.
Of course when I'm meeting with a client, I have to step up the weekday outfit game and opt for something a bit more professional. These overalls via Club Monaco are done in a wool fabric that brings this typically casual silhouette to a refined, yet fashion forward place, so they make me ready for meetings during the day or studio photoshoots where clients are present, and then they are still appropriate for drinks or fashion events after work—which is exactly what happened here.
I met up with my blogger friend Elise, who was visiting from Chicago recently for work and we both had our "office attire" on, which oddly enough were both one piece looks. We met up for a fashion event and then drinks to talk fashion and the business, and we both successfully took our looks from day to night. Head over to Belle Meets World to see her look. While it's the same idea in theory, her look is more appropriate for the corporate world she works in. She made her one piece jumpsuit look more conservative with a blazer and heels, which also can take her from day to night, though she admitted that the jumpsuit may even be pushing it for the office she works in, though it could look like a top and bottom and the blazer automatically makes it more "worky."
My work world on the other hand, if I want to dress up an outfit, I put on a fancy pair of shoes. I've given into the sneaker trend in the past few seasons, but sometimes it just feels way too casual even for my job. Of course sneakers are actually extremely appropriate for my shoot this week, as I'm styling the spring campaign for a popular athletic company, so I will be wearing my favorite pair from their line. There's a time and place…and the right sneaker.
Keds recently invited me to try out a pair of their new kicks and I was pleasantly surprised when I had trouble choosing just one pair! I wanted them all. I ended up going with a sparkly gold pair (not really a surprise for the girl who has a gold shoe addiction) with black accents from the Keds x Kate Spade New York collaboration. They're unique, fashionably and fancy enough for my jobs, yet extremely comfortable enough for me to wear all day while on shoots or running around the city without any complaints.
I know you probably wore your white Keds to death in grade school and you're like, oh now they're just for girls who want to be as adorable as Tay Tay Swift (and who doesn't??), but trust me on this. Keds are back in a huge way and they have a pair for everyone. See for yourself and wear yours in unexpected ways…maybe even with your work wear.
Check out my stylist picks from Keds' collaborations with Kate Spade and Taylor Swift this season below.
{SHOP THIS POST}