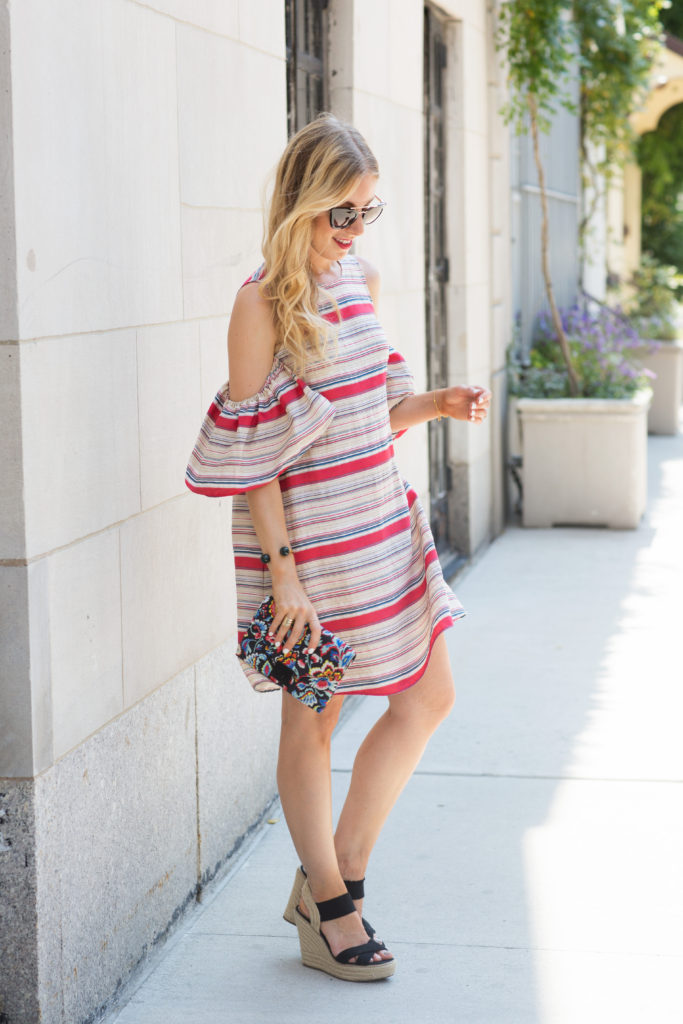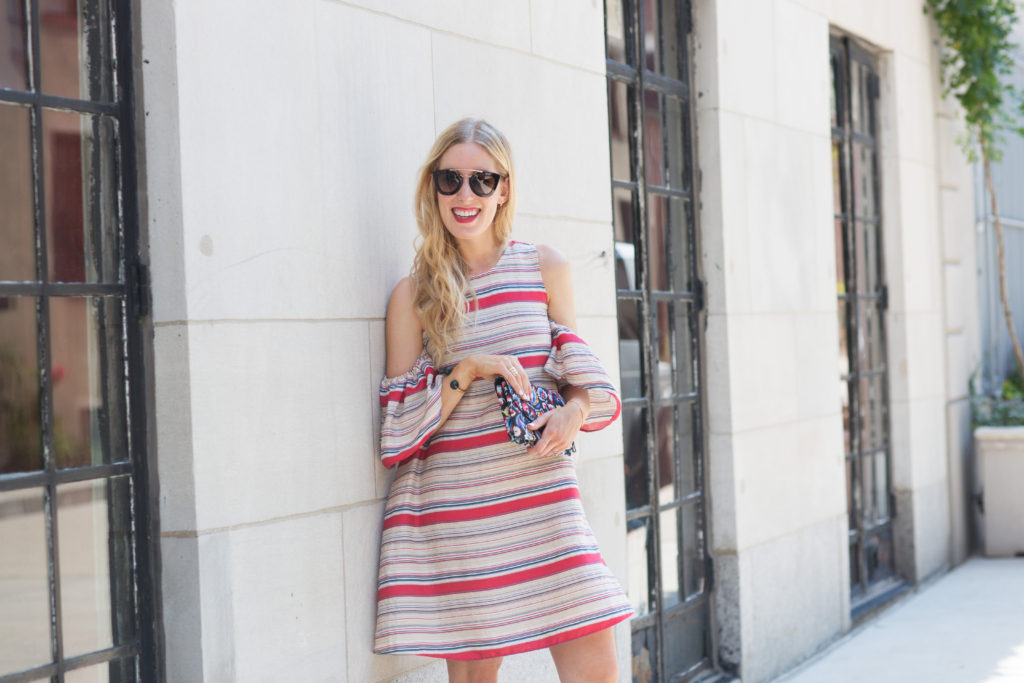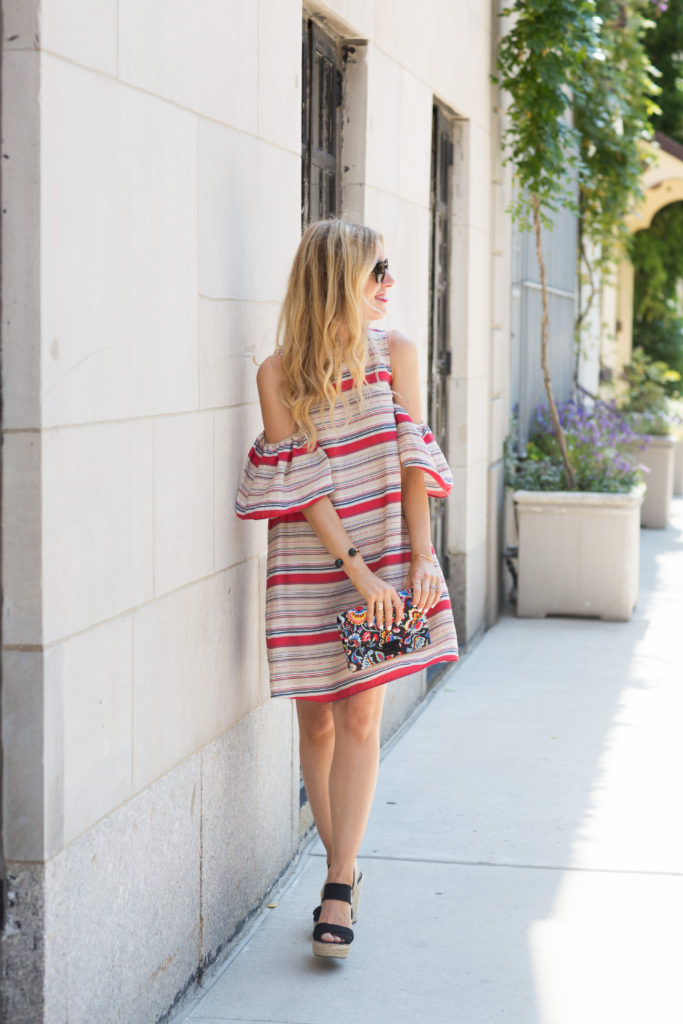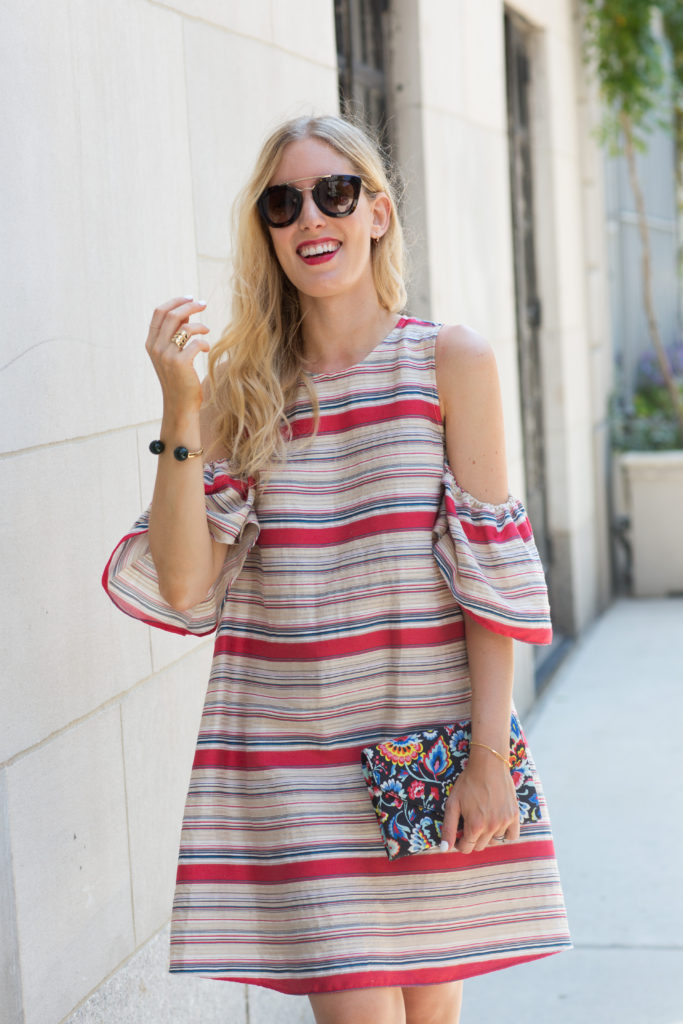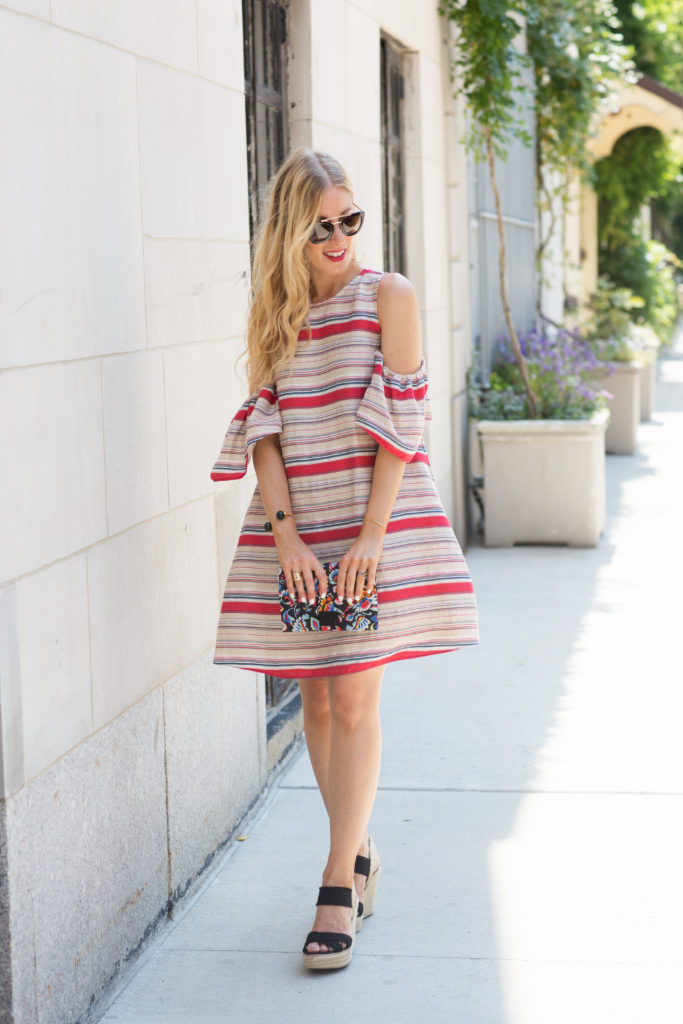 Summer Fridays, when they happen, are glorious. Most of mine this summer are spent working on photoshoots, but I recently had one of these fabulous Fridays off where I got to spend it in style. I grabbed my fashion partner in crime, Emily, and we took on NYC while partnering with Rent The Runway to dress us for our day, while taking over their Snapchat for the day.
I chose to wear this Tanya Taylor "cold shoulder" style dress, as it's such a versatile piece for any occasion, meeting or event. I daringly mixed it with a patterned Loeffler Randall clutch that felt daytime enough but would still be perfect for my dinner in the evening. One statement piece of jewelry was enough so it didn't compete with all of these colors and patterns. I went with this fun bauble cuff by the indie brand Stanmore, who I've been following since the designer's first collection a few years ago.
STYLIST TIP: To mix patterns like a pro, keep them in the same color family or style and make sure one is always bigger or more spread out than the other to create balance.
We began our day meeting at the totally Instagram-worthy West Village coffee shop, The Elk. I had one of the best almond milk lattes I've ever had there, which helped me start my long day "off". We decided to head up to The Whitney Museum afterward to check out its new location near The Highline, which we strolled along  after as we chatted about our summers and Snapchat tips.
Right below the Highline and a block from the Whitney, we grabbed lunch at the new healthy eatery, The Wild Son. I could eat the food there every day. The grain bowl is enough to fill me up for the day and the nitro coffee on tap helped keep me going through the evening. The owner also made us refreshing and cleansing juices, one being a creative lemonade complete with a flower garnish and the other containing detoxing charcoal. I didn't want to leave there, but I had a styling appointment with a new brand in the afternoon and Emily had to work on her jewelry line.
It started to rain at the end of the day, so I ran home to Brooklyn for a quick change and an umbrella before heading to dinner back uptown. Even with some work and some rain, it's hard to complain about a summer Friday when it looks this good.
On Liz: Tanya Taylor dress, Loeffler Randall clutch, Stanmore bracelet
On Emily: Tory Burch dress
(all c/o Rent The Runway // Get $30 off your order when you click here.) 
photos by Lydia Hudgens