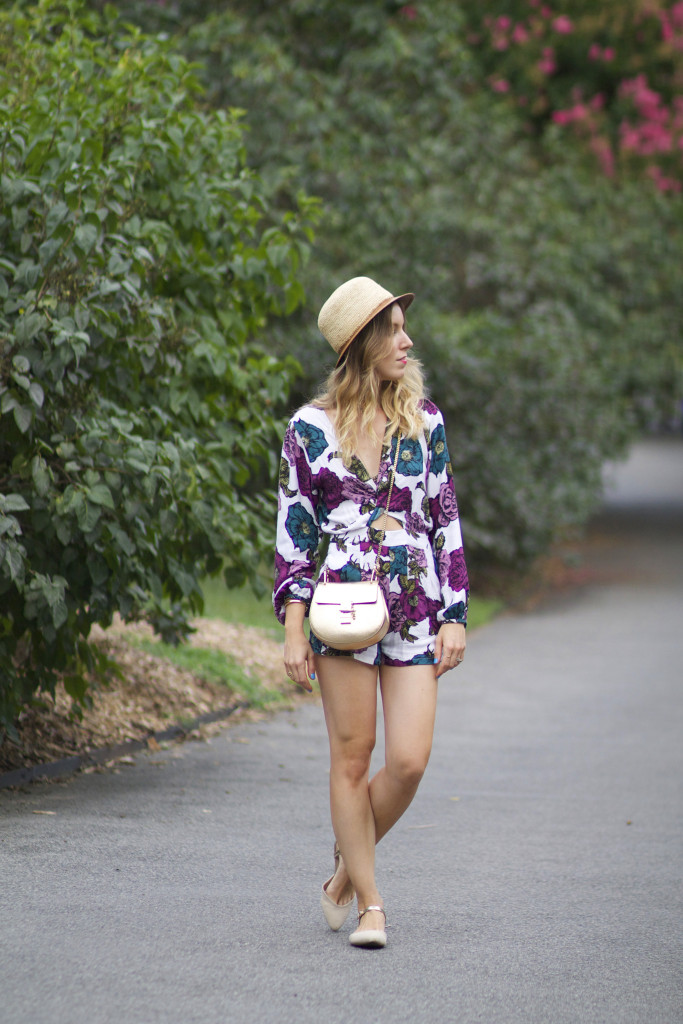 TOP PICS | Motel Romper (in different print here) // Gorjana & House of Harlow necklaces via Rocksbox (get your first month FREE with the code BROOKLYNSTYLISTXOXO) // Vanessa Mooney cuff // Lands' End flats (c/o) // Rag & Bone hat (via sample sale, similar here) // Chloe bag // Jamberry nail polish (c/o)
BOTTOM PICS | Romper (in different print here) // E.Kammeyer bracelet and head piece (c/o) // LUMA sunglasses (c/o) // Zara wedges
You may have not seen it on here yet thanks to me having a busy summer with both work and travel, but I've been wearing this romper all season to the point where people are recognizing it; and it's not from here.
I only recently realized—thanks to my break-neck paced summer—I never posted these latter pictures of me wearing it in the beginning of the summer at my friend Emily's wedding in France. She had a day planned with lawn games like croquet and petanque, so I wanted something that was like a summer dress, but wouldn't let me flash anyone while I was active. Solution: a romper.
The summer progressed with more events like birthdays and like the pictures up top, where I had a trip to the Brooklyn Museum, Brooklyn Botanic Gardens, and then dinner and drinks with friends. I couldn't think of what to wear that I could do all day, night and look both dressed up AND down. Here comes the romper again. It's the easiest outfit you can wear this time of year.
Are you picking up what I'm putting down?
I know rompers get a bad rep often because they're often associated with what we wore as a kid, but they're they easiest and surprisingly most adult way to look put together. I mean, it's one piece. You can't really go wrong and you don't have to over think it.
Even better, this romper has long sleeves, so it's perfect for the transition between seasons, or in the case above, when I was in air conditioning, both warm and cool weather outside.
If you haven't been convinced already, check out some of these great rompers to shop right now here.
{SHOP THIS POST}