June 15, 2015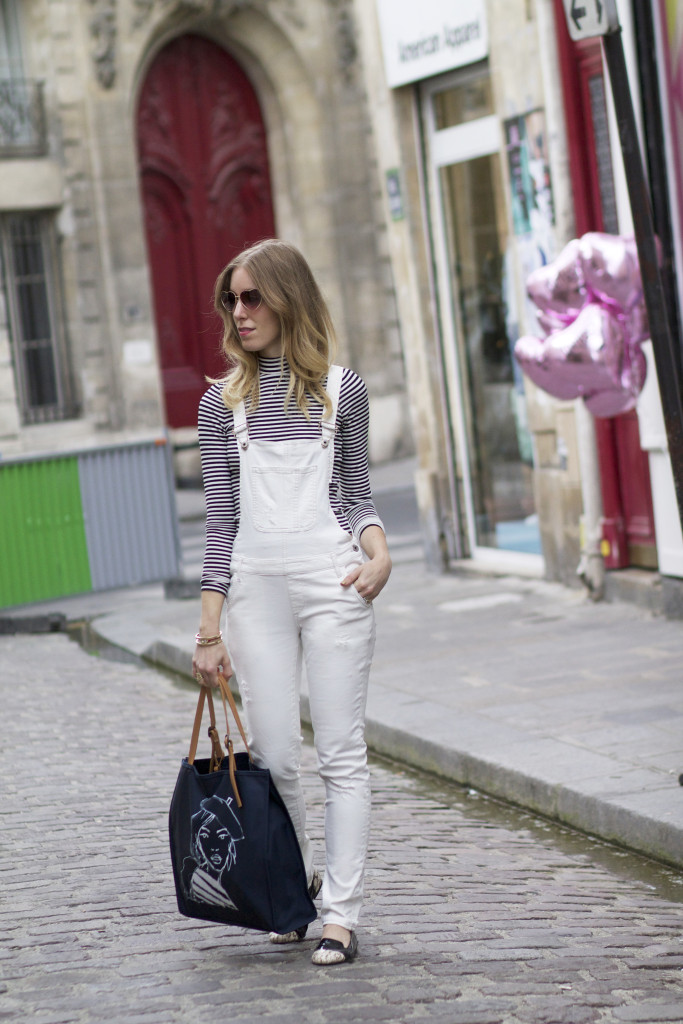 Mavi overalls (c/o, similar online here and here) // River Island top // Julie Lopez flats (c/o) // LOFT sunglasses (similar here and here) // Chloe + Isabel layered bracelet (c/o) // Vanessa Mooney cuff (similar) // Tumi tote (on sale!)
As I mentioned in my previous post, I tried to emulate the Parisian style while I was staying in Paris for a few days. In addition to my newly adopted minimal beauty regimen, my wardrobe was also easy, comfortable, basic—but not boring—and most importantly, put together. It's a challenge to do all of that and still look "Parisian chic," but somehow it works when done right.
My experiment did work! I fooled some of the locals into thinking I was a native, that is of course until I attempted conversations that were quickly curtailed by me asking "parlez vous anglais?"
The sales guy at one of my favorite brand's shops in Paris, Sandro, told me I dressed like a Parisian and said he didn't see that from many Americans. We also bonded over our love for NYC and were ready to trade apartments, as he longed to move to the States with his American boyfriend and I had fallen in love with Paris all over again.
Maybe I can also owe my new Parisian style to this fun tote courtesy of Tumi from their collaboration with the CFDA's emerging American designers; this one designed by milliner, Gigi Burris with its Parisian girl design. It was the perfect bag to tote all over Paris all day long and store not only my shopping finds, but also the layers of clothing like my scarf and leather jacket in as the temperatures rose about 20 degrees over the course of the day.
Whatever it may be, follow these tips on how to dress like a French Girl and you may fool people when you great them with a "bonjour":
1)  Opt for clean silhouettes and polished pieces. They don't have to be designer, but wearing at least one elevated piece will make the outfit.
2) When in doubt wear a stripe top (it's not just cliché, the French girls actually do!).
3) Wear a slim or skinny pant in a neutral color.

4) For that matter, keep all colors fairly neutral and mostly black—except for a pop of color on your lips.
5) Wear flats. The Parisian girl doesn't want to bother wearing sky-high heels and then teetering her way through the cobblestone streets of Paris. Sensible shoes rule on the streets of Paris.

6) Keep your accessories to a minimum. The French girl doesn't wear much jewelry, if at all.
7) Put away that push up bra. The French girl celebrates a small chest too and shows her sex appeal through her allure rather than her assets.
8) You can't go wrong with a leather moto jacket in either black or brown, which French girls often top their outfits with.
9) Keep your handbag unfussy, whether it be a tote or a cross-body bag, and most importantly with minimal logos.
10) Just don't try too hard. There's beauty in the simplicity.
Now you too can be a Francophile. Très chic!