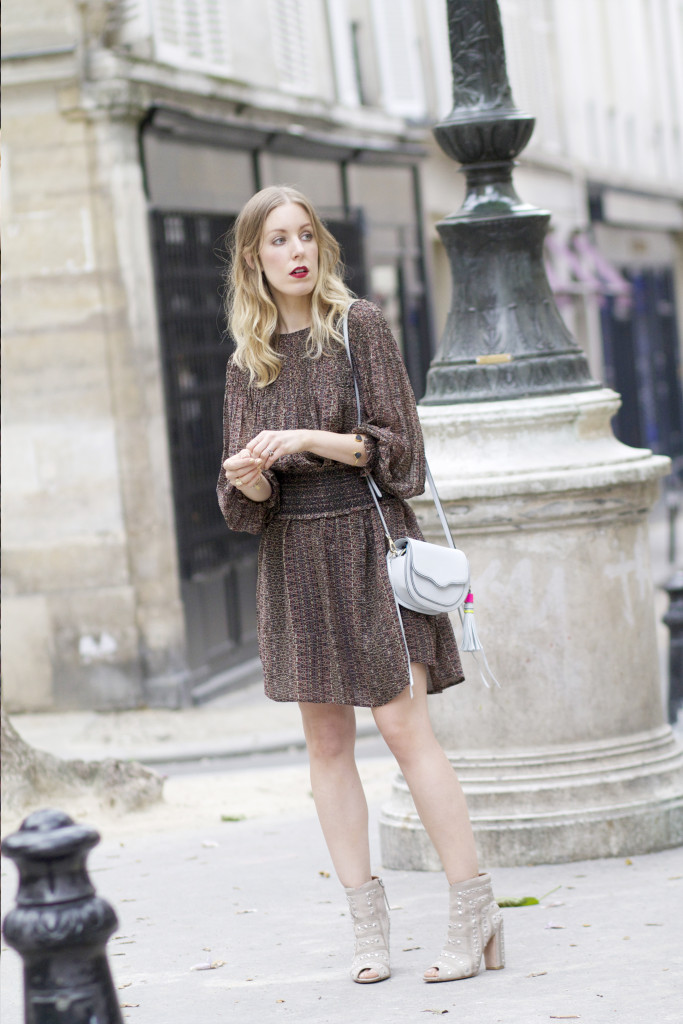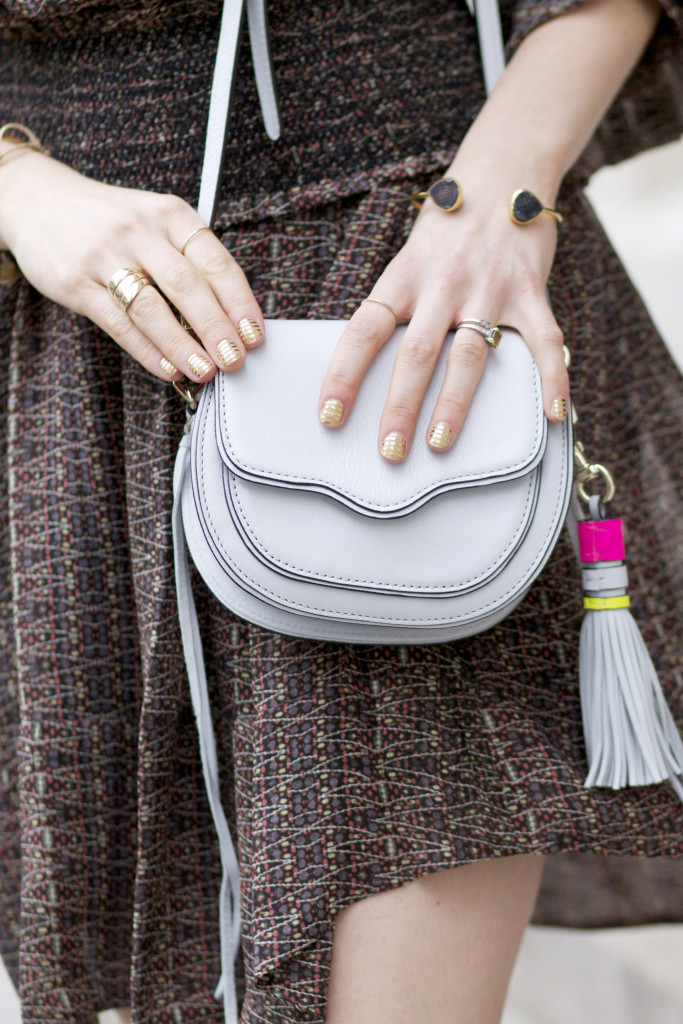 Isabel Marant dress (via Net-A-Porter friends & family sale), similar dress online and on SALE here // Rebecca Minkoff shoes and bag (c/o) // Kat Von D Lip Color // Margaret Elizabeth cuff bracelet via Rocksbox (c/o) – sign up for a FREE month of jewels sent to you with my code BROOKLYNSTYLISTXOXO // Jamberry Nails polish on toes + Metallic Gold Stripe Nail Art (c/o)

In the (recent) past when I went on a big vacation or had a busy time with work and events, it was a no-brainer to get a gel manicure, which gives the promise of a long lasting manicure. Before my recent trip to France, the bride of the wedding I was attending and in urged all of us bridesmaids to get a nail treatment so they last for the wedding. I resisted.
In the past few years came out that there were many risks when it comes to gel manicures. Not only are there harsh chemicals involved, but the UV light needed to set the manicure can cause wrinkles, and worse, skin cancer. The salon where I was getting it done started to lather up sunblock upon this concern, but would only cover about 3/4 of my hands at the lotion ruining the manicure. That basically defeats the purpose. I'm sure soaking your hands in acetone to remove the damage done after a couple of weeks isn't the healthiest for you either. Of course peeling it off makes your nails brittle. Also did I mention that getting a gel manicure is incredibly expensive?
Then I was introduced to the healthy alternative to a gel manicure, Jamberry. Unlike gel manicures (and even some nail polishes for that matter), there are no harsh, toxic chemicals (their polishes are even 5-free) or cancer causing UV lights involved, and I've found it to last just as long. It's just a bonus that I get stopped everywhere I go because of the fun designs they come in (300+ to choose from).
I've tried—and miserably failed at—applying the drug store nail art stickers before, but this time it was different. After watching this video of how to apply the nail art, I grabbed the application kit and tried for myself. I found it easier than applying nail polish. There are less mistakes to be made and if there are any, they give you plenty to work with.
Within 30 minutes or so, I had the coolest nails I've ever had AND I was able to do house work, respond to emails, and even made a pit stop to the bathroom all while doing it. Then when I want to remove it, I simply peel it off and can clean it up with some rubbing alcohol.
This metallic gold stripe nail art was perfect for my trip because it matched everything I wore, and even the bride's gold-accented nails. It also didn't show when it was imperfect after 10+ days of traveling in France, so it was tres chic for days.
I'm taking over Jamberry's Instagram in the next month from my travels to France (as seen here) to getting ready for July 4th, so stay tuned to all of the different styles I wear from my head to my tips and get inspired for your own travels this summer.