I recently gave the advice to my photographer friend Michelle to share more about her than just her beautiful images. It got me thinking I should take my own advice. As much as I share between this blog, my portfolio site, and social media, I realized you guys don't know much about the person you're seeing, so here's a little more about me you may not know.
Here are 10 things you may not know about me
1) I've been styling for commercial and editorial clients over a decade and I started my blog 7 years ago after styling bloggers for an advertising campaign and realized I have a voice to talk about fashion with all of the knowledge I have.
2) I studied art and advertising design in college. I assisted in styling and interned at a fashion brand called Chaiken before graduating so I always knew I wanted to combine my loves for design, advertising and fashion. I even took 3 years of fashion and 2 years of advertising classes in high school, as well as studying fashion design at RISD for a summer. I guess I always knew!
3) I started my career as an art director, working at one of the biggest ad agencies, Saatchi & Saatchi, and then a boutique agency called Gotham, where I worked on the Maybelline account. My favorite parts of working on that account were coming up with concepts, putting together styling briefs for the stylists and going on the shoots. Becoming a wardrobe stylist was an easy transition because of that—but a lot of work!
4) I'm a pescatarian (mostly vegetarian…not vegan). I haven't had red meat in 25 years and all meat in 20 years! I'm also allergic to tofu (only in the US) and shellfish so I'm not always the most fun person to eat with. Though I'm a big foodie and am not picky otherwise!
5) Drawing is one of my favorite hobbies, especially portraits. If I'm at a restaurant with you and there are paper and crayons on the table, you'll probably get a portrait done. I can't help it.
6) I can sing opera. I was classically trained in singing by a former soprano at the Metropolitan Opera. Sadly I only sing it in the shower these days, but I'm also totally into karaoke where I'll sing everything from Dolly Parton to Salt N Peppa.
7) I grew up an hour east of NYC on Long Island, so this city has always been a major part of my life and spent a lot of time here growing up. My father grew up in Brooklyn and it was crazy to both of us that I ended up back here for the last decade.
8) I met Josh in the blizzard of 2006 in NYC. We met through a mutual friend while I came out to be a wing man. We've been inseparable since and got married 5 years later. I almost didn't go out that night—I didn't wear makeup, shower, or even dress up—but my roommate at the time convinced me that a blizzard was the best time to go out. I'm so lucky I did. Go follow him on Instagram if you want to see more of him.
9) I had a handbag line, and then a jewelry line, called "etc…" In college I made bags from recycled fabrics, jeans and vintage ties. After college, I made jewelry from antique pieces and had women lining up at my desk at work to buy my designs. Someone suggested I sell at local markets, so I did. It actually was doing so well that I couldn't keep up with production. I worked on the jewelry every free moment I had but when my styling career took off, I had to take a step back. I sold my designs to some cool celebs at the markets including A$AP Rocky, Amber Tamblyn, Moby, and they were in some major magazines. I even created pins for Quest Love and he wore one of them for the time he met then President Obama!
10) I'm ambidextrous. I'm a lefty, but I do most sports righty. I also broke my arm playing basketball in high school so I had to learn how to write and even draw with my right hand for a year, so I'm not bad with my less dominant hand. Sometimes I'll switch back and forth without realizing it.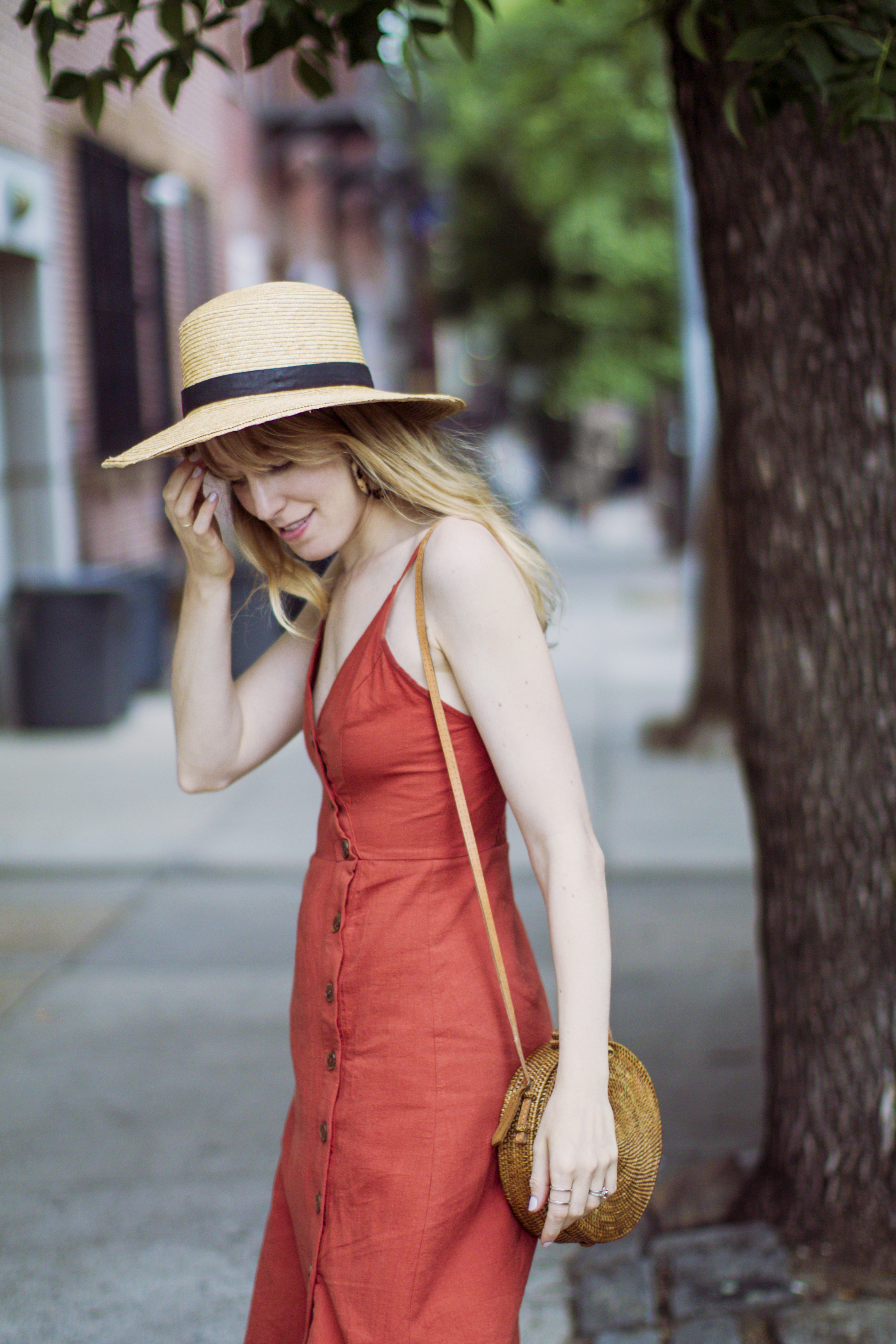 Other Funny Facts:
-I mostly type with 3 fingers
-I can't do a full push up / pull up, but I can balance on just my hands
-I've never smoked a cigarette
-I've had bangs on and off (like every 5 years) my whole life
-I had a major crush on Davy Jones from The Monkees growing up… not knowing I was watching reruns and he was way older by then
-I named my cats after movie characters: Holly Golightly (Breakfast at Tiffany's) and Walter Kovacs (The Watchmen)
-I tried weasel coffee and snake wine when in Vietnam. (Google them if you don't know…pretty crazy!)
-My full initials are "E.T." so growing up in the 80's was tough at times.
-My middle name is Chelsea. I always wished I made it my first, but was dissuaded by kids making fun of Chelsea Clinton during her awkward phase. I regret that!
-I was on a swim team and my coach called me "Pterodactyl arms" because I had the longest, lankiest arms growing up!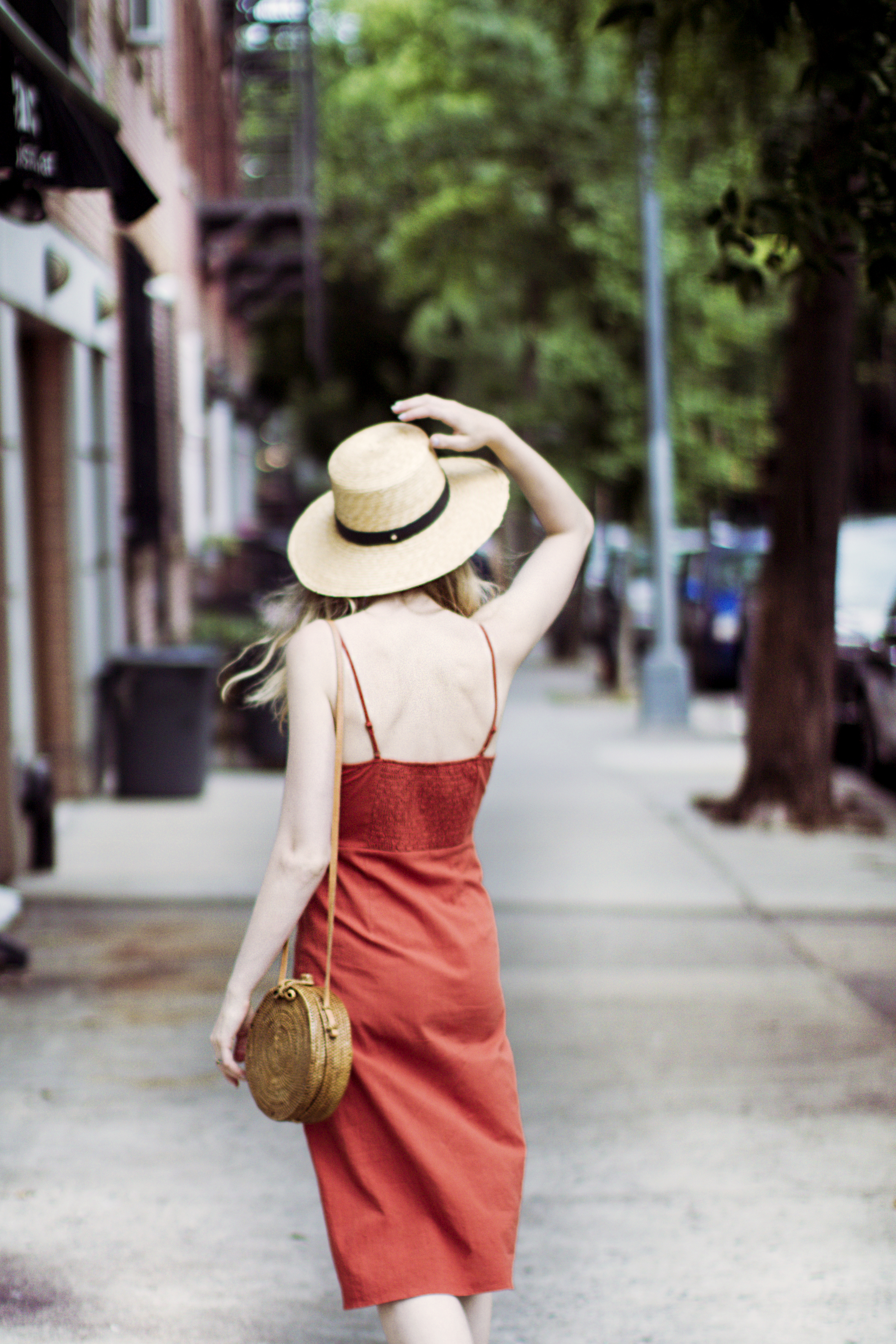 Thanks for reading about me. I'd love to know something about my readers so please send me a comment on something about you!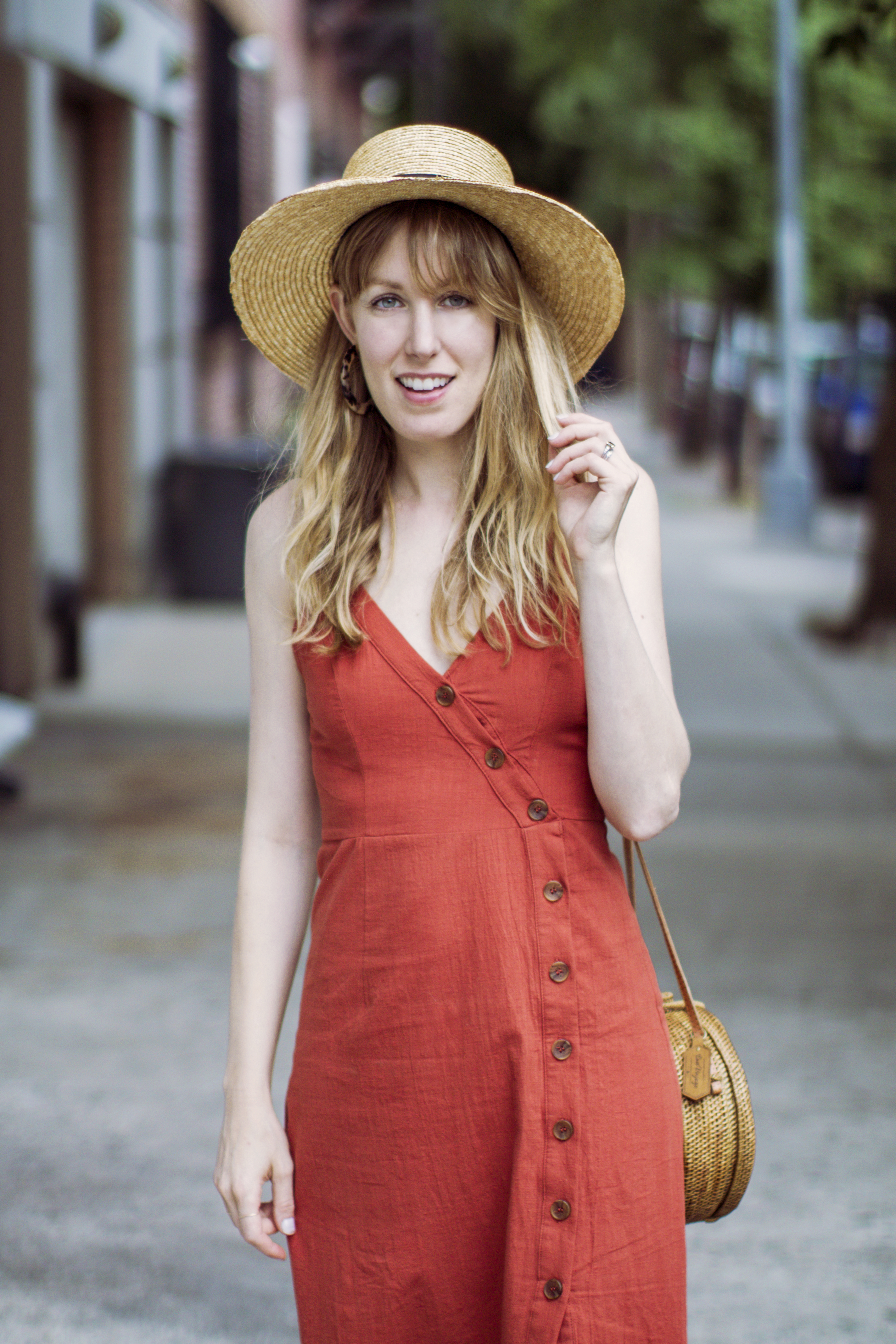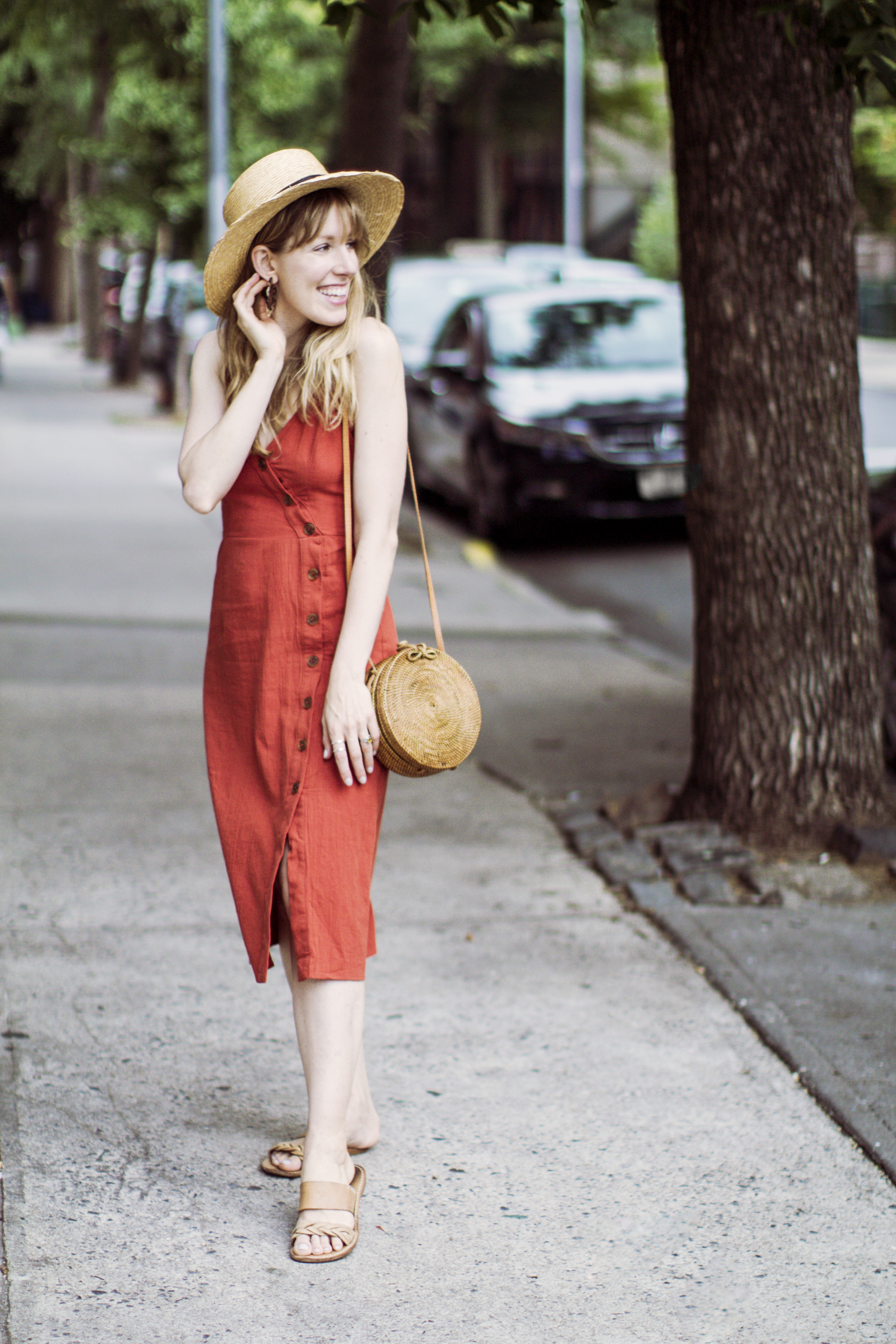 Shein DRESS (only $20!!) // Soludos SANDALS // Janessa Leone HAT // Machete x Lou & Grey EARRINGS // similar BAG