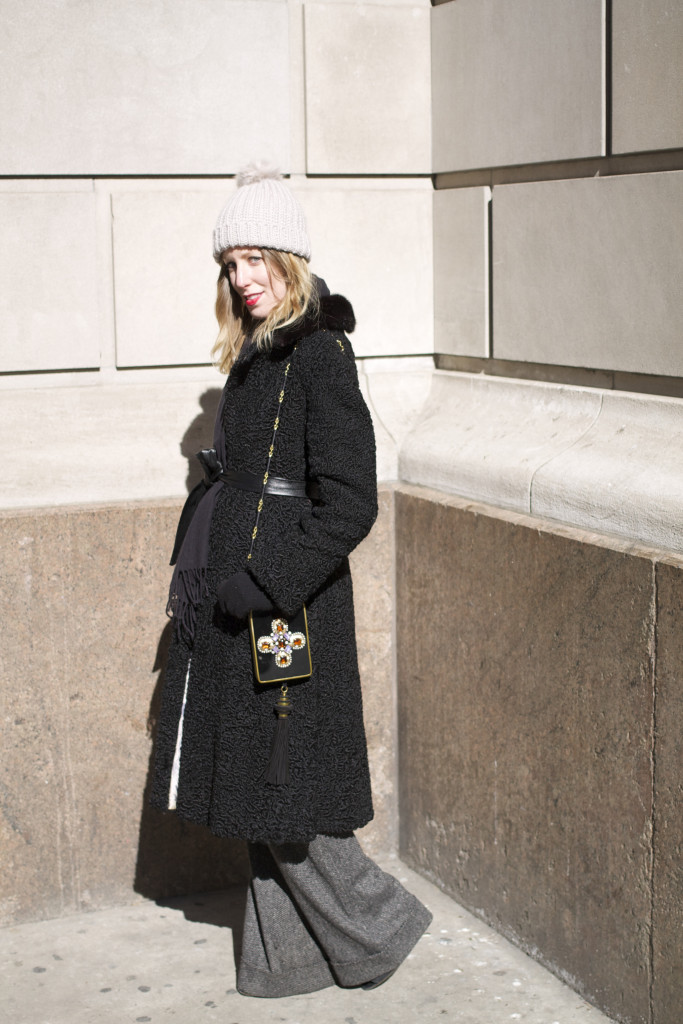 Vintage coat // Lands' End scarf // Dolce & Gabbana pants // 3.1 Phillip Lim mules // Warehouse hat via ASOS // Tory Burch bag via Shopbop
This was Day 3 at NYFW and I'm already thinking, is it just too cold for fashion? I was ready to trade my fashionable looks for some flannel as the temperatures reached record lows in NYC in this never-ending winter. I'm not quite sure how those front row fashionistas are rocking bare legs on the streets in this arctic chill, but it's become a status symbol I suppose as you have a heated SUV shuttle you from show to show.
I don't have that luxury, as I'm hoofing it all around town by subway and if I'm lucky when a showroom supplies it, Uber (which I had to wait outside of Lincoln Center for 10 minutes for just to find it a block away!).
I know you're thinking, boo-hoo, but really after a fashion friend of mine broke her ribs on the ice last winter at fashion week, I'm all about being sensible while I'm stylish. I want to be warm and not get sick too.
In this look, I wore my winter go-to from Uniqlo, a heat tech long sleeve shirt, with my Band of Outsiders top via SnobSwap over it, along with this Dolce & Gabbana wide-leg tweed trousers, a perennial favorite of mine, perfect for the coldest of days to layer warm leggings underneath.
My mom's vintage fur coat* topped my look, complete with her name embroidered on the inside with some gorgeous silk lining. They just don't make things like this anymore—except for this Tory Burch shoulder bag, which is beautifully made and got quite a bit of attention from street style photographers. Of course I couldn't be totally practical, as I had to shove my phone charger and other various things in my pockets rather than my coat pockets. The things we do for fashion!
photos by Emily
*To those that have had some concerns with me posting about brands that feature fur in their collections, please note that while I don't support the fur industry (I only wear faux or vintage fur), I do support the designers that I work with to show their artistic expression. As a stylist and blogger, I report on what I see in the industry, but it's my personal choice to refrain from wearing fur that is currently made.