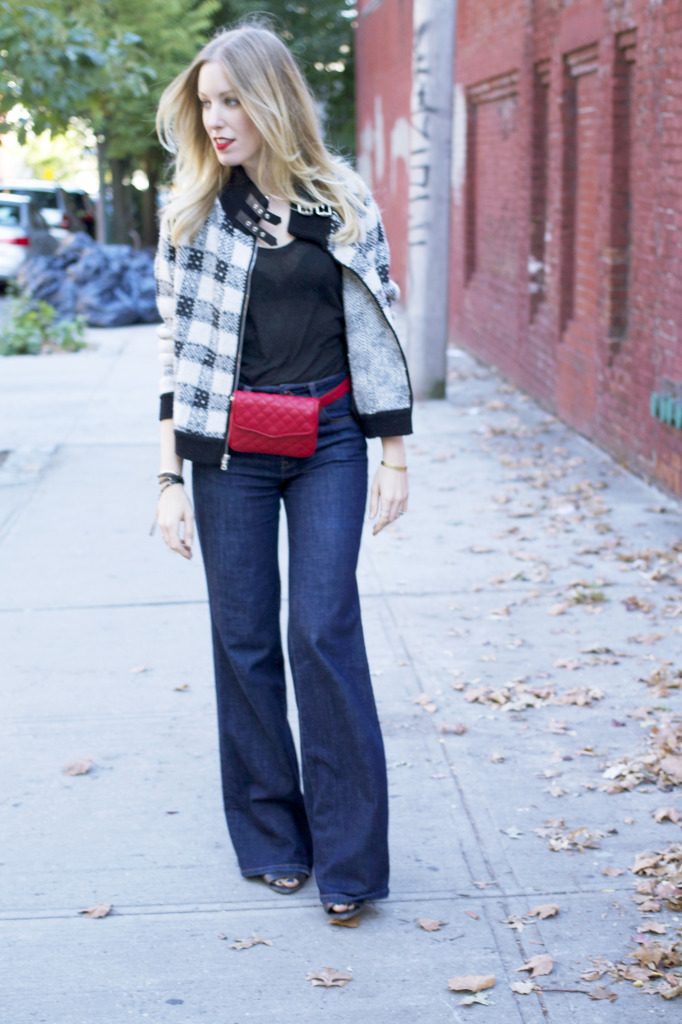 James Perse tee // 3.1 Phillip Lim sweater (similar sweater here) jacket and heels (via sample sale) // Stella McCartney jeans (old, similar jeans here) // Rebecca Minkoff fanny pack and necklace // E.Kammeyer wrap bracelet (c/o) // Maison Antonym Ring (c/o)
Never say never. It's a saying I try to live by when it comes to fashion because it's just not that serious and why not try it out? Unlike a tattoo, the worst that can happen is that you regret it and sell/donate it to someone who's even more daring than you. Unless of course it's the Uniboot. Safety first people.
That being said, I always turned my nose up at the fanny pack and even opted for a cross-body bag for my styling on set kit. Then I embraced my inner 90's child and purchased an amazing Frye waist pack that's become my daily tool. Wouldn't you know, people compliment me on it almost daily.
This season, Matthew McConaughey, of all people, declared the return of the fanny pack—and he's not wrong. One of the innovators in the handbag world, Rebecca Minkoff, brought back the fanny pack in the most delightful way possible.
This is not your parents' or tourists' pack, but a more sophisticated version in a beautiful quilted leather and belt that can loop through your pants or around a skirt. When you're sick of the fanny pack, then you can remove the belt and take out the chain for a cute classic shoulder bag.
It made for a fantastic hands-free evening when I attended an event recently…and then panicked that I lost my purse a few times, only to find it around my waist. It conveniently made whipping out my iPhone for all those party selfies much easier too.