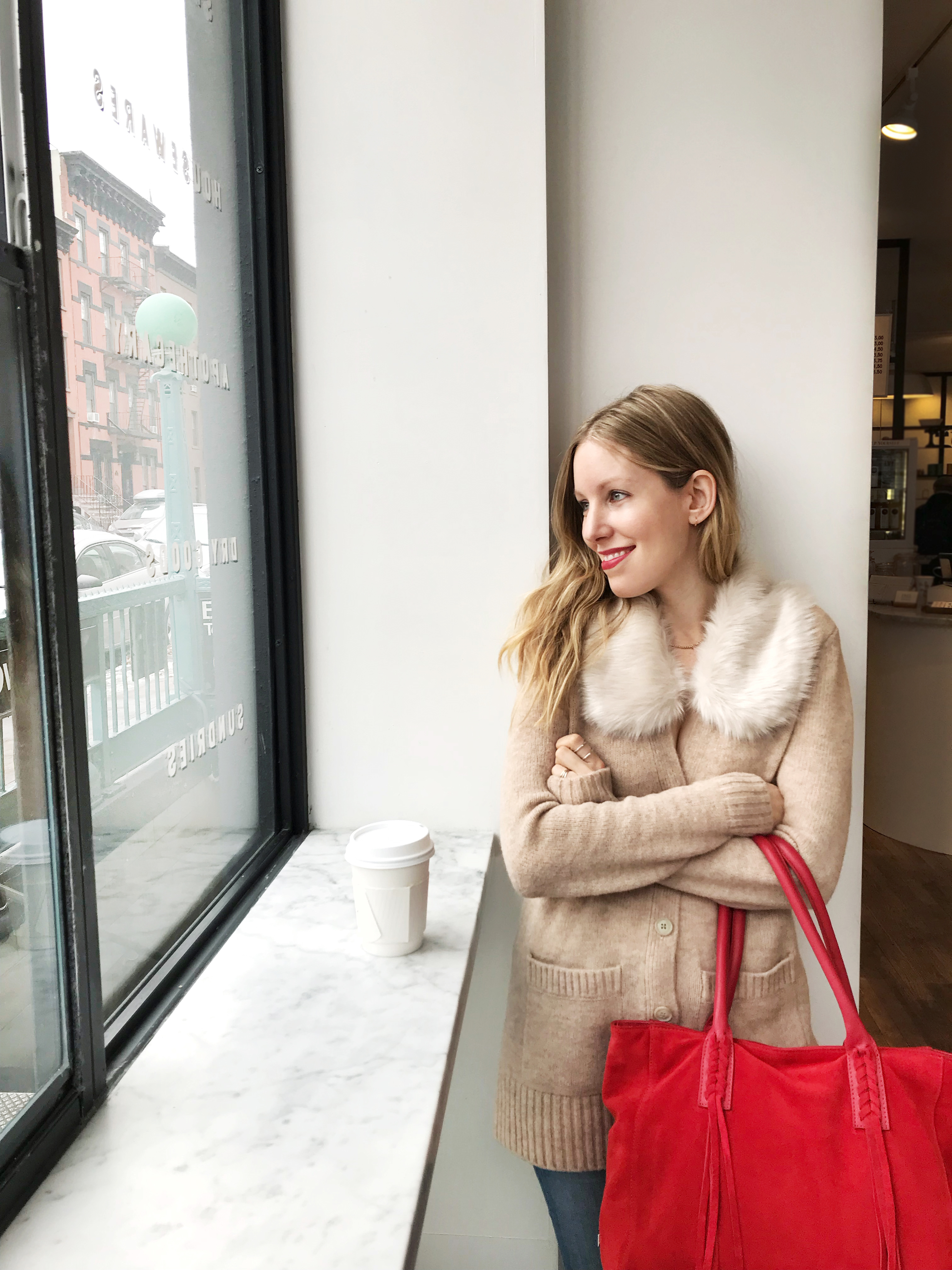 Being a mom is HARD and harder than I ever imagined. Add the holiday season to the mix and it gets even tougher. It's difficult to think about gifts when you're so focused on this little being that you want to give the world to. I told my family to forgo gifts for me and focus on my baby, which is essentially a gift for me. My immediate family and I decided to give to a family in need in Puerto Rico instead of each other, which is really all I wanted for myself. Don't get me wrong, I would love a massage or some kind of treat. I also wouldn't be upset if something along those lines came my way.
It got me thinking that moms need gifts too. When they're having a baby, they only receive baby related items. While I appreciated this and didn't / don't want gifts unless it's for my baby at this point, I wouldn't have been upset if I was surprised with a thoughtful gift that is a treat for this mama. I'm sure other moms and moms to be feel this way too.
I crowd sourced you guys on Instastories as to what your favorite gifts were when you were expecting or as a new mama that could use some pampering. Some of the best responses I received were:
"A spa day"
"A night nurse"
"A postpartum doula"
"A mani / pedi"
"Woombie Swaddle" (easier on mom than a regular swaddle!)
"Earth Mama Angel Baby Nipple Cream" (here's a whole gift set!)
"Sleep"
Here are some of my favorites I've rounded up from my own experience. With less than a week to go until the gifting deadline, I hope these gift ideas help you find what the mom or mom to be in your life may want.
A MASSAGE
Well, this is an obvious one, as I mentioned. Did you know that with the Soothe app, you can send a prenatal, postnatal or any other kind of massage to her home? Get $20 off your massage with the code HLOMJ.
If you want to get a small stocking stuffer, a foam roller like this one is a great way for mama to massage out those over-worked muscles. My hubby taught me how to roll out and wow does it make a difference.
COFFEE / TEA
My dear friend, who's a mom, sent me a $25 gift card to Starbucks along with her baby gift when my little guy was born, with a note saying, you'll be needing this. This was the most thoughtful thing and she was so right. My sisters (also moms) gave me a Mastercard gift card for my birthday, saying to use it for coffee and not feel guilty about getting it outside the home, as a nice excuse to get out of the house.
Stumptown Coffee's Hair Bender roast is my go-to gift for the coffee lovers in my life. You can get a subscription so the mama in your life will never go without.
I also got these french press mugs for my agent who's a mom and always on the go. You can brew your coffee right in your mug! How cool is that?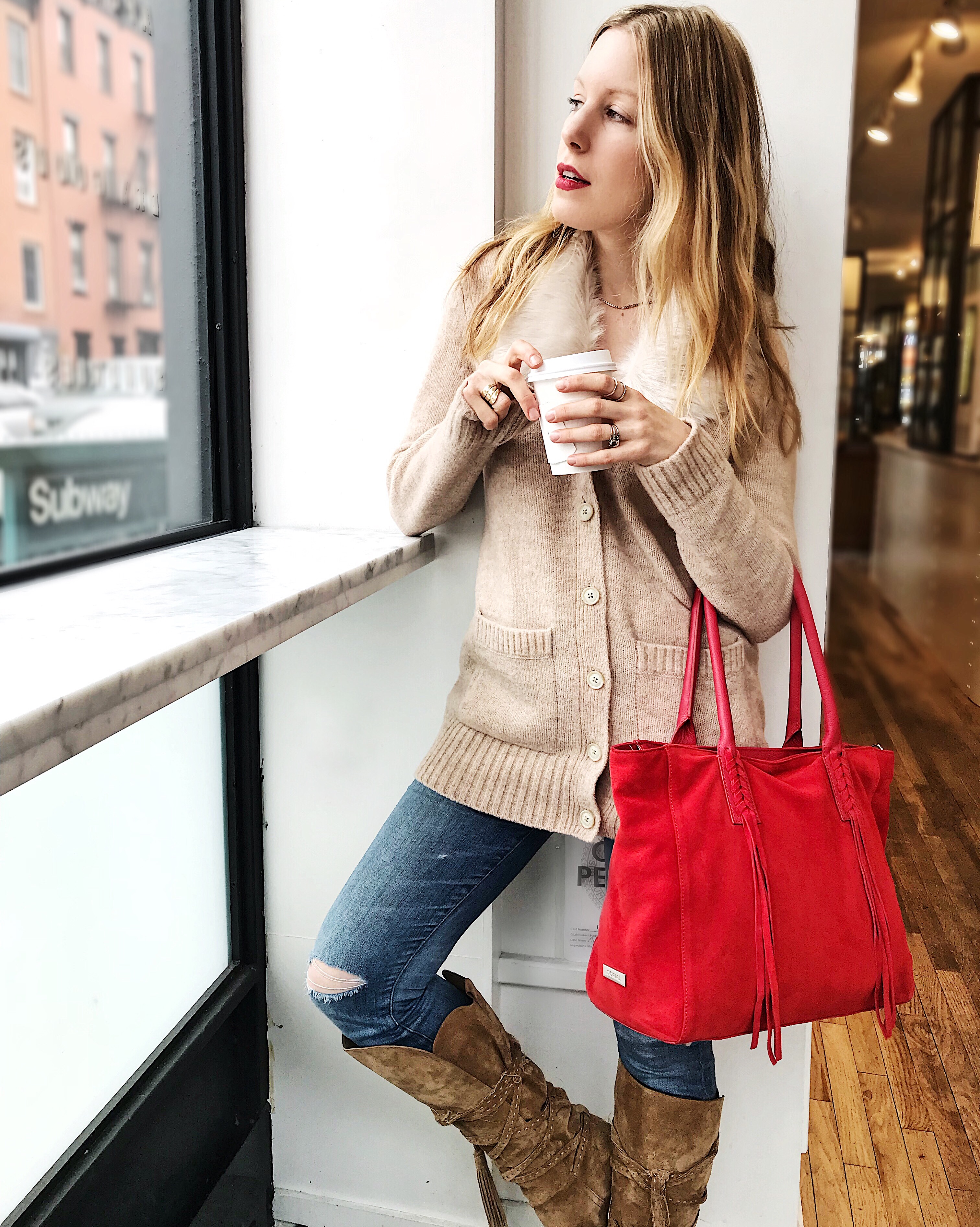 COZY CLOTHES
There's nothing an expecting mom or new mom wants more than to be comfortable but still feel like herself. My sister got me flannel pajamas set like this one in a larger size, which I lived in all last winter during my pregnancy. This is also an affordable set of  flannel pajamas that you can mix and match with. This year I'd love a luxe pair of pj's in my normal size.
Cozy cardigans like this one from Banana Republic are basically what I wanted to live in during pregnancy and right after because my body temperature fluctuated so much with all the hormones that expecting and nursing can bring. They're also so easy to throw over a tee and stay warm and comfortable. This one is especially fun this season—and yes, cardigans are actually a trend this season—with the removable faux fur collar and it comes in black and navy.
Slippers are always a great holiday gift and is a fantastic stocking stuffer because they get worn every day and they're like a hug for your feet, right? I got this affordable pair of slippers for myself this year because they had great rubber soles so I wouldn't slip while holding the baby. They should call them no-slippers. See what I did there?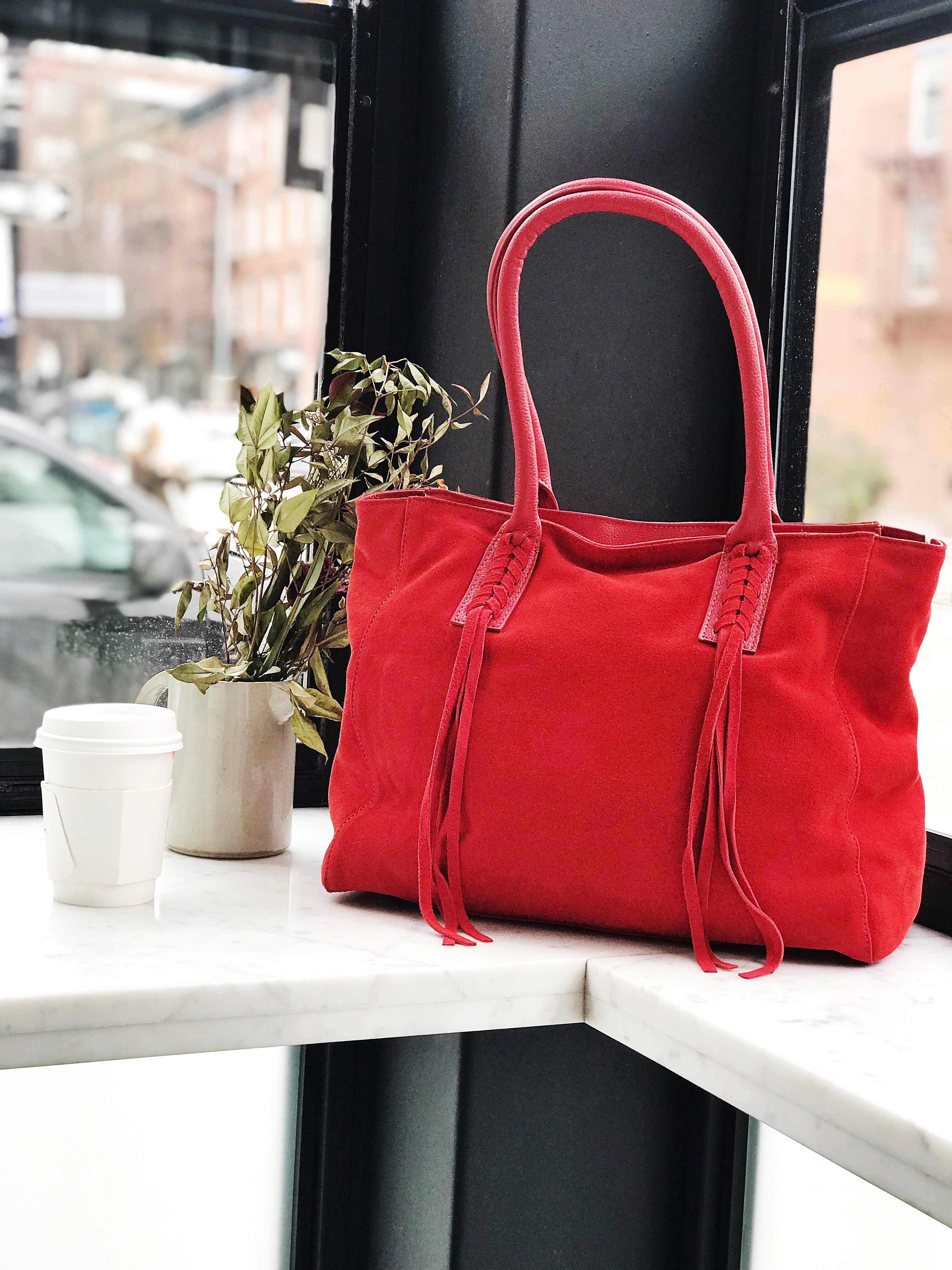 A GREAT "MOM" BAG
I'm not talking about a diaper bag, I'm talking about a carry-all tote that fits everything a mom would just throw in and can acceptably bring outside of baby/kid situations. I have to fess up that this was something I requested from my hubby and he so sweetly bought me a designer diaper bag. I sadly returned it because I would rather have a separate diaper bag that doesn't break the bank and one that has nothing to do with carrying diapers but still feels luxurious. I sold my designer red handbags like this one and this one (I guess I have a thing for statement red handbags), but I've been wanting one that looks both expensive yet still fits within my diaper money budget AND isn't so precious like my previous bags. This red tote from Sorial is perfect for my life right now… and did I mention it's 50% off?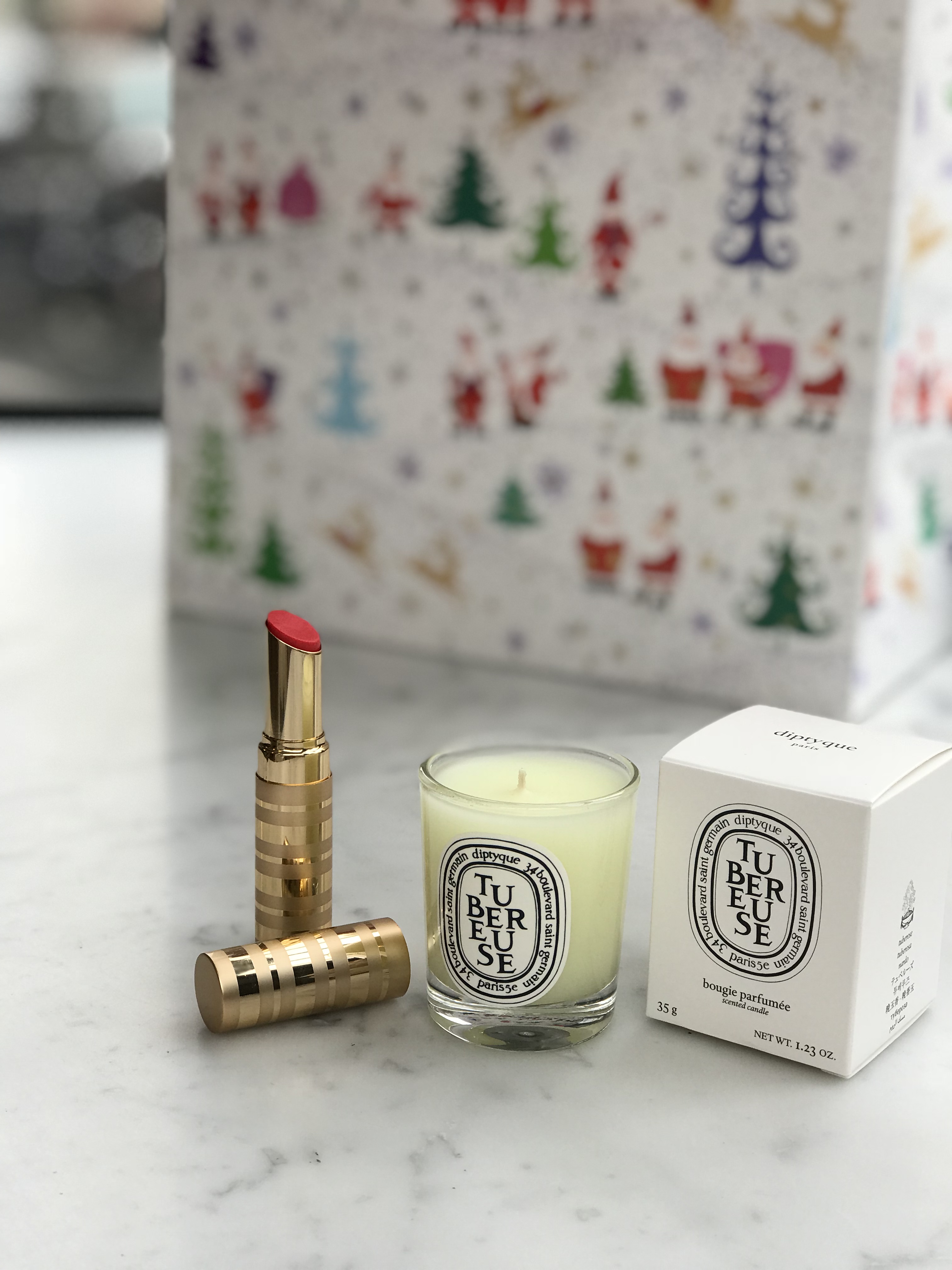 BEAUTY GIFTS
While I'm all about the natural beauty products I currently use in my regimen, it's always a treat when a friend knows you well enough to turn you onto a new product that you didn't know about before. My friend Ashley was so sweet to give me these products above for a holiday gift and I don't think I could have picked out a more perfect gift from a friend for me than this. You probably already know that I love some lip color for every day, so she got this lip tint from the natural beauty line Beautycounter that is a sheer tint of color (perfect for a mom!). She also gave me a mini candle from Diptyque, which if you don't know, is a favorite perfume/candle brand of most girls in the know (and my favorite too).
Ashley told me the best mom hack of all—buy your gifts in sets like this one and break up the set to give among your friends. How brilliant is that?
I received a similar gift from another girl friend (these ladies know me!) a while back and it was this natural lip color that I've been hooked on since.
Hand creams, especially non-toxic/natural ones, are a great easy holiday gift (and my stepmom's favorite!) because it can always be used in the winter. Moms to be and new moms are washing their hands frequently so they get dried out quicker. This cream that I use nightly is what I plan on gifting this year. I also keep this hand cream in my purse and it would make a great gift, trust me. I used it on a shoot the other day and everyone went crazy over how great it smelled.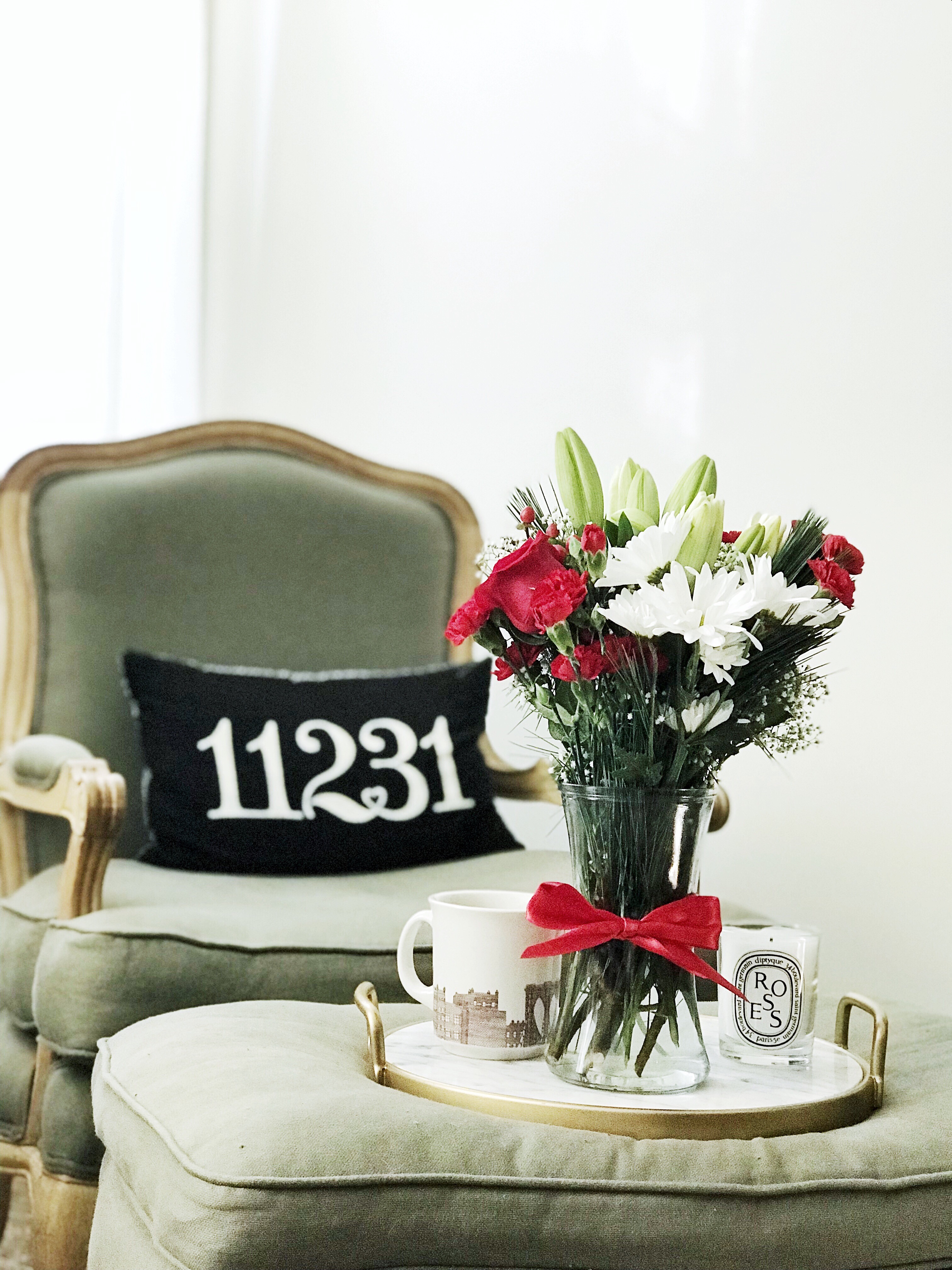 FLOWERS
What woman doesn't want flowers? If you're in the NYC area, now with Flower Delivery NYC / Flower Delivery Brooklyn you can get beautiful arrangements delivered the same day (talk about last minute gifting, huh?). You can also get 25% off this season with my code SOCIAL25.
Feel free to pass along this post to hint to your loved ones if you're a mama or mama to be. I'd love to hear your favorite gifts you've given / received as well! Happy holidays to you and yours!
Banana Republic CARDIGAN (c/o), similar JEANS // Michael Kors BOOTS // Sorial HANDBAG (currently 50% off!!!!) (c/o) // Aveda LIPSTICK (c/0)
photos of me by Ashley, all others by me