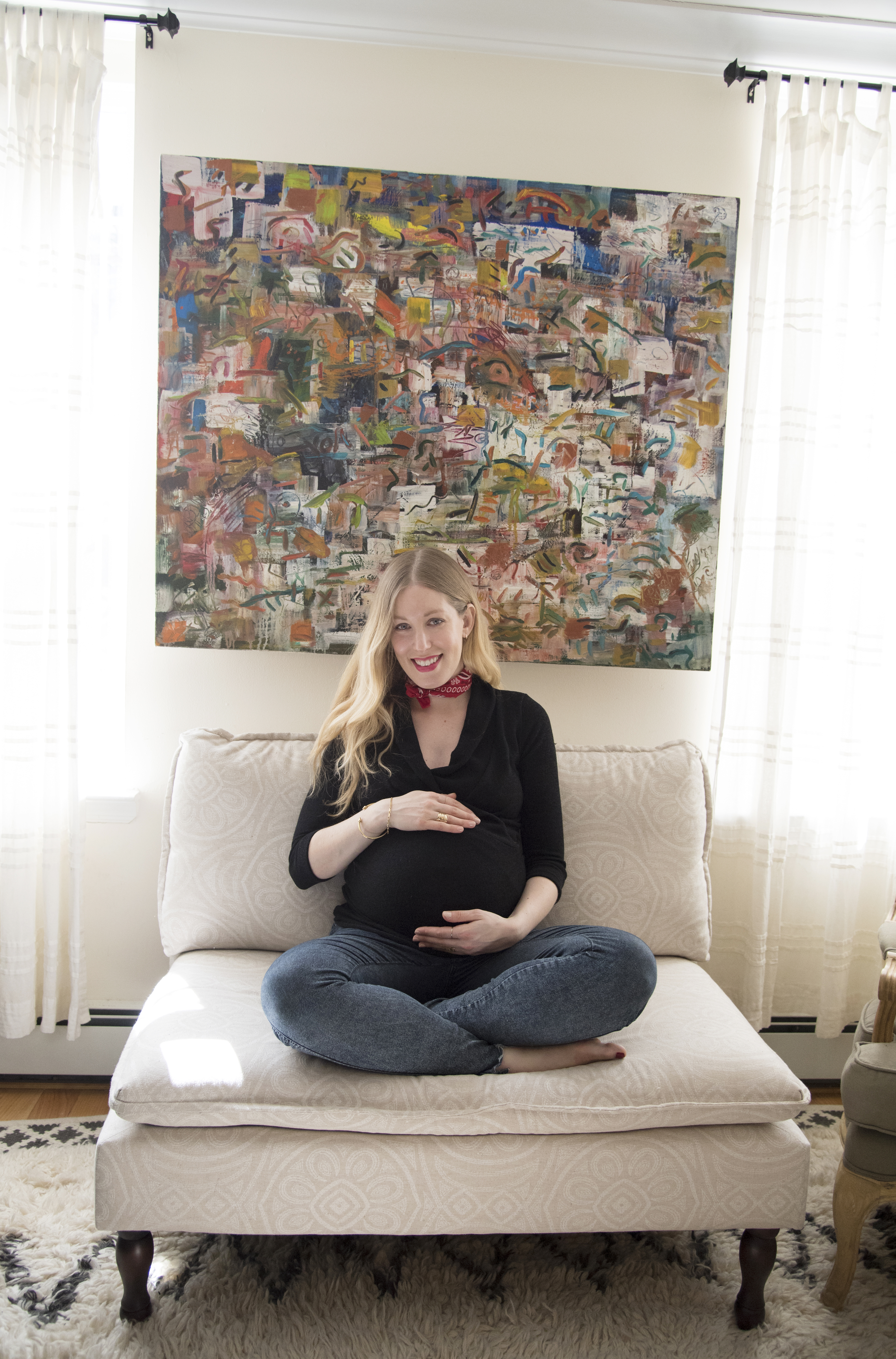 The past 9 months have been quite the journey for me. There's not one manual or book to get you through it all because everyone's experiences are different. I got some great advice from girlfriends and family and while there's so many sites to tell you what to buy for baby, there's really not much that helped me figure out what to buy for ME to help me get through it all.
Now that I'm at the very tail end (due this week, so ready when you are, baby!), I'm happy to share what worked for me based on my own research, experience and even trial and error. I'd love to hear what worked for you too if there's something I missed.
1st TRIMESTER
Congrats! You're embarking on the most exciting and overwhelming time in your life. As you probably know by now, your clothes are going to not fit as well as they used to soon enough if they aren't already. I remember feeling massive in the first trimester because I felt so bloated and couldn't button my pants anymore (though no one else could tell just yet).  The best tip I got from mommies was to prolong wearing your own clothes as long as you can, especially your jeans. You can slip a hair tie around the button of your jeans and loop it through the hole to hold them together. After a while my hair ties started to snap or become annoying so I stocked up on these to save me from my pants falling down. I also loved wearing cool sporty elastic waistband pants like these and dressing them up.
One of the best things I got early on in my pregnancy was a gift from sister of large pajamas. I laughed when I received them and thought she was crazy, but sure enough, they were the most comfortable things throughout my entire pregnancy.
My skin also went haywire during this trimester and I couldn't understand why people said that pregnancy brings a glow. The only things that helped me were using the most gentle products like this as my cleanser and this as my toner. Eventually I did get that glow that everyone hyped up… until about 38 weeks or so, when everything started to get less glamorous.
I also decided to opt for more natural products in my regimen so that nothing toxic would reach the baby. I traded in my self-tanners for lotion that just made me glow like this amazing natural one by Prtty Peaushun. Even my makeup got swapped out for 100% natural, especially lipstick, which you're essentially ingesting. This all natural and natural-looking one has been my go-to throughout the pregnancy. Of course a stylish gal on the go can't live without her dry shampoo, so I opted for this natural powder dry shampoo from Aveda.
Of course the worst part of this trimester for most ladies is the morning sickness—or what they don't tell you, is often ALL DAY SICKNESS. Mine lasted from the moment I woke up until about dinner time. It wasn't the most convenient thing working on photoshoots all day with that feeling and not being able to tell anyone why I looked green in the face. My OB offered a prescription if it got too bad, but I opted to go the natural route (and suffer). I stocked up on these chews, which were such a lifesaver.

2nd TRIMESTER
This is when I felt like I really needed to get a whole new wardrobe. I think it was about around 17 weeks where absolutely nothing fit and I got pretty depressed about it. I decided to order a bunch of affordable maternity clothes. I love maternity brands like Hatch, but I didn't want to spend a lot as my body was constantly changing (thank goodness I didn't!) My sister who has 3 kids advised me that if I find a pair of jeans I love, to stock up on a larger size for later on. I did that and I'm glad I did because I wore both sizes probably the same amount during my pregnancy. I kind of wish I sized up to begin with because now at the tail end of my pregnancy, the larger size no longer fits. My favorite pairs were from ASOS like these and these because they were so stretchy and comfy, but still so affordable. I think my favorite buy of all was a pair of maternity leggings that I impulsively bought at Old Navy when I was shopping for a shoot. They were under $15 and seriously all I want to wear every day.
I also recommend stocking up on pants with higher waist bands to start. My belly wasn't big enough at this point to hold up the low slung elastic waistband pants so they would constantly fall down, which isn't fun. The low slung waistbands were great towards the end when I couldn't stand anything on my belly.
After making the decision that I wasn't going to spend a lot on maternity clothes, I accepted hand-me-downs but splurged on a subscription to Rent The Runway's Unlimited service. I get 3 items at a time and can send them back whenever I'm ready for a new item. It's made me more excited about getting dressed during the times when I'm down on my ever-changing figure, especially when I got to wear designer pieces (often up a size or two) that other fashionistas would covet, unlike a lot of maternity clothes out there. I also realized from doing so that more fitted pieces look more flattering that hiding my bump with over-sized/looser clothes. Some of my favorite pieces were anything by Opening Ceremony like this super flattering ribbed dress for daytime, and this fitted cocktail dress for special occasions.
My breasts starting to outgrow my bras, so I needed to buy some new ones. I decided to get some that doubled as nursing bras, which I'll be needing soon enough. The biggest thing is to avoid underwire at this point, which can actually do more harm than good.
I was advised towards the end of this trimester to give up barre classes and any other workouts that use too much core. I decided to take up swimming, which felt AMAZING as my belly was weightless and I got a great full body workout without overdoing it. The one issue… finding a swimsuit that fits. I loved this swimsuit, which was affordable and still made me feel less self-conscious at the YMCA.

3rd TRIMESTER
As soon as the 3rd trimester hit, my feet started to swell, my back started to hurt and my shoes were getting smaller on me and more uncomfortable. Ah, the perks of pregnancy.
Compression socks were a lifesaver when I was working on my feet all day and even when I traveled on 4 flights right before my travel cut-off. I bought a few pairs because they really made a huge difference at the end of the day, and possibly saved my legs from varicose veins (let's hope!). They're not the sexiest things, but under pants, no one knew I was wearing them.
Let's be real, pants late in the third trimester are the WORST. If I could get away with a maxi dress every day, I probably would at this point. In my rage against pants, I bought a bunch of maternity dresses that I don't regret, especially as I'll be continuing to wear them while nursing this summer. I loved that this maxi from Pink Blush was so pretty for my maternity shoot, but something I would keep wearing again.
Something people may not mention is that once the baby is out, you're not magically back to your same pre-pregnancy size for a while. In fact, you'll still look about six months or so pregnant. This trimester, I only invested in maternity pieces that I can wear AFTER the baby comes too, so things that are comfortable and make it easy to nurse. This Everly Grey maxi is probably something I will be wearing nearly daily, including when I'm on the way home from the hospital. Tops like this one and this one (pictured above) not only are flattering for every stage, but convenient for taking out the boob.
This is also the time to stock up on essentials for both your birth and for nursing. I want to be comfortable during birth, so instead of wearing the hospital gown they give you, I plan on wearing this birthing gown. What's the difference? Well, for one, it's a lot softer and less hospital-like than what they give you. You also don't have to worry about exposing your tush to the world because it's pretty much a dress. What makes it work for the hospital is that it has buttons up the back for if/when you get an epidural and it also has buttons on top so you can unhook for skin-to-skin contact and breastfeeding after the birth. Even if you end up stripping everything off during the birth, it's makes for a great maternity nightgown and for $30 on Amazon Prime, you won't care if it gets trashed during the process.
In addition to the birthing gown, there are some items you may want to include in your hospital bag to stay comfortable while you're there. I bought a couple of nursing sleep bras that are for nighttime and to keep some nursing pads in to absorb leakage (the reality of post-birth!).
You'll probably not want to wear real clothes while you're in the hospital, so a cozy nursing pajama and robe set that you won't be embarrassed wearing when visitors come is essential, and it's a bonus if it has a matching outfit for baby (which likely will only be worn for pictures or when you're at home).
Some hospitals like mine give you some grip socks to wear at all times while walking around, but after spending a couple of nights in my hospital, I despised them. They were one size fits all with no top or bottom, so they kept flipping around. I broke down and bought some fuzzy socks with non skid grips to pack in my hospital bag and feel a bit more luxe.
I also hired amazing doulas to be by my side during the birth and there for me during this process, so they also guided me with what to pack in my bag. A couple of things they told me that I didn't hear anywhere else was that 1) during labor you're going to be too exhausted to chew, so something high in protein but easy to eat is best like these and 2) you may get nauseous (and I did again late in pregnancy) and have dry mouth, so something sour to suck on is great for getting through. I'll of course keep this updated with anything that I discover once I go through the birth process myself within the next week or so (eek!).

photo by Michelle Rose