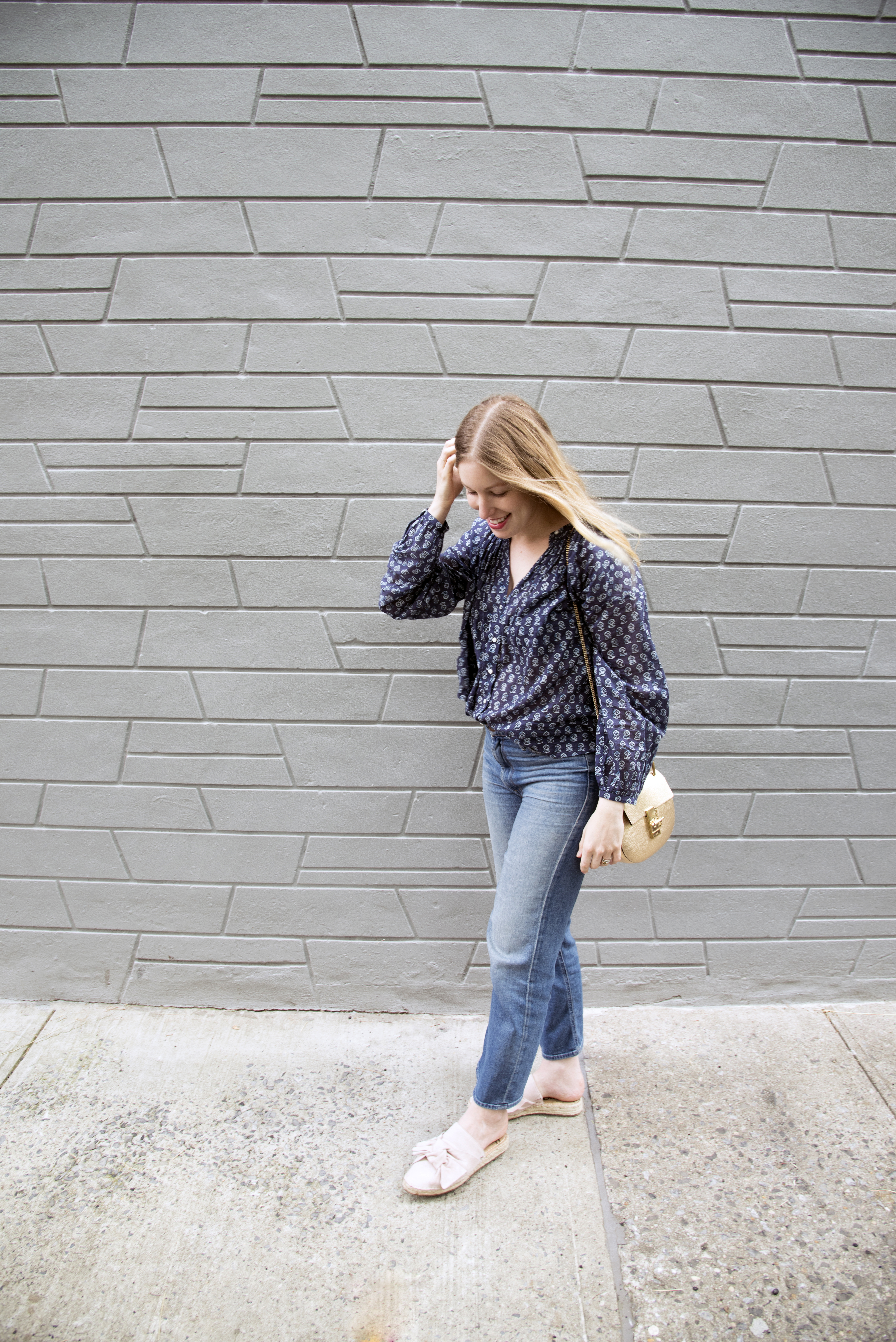 It's been a whirlwind of a month or so. In case you couldn't tell by my previous posts, that belly finally popped. Actually it literally did—my water was leaking so I had to get induced! I'll save that story for a future post when I'm ready to share my birth story. In the meantime, I'm sharing my POST-birth story, a.k.a "The Fourth Trimester."
I finally got relief from all the pressure and aches that came with late pregnancy and gaining 55(!!!!!) pounds. I weighed more than my hubby at the very end and understandably so, I had a big baby boy that weighed nearly 9 pounds! A nurse at the hospital had the audacity to say to me, "wow, you must have eaten a lot during your pregnancy." I actually ate the healthiest I ever have in my life—and didn't crave sweets at all. My sister who's my size had a 9 and 10 pound baby. We just breed them big and HEALTHY. Even my doctor told me I'd probably gain more than most people being so small to begin with. She said she'd still be jealous of my size at my 6 week appointment following the birth.
Just giving birth caused me to lose 20 pounds instantly between baby, placenta and water weight. What a relief. Also, breastfeeding, if not for a gazillion benefits, is like THE best diet ever. I burn so many calories that I eat more and still lose weight. I haven't driven myself crazy and weighed myself, but the fact that I'm fitting into some of my pre-pregnancy wardrobe has been quite the boost in my self-esteem. I still have a ways to go and can't fit into most of my closet, but hey, it took 9 months to put it on so it could take time to take it off. Plus, hopefully I get the OK from the doctor to work out again soon.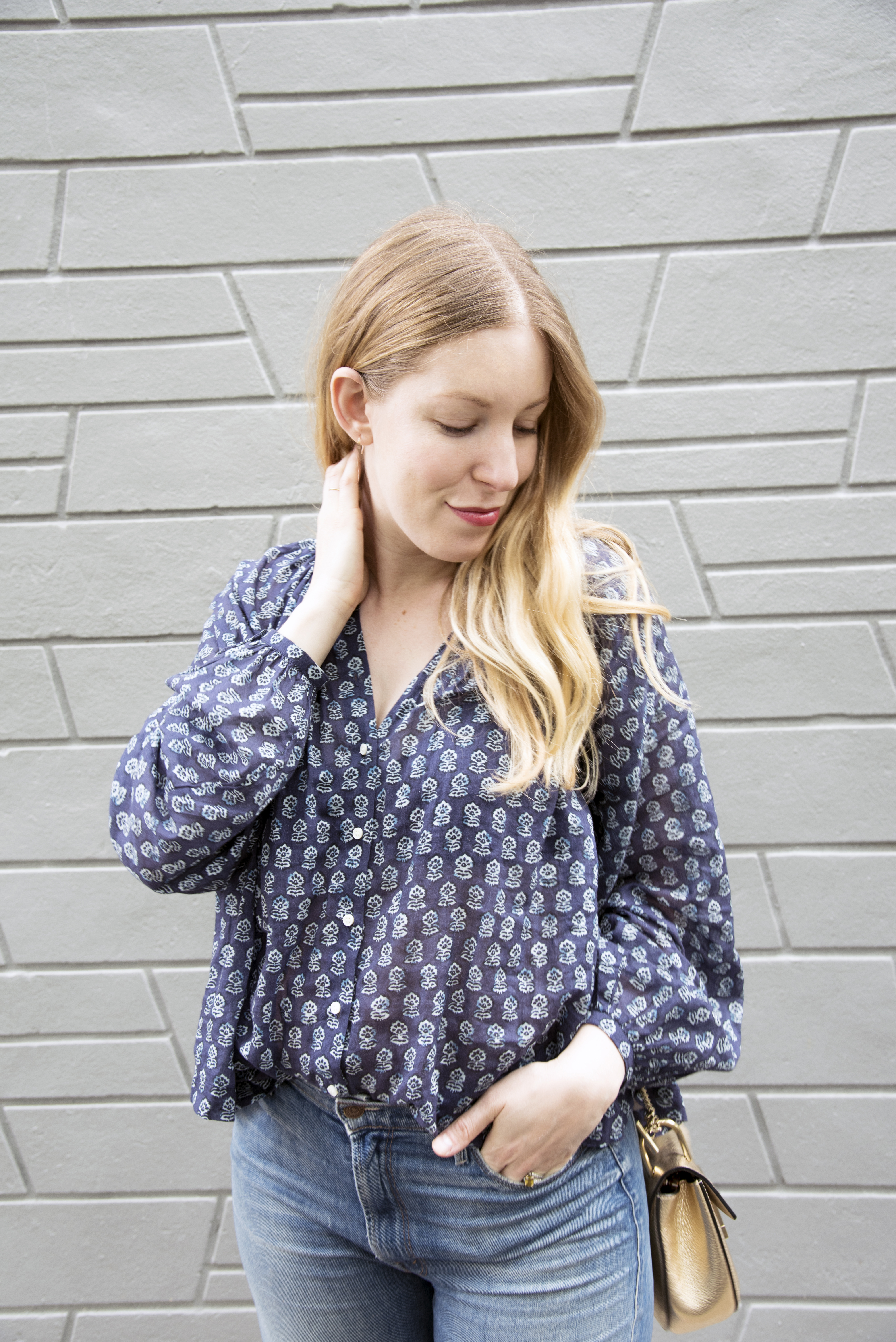 Once I started feeling more like "me" again, I went on a rampage through my closet and removed nearly all the maternity clothing I had been living in for the past few months. I couldn't look at it any longer. I also put a ton of my clothes on for sale that I know I'll never wear again as a mom (or just that won't work in my life for a while) on the app Poshmark. If you don't know about this app, get on it right now. It's a wardrobe game-changer. You can get $5 towards your purchase with the code HXEZC and follow my closet, featured to the right of this page.
It felt like therapy to clear out my closet and start fresh. I don't want to go crazy and buy a whole new wardrobe because my body is still changing, but a lot of it doesn't work right now, especially as I'm breastfeeding. I need pieces that I can nurse in (a.k.a. easy access to the boobies), but all nursing clothing disgusts me. My wardrobe also needs to be machine washable between spit up and lack of time to go to the dry cleaners. Who am I kidding? Where am I going right now at a month and a half postpartum that I need fancy clothes?
I decided to splurge on this top to reward myself for making it to this point. I want easy pieces in my life now, but there's no reason they can't look elevated too—even if the fanciest outing these days consists of the coffee shop in my neighborhood or brunch with friends.
I discovered the brand DOEN and it's become dangerous because I want everything in their limited collection. It feels like it was made for me. All the pieces are designed to look bohemian vintage 60's and 70's style. I mean, they even quoted Joni Mitchell, one of my idols, on their homepage! The collective that makes up the brand consists of like-minded free spirited WOMEN my age, including young moms. They even sell kids clothes with the same fabrics.
This top was sold out and restocked multiple times before I finally was able to purchase it. I advise to get on the waitlist. It's that good. The design of it was inspired by another 60's icon I love, Jane Birkin, and I seriously feel like I'm effortlessly put together with that same "je ne sais quoi." It almost makes me forget that I'm dealing with a new body, post baby.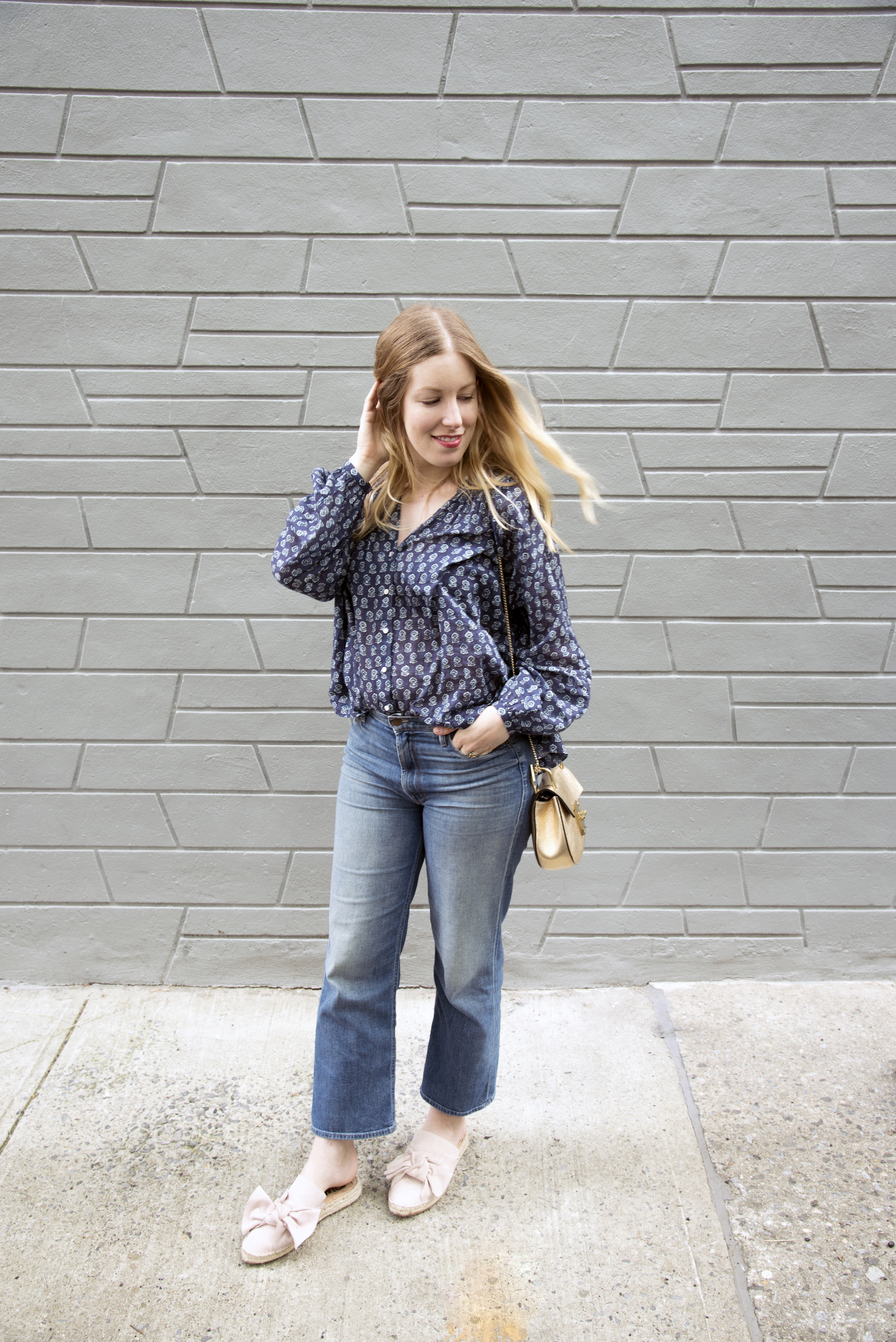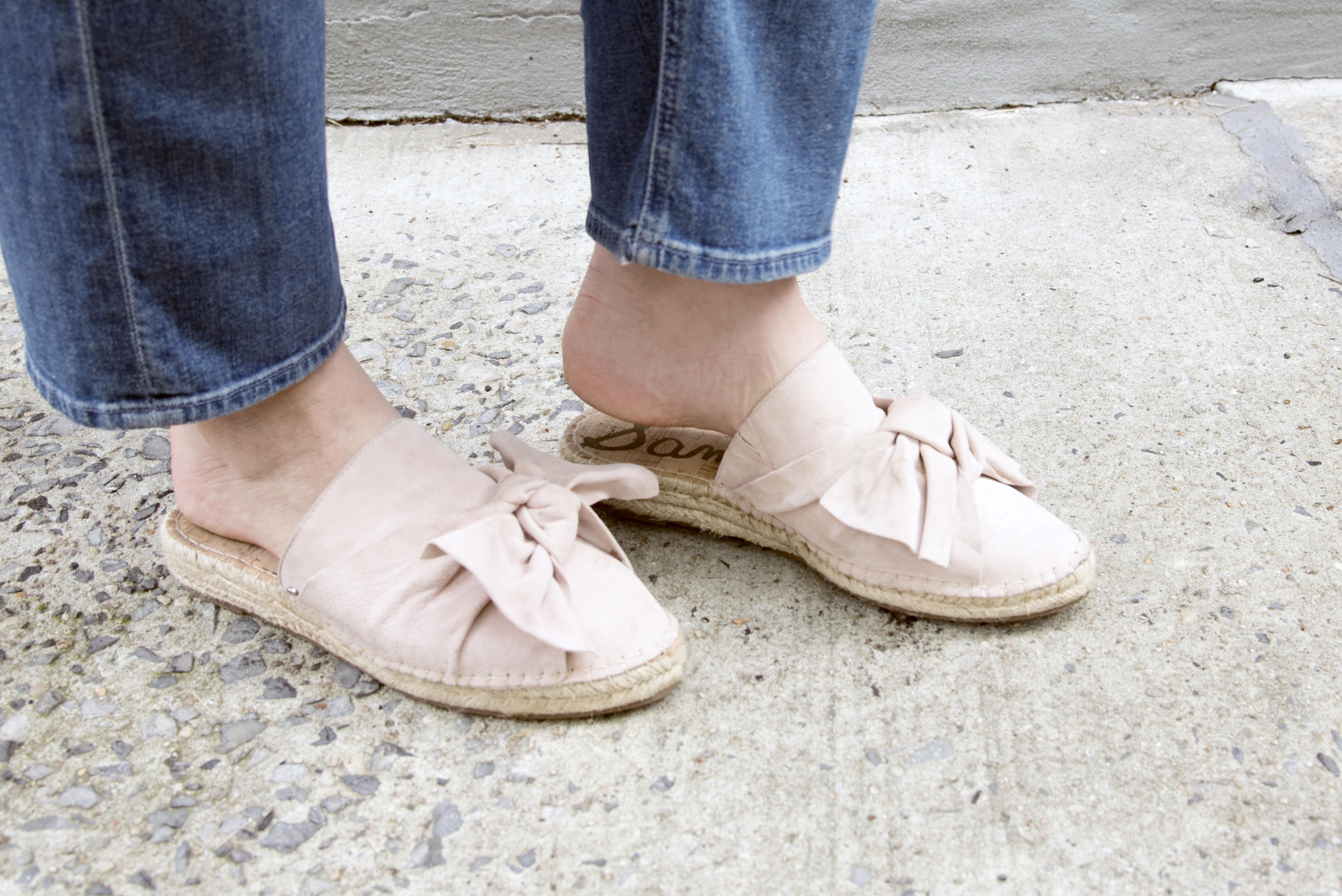 While I'm on maternity leave from styling, I make it a point to get out of the house at least once a day for my sanity. It gives me a purpose and routine to my day. I'm fortunate that I live in a neighborhood in Brooklyn where I can push the stroller out of my door and there's so much going on within a 10 block radius. It's also gorgeous weather out, so it makes my daily strolls like therapy. I think I owe that to not getting postpartum depression, which can be serious. I feel lucky that other than the normal baby blues in the first couple of weeks where I cried daily—sometimes for no reason at all like when the doctor said my baby is growing perfectly—I'm adjusting well to motherhood now.
Don't get me wrong, it's the hardest thing I've ever experienced and sometimes I feel like my biggest accomplishment in the day is making sure I'm fed between all the nursing and diaper changing. I barely have time to get out the door before the baby cries out of boredom in the stroller. These days I need easy shoes in my life too.
Sam Edelman recently did a collaboration with Gilt Groupe (who happens to be a styling client of mine too!) and I was fortunate to check out the collection before it launched. I got to pick out my favorite pair of shoes from it and I'm totally obsessed with these mules. From the mule shape to the pale pink suede, to the bow to the espadrille soles, they hit all the trends. They also were perfect for the very end of my pregnancy when none of my shoes fit. Now that my feed aren't swollen anymore, I'm still living in them because they're chic AND easy. I can slip them on and go, giving me more time in my life to feel like "me" again. It also helps that I get a ton of compliments on them when I'm out and about with the baby.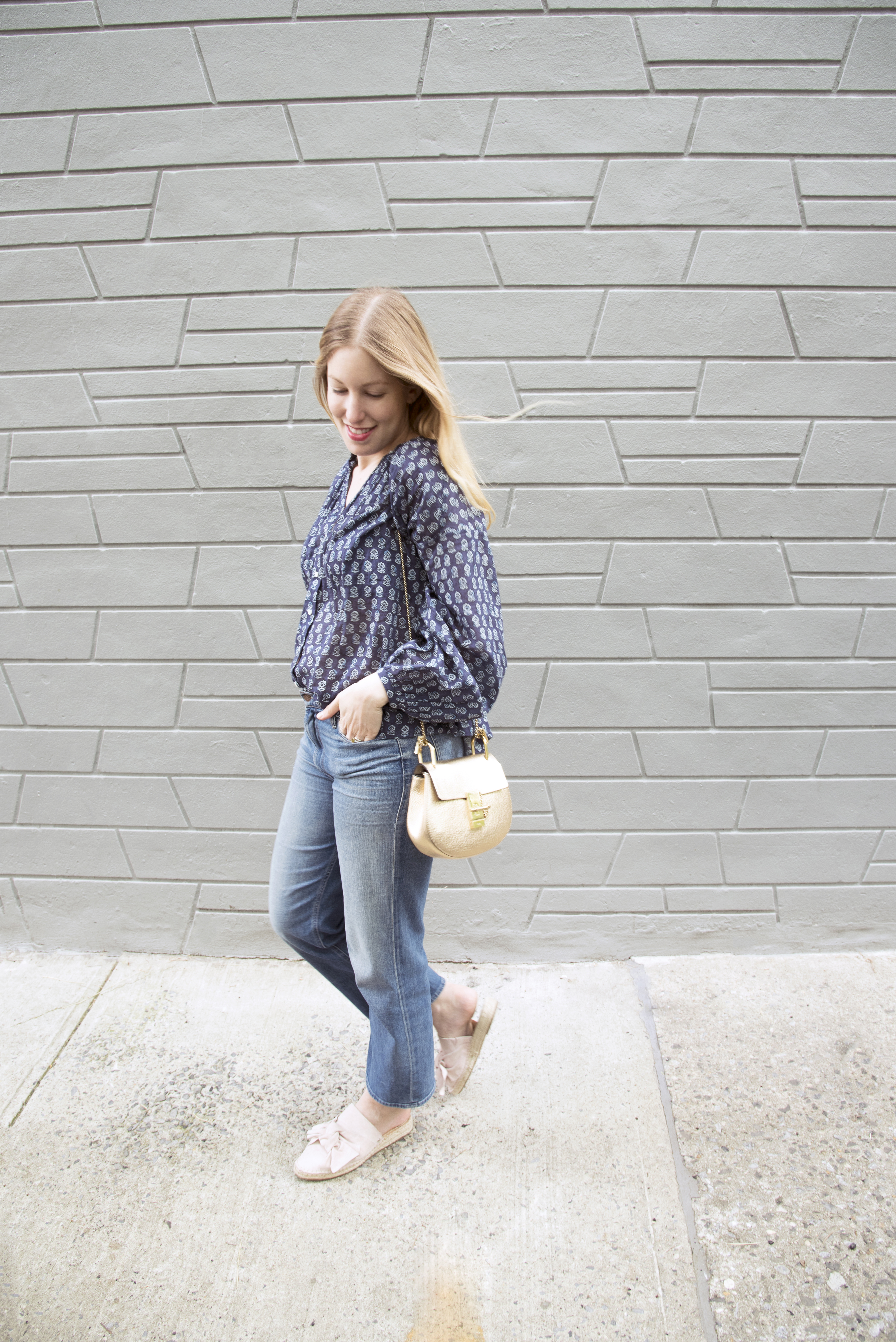 Doen TOP (sold out, but you can get on the waitlist!) // Mother JEANS (similar) // Sam Edelman x Gilt MULES (c/o) // Chloe BAG
photos by Michelle Rose