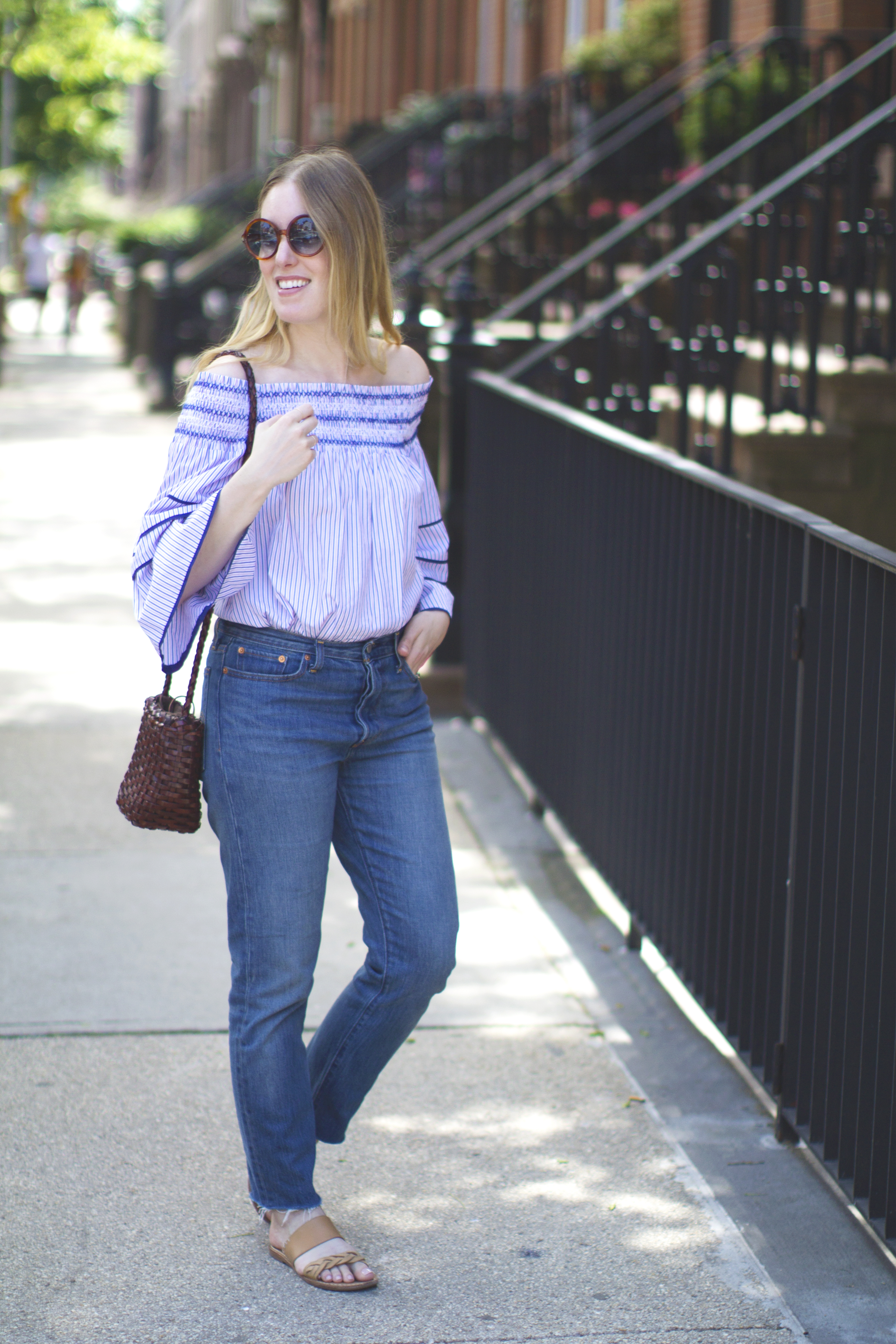 It's kind of fitting that I became a mom at the same time the "mom jean" is actually a trend. Gone are the days when the mom jean made you cringe like this SNL sketch. Women are starting to opt for high waisted denim, along with not overly tight shapes. It's also a relief that skinny jeans are finally slowly fading away. I'm entering a time where I'm trying to embrace my new post-baby curves, so I want clothes that work with them and not like I'm stuffing myself into sausage casing.
I didn't want to spend a lot on clothes as my body is constantly changing, but I was desperate for a pair of jeans that weren't maternity. I've been eyeing Levi's "Wedgie" jeans because they're a fresher silhouette than the stale old skinny jean or boyfriend jean, while also being under $100! I broke down and ordered every pair in every wash and in multiple sizes and settled on this pair, which was the most flattering. Nevermind it's 3 sizes bigger than I was before, but I didn't care, they're new jeans.
These jeans and the now lasting trend of the off-the-shoulder top have become my uniform lately. There's something so easy, yet flattering about this look. I was worried that now that I'm nursing, I wouldn't be able to wear cute tops like this one. This is simply not true, there are plenty of fashionable clothes that still maintain breastfeeding functionality in a discreet manner; check out these nursing tank tops, for instance.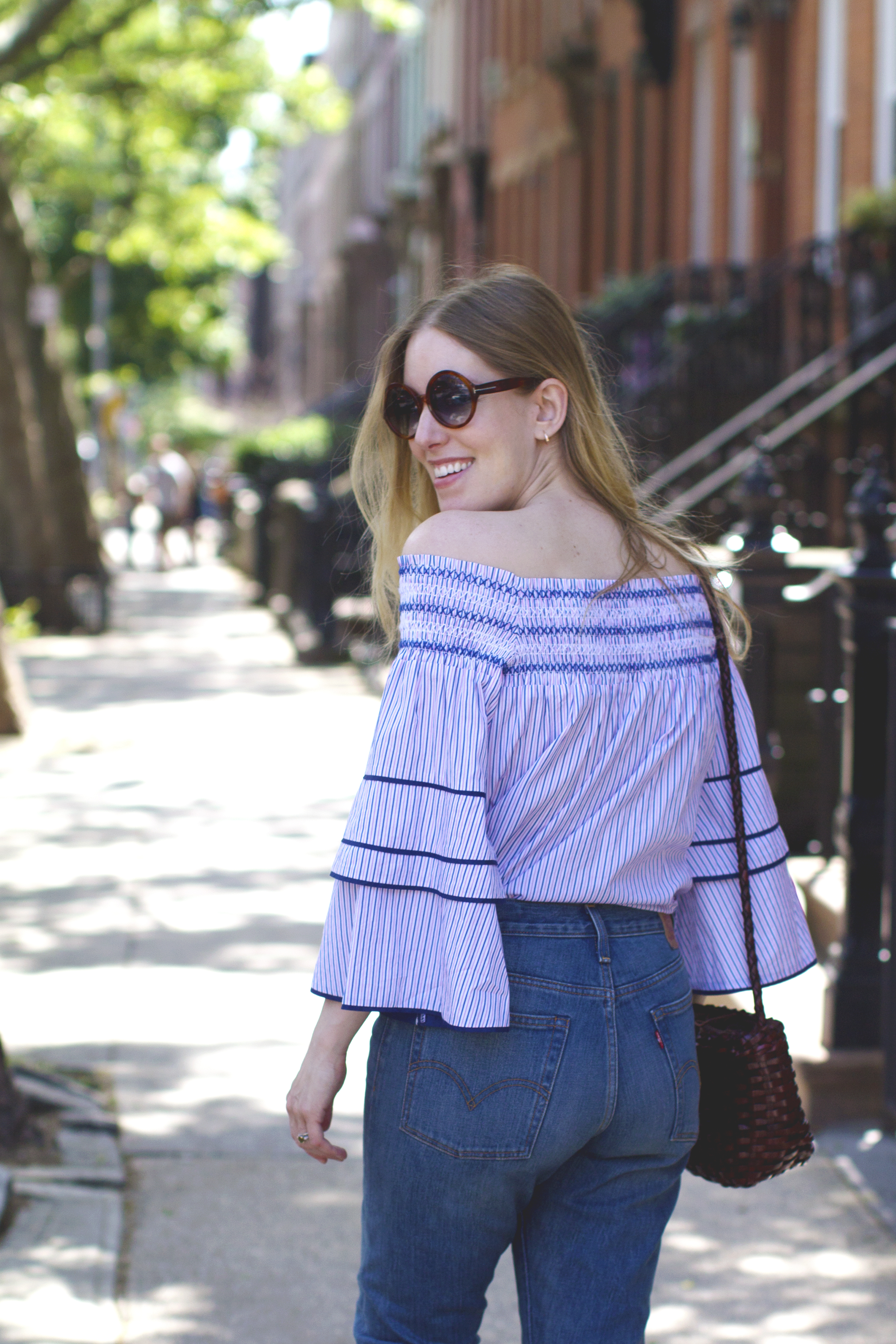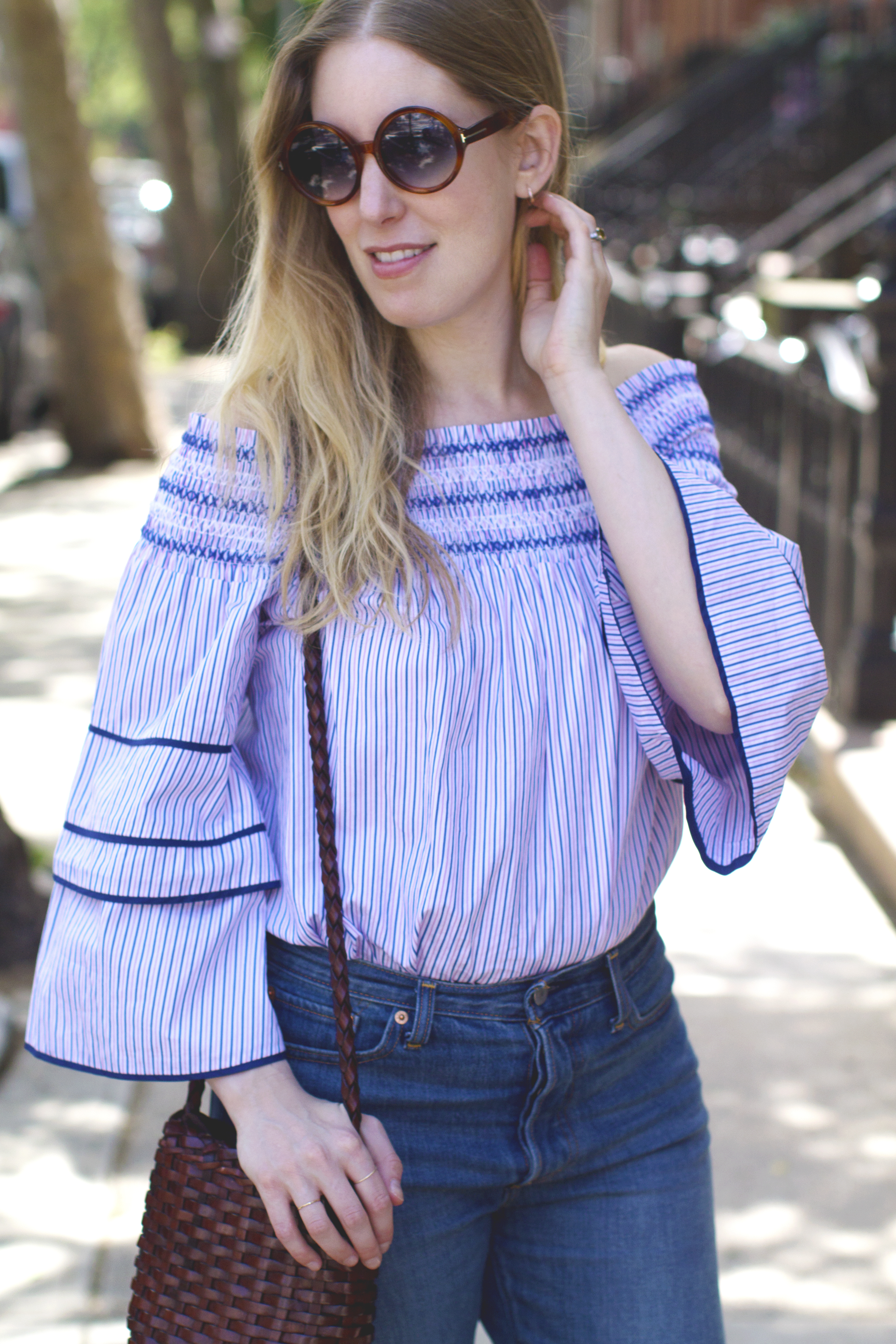 I'm on a mission to NOT wear ugly nursing specific clothes and opt for just breast-feeding friendly pieces that I can wear down the road. Luckily, I discovered some great nursing bras that allow for more options in my wardrobe like the off-the-shoulder top. Check them out below.
This bandeau nursing bra allows for you to wear fun shirts like this without sacrificing the ease of your typical nursing bra. It's become a summer staple for me.
I've also been loving this nursing sleep bra, which I sometimes even wear during the day because it's such easy access with a button down or a deep cut top/dress.
My favorite all around nursing bra is definitely this one because it's comfy and seamless. It works with most summer staple tops.
If I'm wearing a dress / top where the bra may peek out, I'll opt for this soft nursing bra, which has sweet lace detailing, so I don't mind it sticking out. It's a splurge out of all of the bras I mentioned, but it's worth how good it makes you feel.
For my tees and anything where I need a nude, seamless bra, this is my go-to.
While I wore this workout shelf-bra camisole during my pregnancy, I'm going to keep on using it now that I got the OK to workout again. Its snap straps make for easy access if I'm doing yoga and need to nurse too.
A lot of nursing moms tend to layer a shelf-bra nursing tank under their tops so they don't flash their bellies while lifting their top to nurse. I prefer to do without that added layer now that the weather is getting warmer and have access from the top instead. It makes it easier for me personally. If I need coverage, I'll drape a muslin blanket (I'm always carrying at least one around) over or wear a "Hooter Hiders" nursing cover to be more modest in public. If you're looking for more fashionable and simple options to stay discreet in public while breastfeeding, you should check out the Breastfeeding Covers from Bebitza.
Stay tuned for more of my fashionable finds as this postnatal and nursing journey continues…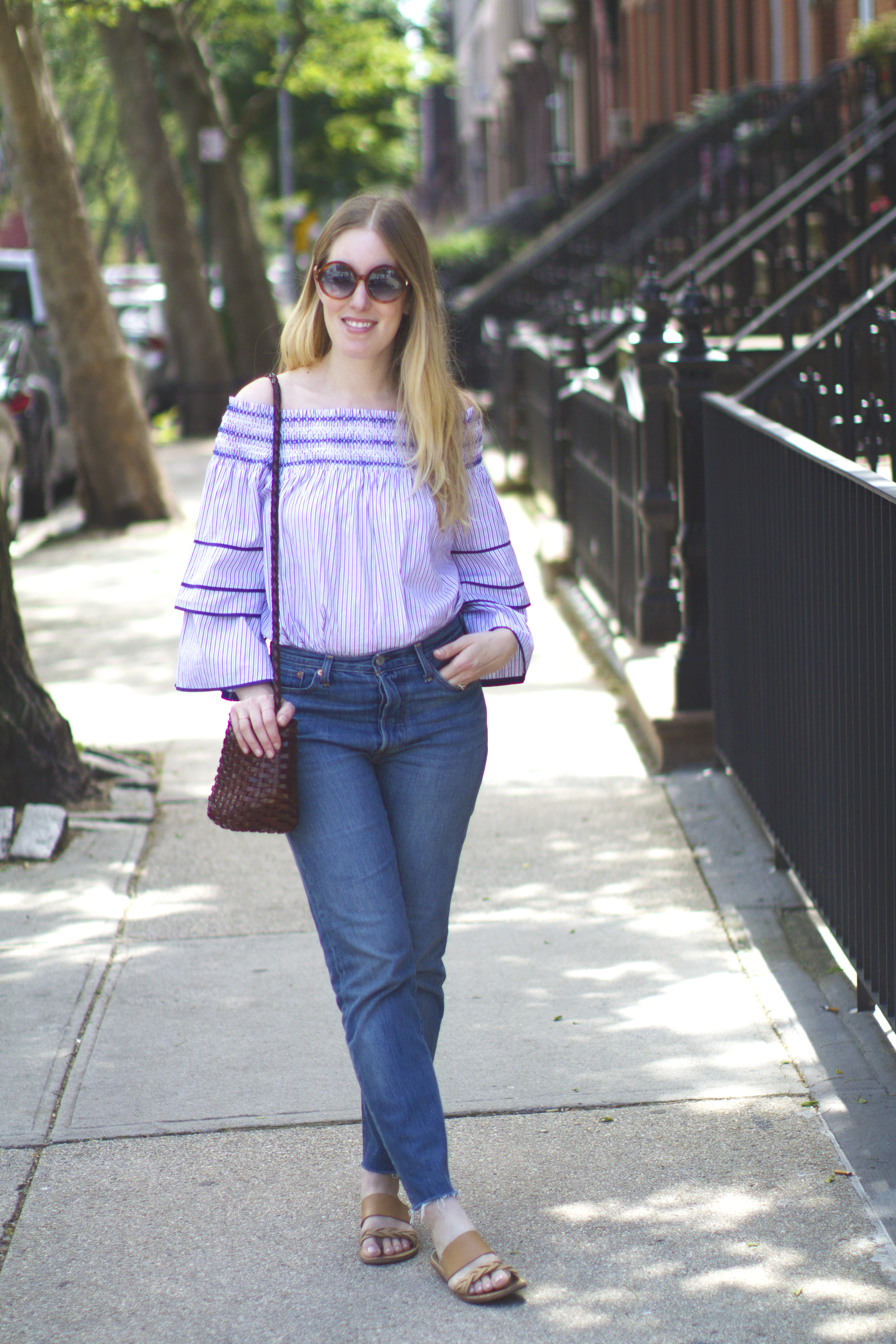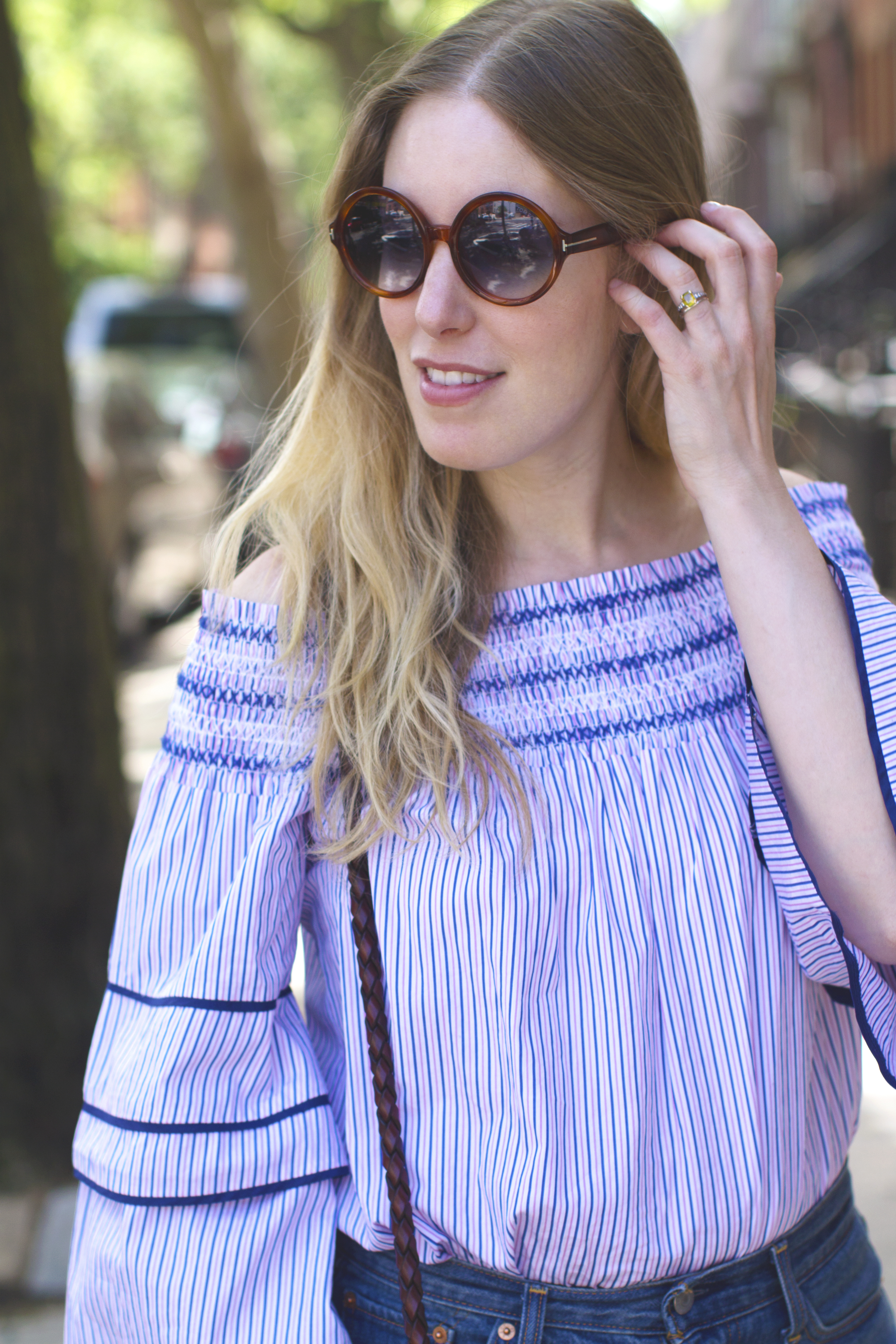 Parker TOP (for rent here, or to own here) // Levi's JEANS // vintage BAG (rent it from me here or similar to own here) // Soludos SANDALS // Tom Ford SUNGLASSES // Catbird RINGS here and here // Melissa Joy Manning EARRINGS
{SHOP THIS POST}