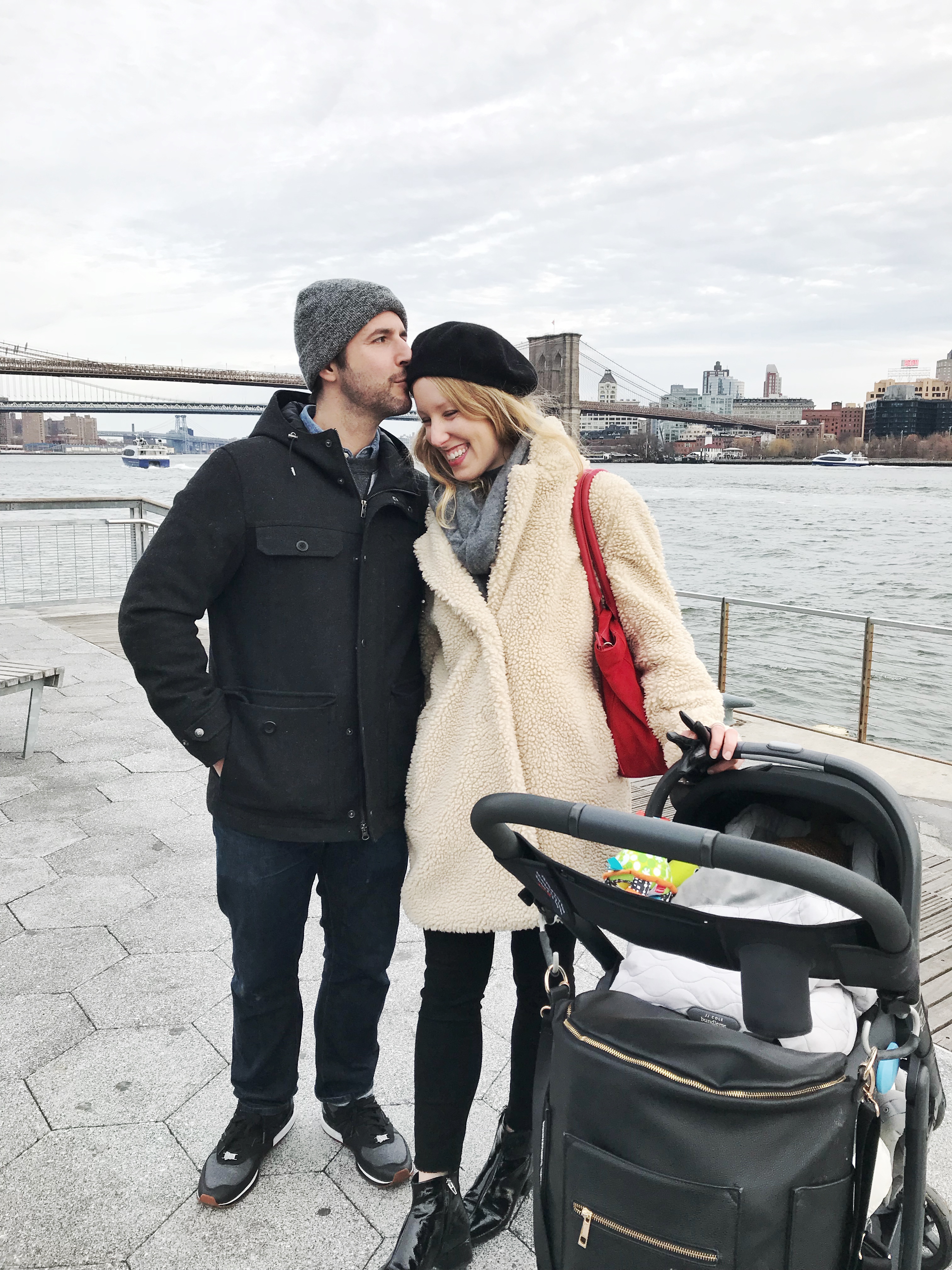 H&M COAT (sold out online, similar here) // J. Crew JEANS (cut the hem myself!) // Zara SCARF // Hat Attack BERET // Dolce Vita BOOTIES (on sale!) // Sorial BAG (c/o)
After chatting with some of you about what you'd like to see on here, one common thing was you like to see more insight into my life and not just my outfits that we take beautiful photos of. My Insta-Stories on Instagram seem to be what everyone is excited to comment on, so why not bring some of that to the blog?
Part of being a mom is that there isn't time for filtering life, so here's the new series I'm going to try to keep up with: my week in snaps I've posted on Instastories in case you missed it—along with tags of all the things you may have been wondering where I got them from.
This week with the holidays we had a staycation in NYC, so with the hubby around it's been nice to be more social and also cozy at home, especially as it's been bitter cold the past few days. I've been trying to incorporate more Hygge in my life as a result and inspired by this podcast I've been listening to which covered the trendy book "The Little Book of Hygge."
If you've been living under a rock this past year and haven't heard this term Hygge (pronounced HOO-Gah) is the lifestyle concept originated by the Danish. The word basically means "cosiness," so it's all about incorporating this into your life, along with the what the NY Times calls, "the pursuit of homespun pleasures involving candlelight, fires, fuzzy knitted socks, porridge, coffee, cake and other people." Denmark has long cold winters and not much daylight, so they strive to find things that make them happy despite this. I think living in long NYC winters I need this too. Here are some images other things that made me happy this week.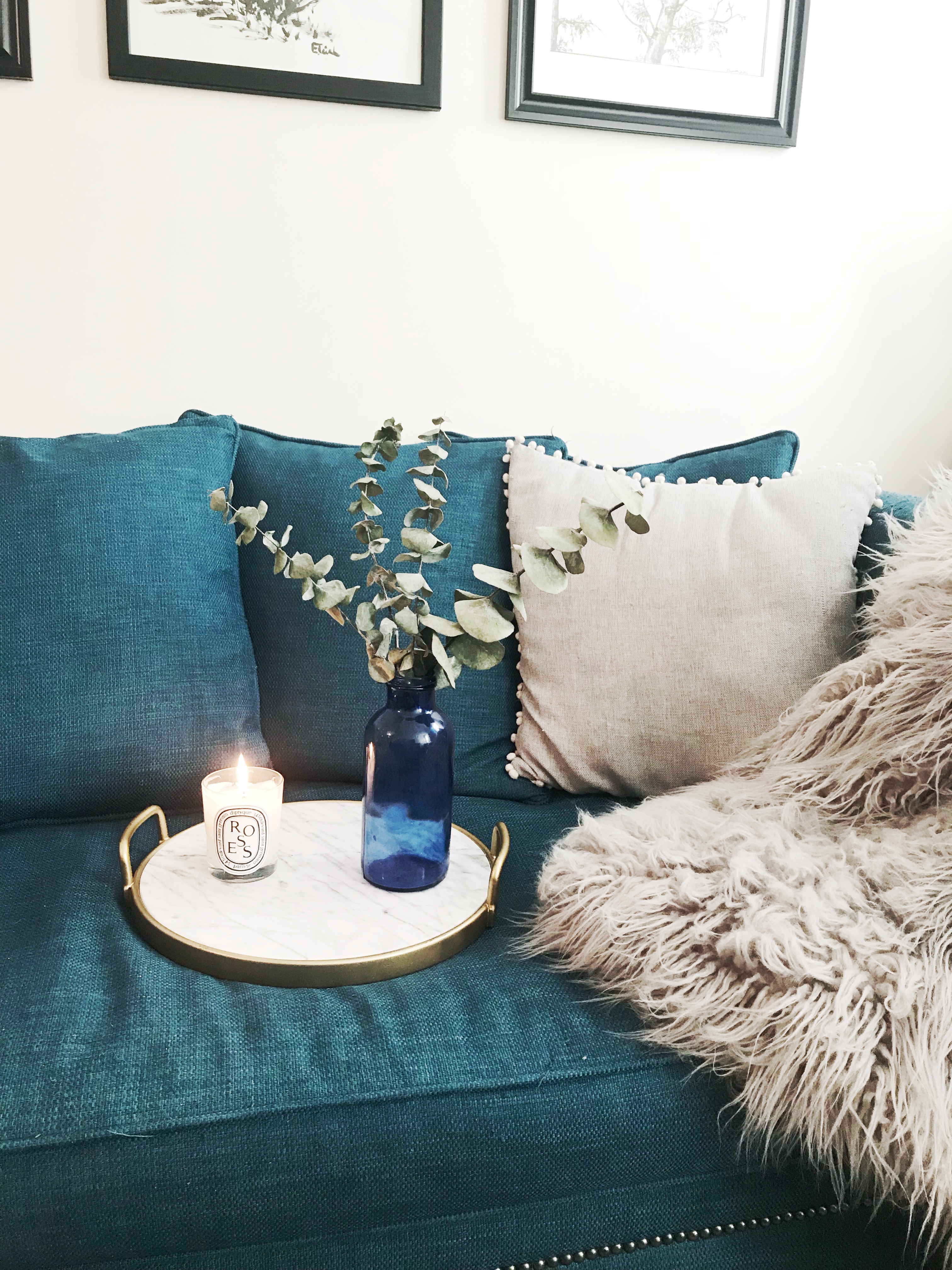 Getting "Hygge" with it in my home: my favorite candle, cozy throw and pillow from one of my favorite stores, and this marble serving tray to host with.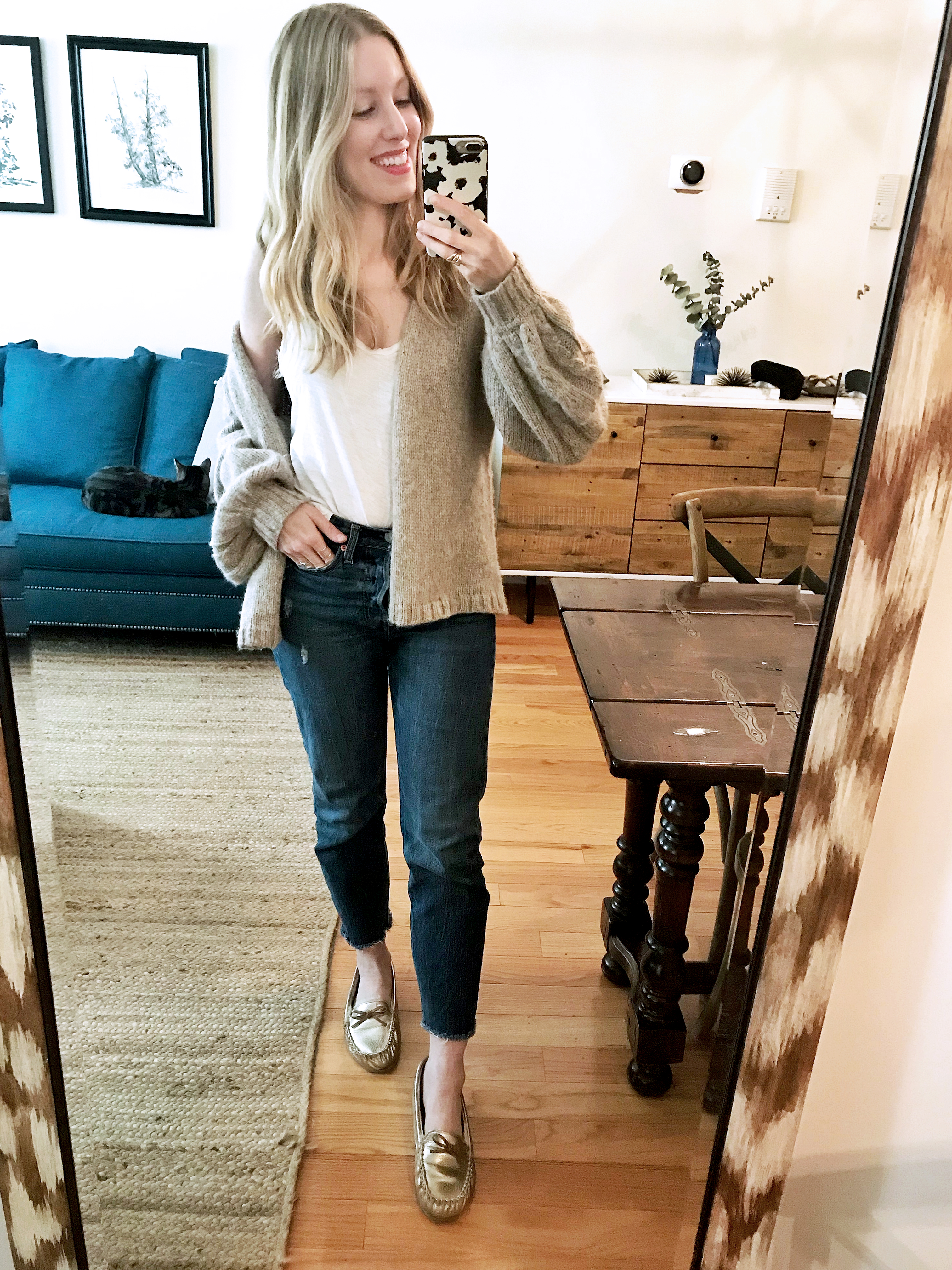 Also in the same vein, this hand knit sweater by Intiearth has been making me feel like I'm wearing a fancy bath robe. It's so incredibly cozy but I can still feel like I got dressed! Their site is totally "Hygge" and makes me want to redecorate my apartment with handmade Peruvian finds.
Oh and these cozy sherpa lined slippers make me never want to wear real shoes again. They're on sale for only $14 so you can get them in every color if want a different pair for every day of the week!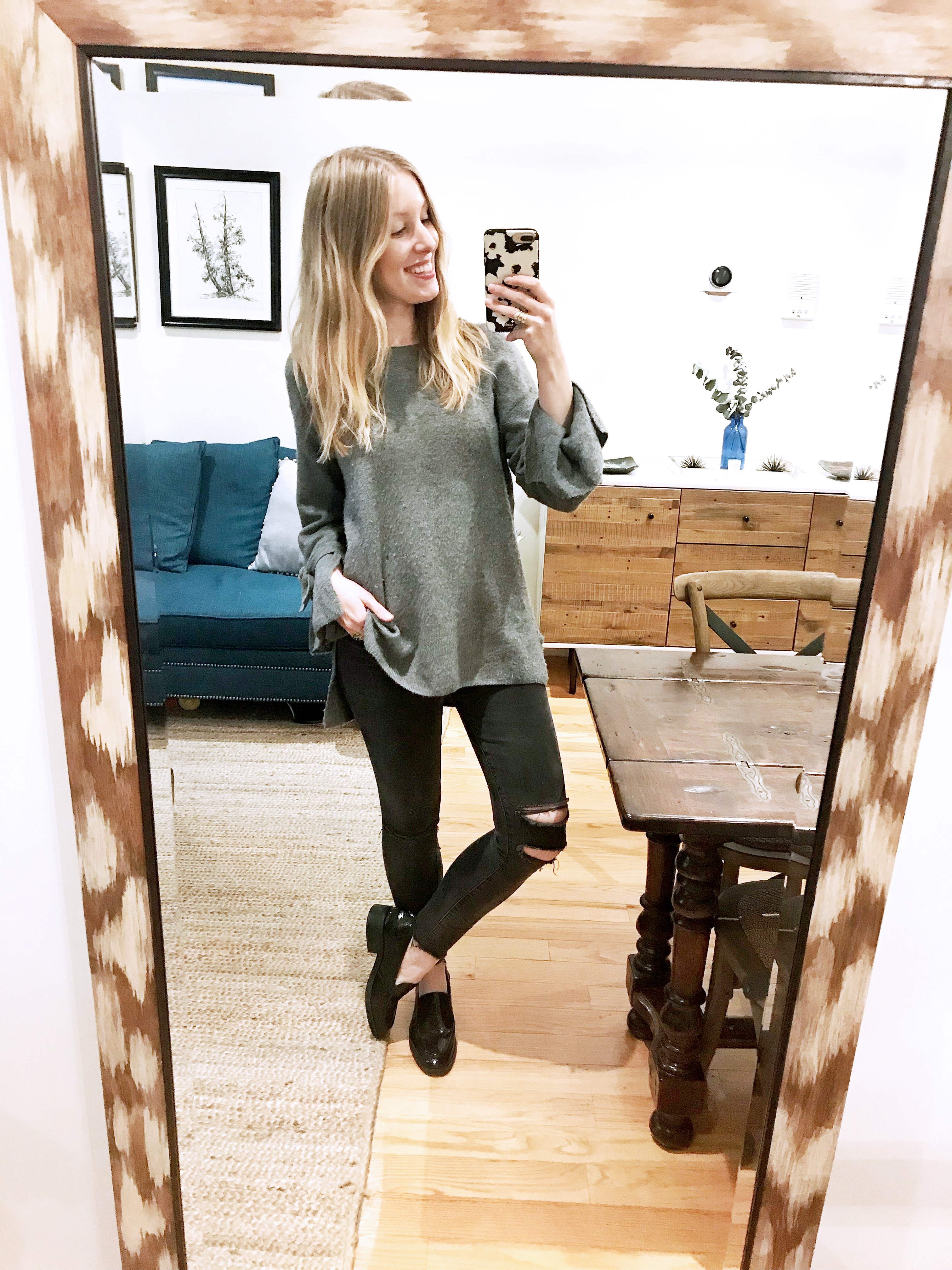 This sweater has also been a favorite cozy purchase this past season. In the spirit of Hygge, I wore all dark colors with it, including these jeans and loafers. Over-sized cashmere scarf not shown.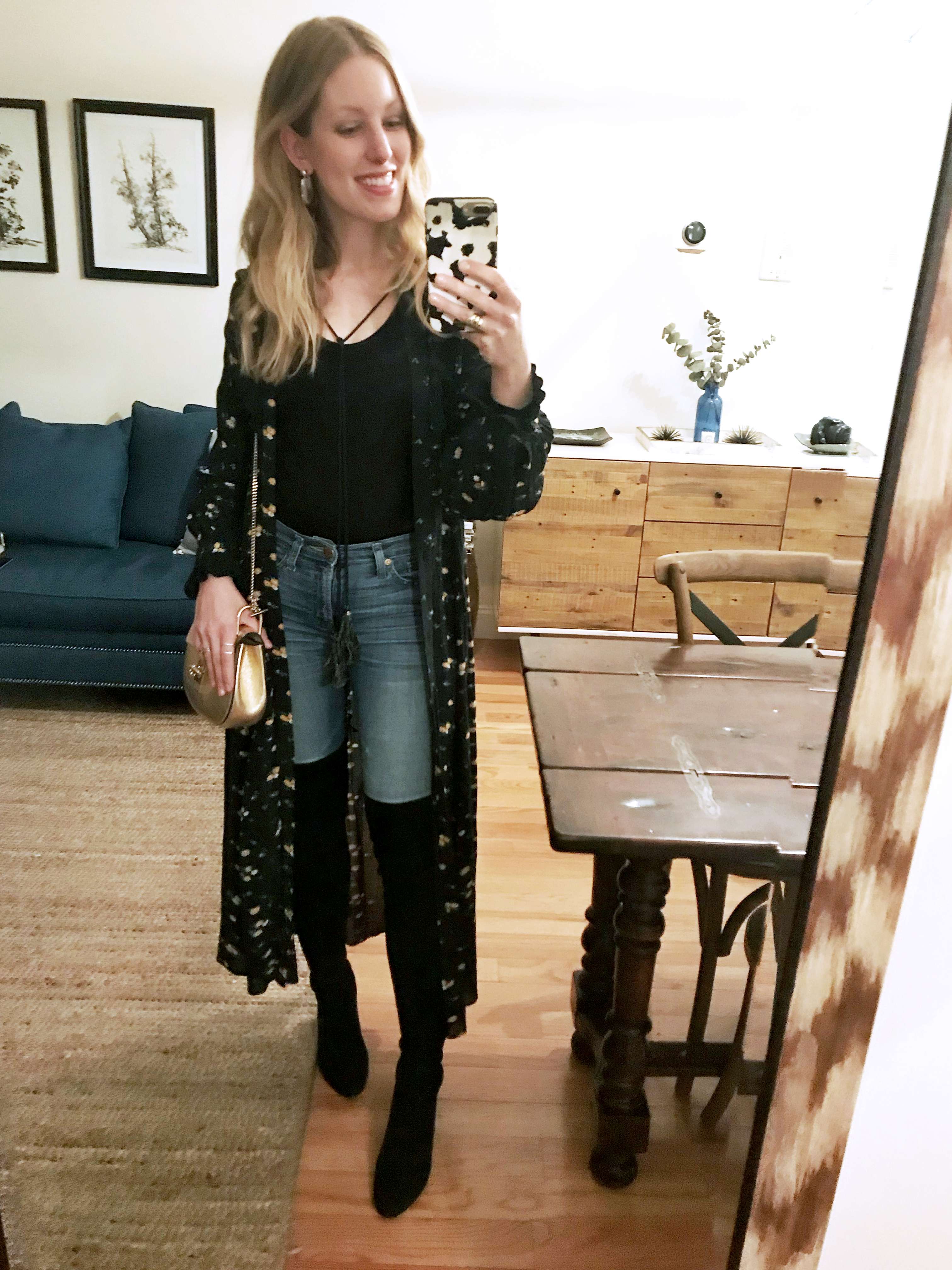 Okay, so there wasn't much Hygge about this other than I wore it to go socialize with some friends at my favorite cozy west side restaurant in NYC called The Wild Son. I finally got to dress up with this By Timo dress (I wore it as a duster) and my go-to over-the-knee heeled boots that were totally worth the investment (they're surprisingly comfortable too!).
I stayed warm despite the temperatures dropping to under 20 degrees with this Uniqlo heattech top and the company of some friends—how's that for Hygge?
How do you incorporate Hygge into your life or find other ways to stay happy in the winter?