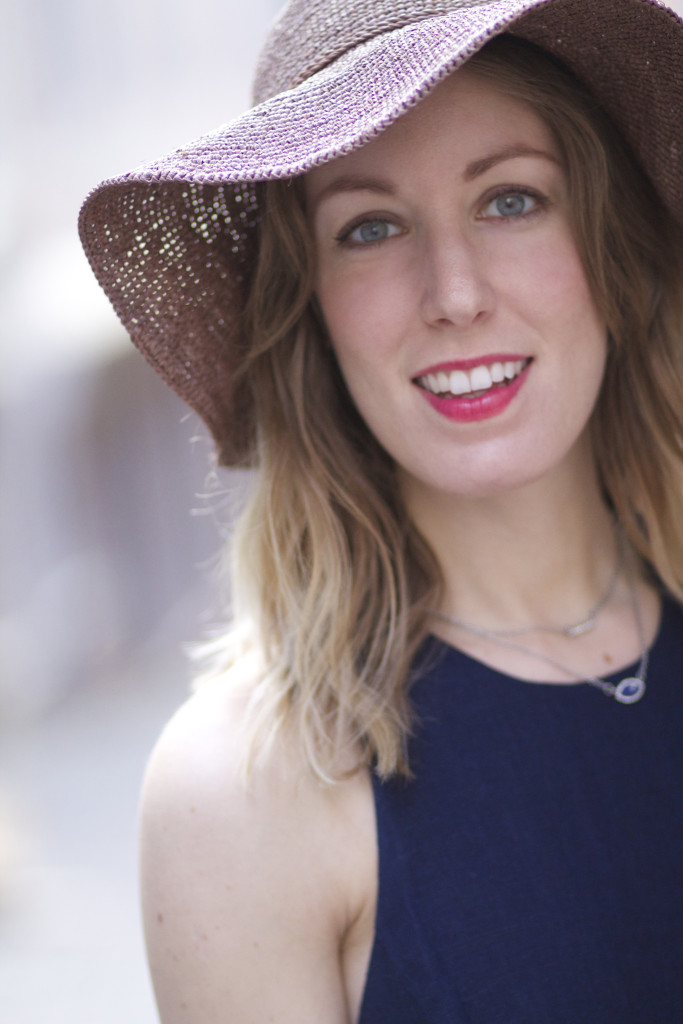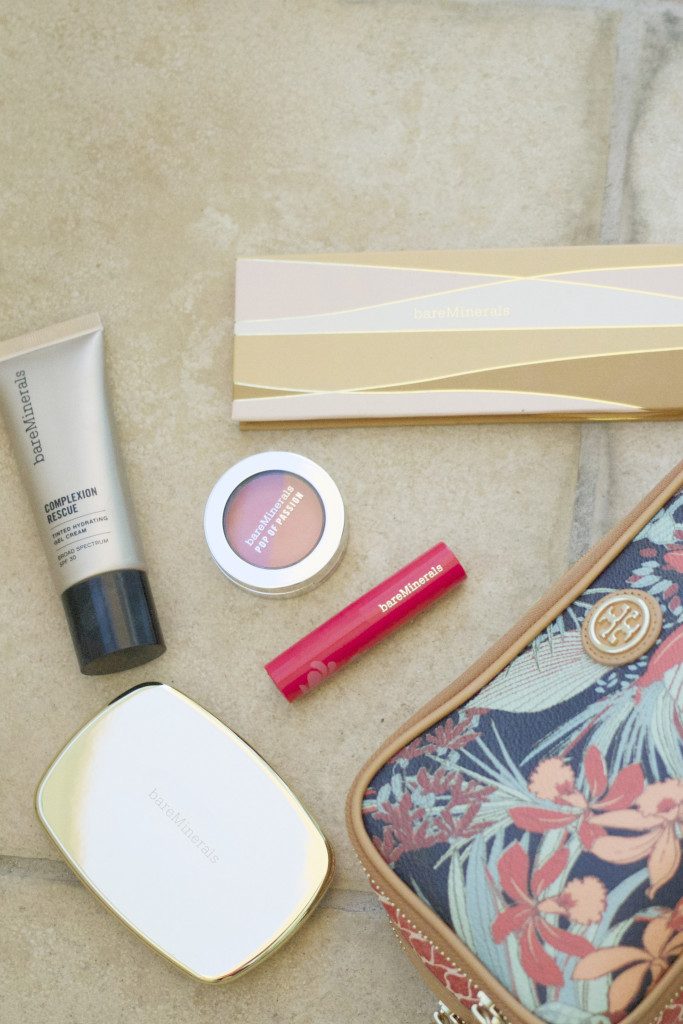 |ABOVE TOP| Helen Kaminski hat (c/o) // Chloe + Isabel necklace (c/o) // Whistles jumpsuit 
|ABOVE BOTTOM| Bare Minerals tinted moisturizer (I wear Vanilla), highlighter and bronzer trio, cream blush (I like Posy Passion for my skin), tinted lip balm (wearing punch pop here), eye shadow (all c/o) //  Tory Burch cosmetic case (c/o, similar here)
 Bare Minerals let me try out all of their newest products over New York Fashion Week recently, but I really got to test drive them on my trip to Puerto Rico after, where my eyes weren't tearing from the cold and where, as my neighbor recently said to me, my skin didn't look "translucent."
I won't post about products I genuinely don't love, so I mean it when I say I seriously am obsessed with the whole line now. My face in this picture above was done solely in Bare Minerals makeup (minus mascara because I have to finish a current pricey one before I open another—you ladies know what I mean, but I can't wait to use this one that gives me natural but full lashes).
I used to be a Bare Minerals fan, after a model I worked with converted me to remedy my ultra sensitive skin. I used it for years and loved that it was the one line I trusted that I wouldn't break out from any of the products and it didn't feel like it clogged my pores at all. It was also an added bonus that all of the products were derived from minerals so there were absolutely no parabens.
At the same time, people actually told me that they could see the powder sitting on the surface of my skin. Even worse, I noticed that when I greeted people with a hug, the powder would rub off on them. Yikes. Maybe I layered too many of the powders, as I became obsessive with covering my skin, but as I'm getting older and fine lines are developing, I've converted to liquid makeup to keep my youthful glow, and have kept powder makeup to a minimum.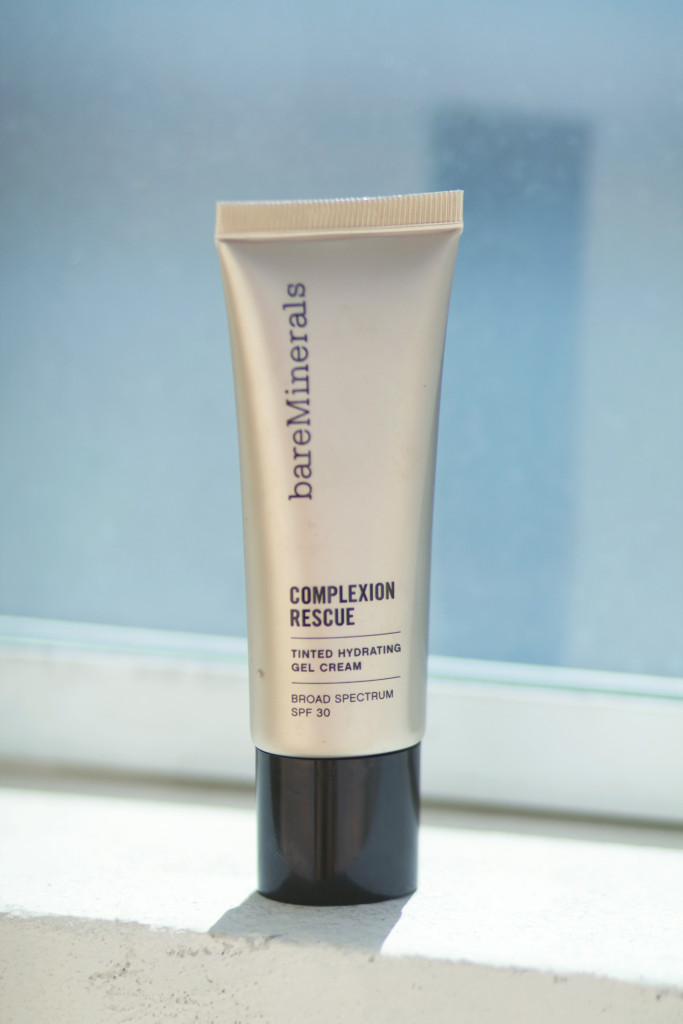 Then came these natural makeup products that are total game changers.
I've given up on tinted moisturizer a while ago because it either didn't give me enough coverage, I would have to layer it over SPF, or it made me break out. I didn't buy into the hype of BB or CC or whatever double alphabet creams that were all the rage. I wore foundation for a while, but it was just too heavy to wear daily.
This Goldilocks met her match with this Complexion Rescue tinted moisturizing gel cream. It's the benefits of all of the above but actually looks like my skin. Unlike tinted moisturizers, it's a light foundation base so it covers the imperfections, but it also has beneficial moisturizers you don't get from foundation. It also is a natural and non-chemical broad spectrum SPF 30, so I can wear it outside, even on my vacation, without worry.
They supplied this great foundation brush, but I've found that for daily use, I prefer to apply with *clean* fingers, but the brush is great when I need more coverage for night time or special occasions.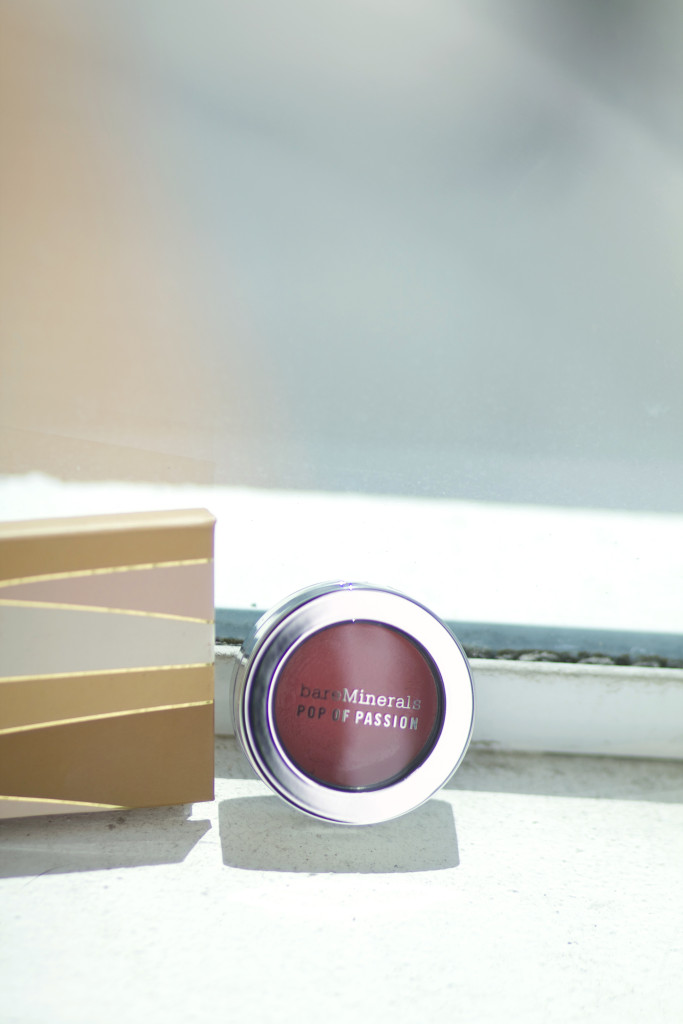 The new Pop of Passion collection out for spring is going to be my best friend come the warmer months. I despise wearing powders in the summer heat and love that this cream blush gives a fresh glow to my cheeks. Sadly with the never-ending winter in NYC, my cheeks have been flushing without makeup, but I can't wait to use this more when it gets warm again.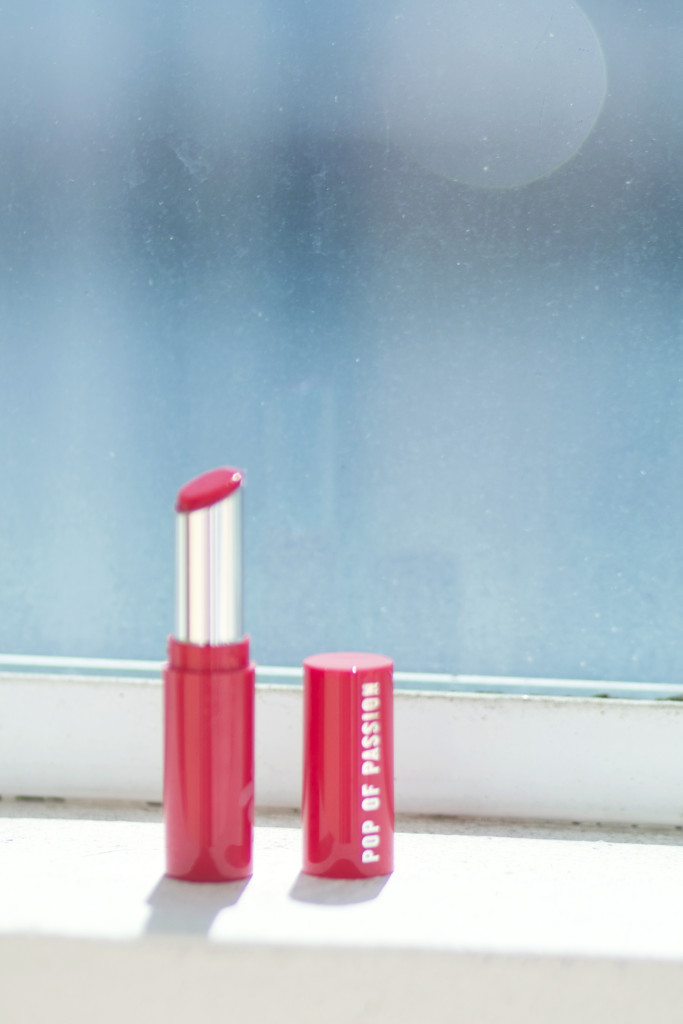 Also from the collection are these amazing tinted lip balms which were easy to apply sans mirror, felt so good, and gave me a nice pop of color for the warm weather. I love a good red lip, but in the warmer seasons, I tend to go more natural, so this was a good compromise.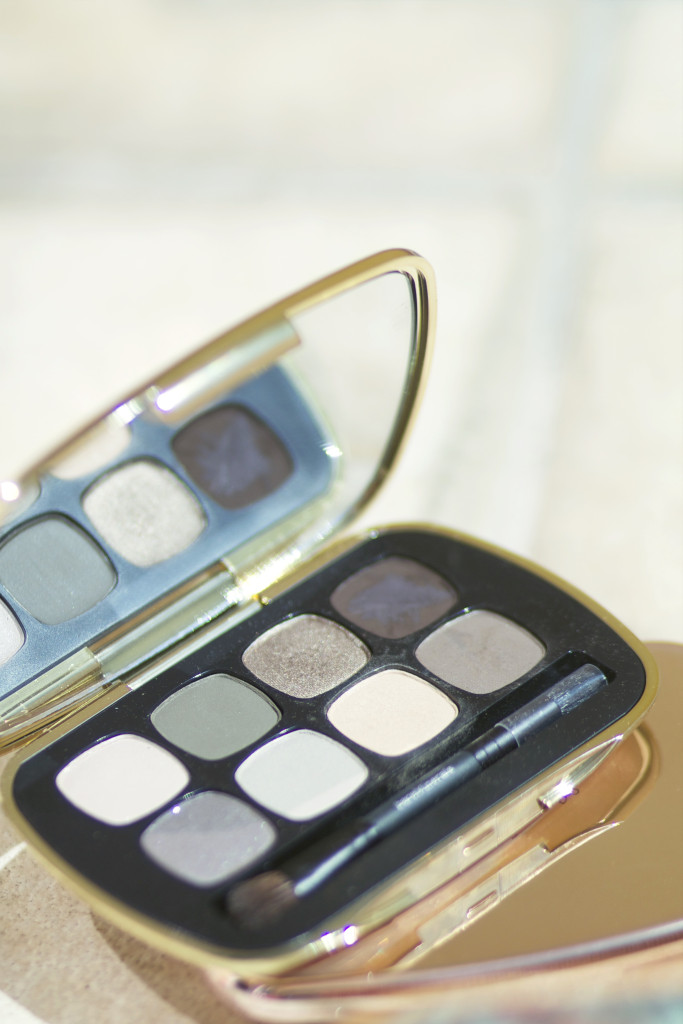 This little palette of eye shadows has been my go-to for everything, especially the "Power Neutrals" palette. I use the light brown with an angled brush for my brows, thanks to the great tip from Bare Minerals' own makeup artist. I rotate on the eyeshadow colors, depending on my mood and even, but I usually take a flat brush and wet it with the dark shadow to create a natural looking liner. Then I'll take a blending shadow brush for a smokey eye look for night. The shimmery colors are great for subtly highlighting in the inner corner of the eye.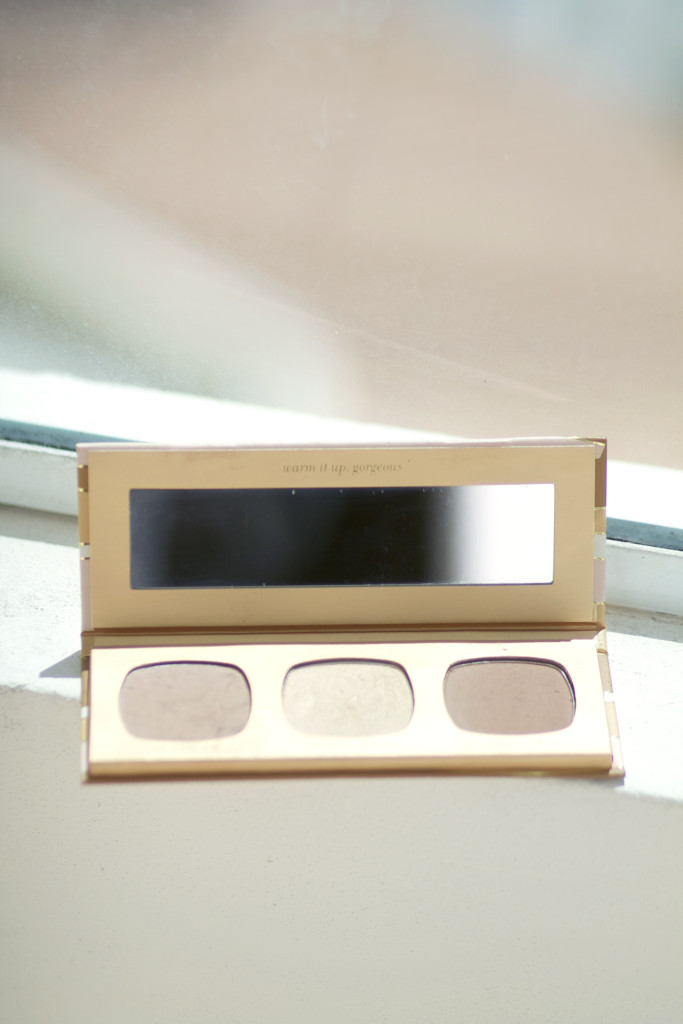 This trio of bronzers made me look so good when I returned from trip to Puerto Rico, especially when I was wearing SPF 30 on my face and covered myself with a hat at all times to avoid any sun and keeping my youthful looking skin. This is probably the reason why my neighbor remarked that I looked like I was glowing rather than my usual pale self and it must be from my mini-vacation. I'll take it.