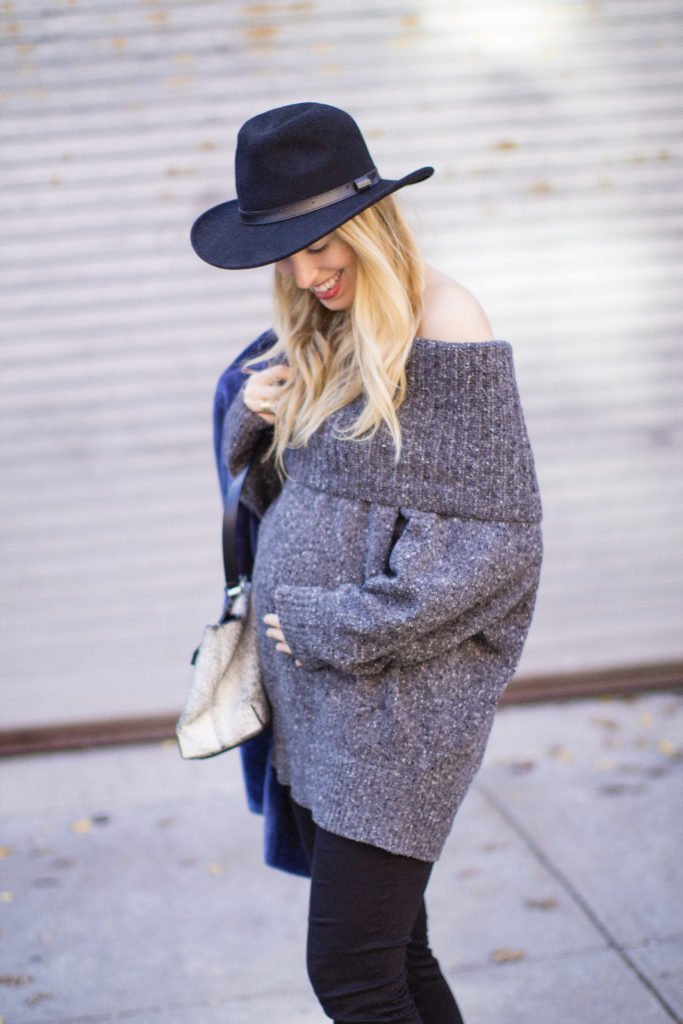 My least favorite part of being pregnant—other than the horrible morning all day sickness I suffered the first 3 months—is probably getting dressed in the morning believe it or not. I've been DREADING buying maternity clothes and I've been feeling awful because I don't fit into anything I own anymore. It's kind of a dilemma. Sure there's better maternity options than our moms were pregnant. I just don't want to spend all of my money on clothes I'm only going to wear for the next 5 months, especially when I have so much cute baby clothes to buy soon. That's why lately I've been all about non-maternity maternity style.
Sounds like an oxymoron right? Well, before I resort to wearing all maternity all the time, I still want to wear the cute designer pieces I love to wear. I've been trying to find other ways to dress than the typical empire waist flowy dresses that everyone suggests pregnant ladies wear apparently. Maybe later on. For now, I've been having fun with my Rent The Runway "Unlimited" subscription.
Most of you fashionistas may be familiar with Rent The Runway already, an online service that allows you to rent current designer pieces for your events like weddings and showers. Their Unlimited service gives you 3 pieces at a time to play with and then you can return them whenever you are done with them for a new order. There are new items coming in every week, so I look forward to it just when I felt like I was defeated. I barely have sized up on my selection yet. Instead I opt for flowy or over-sized style pieces. I especially love their coat selection, as buttoning my coats have become quite the challenge.
At nearly half way through my pregnancy, I can't fit into my jeans anymore. RTR doesn't really have jeans, so I had to break down and stock up on some like these jeans that are so good for only $28 that I bought two pairs, one in a size up for later on. I was doing the hair tie trick for a while (looping a band around the button of your jeans and then through the button hole, back to the button), but after snapping a band while at work, I gave up on that one. Instead I occasionally wear these affordable belly bands over my jeans that I can no longer zip up.
We'll see how long this lasts, but I don't foresee giving up my RTR subscription anytime soon because it's making getting dressed fun again for me every week. As a fashion stylist, styling the bump has been the most fun challenge yet in my career spanning over a decade… until I get to dress the baby I'm sure. Which by the way, it's been fun to get all of your predictions lately. Most of you were right. It's a BOY! Those of you that said I'm going to go broke with a girl were wrong because I'm so excited to dress a dapper little boy.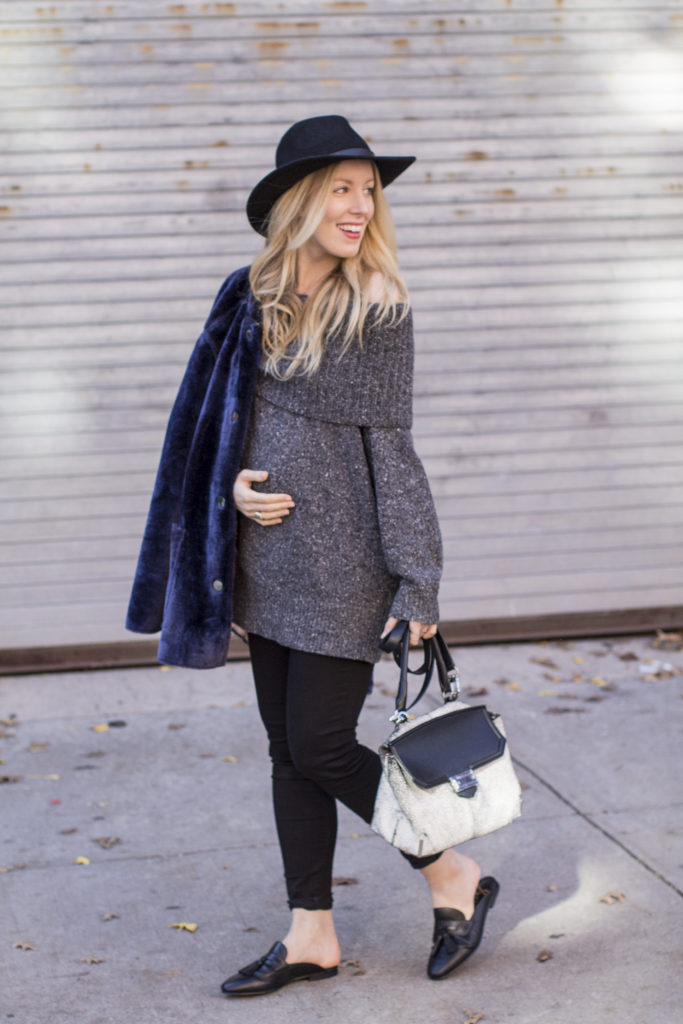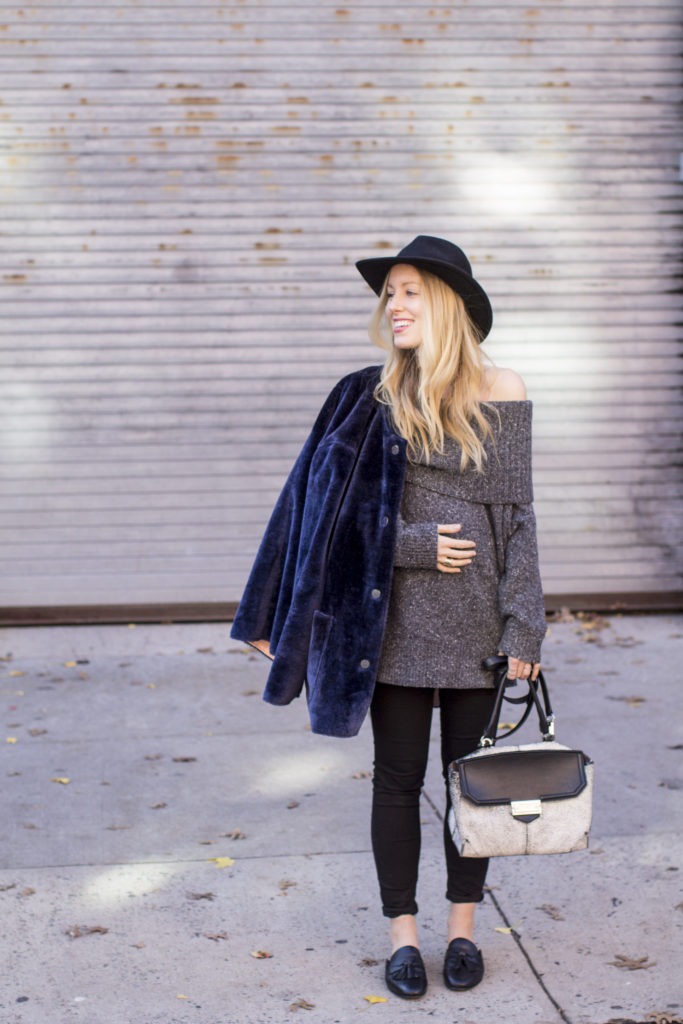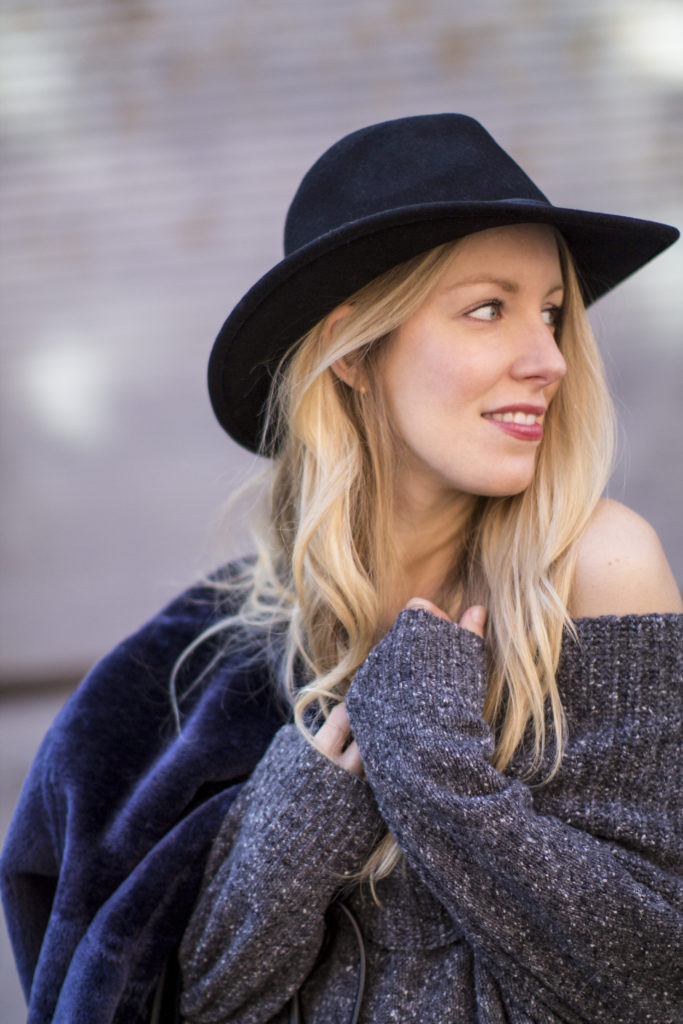 On a side note, if you're in the NYC area, come check out the new Rent The Runway store opening TODAY in the Flatiron District. I'll be featured in a video playing there about utilizing RTR during my pregnancy and even when I eventually have my baby shower. I had fun filming it last week and will be sure to share it with you guys if you can't make it.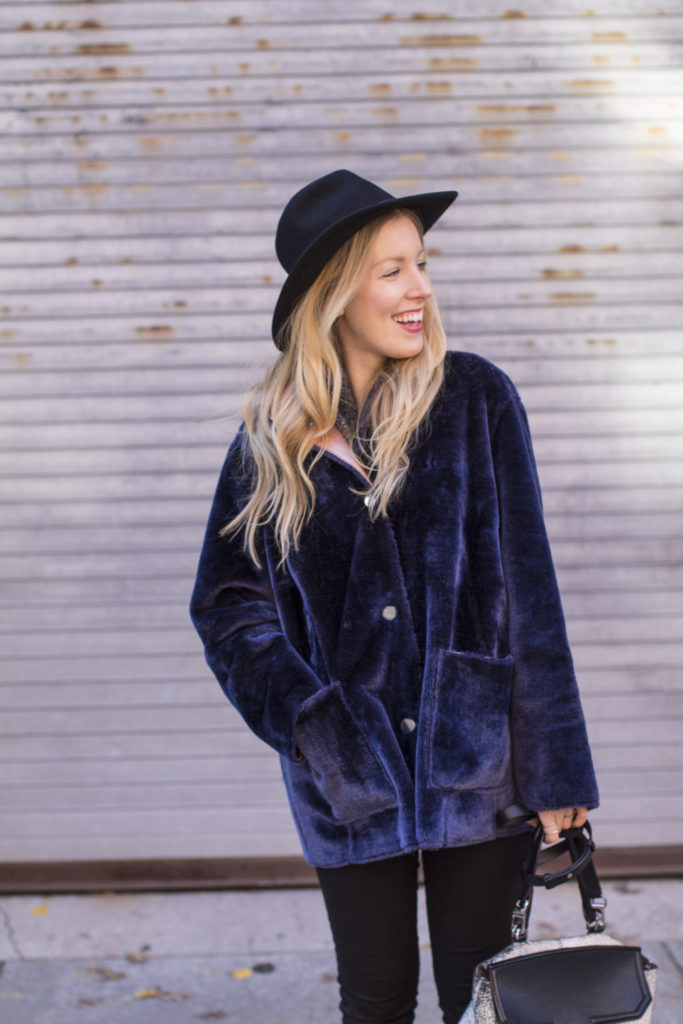 Opening Ceremony jacket and Joie sweater both via Rent The Runway Unlimited (get $30 off your first order here!) // ASOS maternity pants (so good for $28 that I bought 2 pairs!) // Sam Edelman slip on loafers // Alexander Wang bag (c/o, similar style here) // Pendleton hat