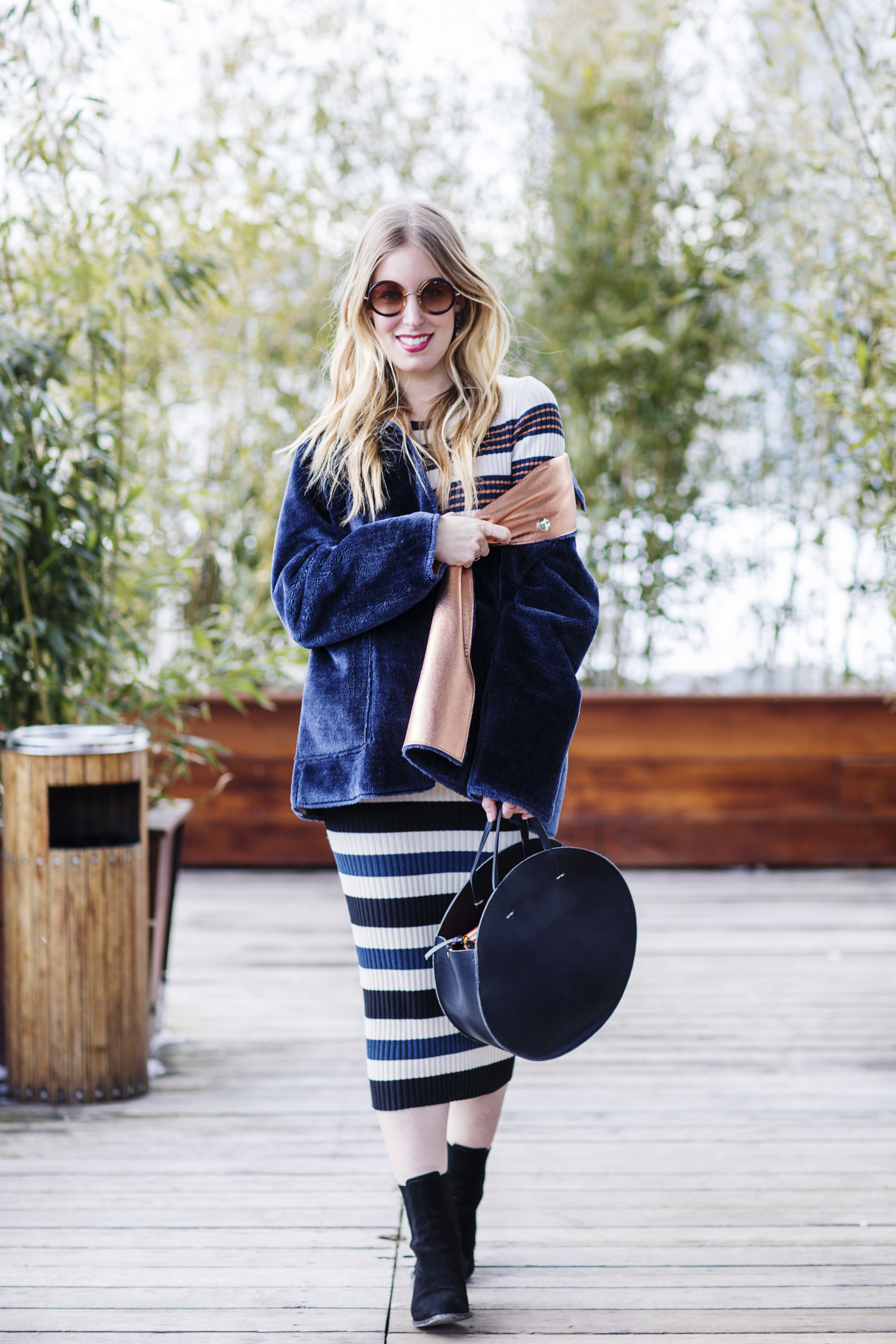 I've attended New York Fashion Week for probably 13 or so seasons now, dating back from when it was all hosted at Bryant Park. I held the door to the tents open for Anna Wintour (NBD), supermodel Alek Wek was reading a book in the park in between shows and there was not a photographer in sight to catch this all.
I worked the backstage door of one of the shows through my first internship that gave me great insight as an 18 year old of what the fashion industry was like. I put together some makeshift fashionable outfit that did not consist of a single designer, but I still managed to bond with Stacy London over our nearly identical looks (white top tucked into a high waisted navy pencil skirt). Of course she was busy switching into her Stuart Weitzman heels that her assistant was holding for her, so that's why she had the time to chat.
A few seasons later I wore red booties from Payless and the fashion crowd actually complimented me. I managed to sit a couple of rows behind celebs like Mandy Moore and snap pics with my digital point and shoot camera of every look that I was inspired by. It probably took days at that point for the images presented to show up online anywhere. I felt like I was truly a fashion insider, despite being just a stylist assistant at the time.
Fast forward to the age of social media and the blogger, along with a few location changes of where NYFW is hosted, and it's completely changed. Yes, I'm part of this crowd too, but fashion week for me is about being a stylist in the industry, previewing what the next season's trends will be so I can prepare for upcoming shoots and possibly work with the designers presenting. Fashion week has had a different impact lately and it's more about WHO's getting photographed outside of these shows than the fashion being presented.
During this NYFW, I was walking out of a show with a 25 year old "influencer" with a lot more Instagram followers than I have and she got pulled aside by photographers to basically hold a mini-photoshoot on the street. "Walk this way, now turn this way…" they directed her. She hammed it up for the cameras, as she should because she's young, beautiful, and people want to download instagram pictures from her page—and not 30-something and pregnant.
It was kind of a blow to the ego to realize that no one wants a picture for their street style photos of a pregnant lady, unless she's someone like Beyoncé or Amal. I actually had street style photographers snap me from the front and then stop when they noticed I was pregnant from the side. It occurred to me that we have such stereotypes of what fashion and beauty should be, that we expect very pregnant women to look like she stepped out of a mall maternity store. Why can't we mamas to be show off the latest fashion and be celebrated too?
I kind of regret hiding my bump so much as you can see in the images here after one of the shows hosted at Pier 59 Studios on Manhattan's west side. I was partially trying to keep my coat from flying open in the crazy winds we had that day, but part of me felt insecure carrying around this bump among the fashion crowd. I thought I looked fabulous in my NON-MATERNITY (!!) Opening Ceremony look courtesy of Rent The Runway and show-goers kept saying how amazing it was that I managed to look so fashionable while pregnant. I don't think they noticed my "cankles" (yes, swollen ankles are one of the many fun parts of the 3rd trimester), but even this amazing photographer at fashion week, Rima Brindamour, who captured these images, and one of the biggest photographers at the shows, Andrew Werner, told me how great I looked being pregnant and fashionable. I felt as confident as I did at one of my first fashion weeks, wearing an entire outfit that probably cost me less than $100, but I had arrived! It turns out I don't need to have a street style photographer who pulls aside 25 year old influencers—with the main goal in fashion to reach a million followers—to let me know I look good. The fact that I can still wear stylish clothes and be confident while pregnant is what matters.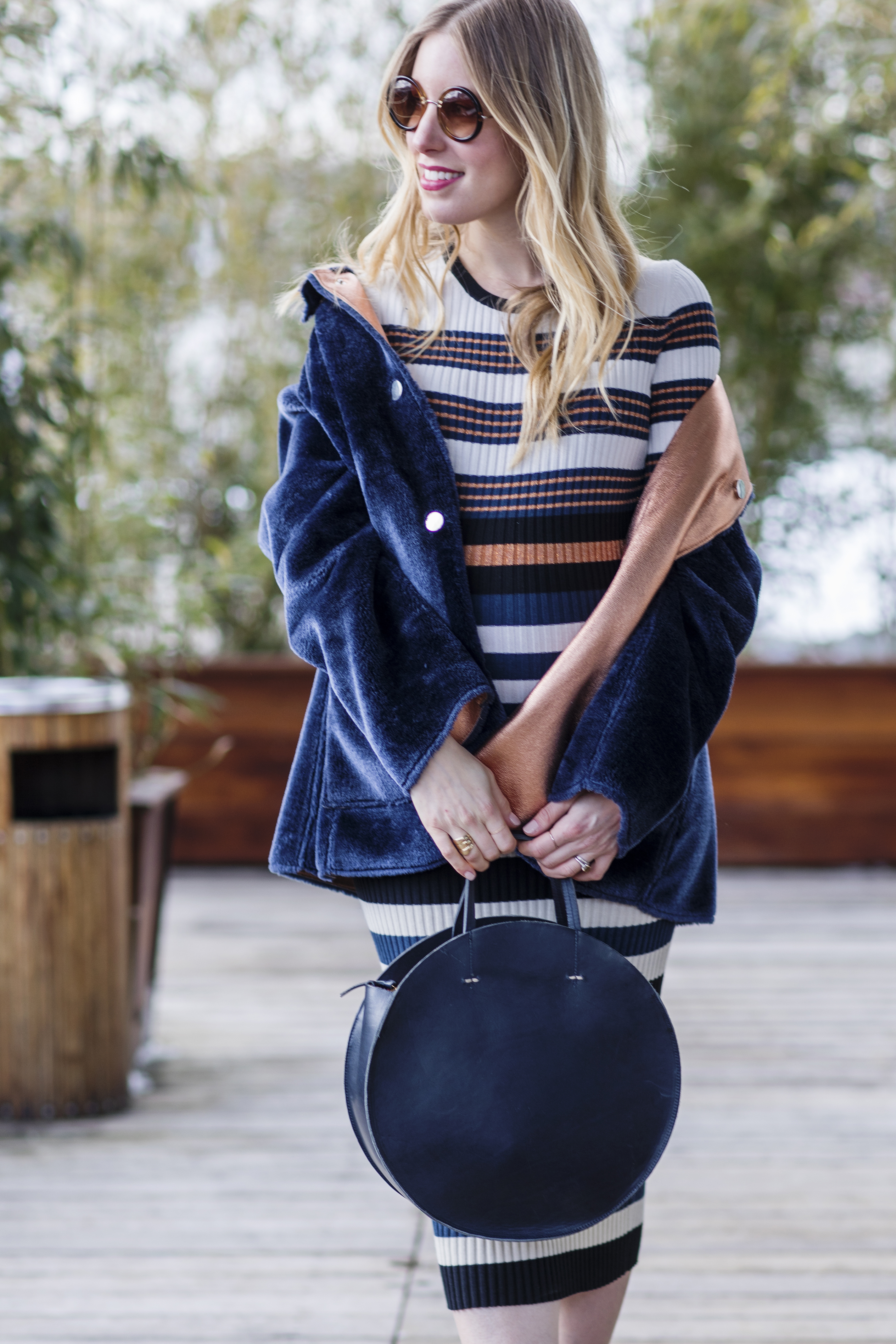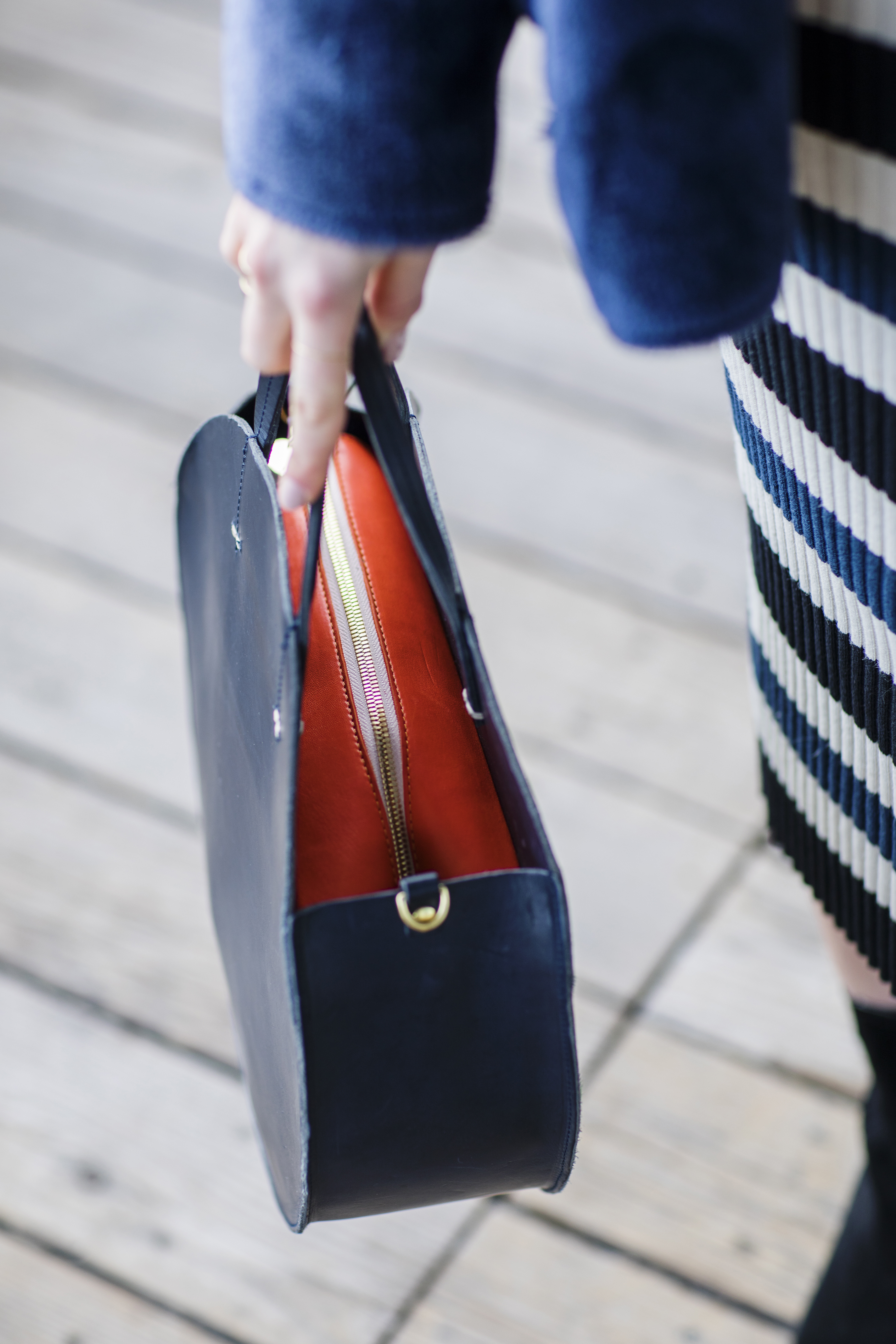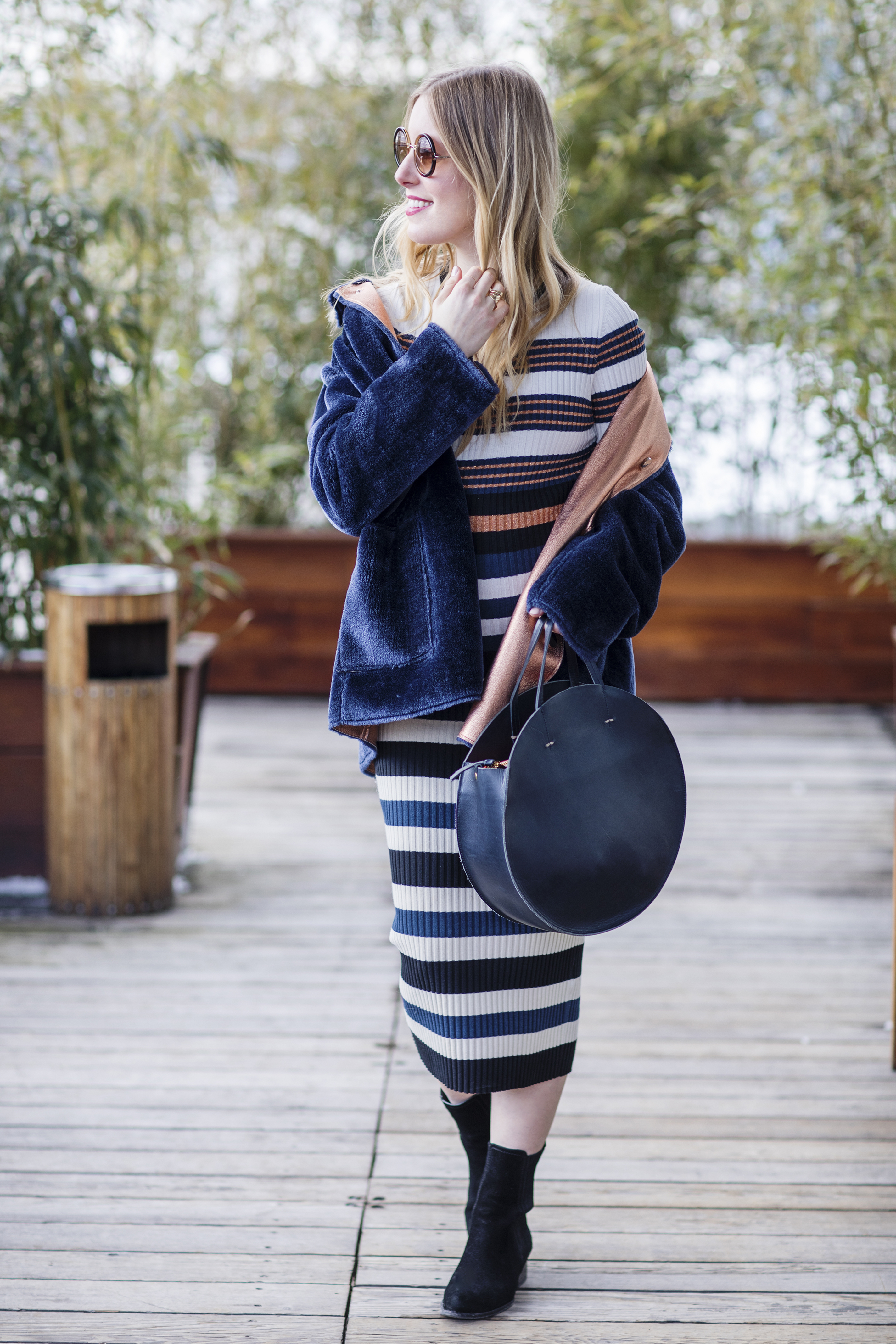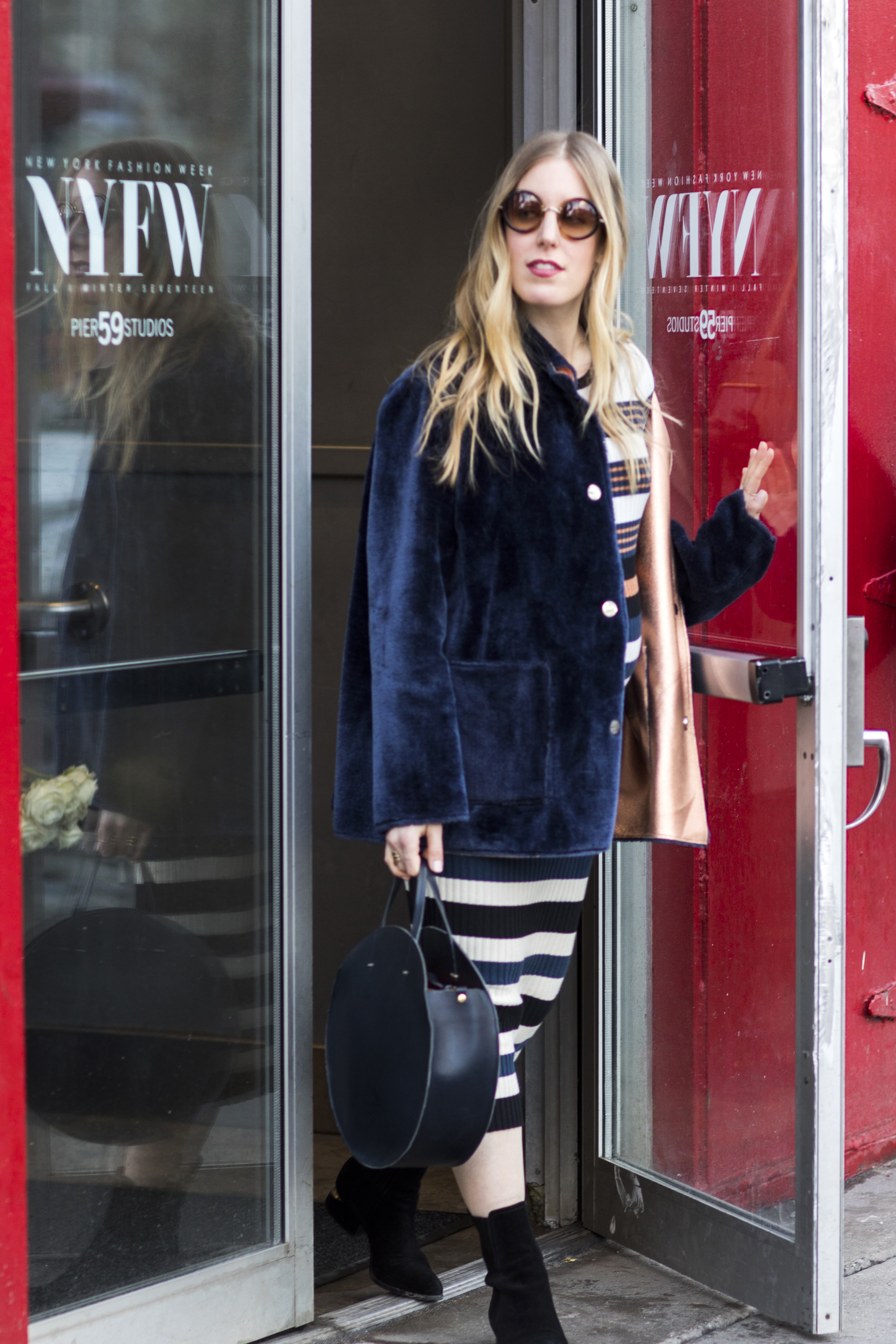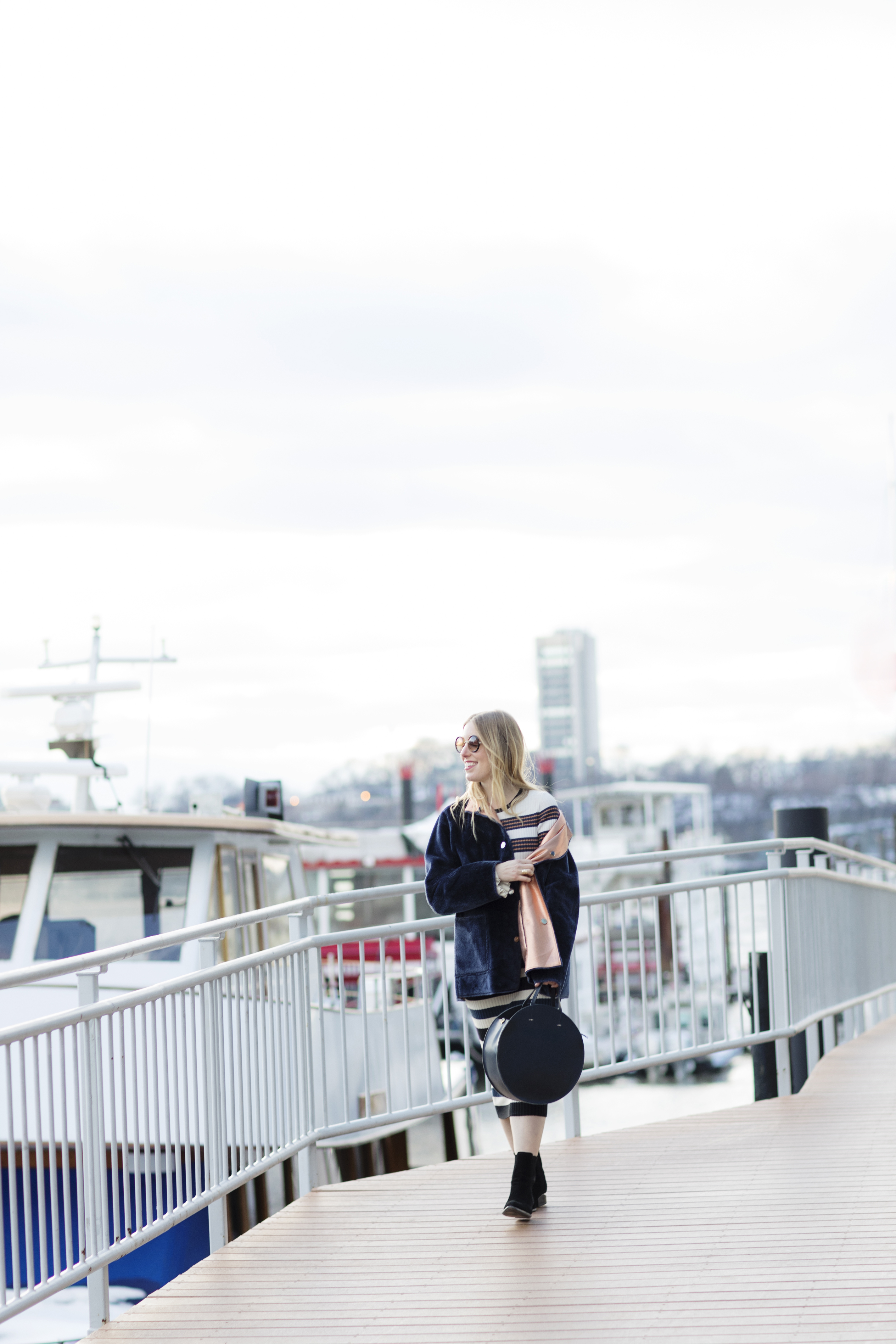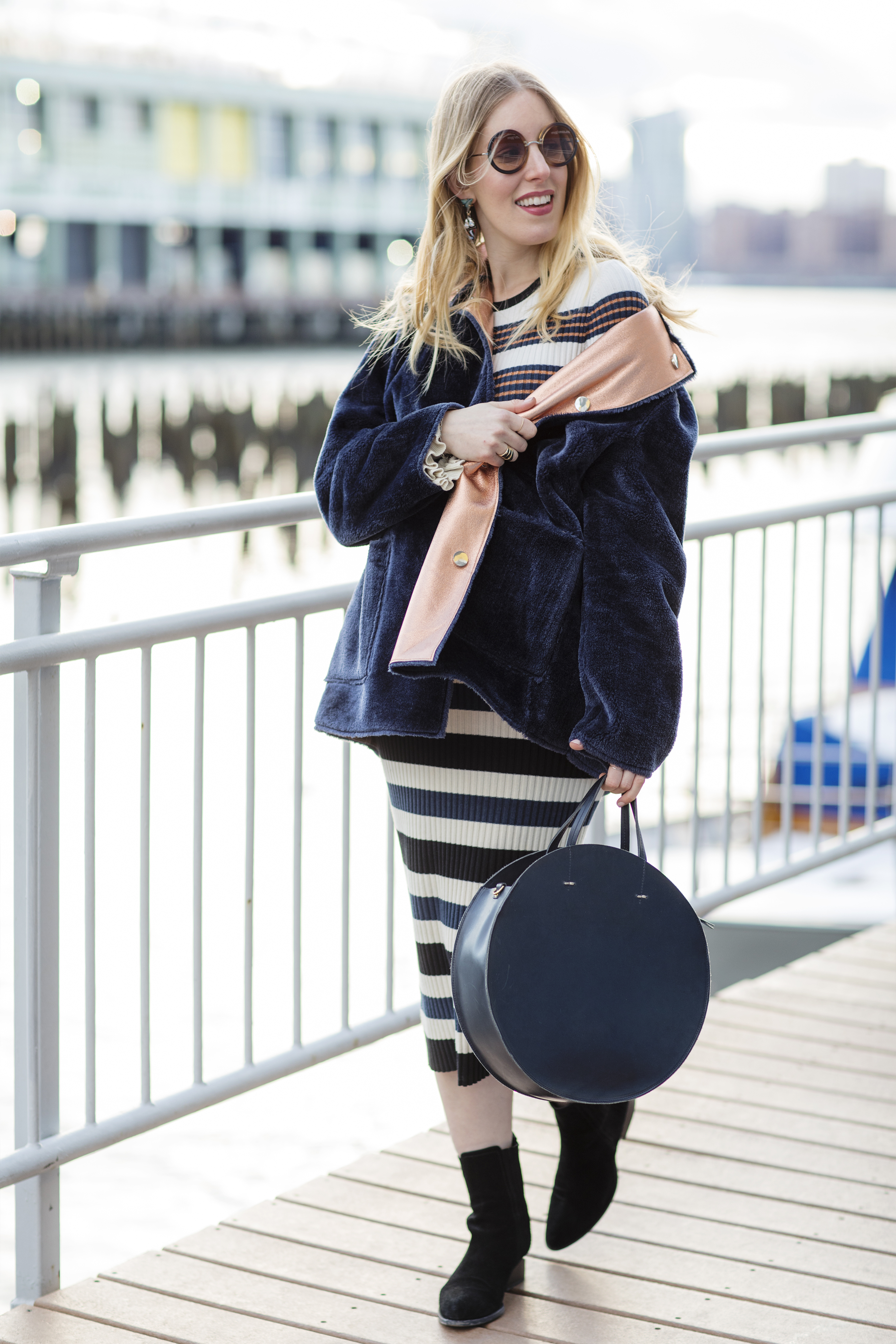 Opening Ceremony DRESS + COAT (c/o Rent The Runway) // Anton Heunis EARRINGS (c/o Rent The Runway) // Alexander Wang BOOTS // Clare V. BAG // The Row SUNGLASSES
Get $30 off your first order on Rent The Runway when you use this link!
photos by Rima Brindamour
p.s. what do you think of the new format for linking my look above? Is it easier to read than before?