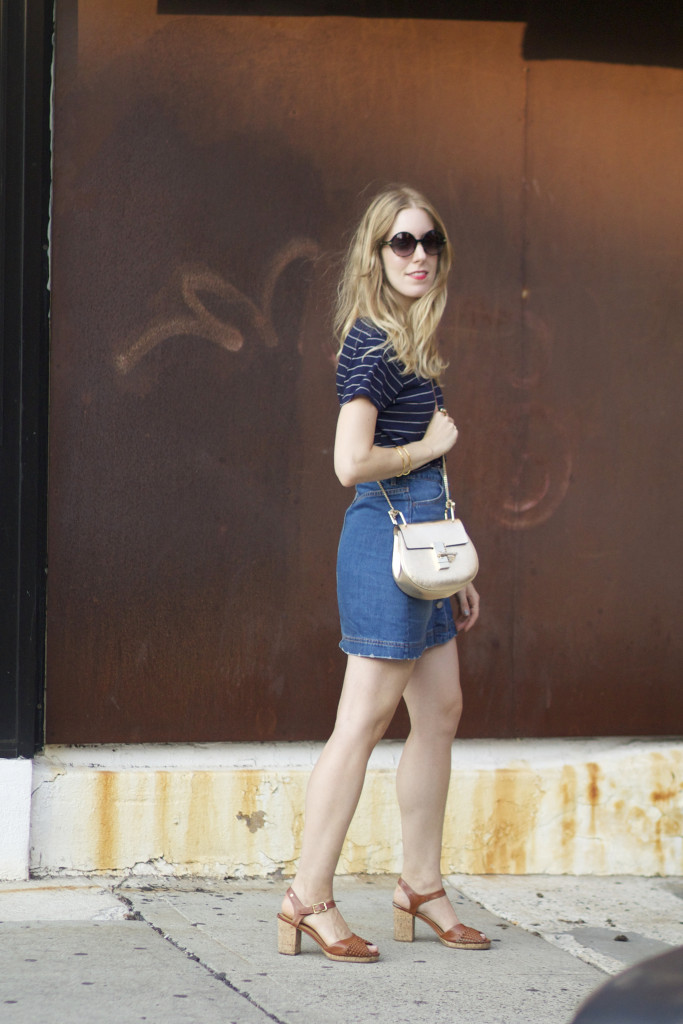 Reformation tee // H&M skirt (similar online) // G.H. Bass heels (old, similar here) // Chloe bag // Anthropologie sunglasses // jewelry via Rocksbox (c/o, get a month FREE with the code BROOKLYNSTYLISTXOXO) // Jamberry nail wrap (c/o)
Can you believe it's September already… is how I've literally started every email this week.
I know this happens every year, but I'm in disbelief more than ever this year probably because I didn't have much of a summer and spent most of it working on photoshoots. It's also why I've had a lack of posts, which once went from 5 days a week to 1 or 2. Sorry for that, but as they say, quality over quantity, right? I promise that this season that there will be more great posts coming your way.
Labor Day Weekend is almost here and while I've been thinking about the fall season since basically February, September marks a new beginning. For me, it's kind of the same way every year. In NY it was always the official end of summer and when we went back to school. It's when you would break out a whole new wardrobe, become a new you.
Not only is it back to school time, but September also happens to be the beginning of a new year on the Jewish calendar. It feels about right—more than January when there's not much change going on around us.
It's only fitting that September marks my 10th year of living in NYC. Exactly a decade ago I moved into my first apartment in the East Village and like every other New Yorker, was determined to conquer this concrete jungle. That's quite a milestone and I fall in love with this crazy city more every day. In the eyes of other New Yorkers, I'm perhaps officially a city girl—though some may argue that it happens after 5 or 7 years.
As September seems to be a great time for fresh starts, it's an ideal time to make your style resolutions, especially in fashion, as you invest in new pieces for the coming season.
Set goals for your closet, whether they may be:
-Sell/donate one item for every one you purchase
-Invest in pieces you know you'll wear for multiple seasons and stop buying pieces you'll wear for only this one
-Focus on honing in on your style. Do you like it because it's in style or because it feels like "you" and makes you feel good when you wear it?
-Spend more this season on something you'll wear daily like a handbag, coat, boots, etc. 
-Spend less on jewelry/sunglasses you tend to lose, dresses you may wear once or twice, trendy pieces you'll never wear after this season
-Buy only pieces you look forward to mix-and-matching with other items existing in your wardrobe, rather than something you have nothing to wear with 
These are just some of my resolutions to follow this season while building my fall wardrobe, but I'd love to here yours!
Speaking of September, stay tuned for New York Fashion Week coverage coming up here.