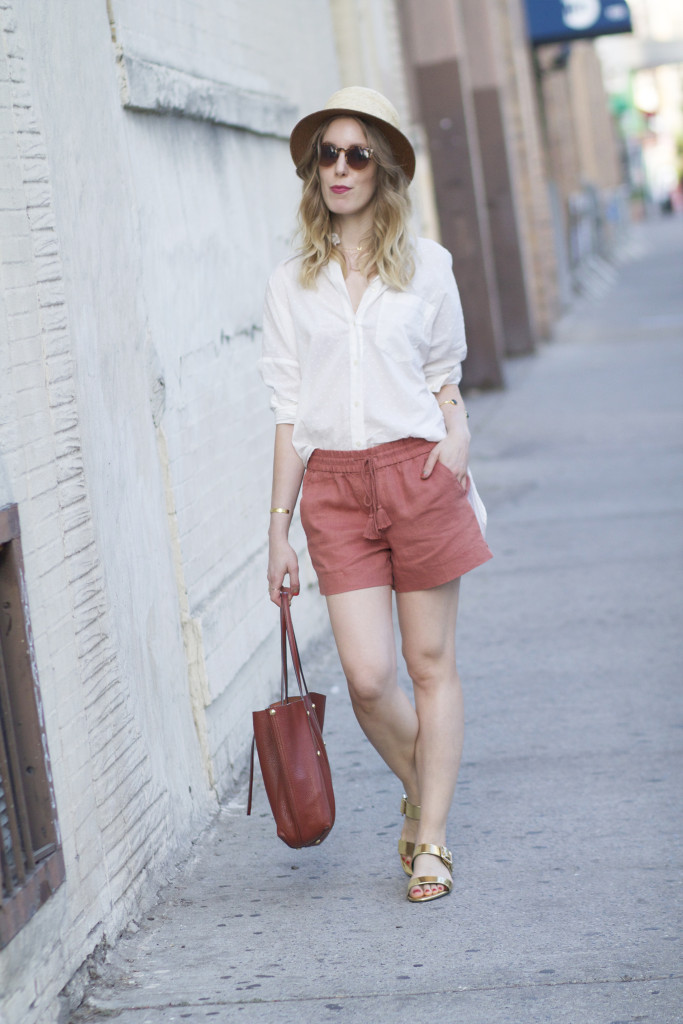 Madewell top (on sale in store, similar online) // LOFT shorts // Zara sandals // Annabel Ingall tote bag // Rag & Bone hat (sample, similar here)// ICU eyewear sunglasses (c/o) // Gorjana necklace, Moon & Lola necklace, Margaret Elizabeth cuff braclet all via Rocksbox (sign up here with the code LIZBFF196 to receive a month free of jewelry) // Parulina midi claw ring (c/o)

As a fashion stylist who's always given a budget on photo shoots, I'm constantly conscious of price when I'm shopping. I don't want to brag, but I'm great at finding bargains in fashion. On my shoot this week I scored a pair of heels from a discount retailer (who shall remain nameless) that were marked down to $80, and then on clearance for $15, but somehow it rang up for $0.01. A penny! When was the last time you bought something for a penny?
Don't get me wrong, I love a good splurge on pieces that is well made, you'll live in and have for a long time like a good handbag, but when some of the lower priced stores are making pieces that look way more expensive than they are, sometimes I'm all about the steal. I don't want to spend a lot on things I wear on some of the crazier shoots I'm on between running around all day and risking my clothing and shoes, which are often destroyed.
If you mix your lower priced fashion with some higher end pieces, they automatically look a bit elevated. Would you have ever guessed that my sunglasses are the least expensive thing I had on? In fact I could buy 17 pairs of them for the price of my designer ones.
The other key to shop for bargains and still look like you splurged is to look for quality and construction. Perhaps it's not as well made but from far away looks like the designer piece. Obviously more higher priced fashion is expensive for a reason—materials, where/how it's made, etc.—but sometimes you can find some diamonds in the rough, whether in a discount store, fast fashion shop, or even a sample sale. You just have to look and ask yourself if this could pass for something that looks worth a splurge.