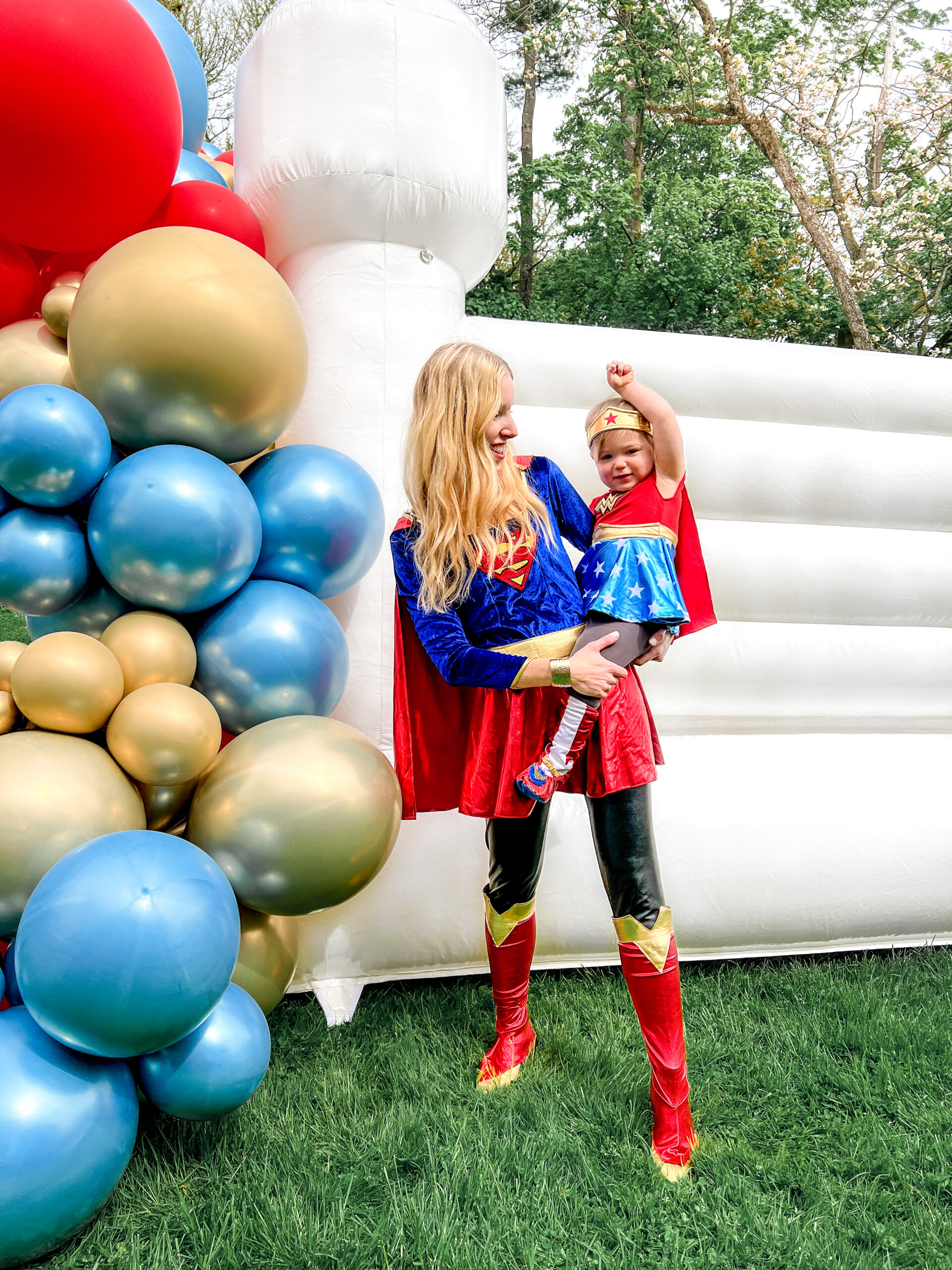 I've been M.I.A. for quite some time now and if you're wondering why, it's because we all came down with COVID… and basically everything else going around the last couple of months. It's been ROUGH. This was more of a reason for me to put my all into my kids' birthday party and I decided to throw the most stylish superhero birthday party that they could want and — let's be real — what the parents want too.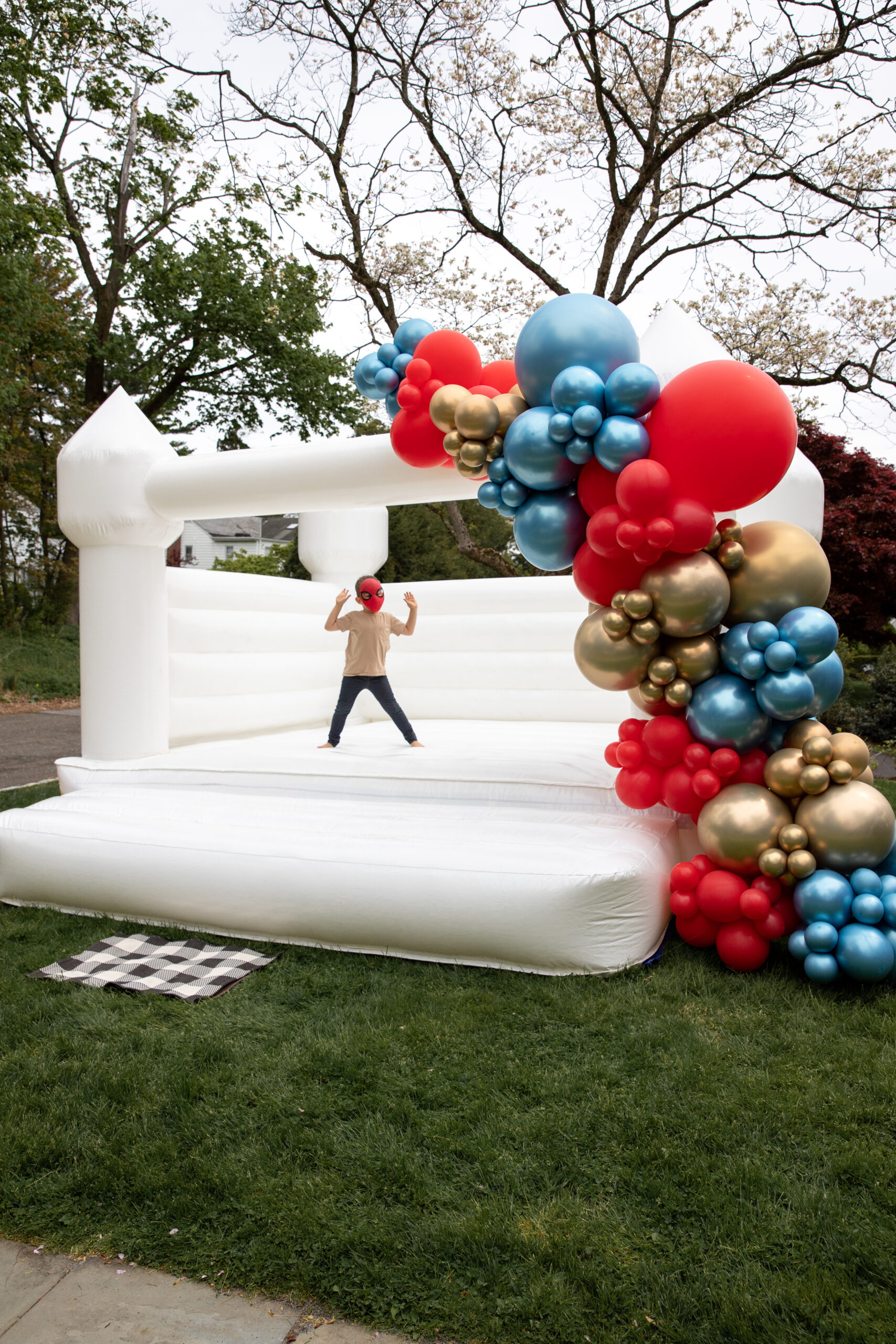 Asher asked for a bouncy castle, so naturally I couldn't get one of those cheesy primary colored rentals. We opted for a modern all white bouncy castle from Giggle Adventures, who I shared about for last year's birthday party playscape we got. The parents were in awe of it and the kids had the best time on it. I also loved that they set it up, took it away, came with a stylish rules sign and even had a place for shoes. I added a little sign to remove shoes I made last minute the night before, as well as added a mat for kids to wipe their feet.
Twinklestar Ballons came through for the second year in a row with the most amazing balloon arch to go with our theme based on inspiration images I showed them. They really nailed it and loved how it added to the bouncy castle.
If you're in the NY/Westchester area, these two vendors are incredible to work with and I highly recommend for your next children's party.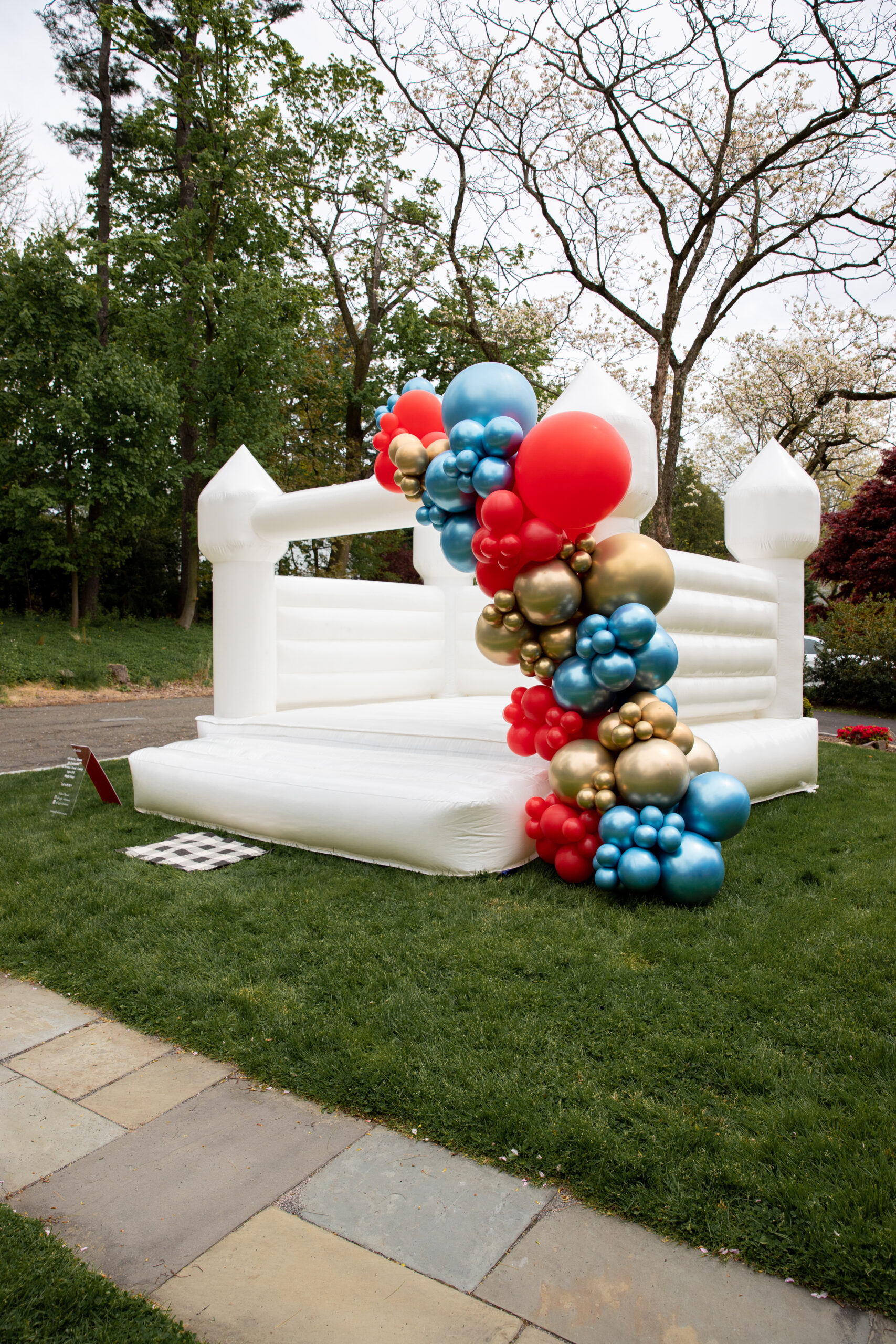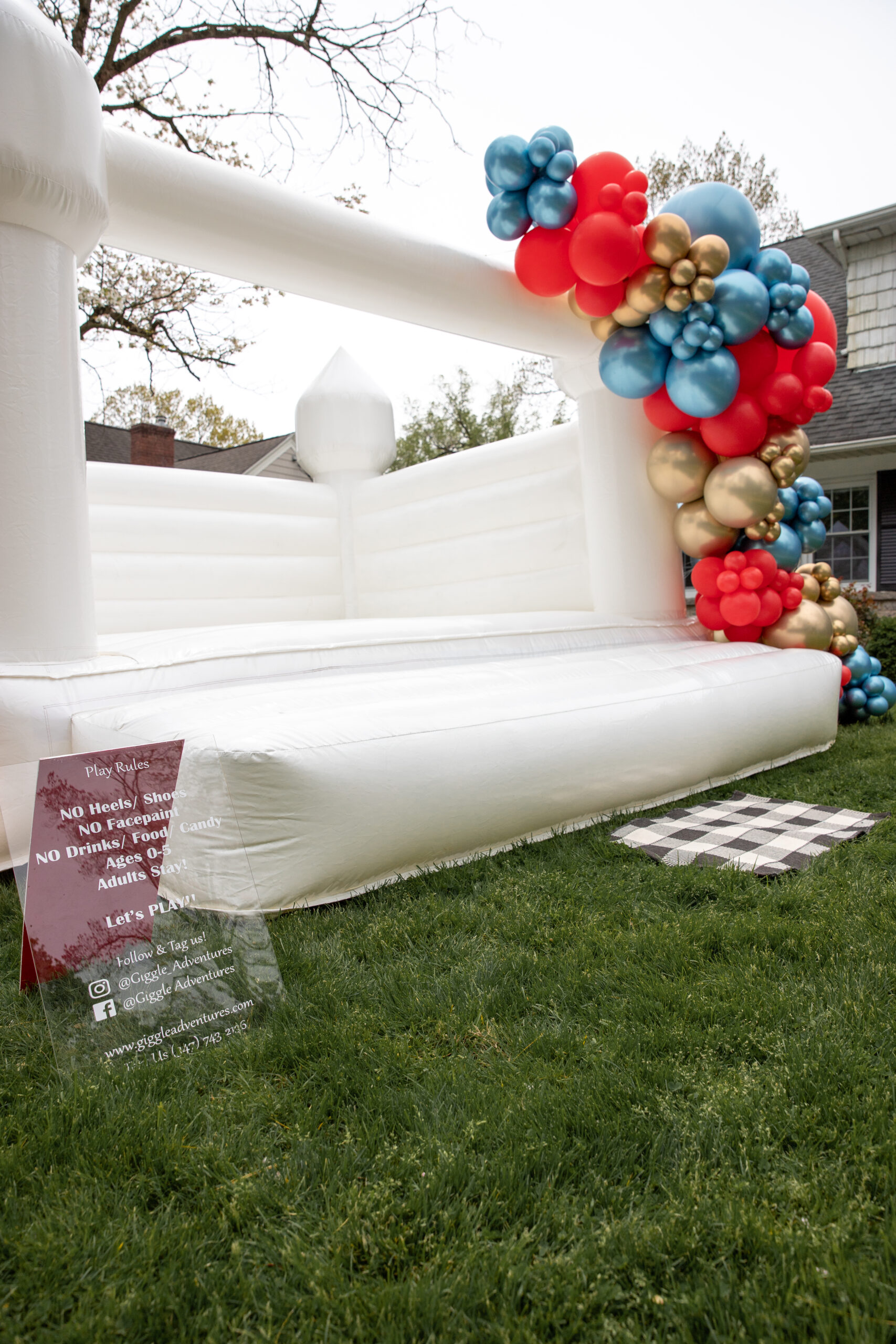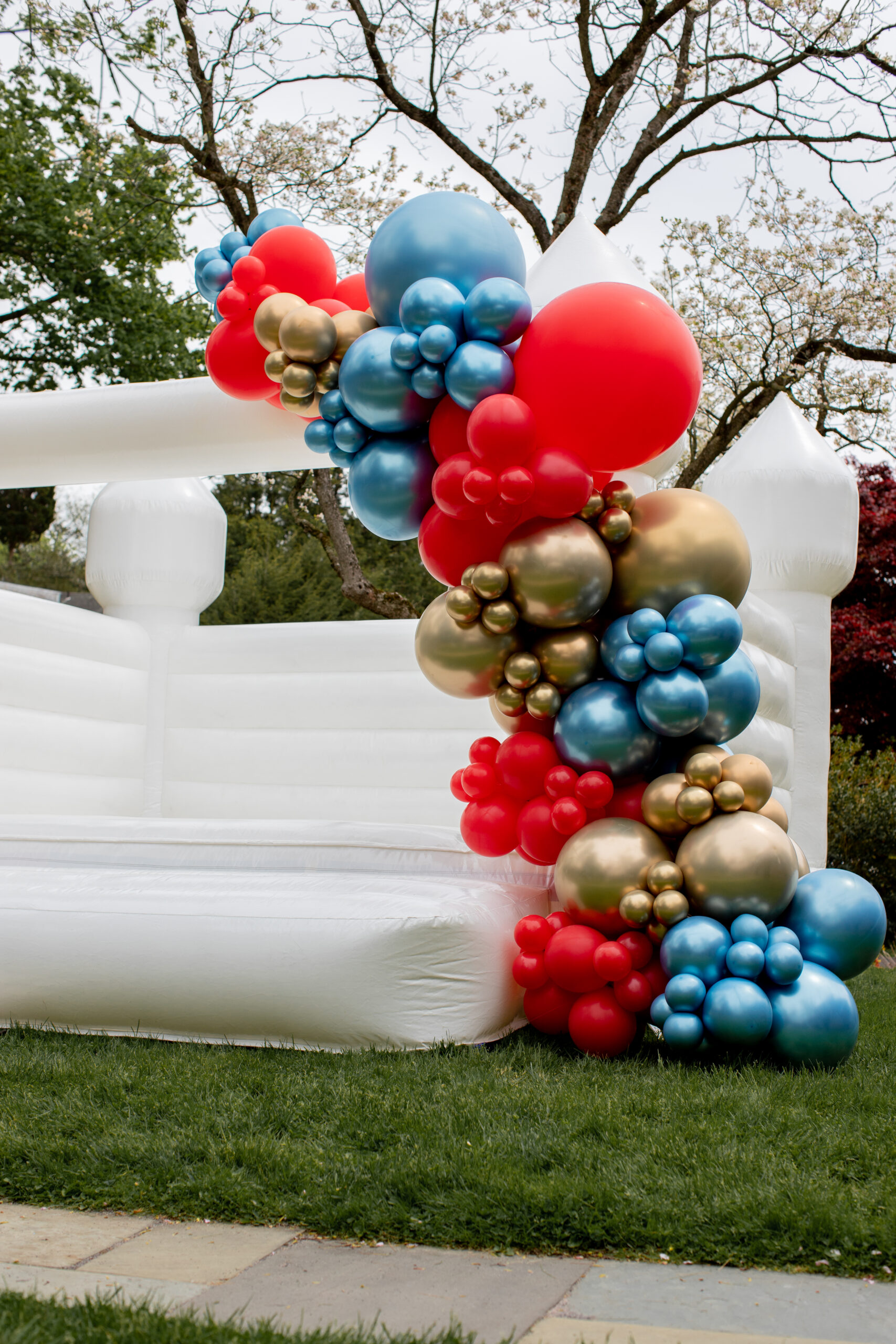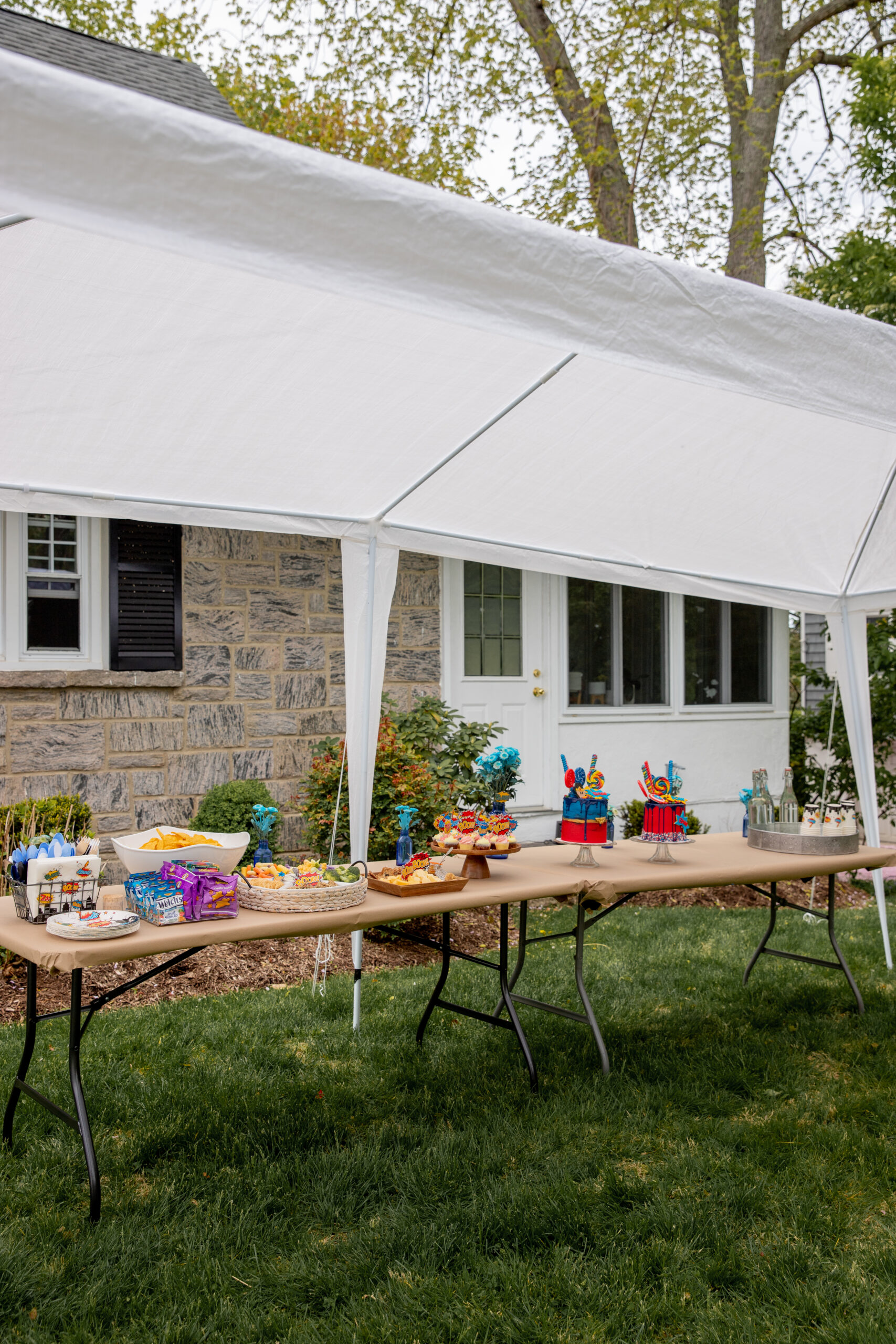 The weather was quite iffy that weekend, so we looked into renting a tent just in case. Instead of spending $1k on a tent rental (!!) we opted to buy a tent for a little over $100 so we can use it in the future too. It definitely wasn't professional, and it took 4 people to set up (shoutout to our friends Josh and Amy for that), but it did the job.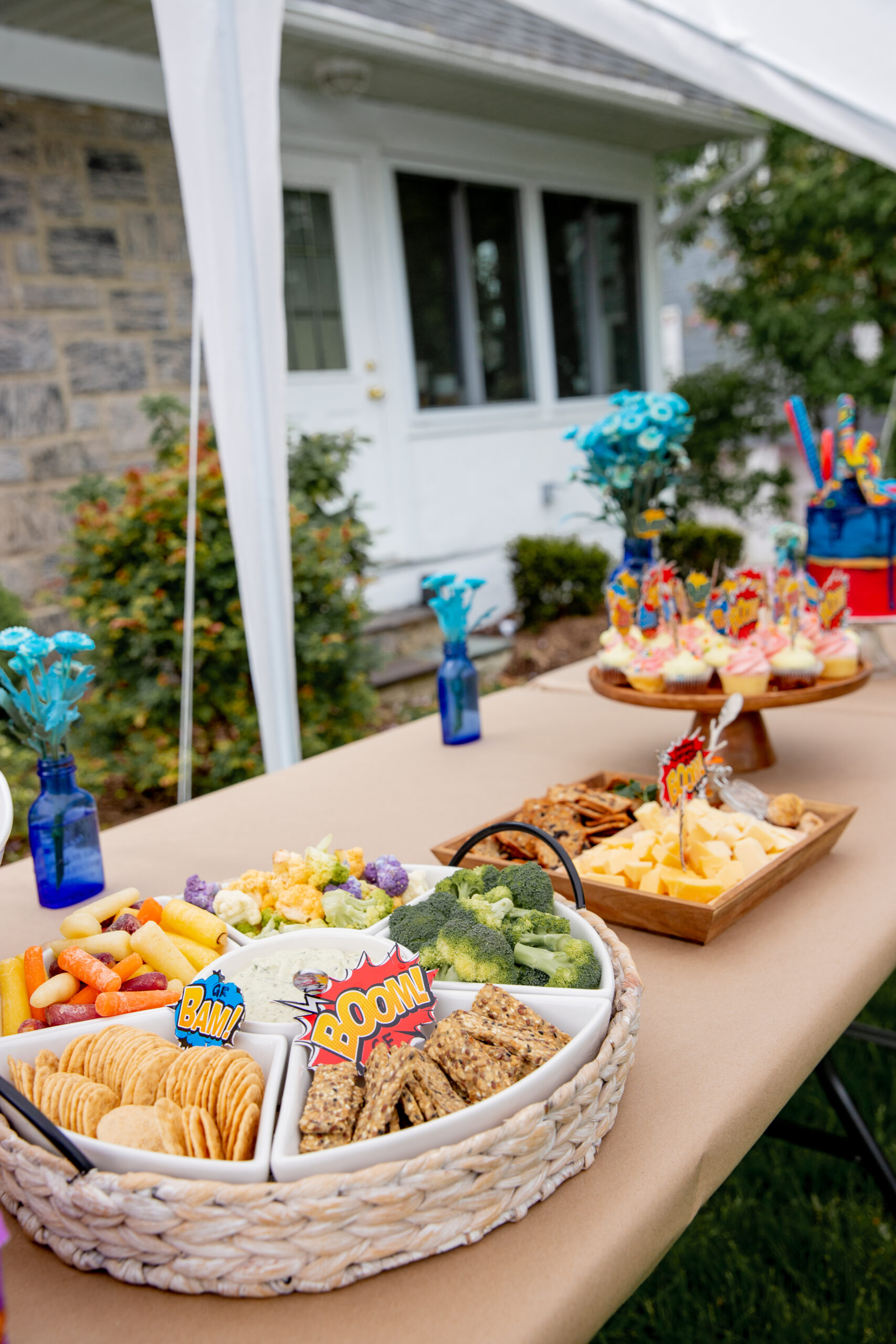 One of my favorite hosting hacks is to cover ugly tables with Kraft paper, which always looks way nicer than plastic table clothes and better for the environment (it's recyclable!). It's great for kids to draw on too!
This chip / serving bowl is one of my favorite Amazon finds and it always comes in handy for parties and hosting. I got our cake stands for previous parties and I'm surprised by how much they always come in handy. I probably wouldn't have gotten these cake stands if I needed just for this party.
Another great party hack is to get one kind of flower bouquet and break it up into many little floral arrangements. We got the blue flowers at the grocery store for less than $5, put them in antique bottles and it looked like it was a pro party!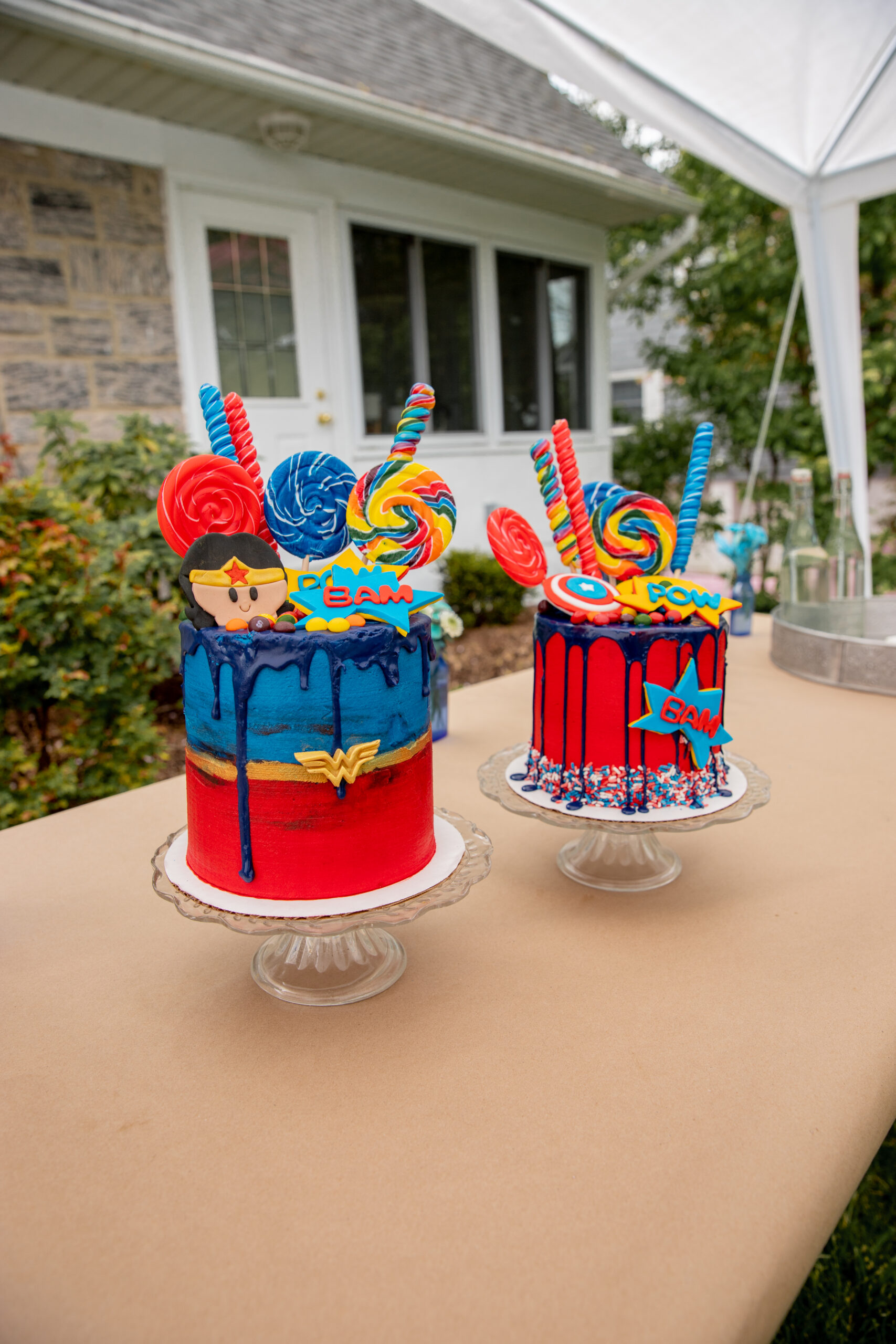 These cakes were custom made by a local Westchester baker and holy moly they were insanely good! I totally didn't think we needed all the candy on top but we had kids begging for lollipops and I felt like Willy Wonka handing them out. She did one regular and one gluten-free, so it was able to be enjoyed by all!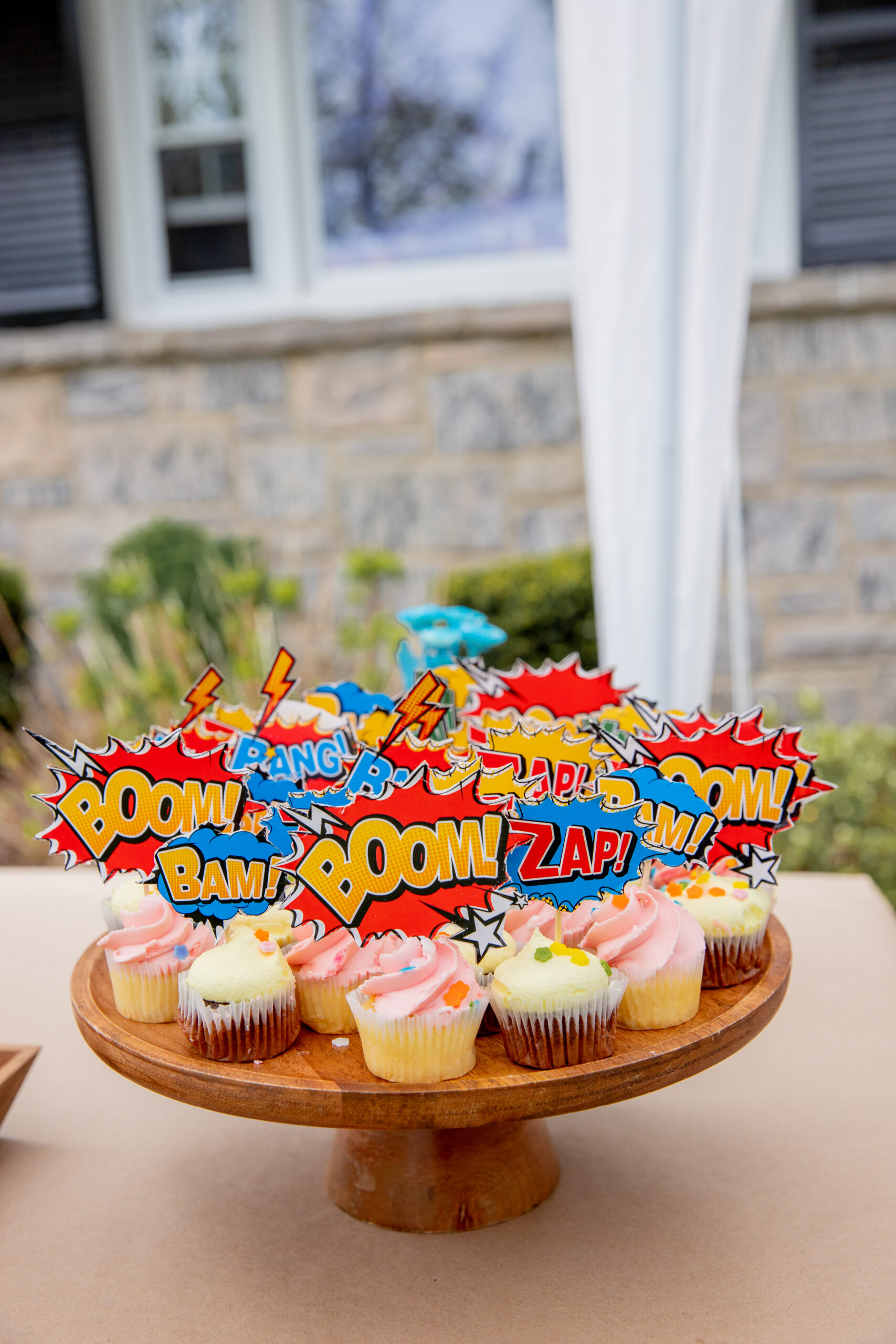 She was going to charge an additional $35/dozen cupcakes, so I got these from the grocery store for $5/dozen and made them fit in with my own DIY cake toppers, which I painstakingly cut out from the paper plates box and taped to toothpicks for each cupcake! If you're not crazy and obsessed with sustainability like I am, these $8 cupcake toppers work too.
I got all of our costumes pre-owned (yay for sustainable!) on Poshmark and it's great because we'll reuse them for playtime and Halloween. Andi was really into her Wonderwoman outfit and Asher had a few outfit changes through the course of the party, including Spiderman and some superheroes he made up.
I put out of bin of costumes for all the kids in case they didn't get the memo to dress up, and also supplied everyone with their own superhero masks, which I put in their goodie bags that I gave out before the party to keep them busy!
Be sure to use my code LIZTEICH for $10 off your first order on Poshmark!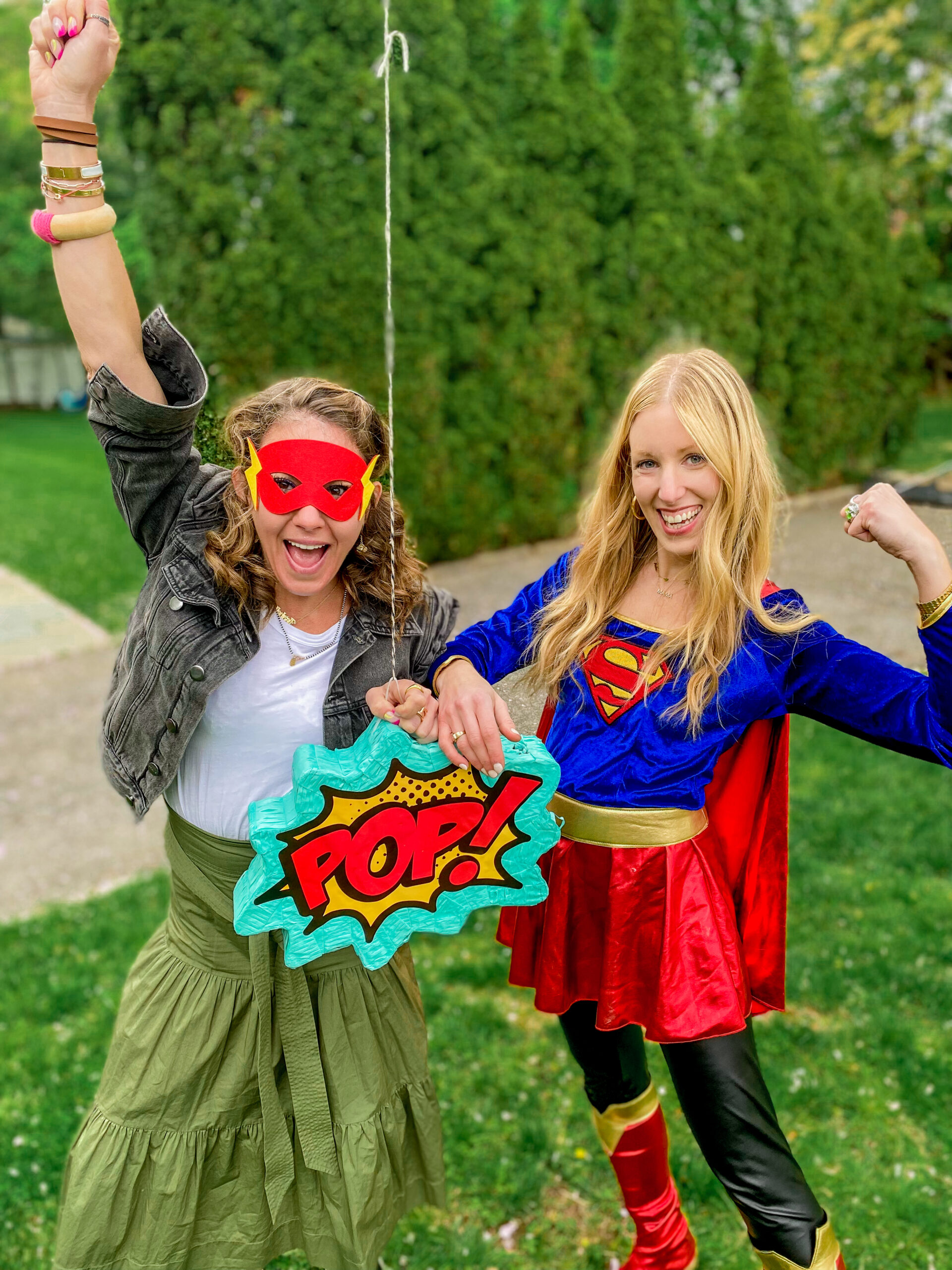 Asher also asked for a piñata so I found this "POW" piñata for $20, but didn't realize until the night before you have to fill it with candy! I luckily had a bag of organic lollipops and loads of Halloween / party candy stashed in a cabinet so it worked out!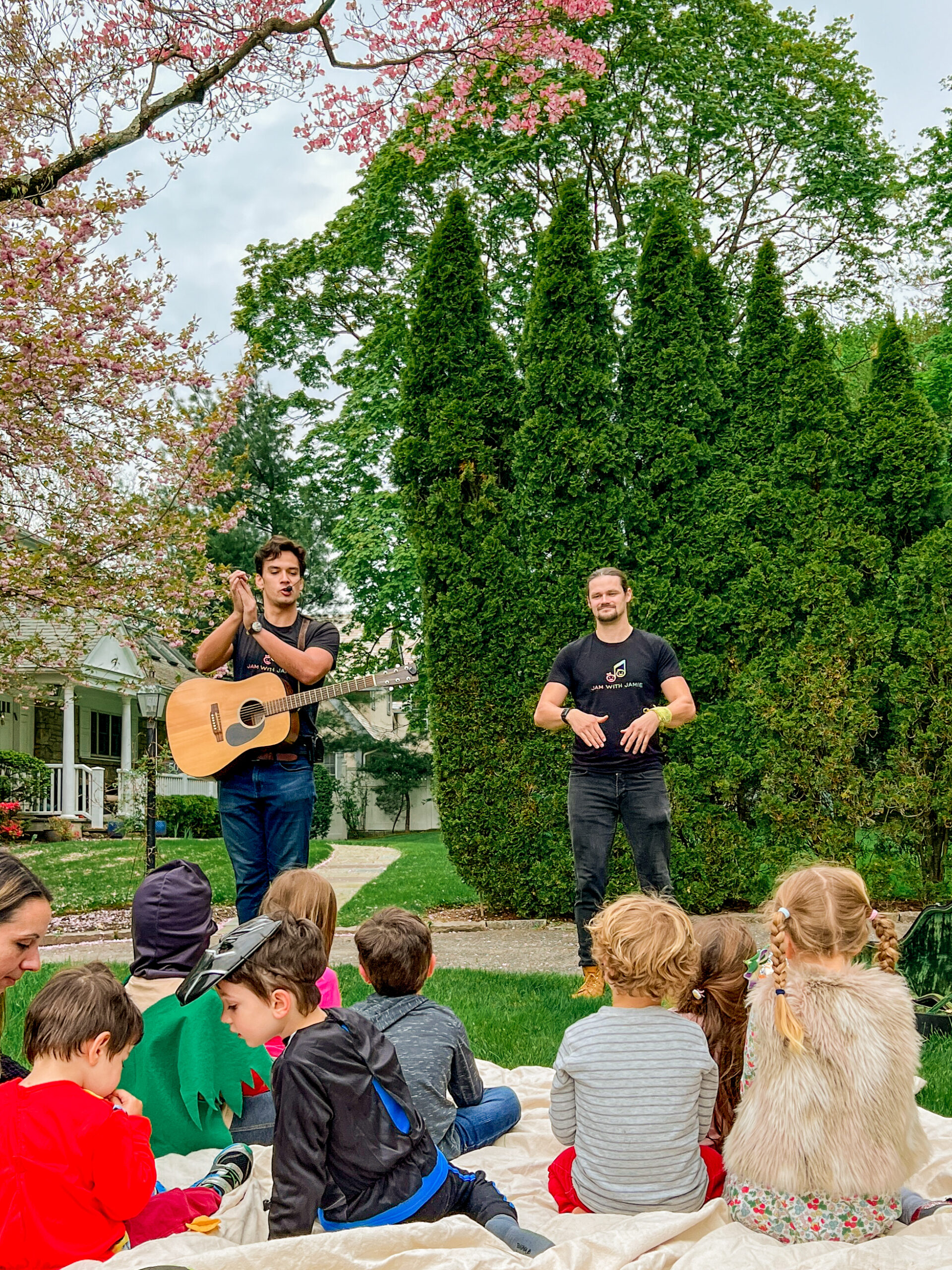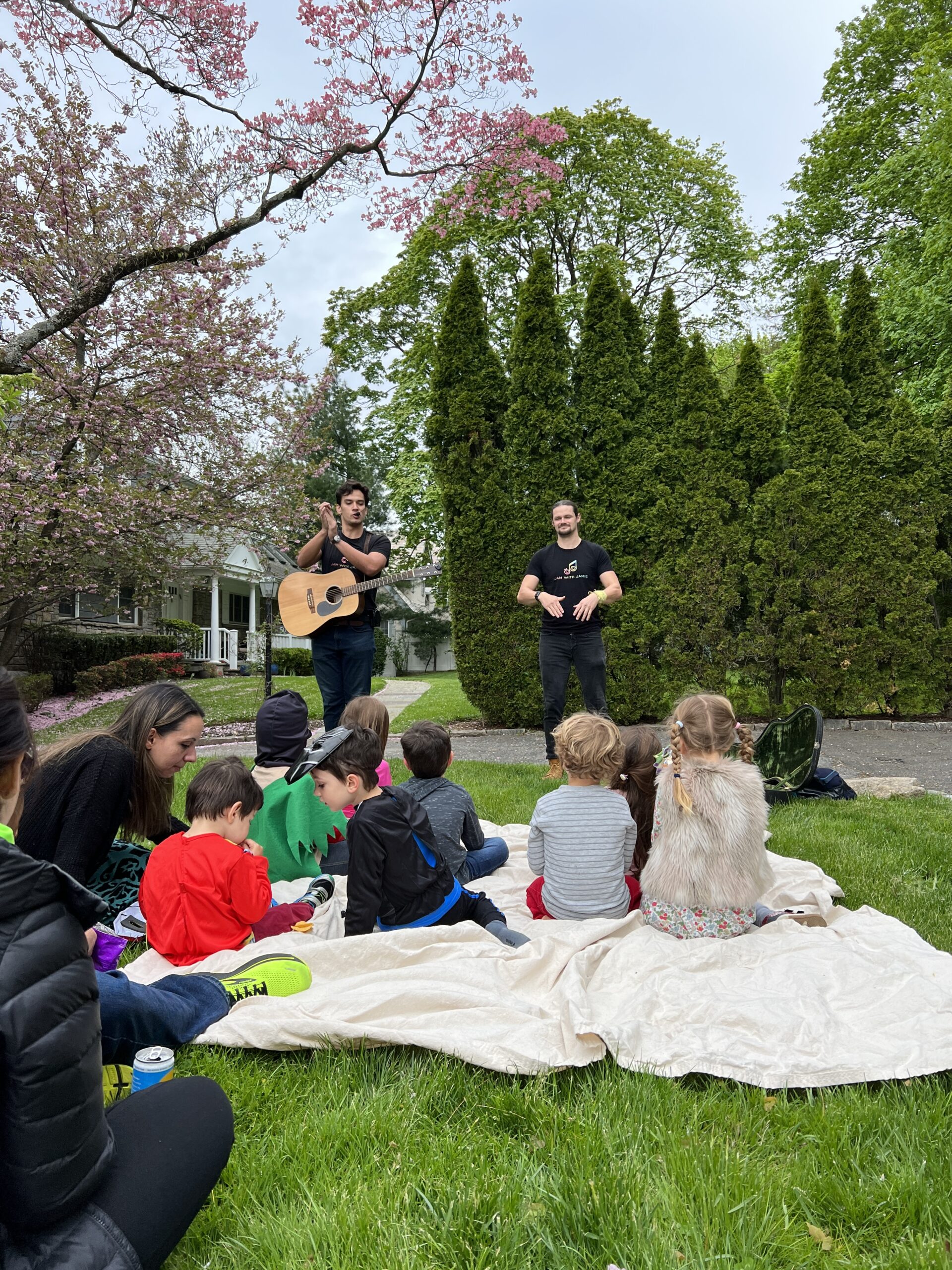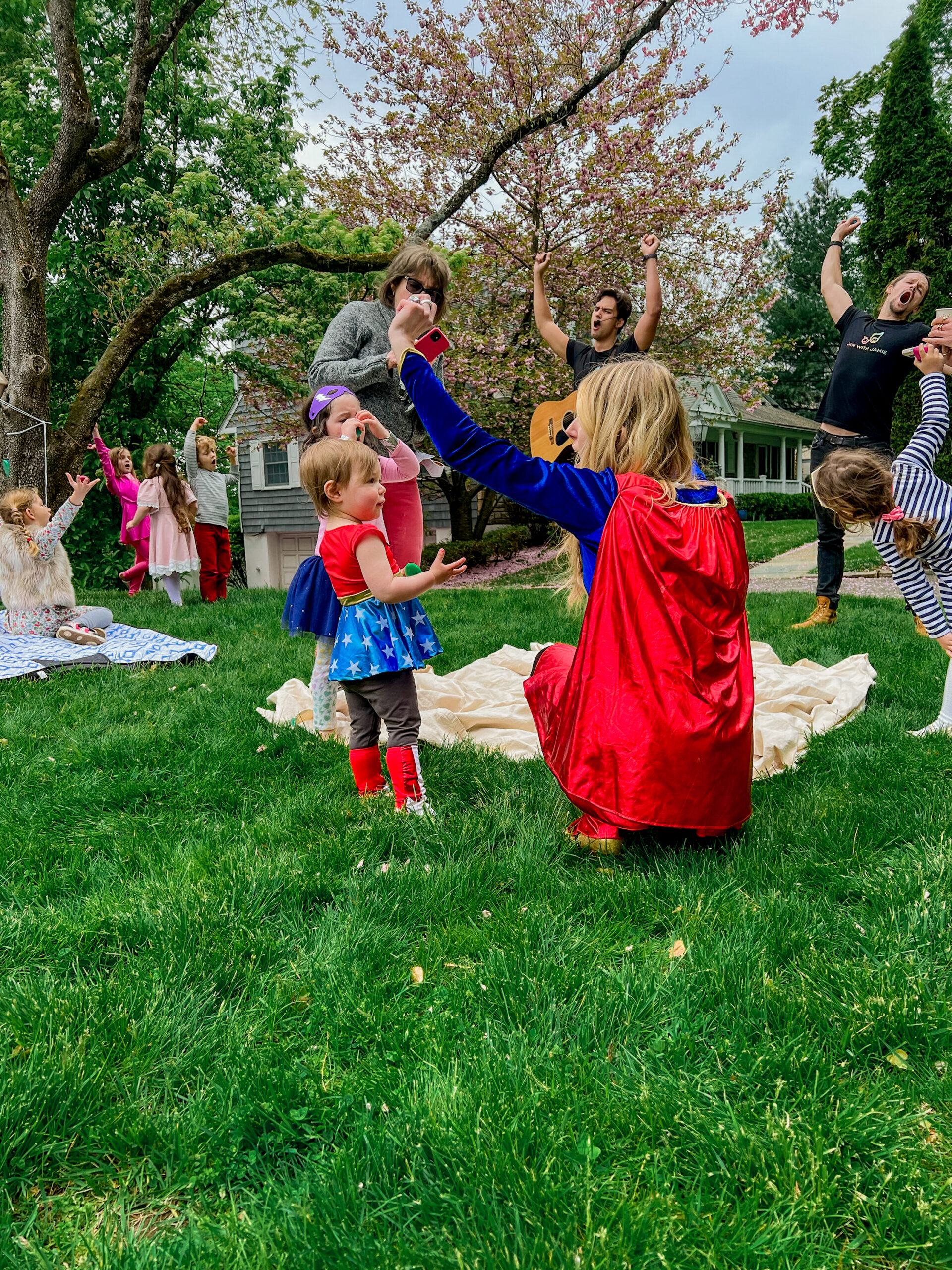 This was our 3rd year in a row that we hired Jam With Jamie to perform at our birthday parties (in 2020 we did it virtually!) and they never disappoint! I put out picnic blankets, including a canvas tarp and beach blanket, and set up on our lawn. The little ones LOVED it. Of course the parents did too.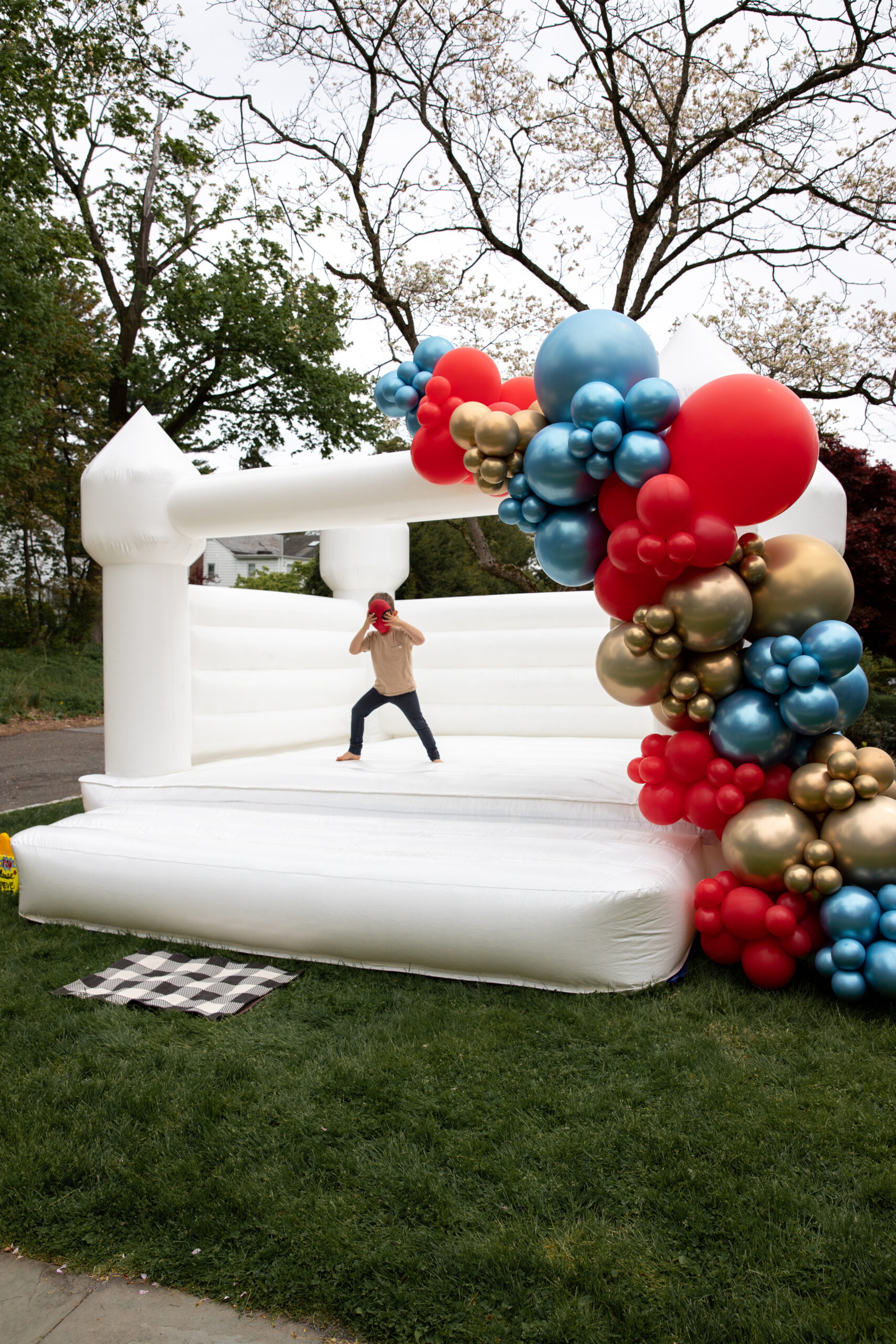 *POW* I just planned your kids birthday party. 🙂
See more from the party in the video here!
Let me know what you think of our Stylish Kids Superhero Birthday Party in the comments or send me a DM on Instagram / TikTok if you have any questions!
SHOP THIS POST