December 21, 2015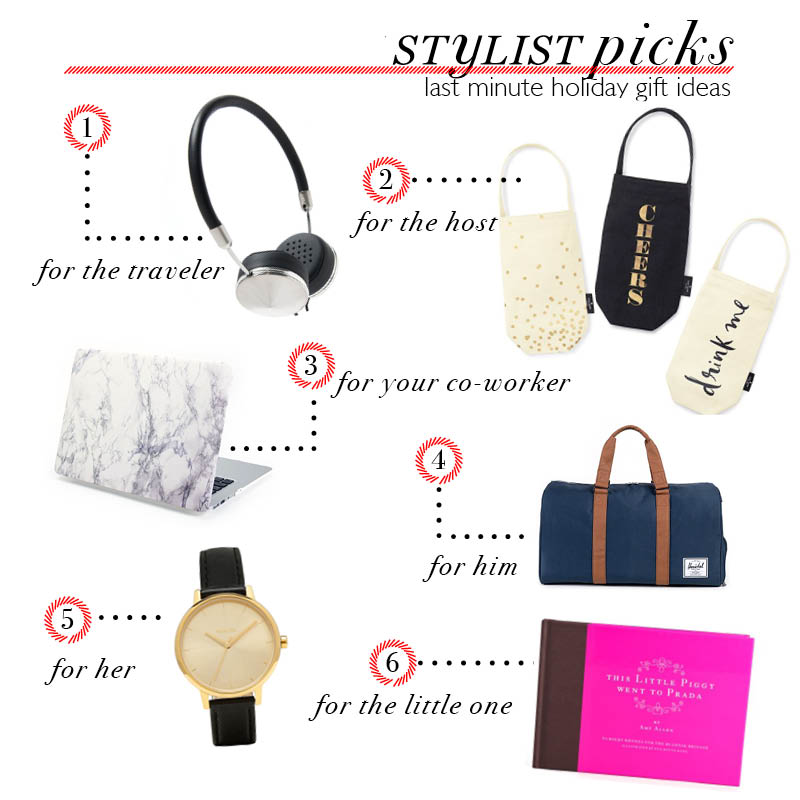 The holidays have snuck up on us—and it doesn't help that with El Niño's influence, we're having a semi-tropical Christmas this week in NYC (almost 70 degrees??). Retailers are blaming the warm weather for the slump in sales so far this season, but if you're like most people, you're just busy and scrambling with those last minute gifts.
I've rounded up some of my favorite stylist picks for last minute holiday gifts for everyone on your list. *Also lucky for you, you can get them all on Amazon Prime so they'll arrive in time for you to look like you've been plotting all season.*
 1 – Frends 'Layla' headphones These are an essential for me because between traveling on planes and subway often, they're comfortable, fashionable and the sound is great. These will be the envy of other travelers.
2 – Kate Spade wine totes Giving wine to your hosts is great, but it will impress even more with these reusable bags.
3 – Marble Macbook Air case Work is so much more fun with a case like this.
4 – Herschel Supply Co. weekender bag My dude loves this bag. It's a grown-up version of his gym bag, but still tough enough for all of his travels.
5 – Nixon 'Kensington' watch You can't go wrong with an affordable Nixon watch, but this simple, classic version is something any gal will want (including this one).
6 – THIS LITTLE PIGGY WENT TO PRADA book The fashionable kid in your life (and her mom) will love this designer inspired nursery rhyme book.
Happy holidays!