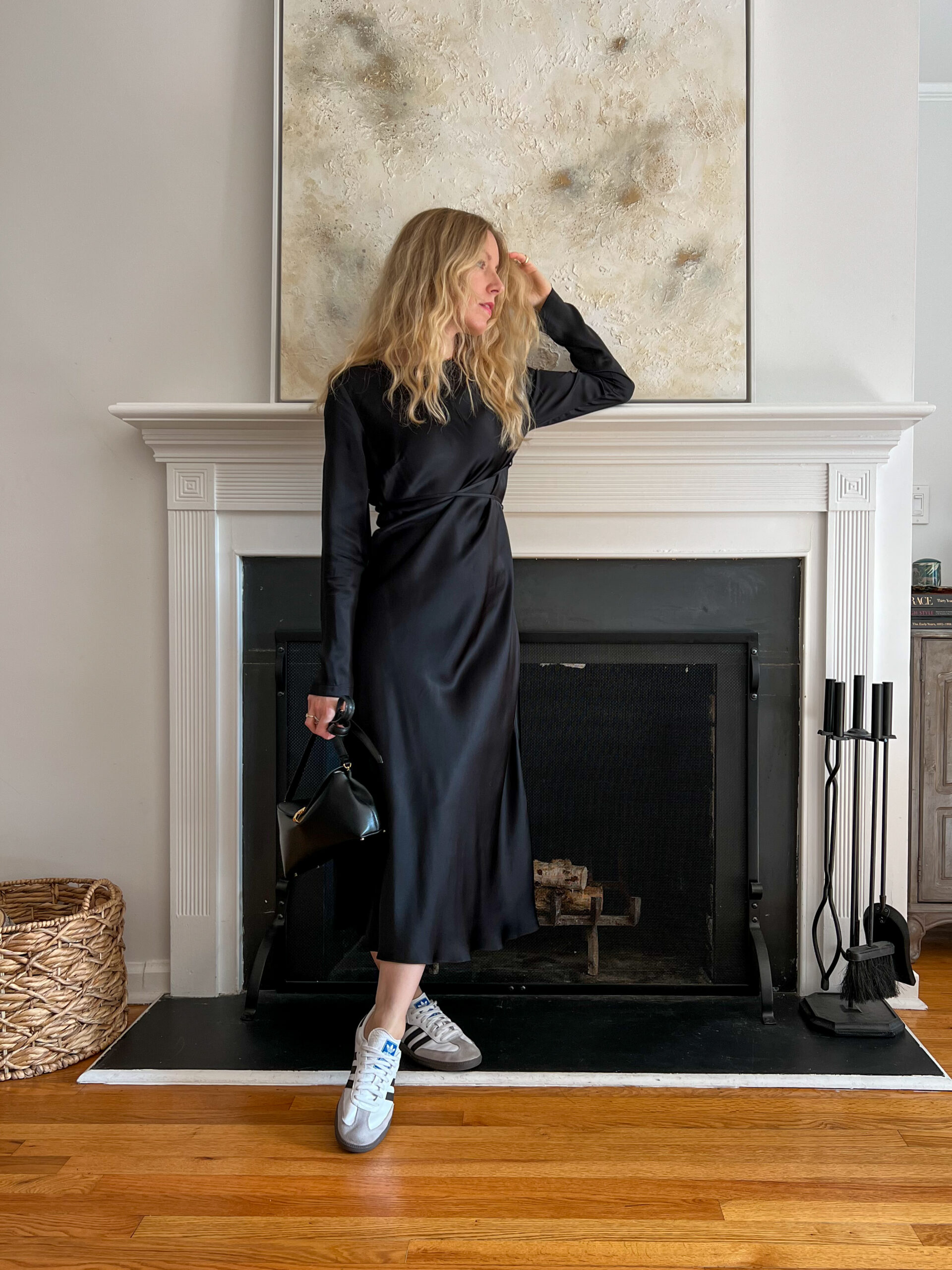 One of the top things I've been seeing with my clients is that the thing everyone is neglecting in their wardrobes, especially since the pandemic, is SHOES. It makes sense, after all we all focused on "Zoom tops" for so long and most of us lived in slippers for the last few years. Now that everyone is out and about more, shoes have never been so important. They can really make or break an outfit. They shouldn't be an after thought. In fact, I often select my shoes first, and then style the outfit around them! Now that I've gotten the attention of your feet, here are the trending classic shoes to buy now… and while these are all the top fall "trends," they're classic styles that I think any closet could use.
FALL 2023 SHOE TRENDS
(that you'll want in your closet ASAP & for years to come)
1) RETRO SNEAKERS
This has been around a bit. I got my first pair (since middle school!) ofAdidas Gazelle's and Sambas in 2022, but they're still going strong this season. While I don't think a classic white tennis sneaker is going anywhere, it's time to replace your "dad" sneakers or AF1's with something a bit more streamlined and a bit of a cool throwback.
---
2) BLACK COURT SHOES & SLING BACKS
It seems crazy that to me that this classic shoe is a "trend," but then again, we're going back to classics lately and I'm loving it so much. These are things I've been telling my clients to invest in and you can't go wrong, though don't forget to check pre-owned for a designer pair. They will be the perfect compliment to dress up any look — even a tee, jeans and a trending moto leather jacket for going out! This Manolo Blahnik pair has been one of my favorites that will be in my closet for years (shoutout to Occhicone for fixing them up). I'm also recommending to clients this pair from Ally's (THENEWYORKSTYLIST10 for 10% off) because they were developed by someone who worked in a corporate office along with a podiatrist, so they're the kind of pair you won't mind wearing all day. I also just got this Bernardo 1946 sling back pair that I cannot wait to wear with these jeans in the fall.
---
3) POP OF RED
Are you seeing red everywhere? It's not just you. The pop of red accessories, especially shoes, is going to be the hottest (no pun intended) trend for fall. I wore red shoes with grey suiting for a TV segment recently and it was one of my favorite twists on an otherwise basic outfit. I'm coveting this pair from Inez (LIZNY15 for 15% off) that unfortunately is sold out in my size at the moment, but they'll be restocking soon!
---
4) SILVER DETAILS
Silver is back in a big way, especially in shoes! Don't judge me for getting 3 pairs this year including this pair (THENEWYORKSTYLIST20 for 20% off) and this pair. I just love how this pop of metallic can add a little something to even the simplest of outfits. It doesn't have to be reserved for night time too! If you buy one pair, get this Inez (LIZNY15 for 15% off) — they're known for insanely comfortable heels and these shocked me because I feel like a tall drink of water, but also no complaints from my feet!
---
5) BALLET FLATS
Are you sensing a theme for fall? Classic is trending. Ballet flats are included in this, but if they're typically to saccharine for your taste (they are for me), you can opt for a pointy or more square toe shape (like this style I have) to make it feel cool.
---
6) LOAFERS
We were seeing lots of lug sole loafers the last few seasons, but we're going back to basics. I bought my first pair of super classic penny loafers for this coming season in everything from dresses, to jeans to basically anything and this may be the shoe I'll be wearing the most in the next couple of months.
Let me know which "trends" you"ll be investing in this season and if there's anything else you'd like to see!