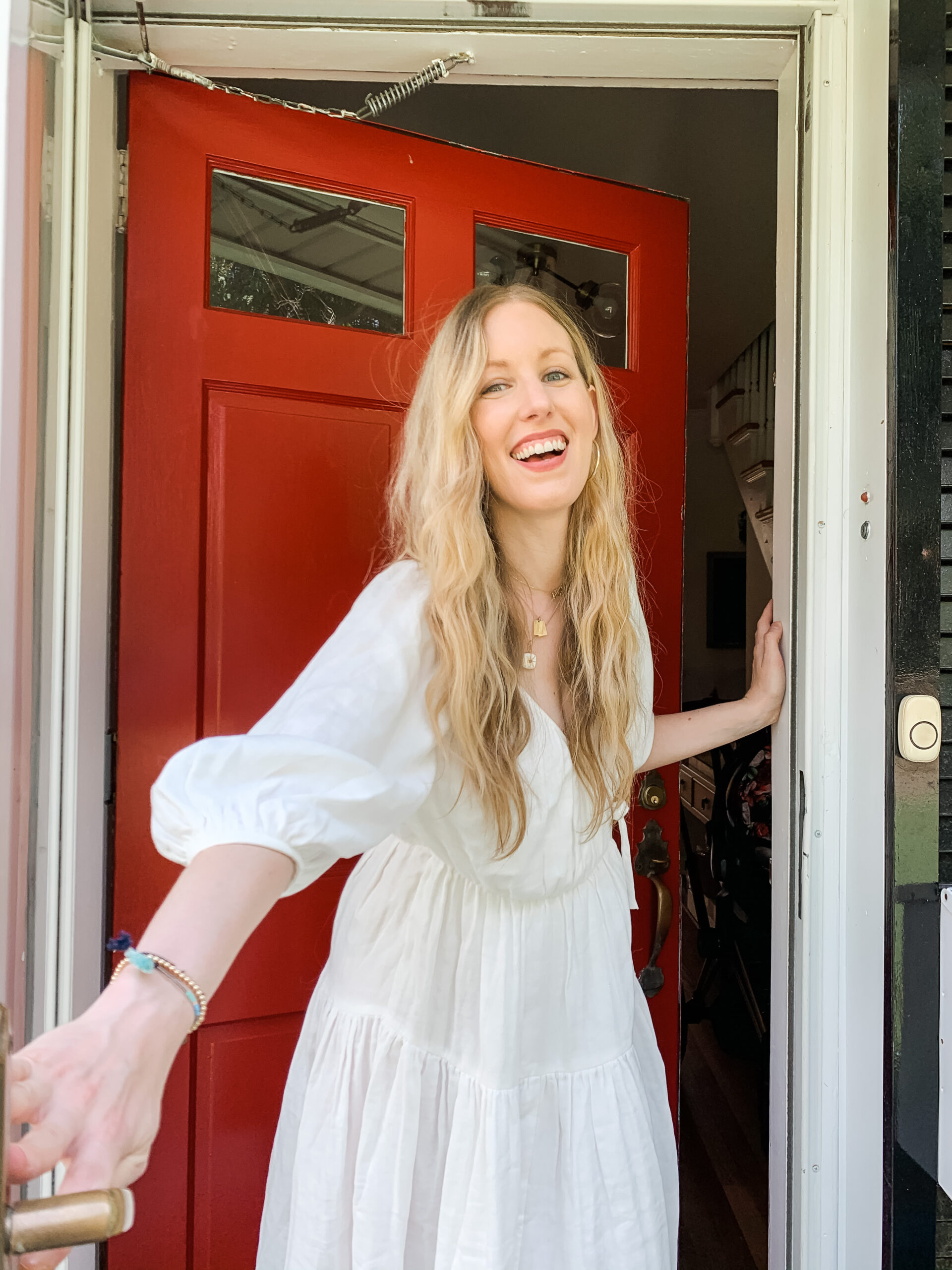 Some may say "you couldn't have moved at a more perfect time." When I packed up 15 years of city living, while 8 months pregnant for a suburban town that, a month later, became the first epicenter of the pandemic in our country, I would have thought otherwise! Months later, I'm incredibly grateful to live here, as we all sheltered in place for more than I ever imagined we would have. It seems like we've lived here for years, yet not many people have actually seen our beautiful home. I usually prefer to shop small and/or sustainable, but that was often a challenge during the pandemic. We rented the house out for an advertising campaign shoot this summer, so it was a scramble. As with everything in 2020, VIRTUAL house tour of my new home is how most people will just have to see it for now.
I put together mood boards for the nursery, but otherwise, I just made purchases that fit with my aesthetic of "bright and airy meets bohemian meets 70's polished," kind of like my wardrobe. After years of living in cramped apartments, "uncluttered" and "organized" were two key things I wanted to stick to. It's still a work in progress, but I'd love to hear what you guys think!
Here are the details from each room. Please note that I often use affiliate links, which I would appreciate if you use to shop with, as it rewards me with my hard work. Feel free to ask me if there's anything I may have missed! Thank you! xLiz
ENTRYWAY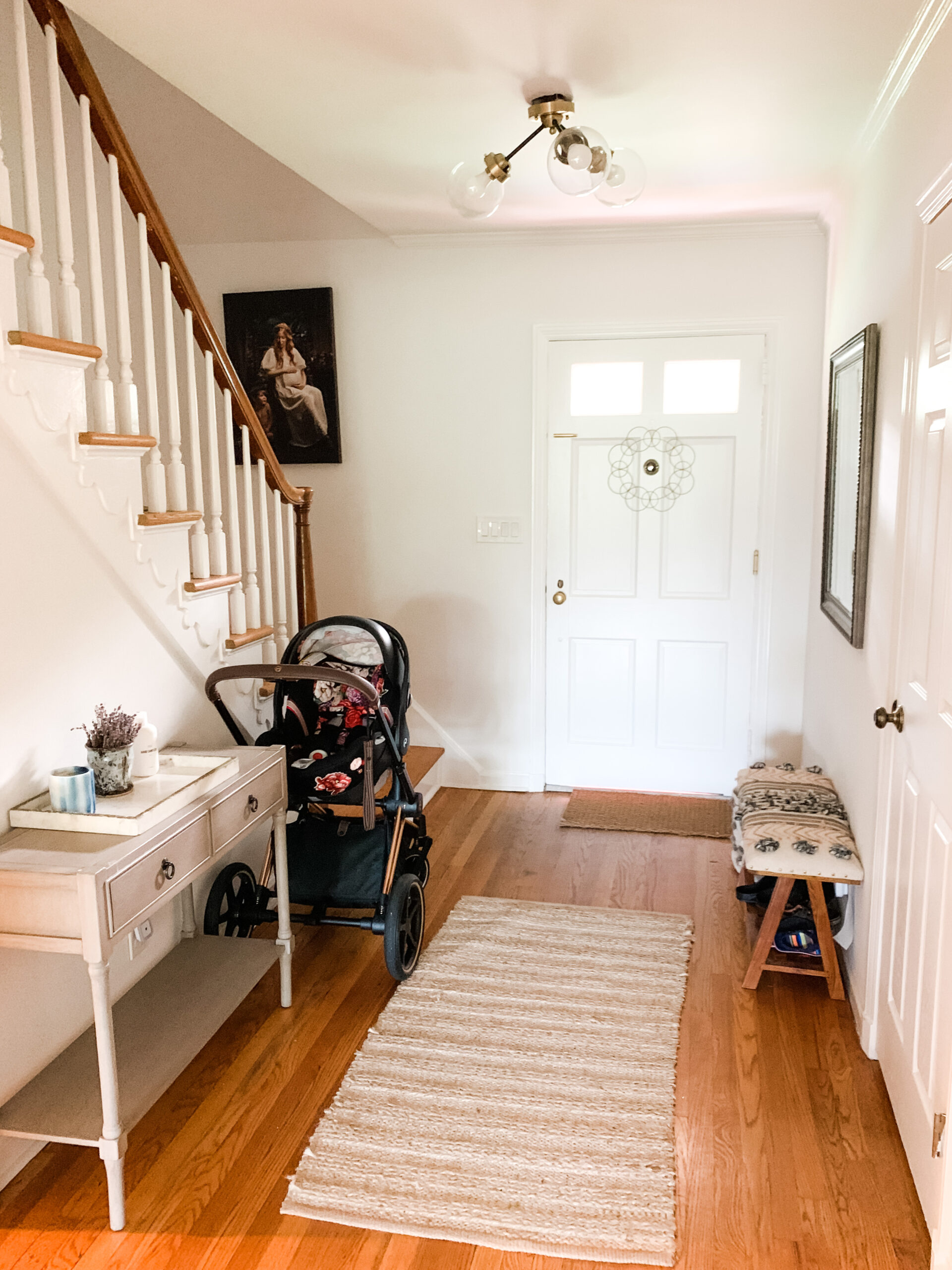 CONSOLE, RUNNER, BENCH, TRAY, MIRROR: Marshalls / Homegoods   
STROLLER: Cybex (c/o)
CAR SEAT: Cybex (c/o)  
ART PRINT: Rebecca Handler Photography 
LIGHT FIXTURE: similar here  
DOOR MAT: Crate and Barrel
I got so lucky that I had a month of nesting before the lockdown and another additional month before the baby arrived, so for the first few weekends I made some epic trips to our local Marshall's/Homegoods combo store to stock up on items to affordably decorate with. Even though the purchases were quick decisions, I have zero regrets about any of them because I stuck with my style in mind.
LIVING ROOM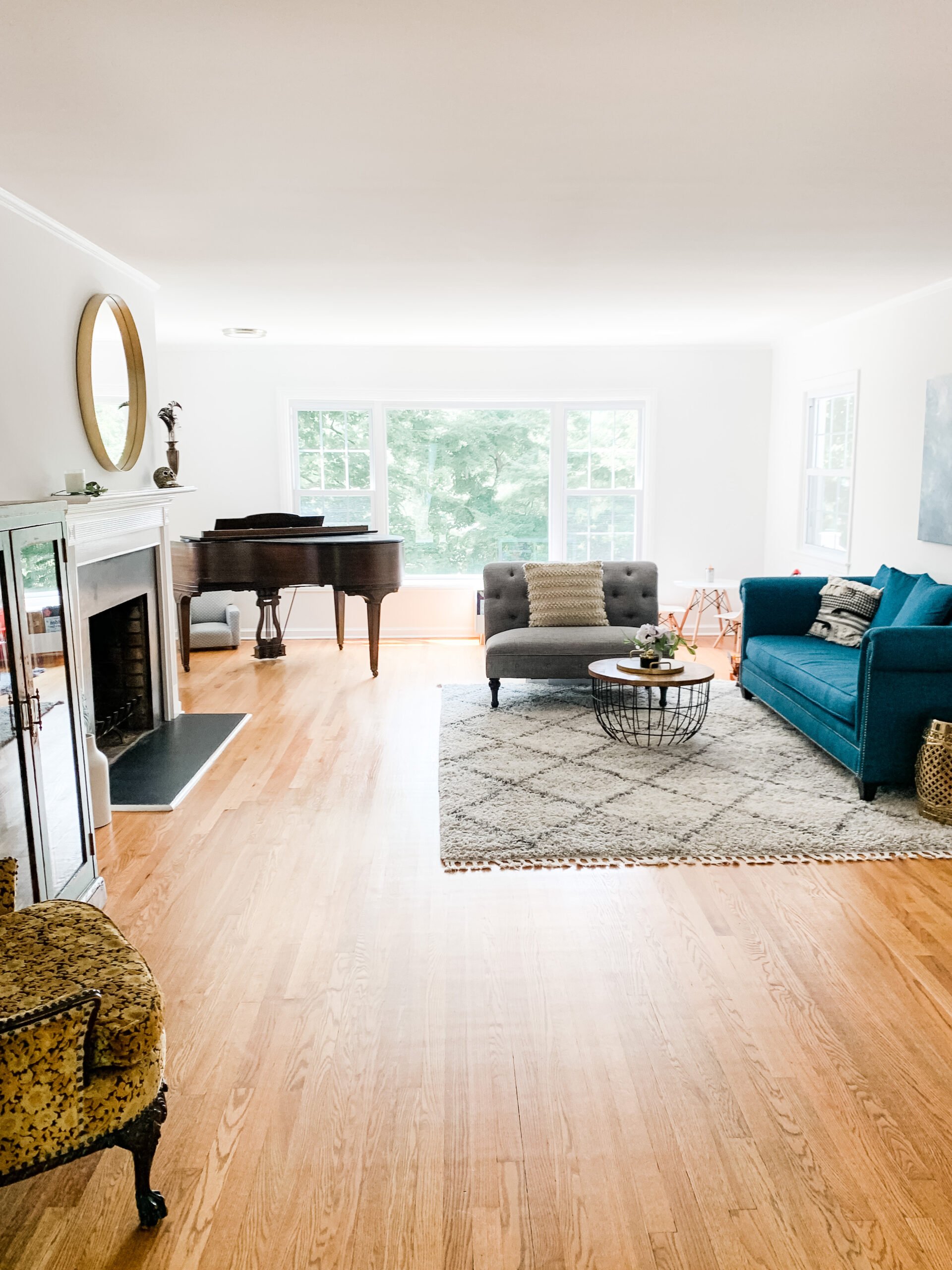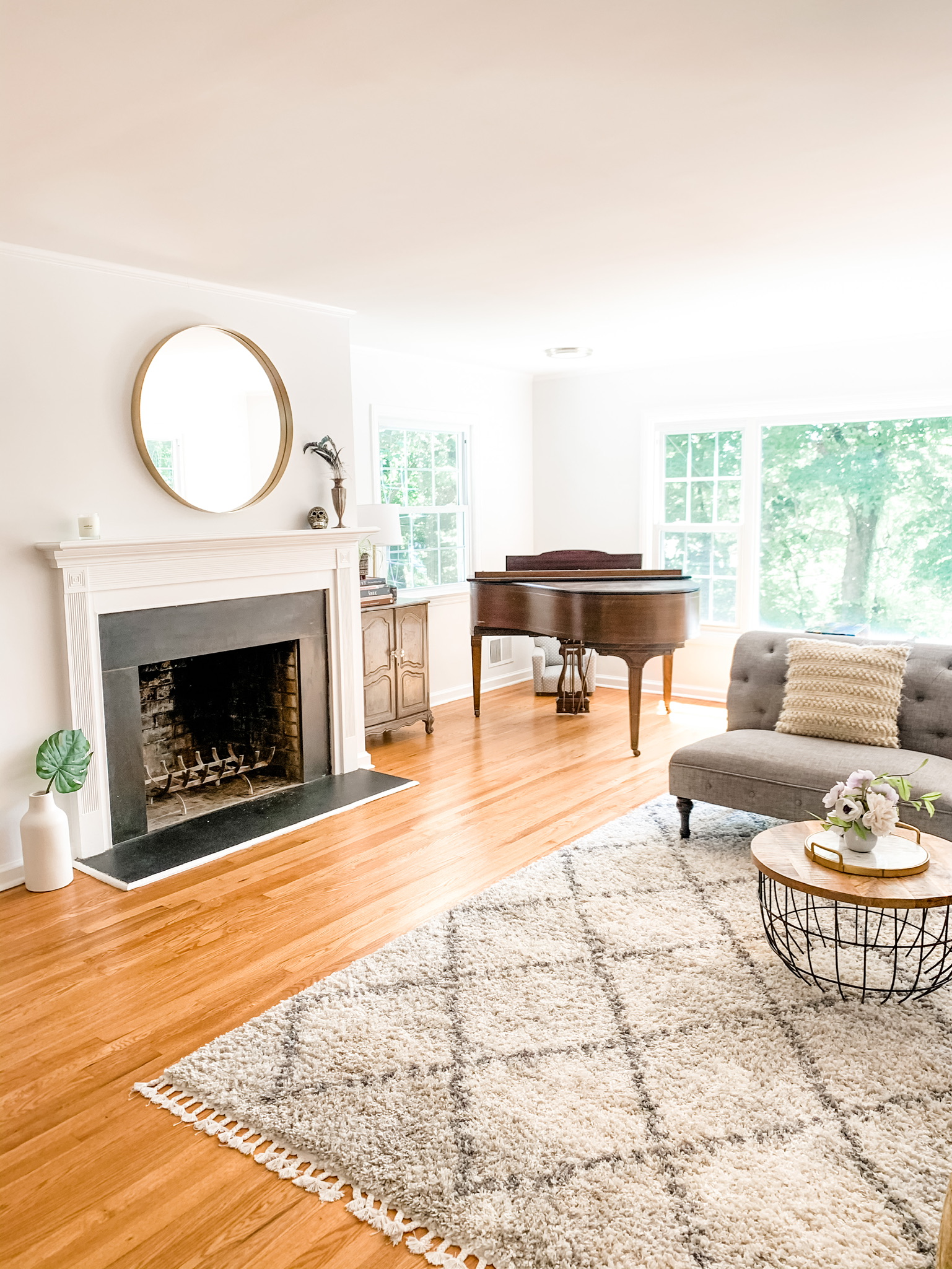 RUG: Nourison (c/o)
SOFA: similar here
BLACK & IVORY PILLOW: Nourison (c/o)
BLACK & WHITE PILLOW: Nourison (c/o)
LARGE BEIGE PILLOW: Nourison (c/o)
GOLD GARDEN STOOL: Marshalls
TUFTED CHESTERFIELD LOVESEAT: Wayfair
PAPER FLORAL ARRANGEMENT & VASE: customized by Paper Floral Co (c/o)
CIRCULAR TRAY: World Market
KID TABLE AND CHAIR SET: UrbanMod via Amazon
LARGE VASE: West Elm 
MIRROR: Wayfair
The living room is what sold me on the place because I spent years in NYC with a cramped living space, always in dark, ground floor apartments. This was so spacious and bright! I've always wanted a fireplace and mantle to decorate. I'm playing around with different decor all of the time for it, but I do love keeping things uncluttered here and the focal point on the over-sized mirror.
SUNROOM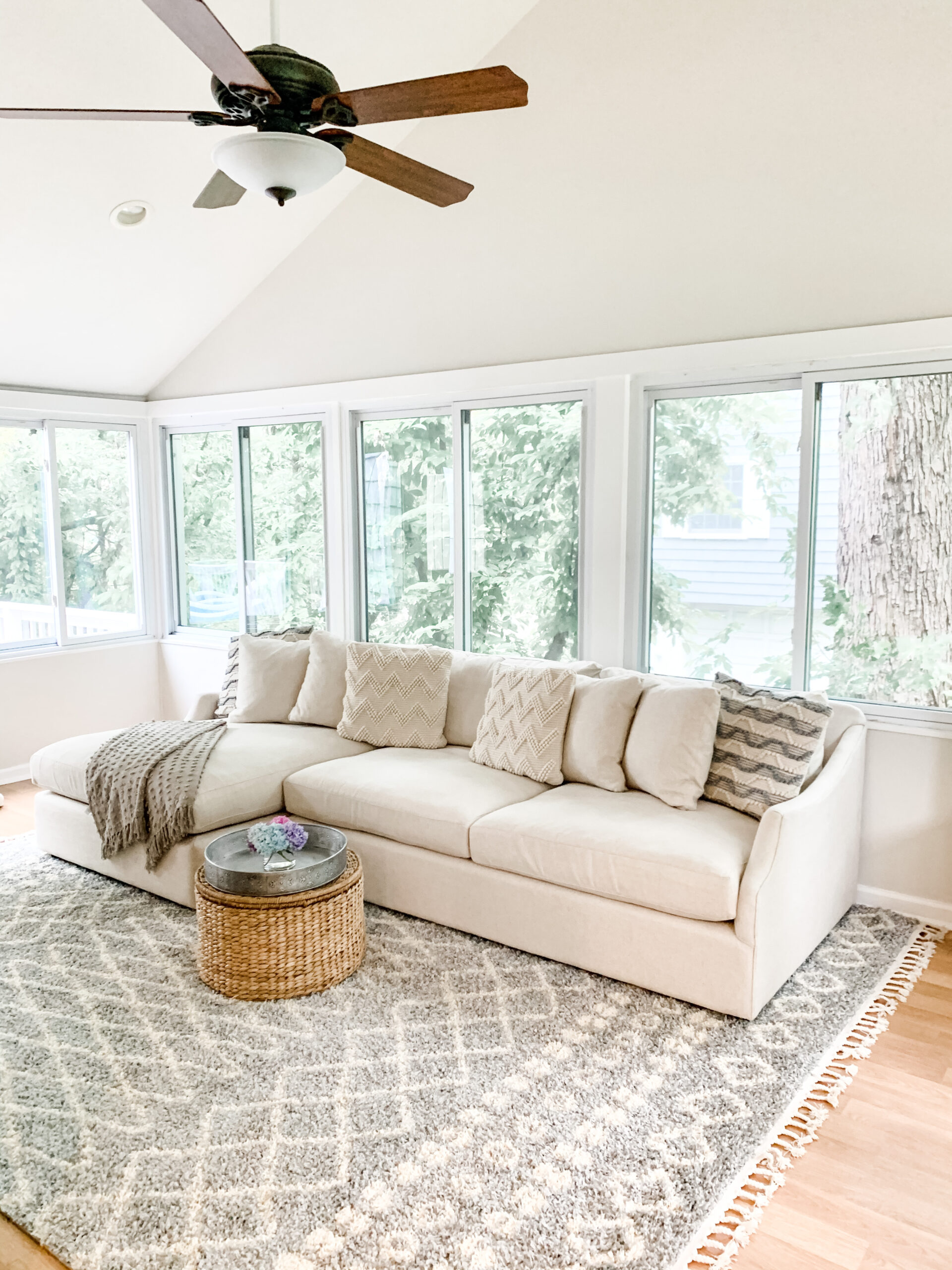 SECTIONAL: High Fashion Home
IVORY ZIG ZAG PILLOWS: Nourison (c/o)
GRAY ZIG ZAG PILLOWS: Nourison  (other colors here) (c/o)
THROW BLANKET: Nourison (c/o)
RUG: Nourison (c/o)
COFFEE TABLE / STORAGE OTTOMAN: Urban Outfitters
METAL TRAY: Homegoods
This bonus room is one of the spots we love to spend the most time in, yet it's the least furnished for the space. I ended up splurging on the sectional after years of my hubby complaining how I always pick pretty, but not the most comfortable furniture. It also sold me that it was made from Crypton fabric, which is the only non-toxic stain resistant fabric for furniture (a necessity with kids!).
I wanted to keep it light and bright, to enhance the three walls of windows, so everything is neutral. Even our media console (not pictured here, but shared here) brings in the same feel. I keep saying I want to add a plant in the corner and a breakfast nook / cafe table and chairs in the other corners, but alas, KIDS. Right now, it's a playroom for the baby, so one day I'll get there.
KITCHEN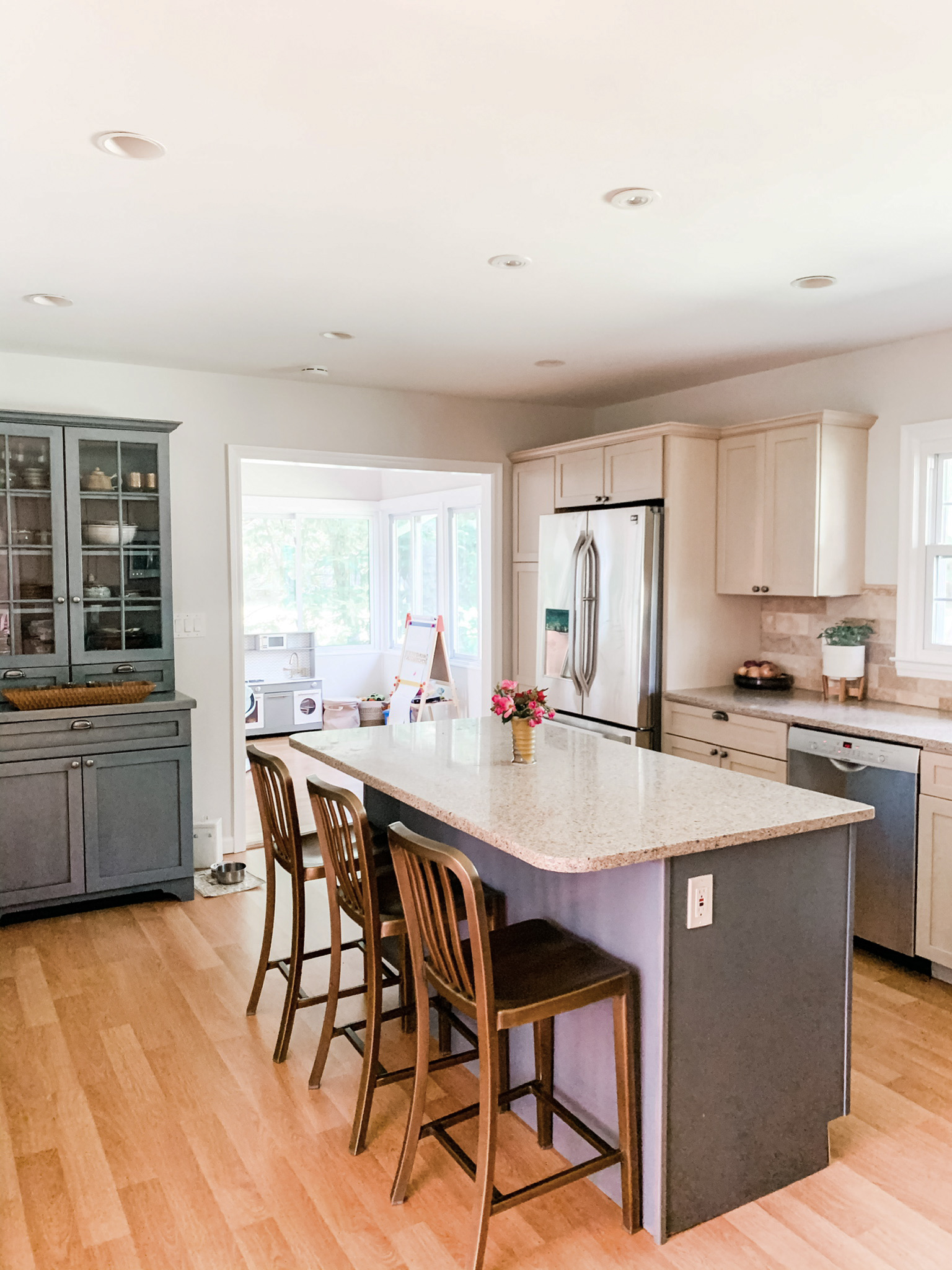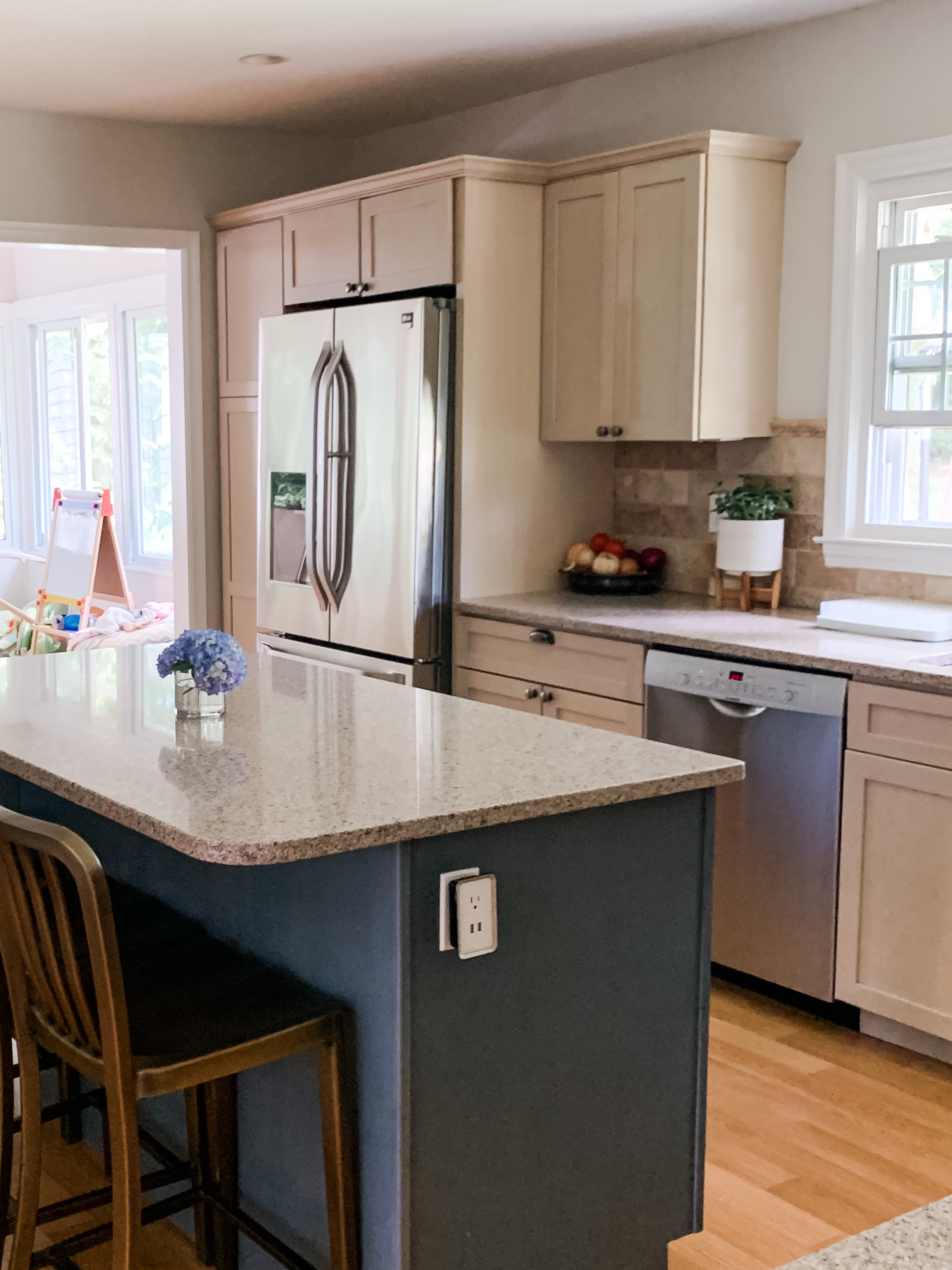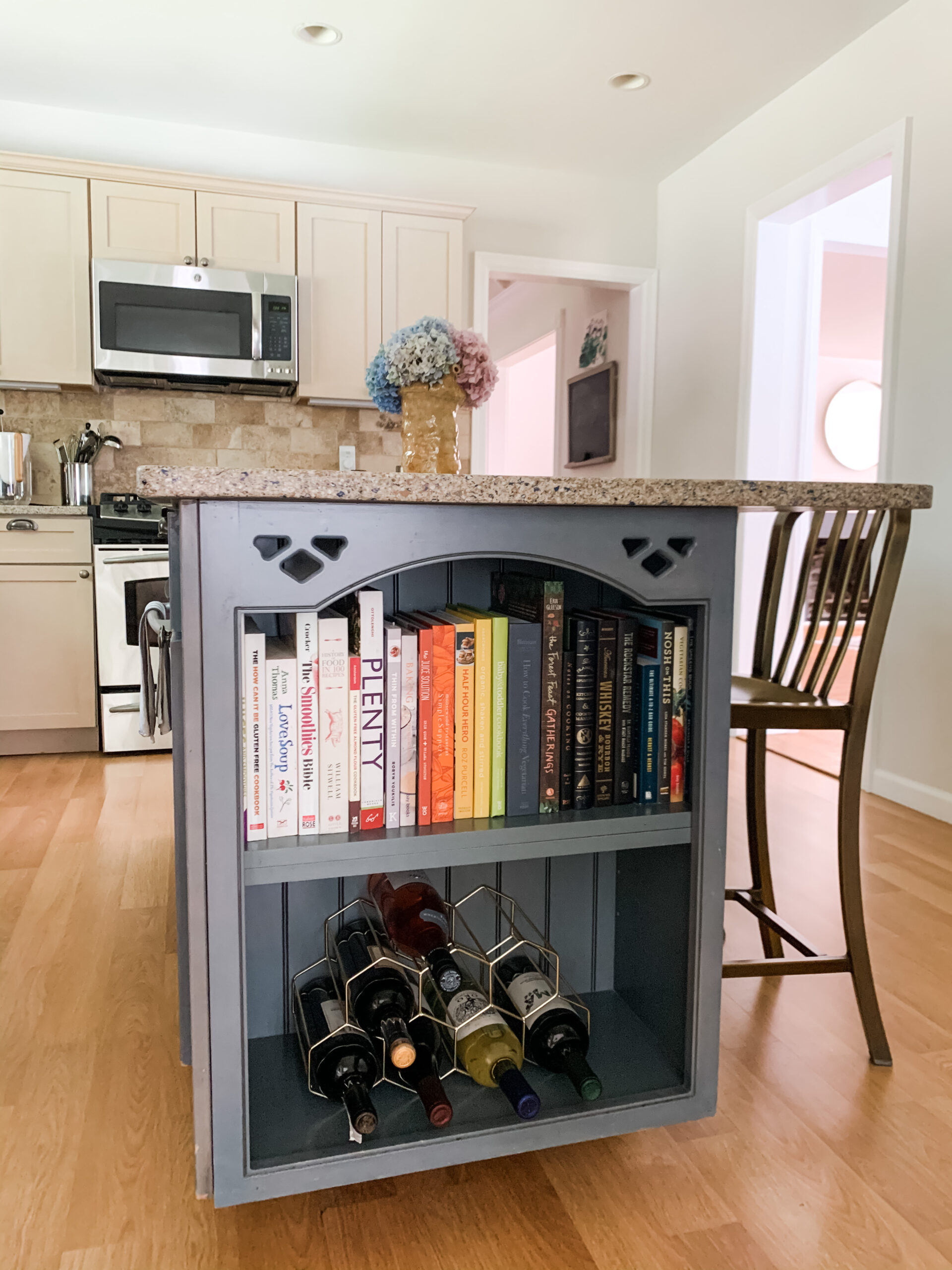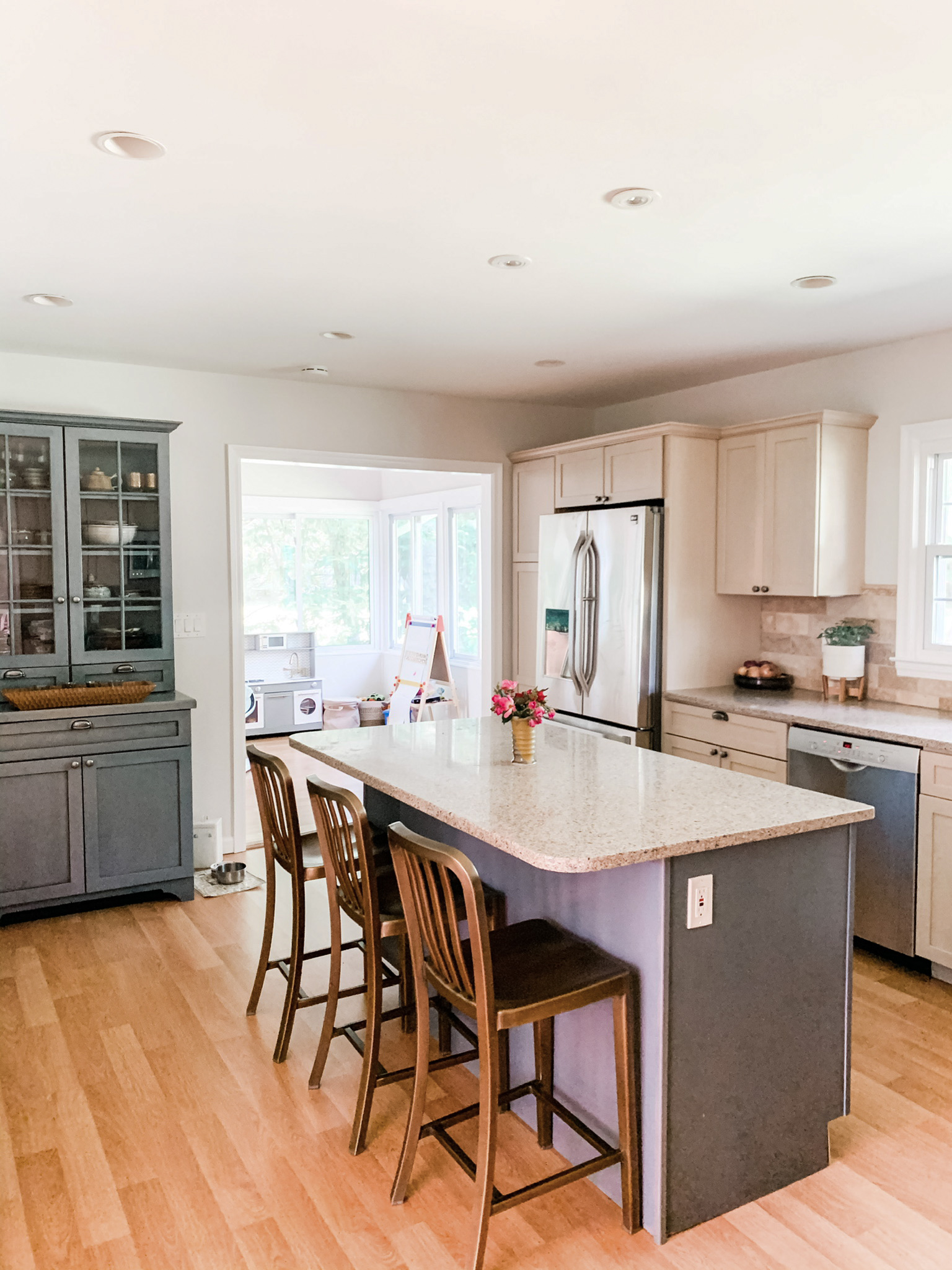 BAR STOOLS: Crate and Barrel  
PLANTER, TRAY: Marshalls/Homegoods
REFRIGERATOR: LG
WINE RACK: similar here
DRYING RACK: Boon
PLAY KITCHEN: Teamson Kids
EASEL: Costzon
TOY BIN: Creative QT (c/o)
The kitchen is probably where we spend most of our time in this house and it's such a treat after 15 years of tiny NYC kitchens to have the space to cook and entertain (not that we are doing that much these days).
The room was renovated right before we bought the house, so it's in great shape, though not totally my taste. I'd love to update the cheap flooring (which is already warping!) and especially the backsplash and cabinet color, but they're fine for now. One of the first purchases I made for the house were these stools, which we spend a lot of time on as a family.
DINING ROOM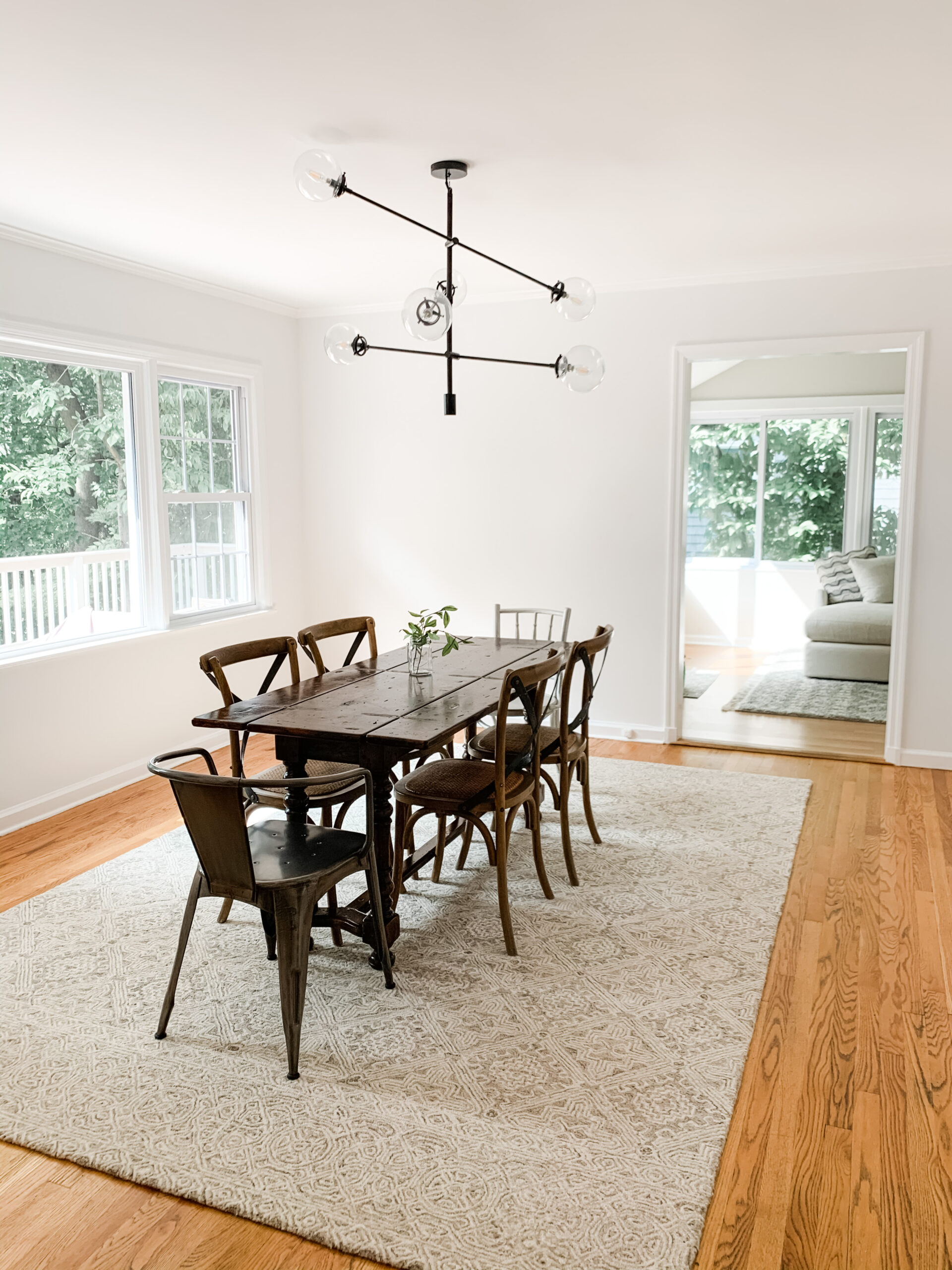 TABLE / CHAIRS: old from a small shop in Brooklyn that closed, similar here and here
METAL CHAIR: similar here
SILVER WOOD CHAIR: found on the street and painted!
RUG: Nourison (c/o)
LIGHT FIXTURE: similar here and here
ART (BLUE): Homegoods
ART (FLOWERS): I painted!
BOUNCER: Cybex (c/o)
HIGH CHAIR: Cybex (c/o)
PAPER LEAVES: Paper Floral Co.
FAUX PAMPAS (IN THE BACKGROUND, SWITCHED UP FOR FALL): Afloral
CLOSET / OFFICE (aka "CLOFFICE")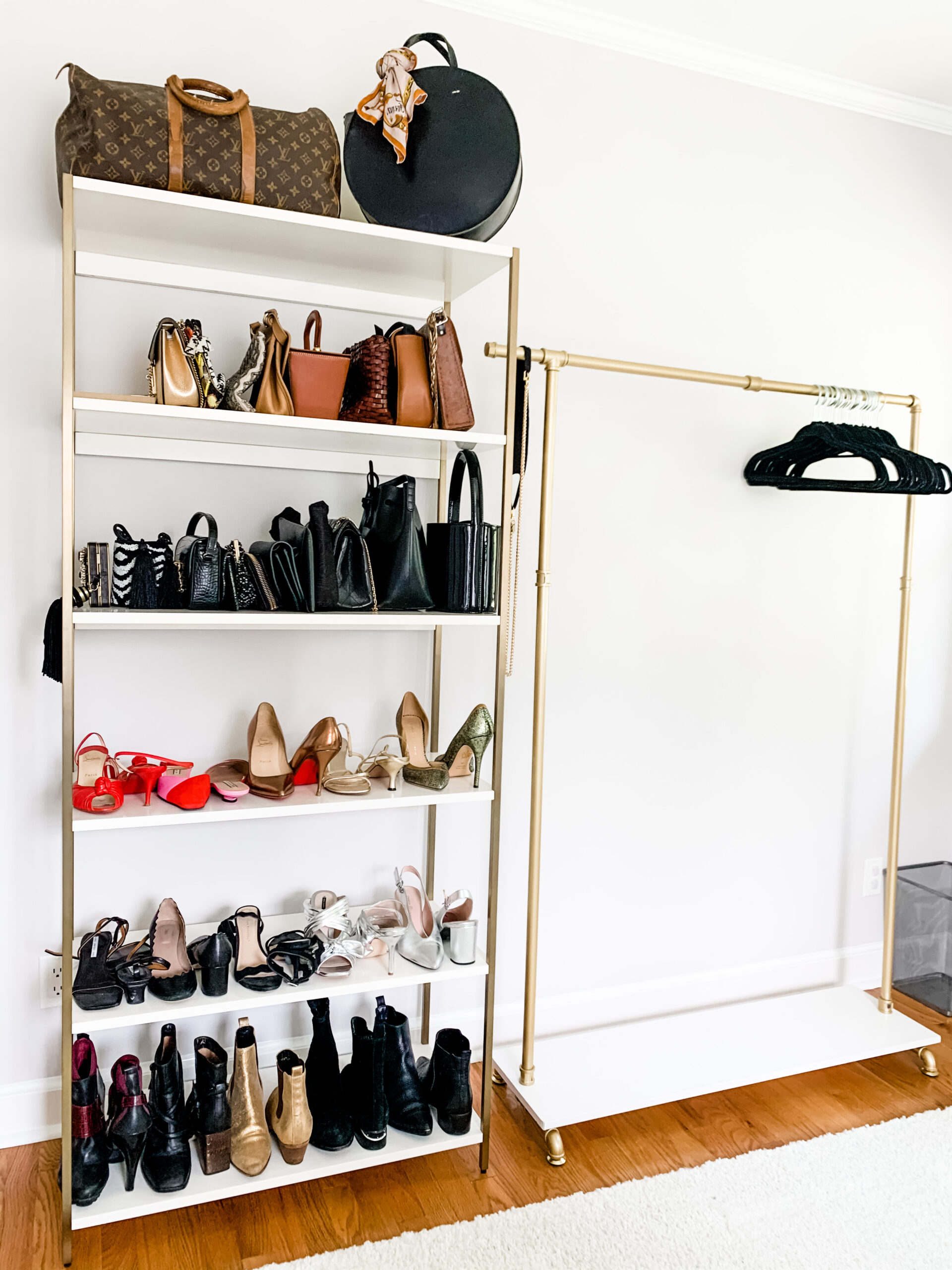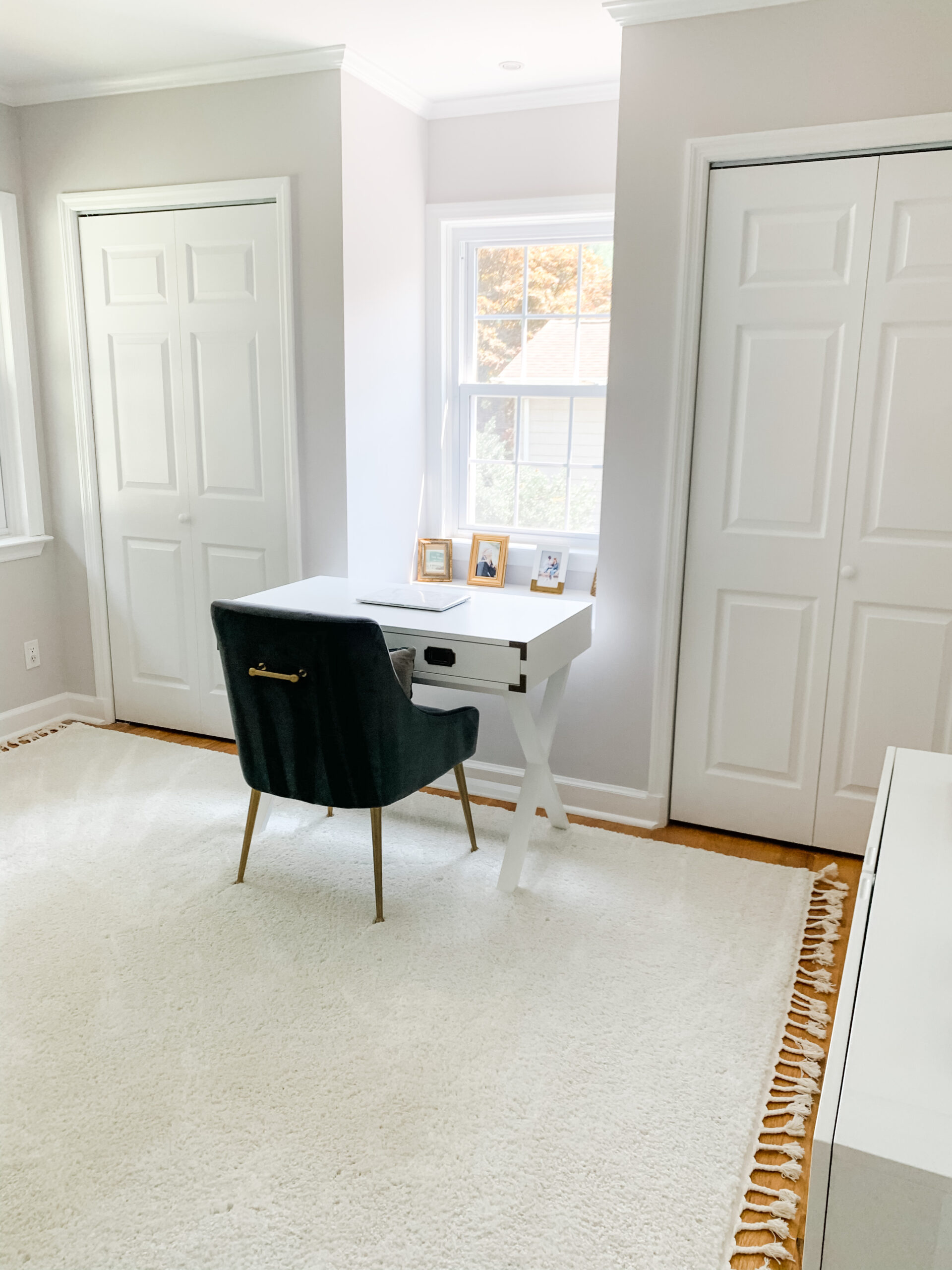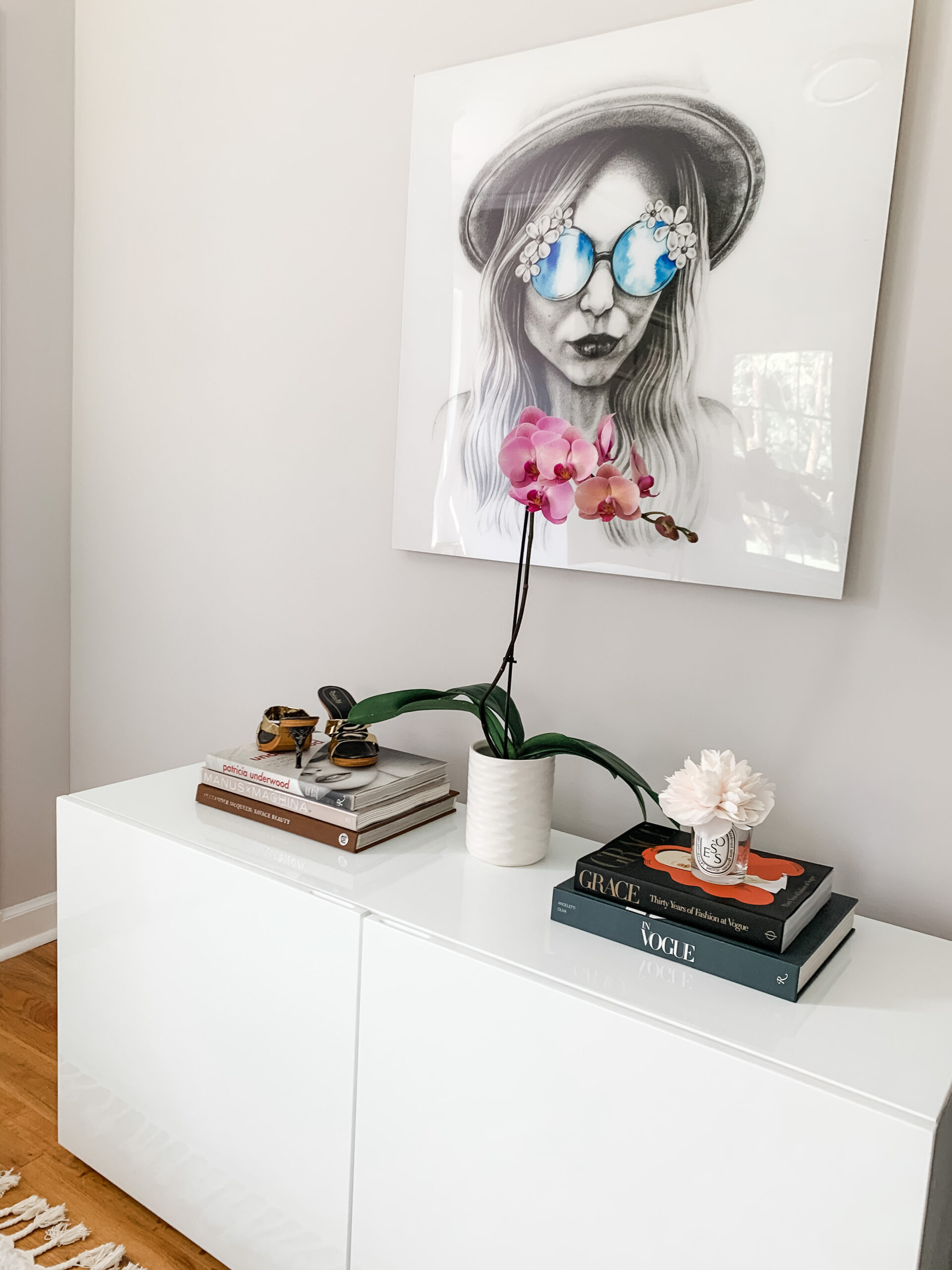 RACK: Amazon
SHELVES: West Elm
CONSOLE: CB2
RUG: Nourison (c/o)
DESK: Crate and Kids
CHAIR: Wayfair (similar here)
PAPER PEONY: Paper Floral Co. (c/o)
ART: Langley Fox (c/o)

MASTER BEDROOM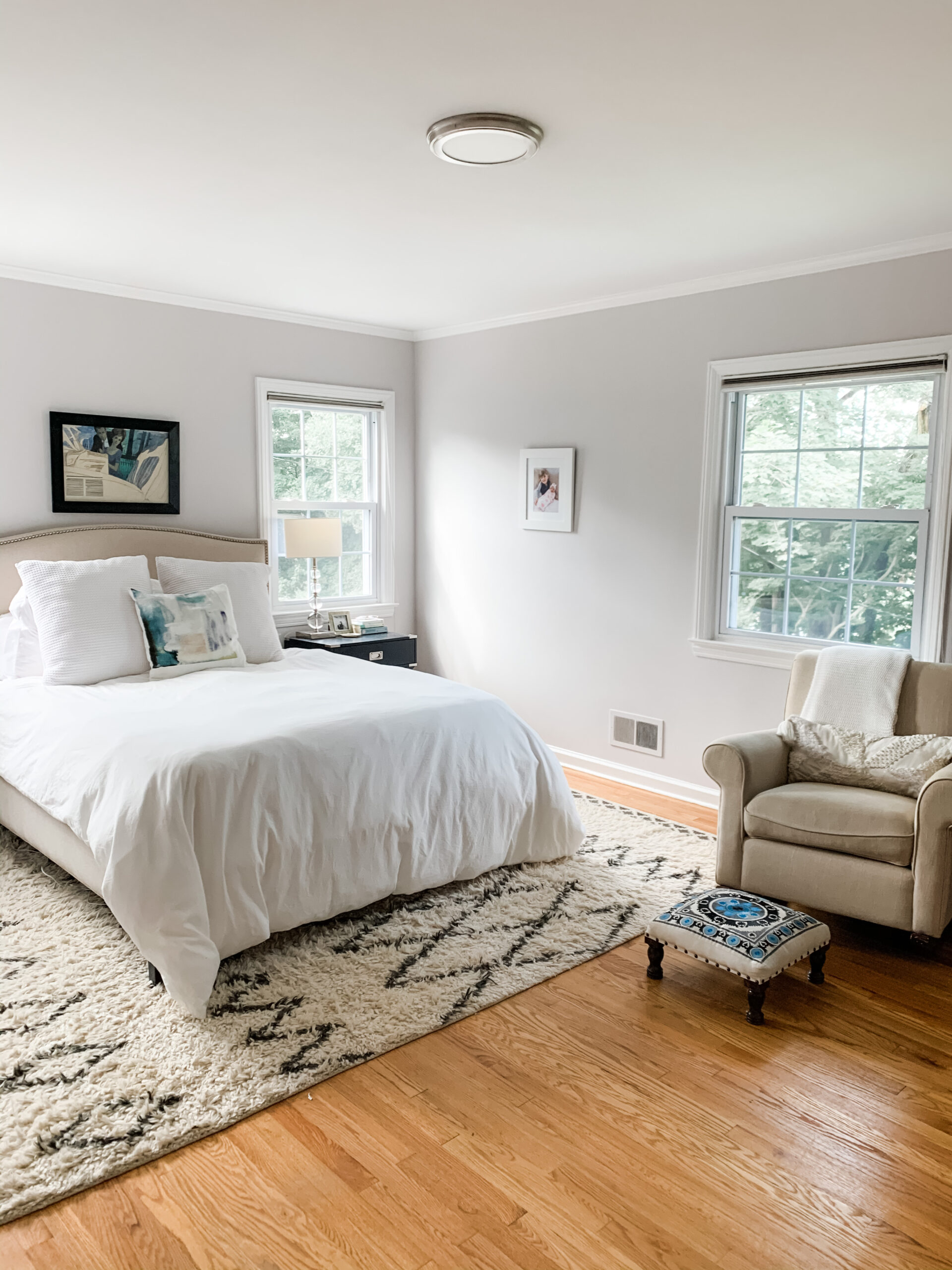 BEDDING: Boll and Branch (c/o) & Amazon
RUG: West Elm and similar from Nourison
THROW PILLOW (on bed) and THROW BLANKET: West Elm via Rent The Runway (c/o, use code RTRLIZT for a discount)
THROW PILLOW (on chair): Nourison (similar here) (c/o)
NIGHTSTANDS: Wayfair
LAMPS: Ikea
PHOTO: Michelle Rose Photo
ROCKER: similar here
FOOT STOOL: Homegoods
Our bedroom is unfortunately an afterthought when it comes to our decor. It's basically everything we had in our Brooklyn apartment, so I'm ready to redecorate, but we are making it work with an upgrade to our bedding for now.
The master is on the main level and is a suite with the office and bathroom, so while it must have turned off some buyers, it didn't bother us because we had a similar set up in Brooklyn. I moved the rocker from my son's room into this room so we have a quiet place to sit with the baby on this floor and I actually love it in here and my husband likes to throw his clothes on it too.
I would NOT recommend the rug I have in here—it shed for months and clogged my vacuum cleaner. It's also not the softest, so I'm linking a similar rug that's more affordable and will spare you that headache!
TODDLER BOY'S ROOM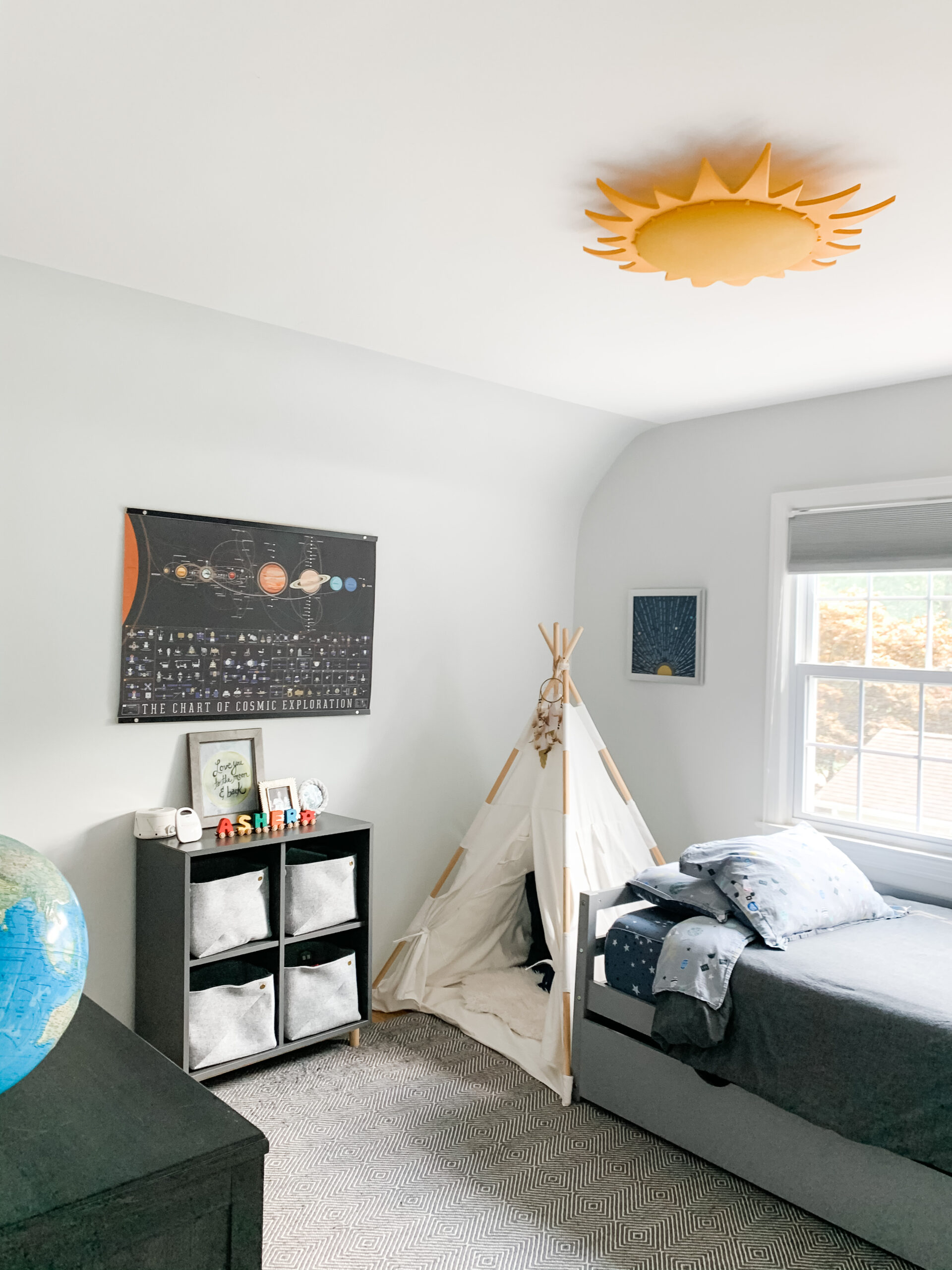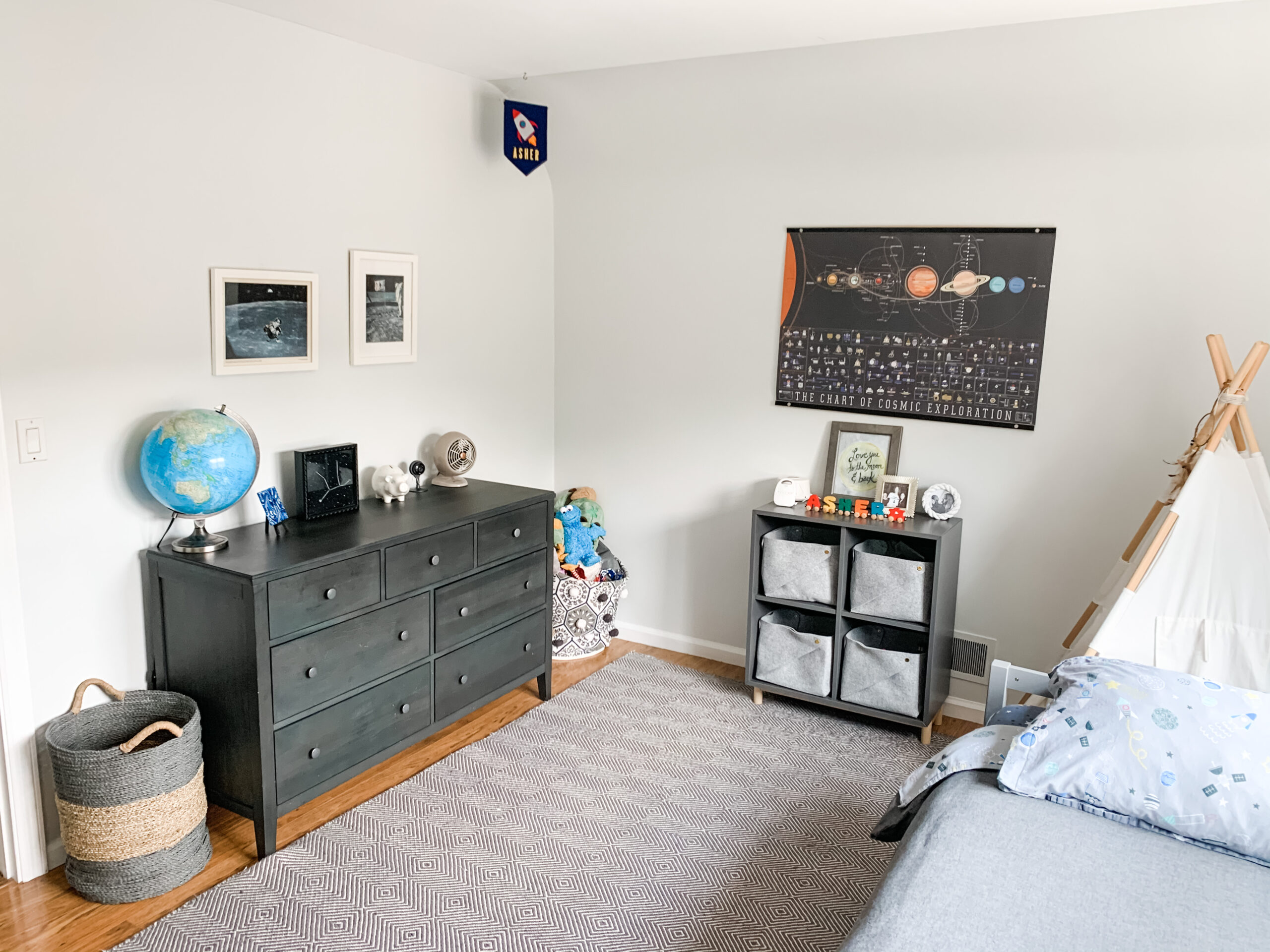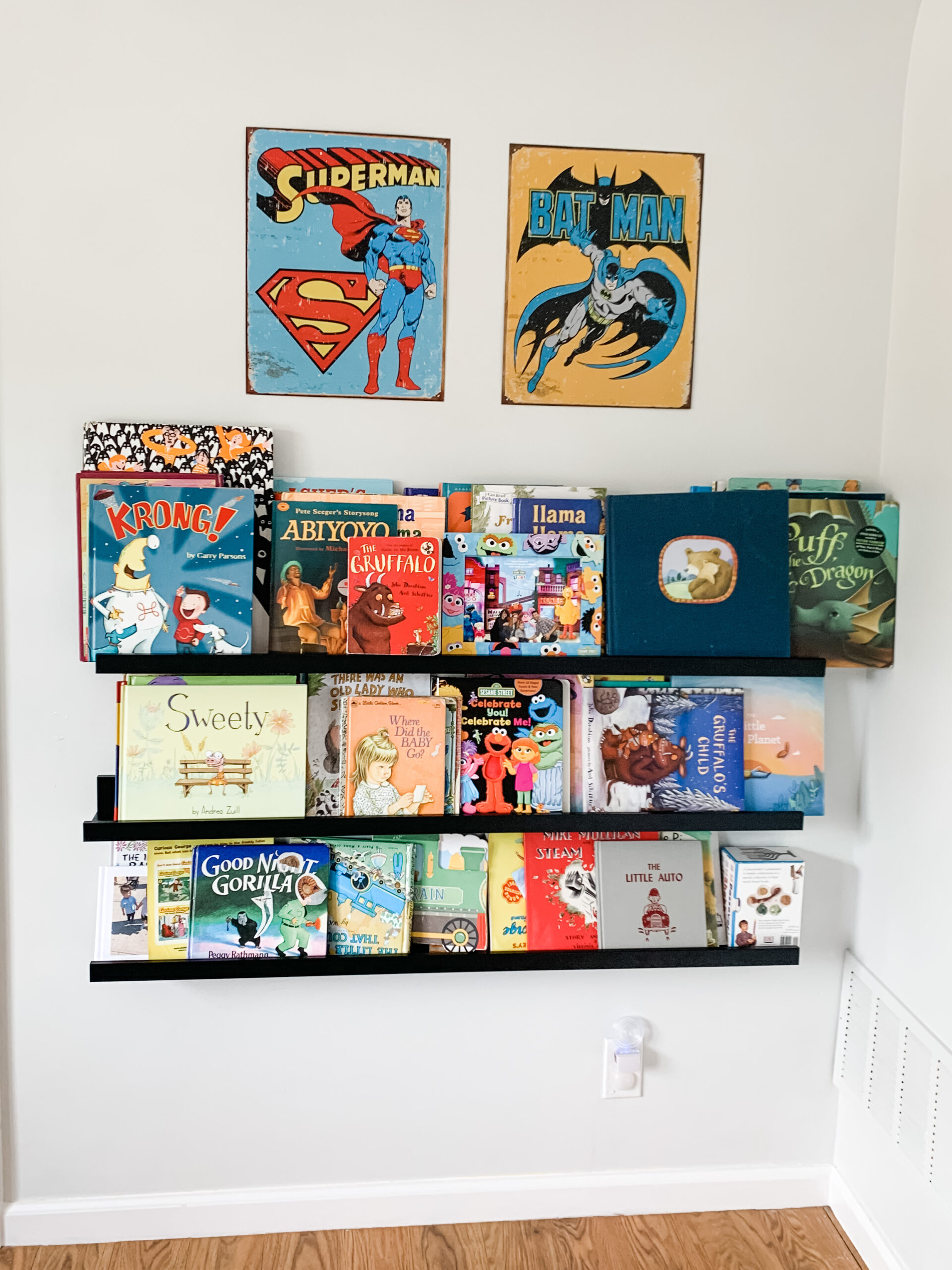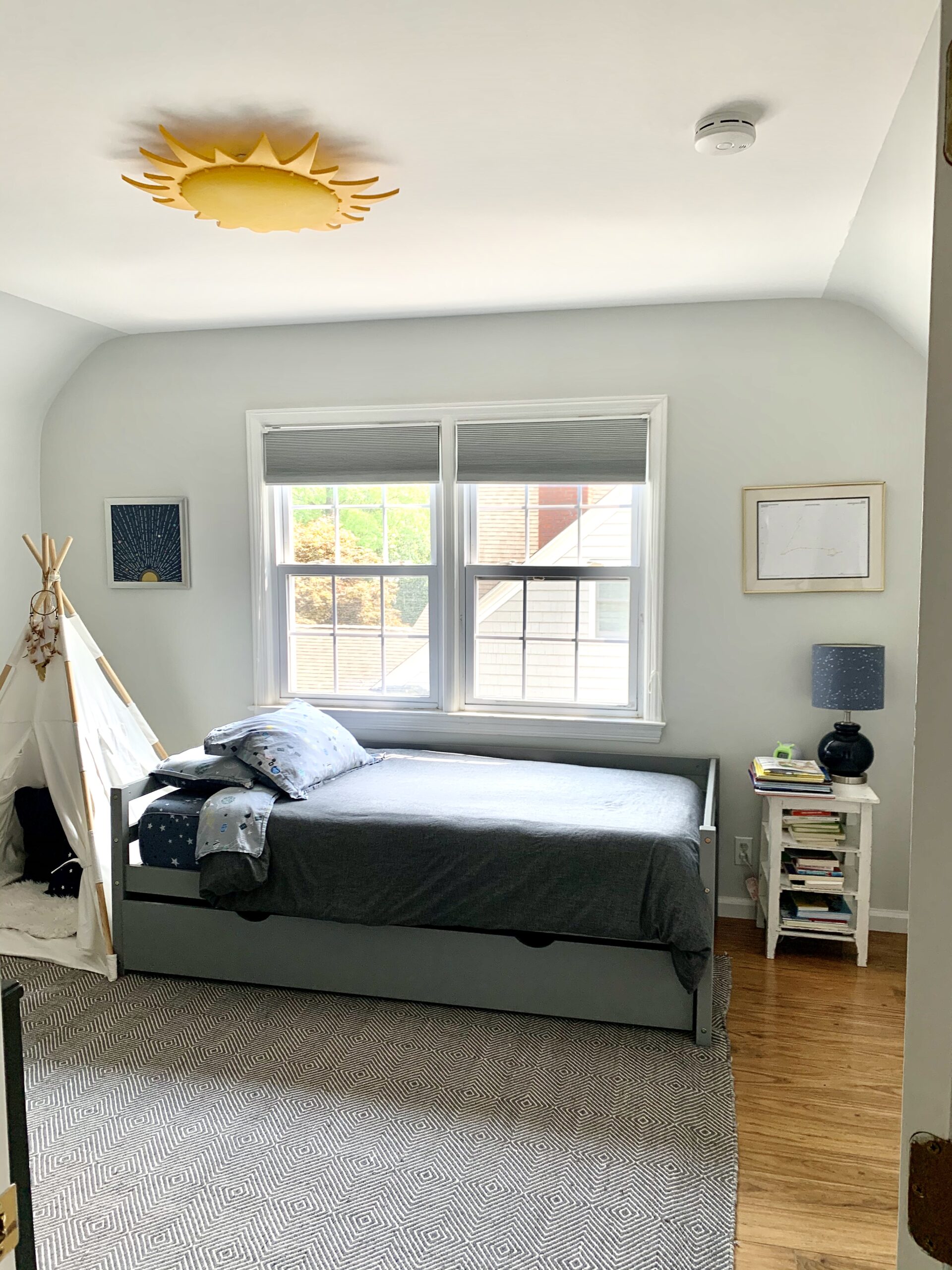 TRUNDLE BED: Amazon
TEEPEE: Tazz Toys
RUG: found on Gilt, similar here
SUN LIGHT FIXTURE: From previous owner! Similar here
BOOK SHELVES and CUBBY / BINS: all Ikea 
SUPER HERO POSTERS, MOON ART, NIGHTSTAND: all vintage (sorry!)
GLOBE: Crate and Kids
FAN: Vornado https://bit.ly/35EkKXJ
LAMP: Crate and Kids (similar here)
DRESSER: Crate and Kids (similar here)
BASKETS: Marshalls / Homegoods
SUN ART: Flower Home Kids by Drew Barrymore (c/o)
SPACE POSTER: Pop Art
PIGGY BANK: Tiffany & Co
CUSTOM ROCKET SHIP BANNER: Love From Brooklyn (c/o)
SPACE SHEETS: Brandream
DUVET: Sormag
My son's room has to be one of the best and most complete rooms in the house. I'm so happy with how it turned out and he loves it too. It worked out perfectly that the previous owner left the sun light fixture for our space-themed room. This was the only room in the house I had to paint because it was yellow and purple (gross) and I much prefer this dreamy gray (Benjamin Moore Horizon), which is what we had in his room in our apartment.
My father was an aerospace engineer and worked on the lunar module, so he was kind enough to let me have the moon pictures that he had hanging in his office for my whole life, and I reframed them to fit the room better. My son now has an affinity for all things space and knows all of the planets and more!
GUEST ROOM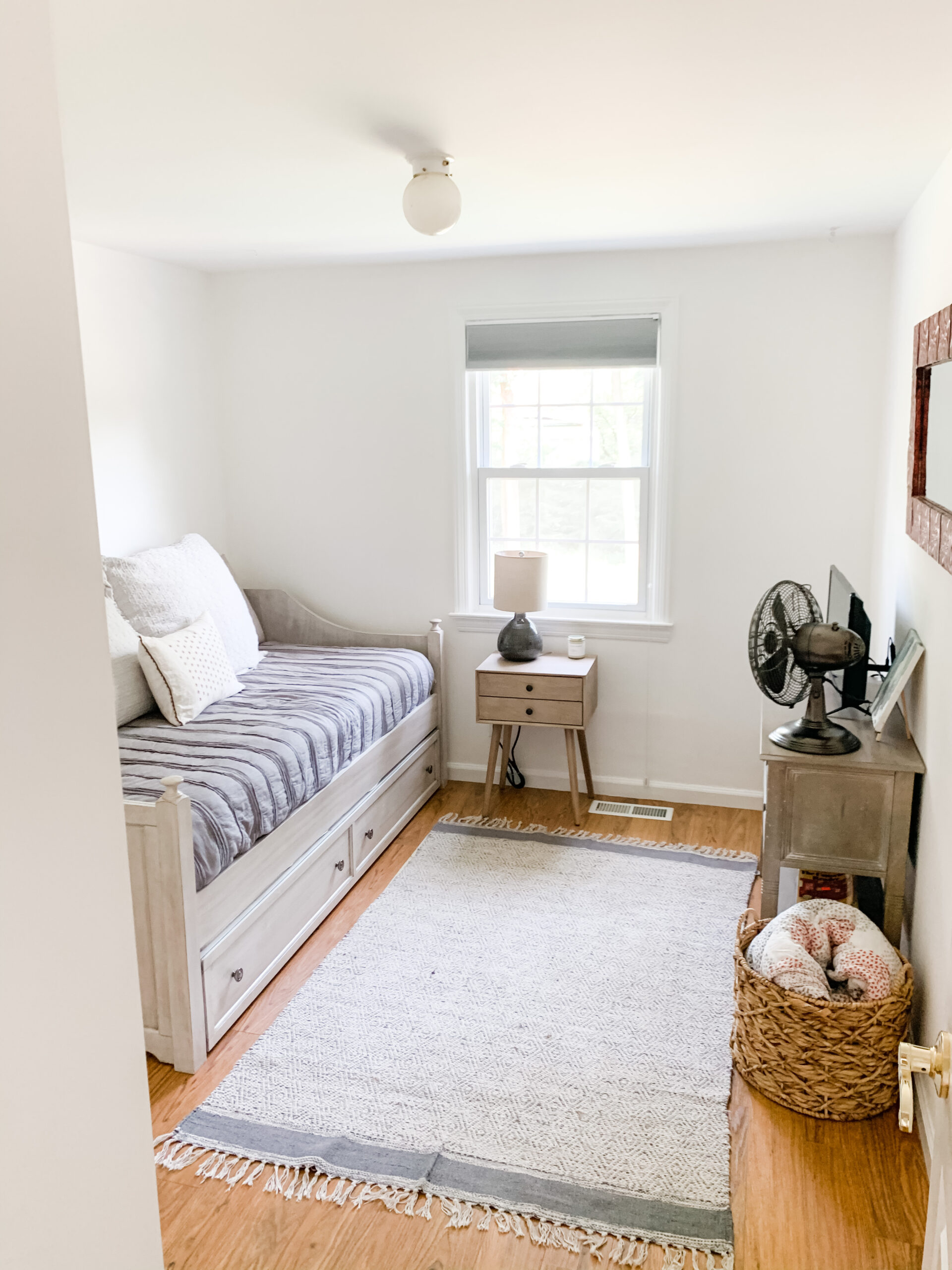 RUG, BASKET, LAMP, NIGHTSTAND and DRESSER: All Marshalls/Homegoods
MIRROR: Olde Good Things
The guest room came together in basically one shopping trip to my favorite Marshalls/Homegoods locally. My mother-in-law was moving in with us temporarily when the baby arrived in April, so I had to get it done quickly (and affordably). There's nothing like shopping under pressure and it was actually great to "style out" the room in one store. The bed was a quick game time decision as well, but it worked out perfectly and accommodates an extra guest with a trundle bed underneath. The mirror was my first big purchase with my husband when we moved in together over a decade ago!
NURSERY / GIRLS ROOM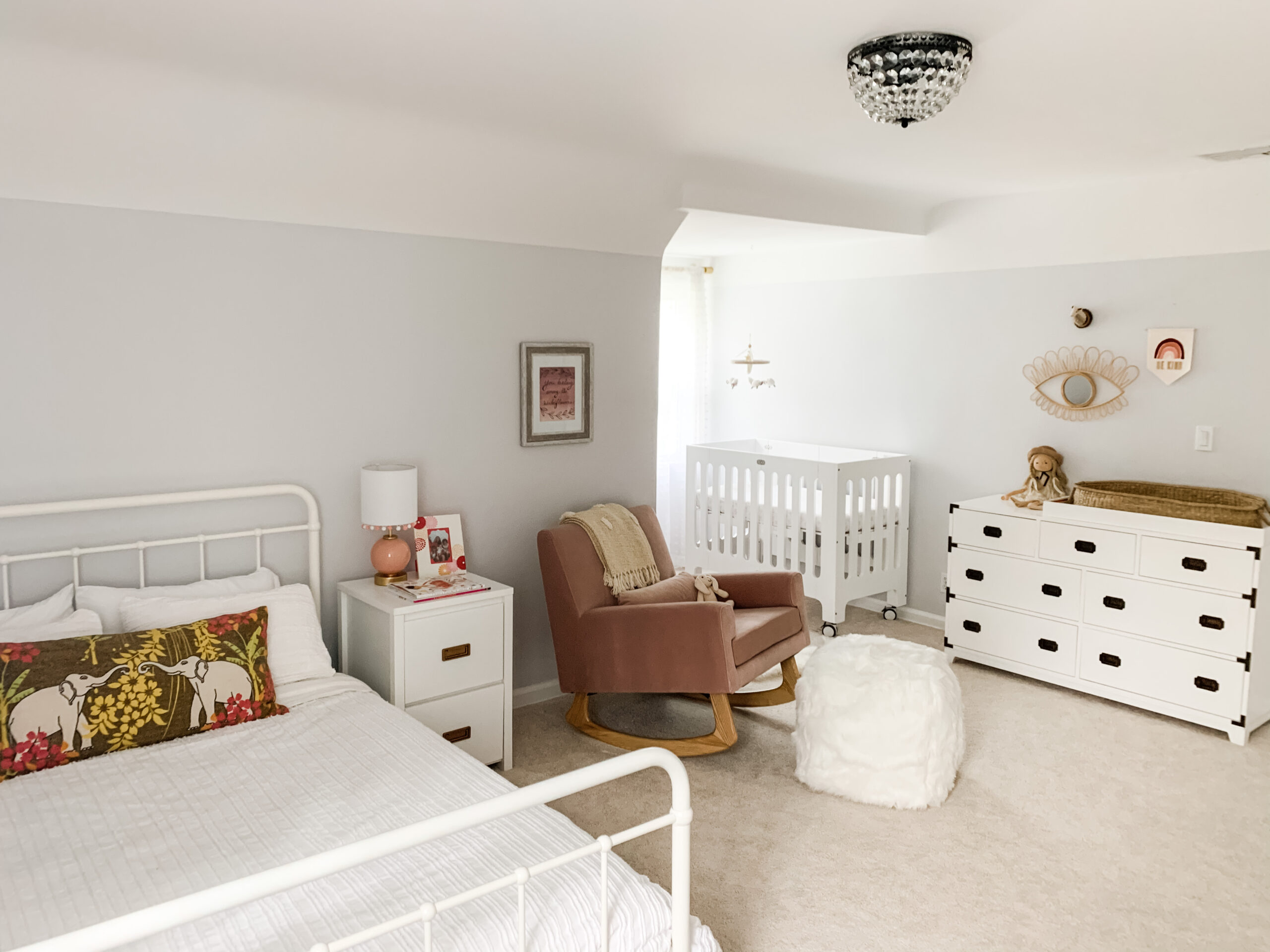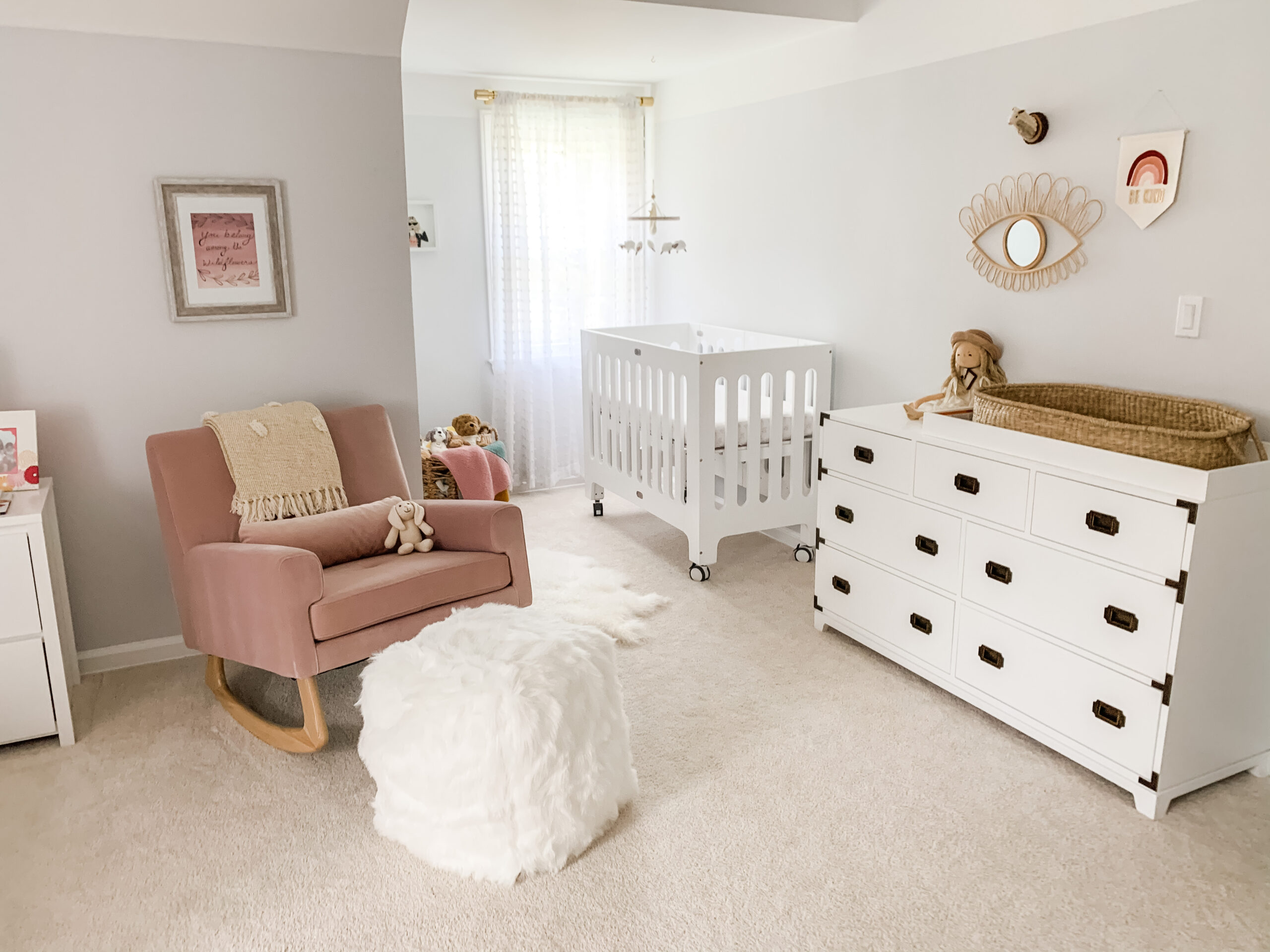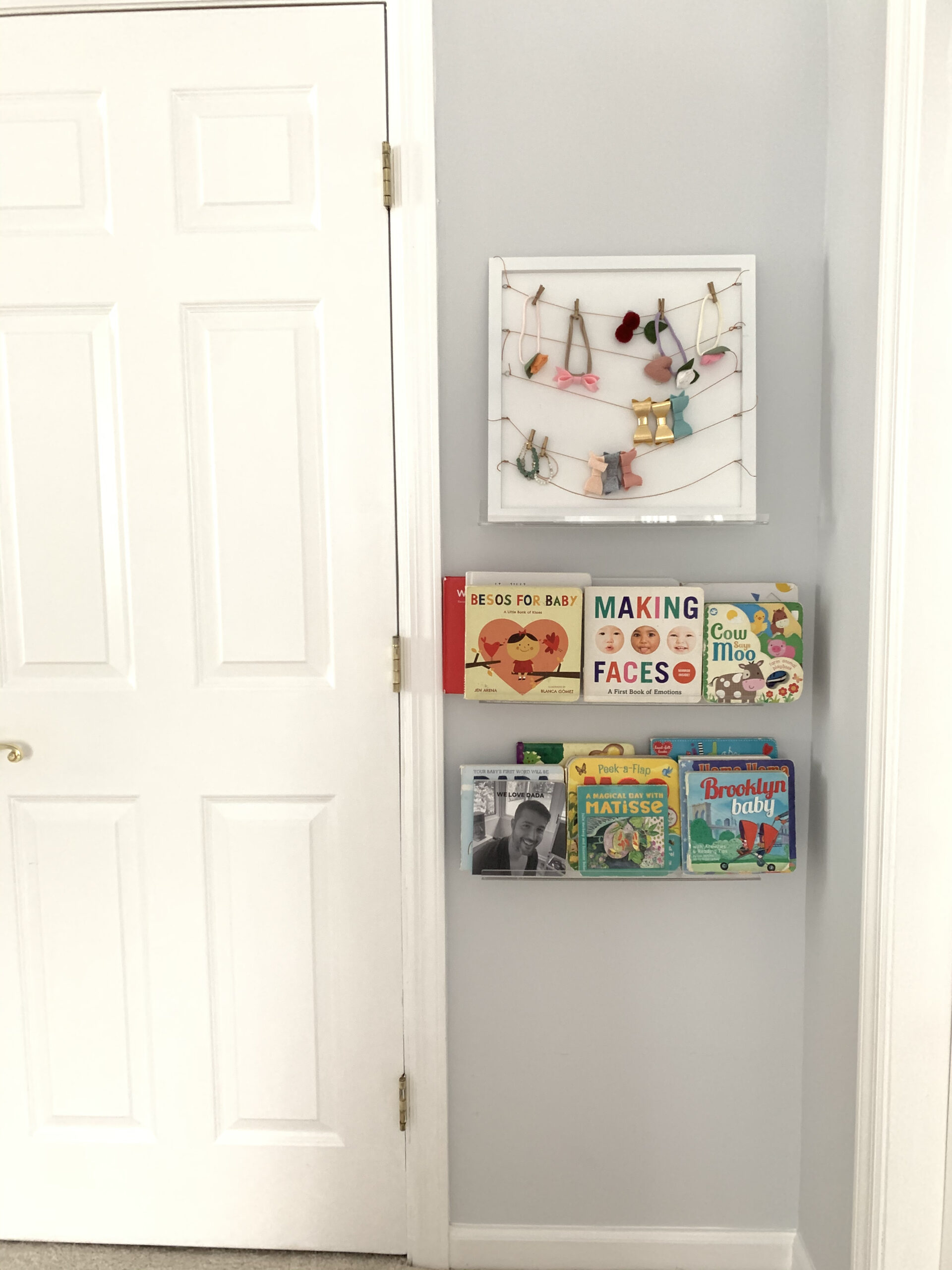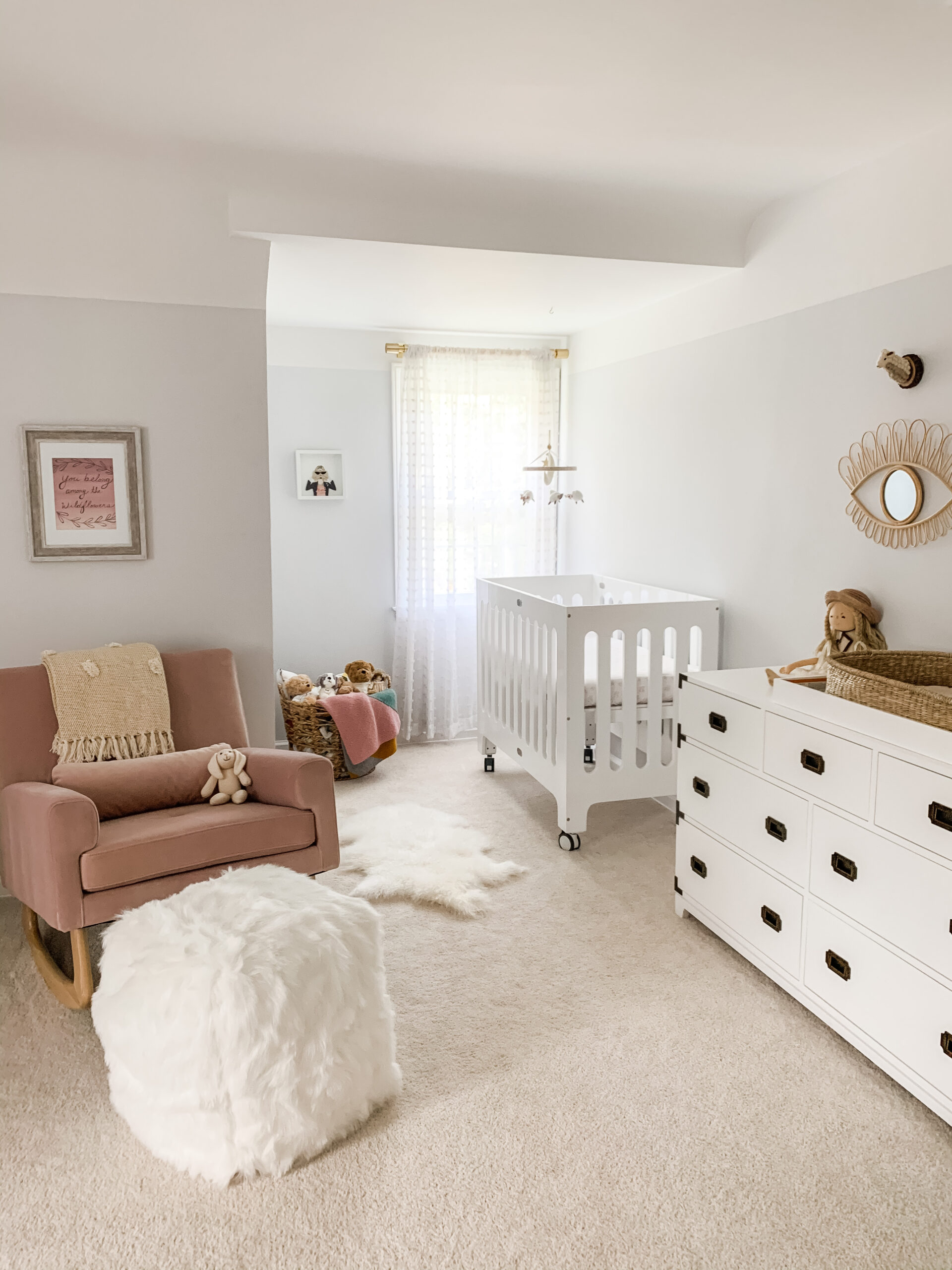 BEDDING: Marshalls/Homegoods
LUMBAR PILLOW (ON BED): Nourison (c/o)
POUF: Nourison (c/o)
THROW BLANKET: Nourison (c/o)
SHEEPSKIN RUG: Nourison  (and in beige here) (c/o)
CRIB, MATTRESS AND SHEET: Bloom (c/o)
NIGHTSTAND: Little Seeds
DRESSER: Crate and Kids
CHANGING TOPPER: Crate and Kids
LAMP, BASKET, CURTAINS: Marshalls/Homegoods
CURTAIN RODS: West Elm
CHANGING BASKET: Bebe Bask (c/o)
DOLL: vintage (mine from when I was a kid!)
MIRROR: sold out, similar here
MOBILE AND BANNER: Love From Brooklyn
ROCKING CHAIR: Nurseryworks 
BOOK SHELVES: Amazon (sold out, but same size and style here)
The nursery came together rather quickly as well. It's actually the original master bedroom, but we opted for the suite downstairs, so lucky for my daughter, she has the biggest room in the house. Not so lucky for her, she gets to share it with guests that stay over, because it's the most comfortable bed (a Casper!) and room. The carpeting and light fixture came with the room and I may eventually change it out, but for now, it works.
I based the decor around our crib and therefore wanted to keep it white and bright, as it's actually one of the darkest rooms in the house. I love how the pillows, throw, and sheepskin soften it all up, making it the coziest room in the house—and somehow we all gravitate towards spending time in there often.
Thanks for reading about my labor of love! Which is your favorite room in my virtual house tour??
Thank you to Nourison for partnering with me on this project! What I chose to feature and include is 100% my own choice.