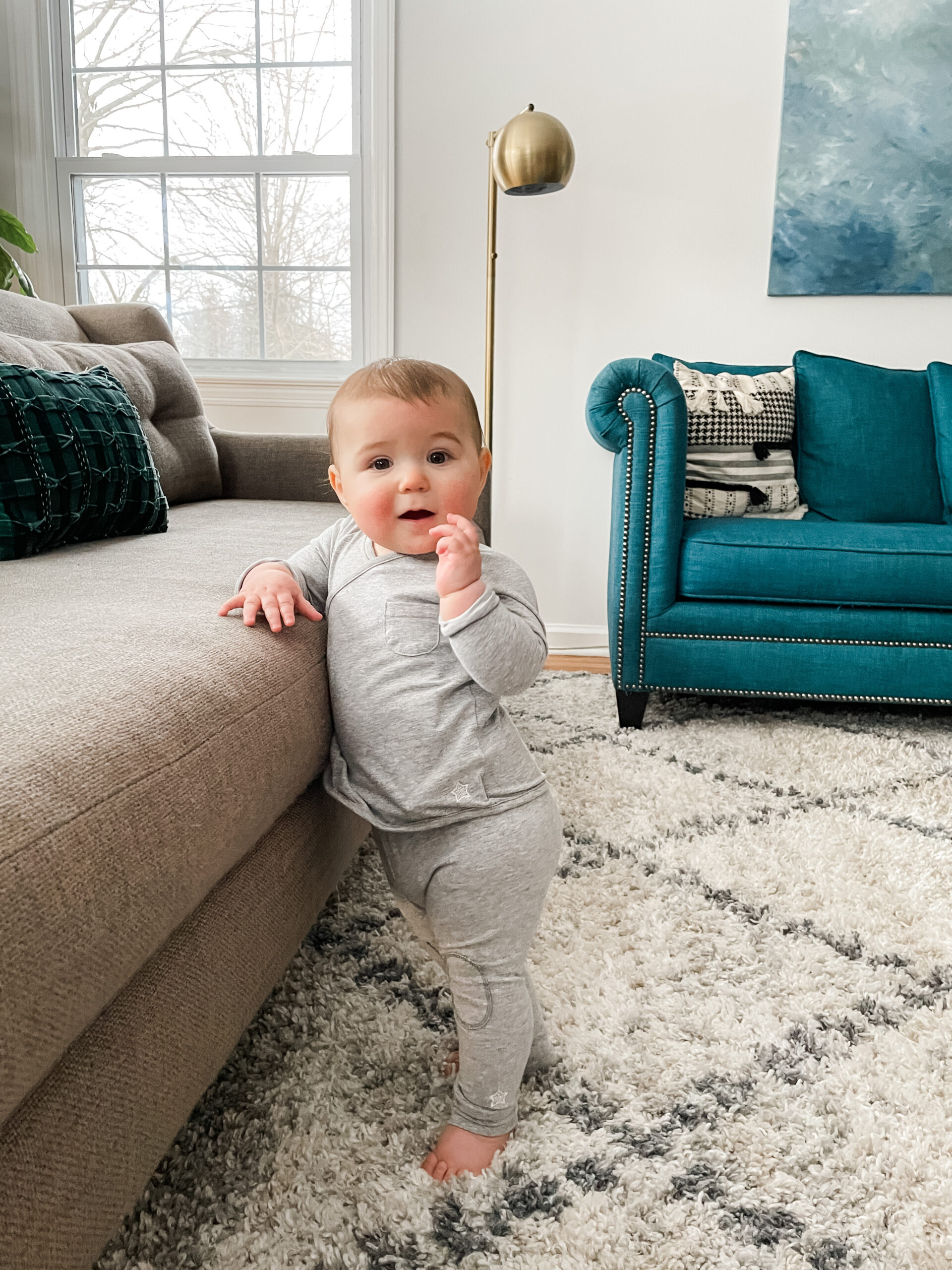 Another mom with a baby around the same age asked me today for baby proofing tips or a resource for tips and I realized this post was needed for all of us mamas who find ourselves in a panic at those impending first steps.
UH-OH. One day your baby just turns into a toddler out of no where and then you find yourself scrambling to make things safe in your home for them. The fact is, they're going to get hurt. It's part of the process. We just want to make sure they're little bumps and not big injuries.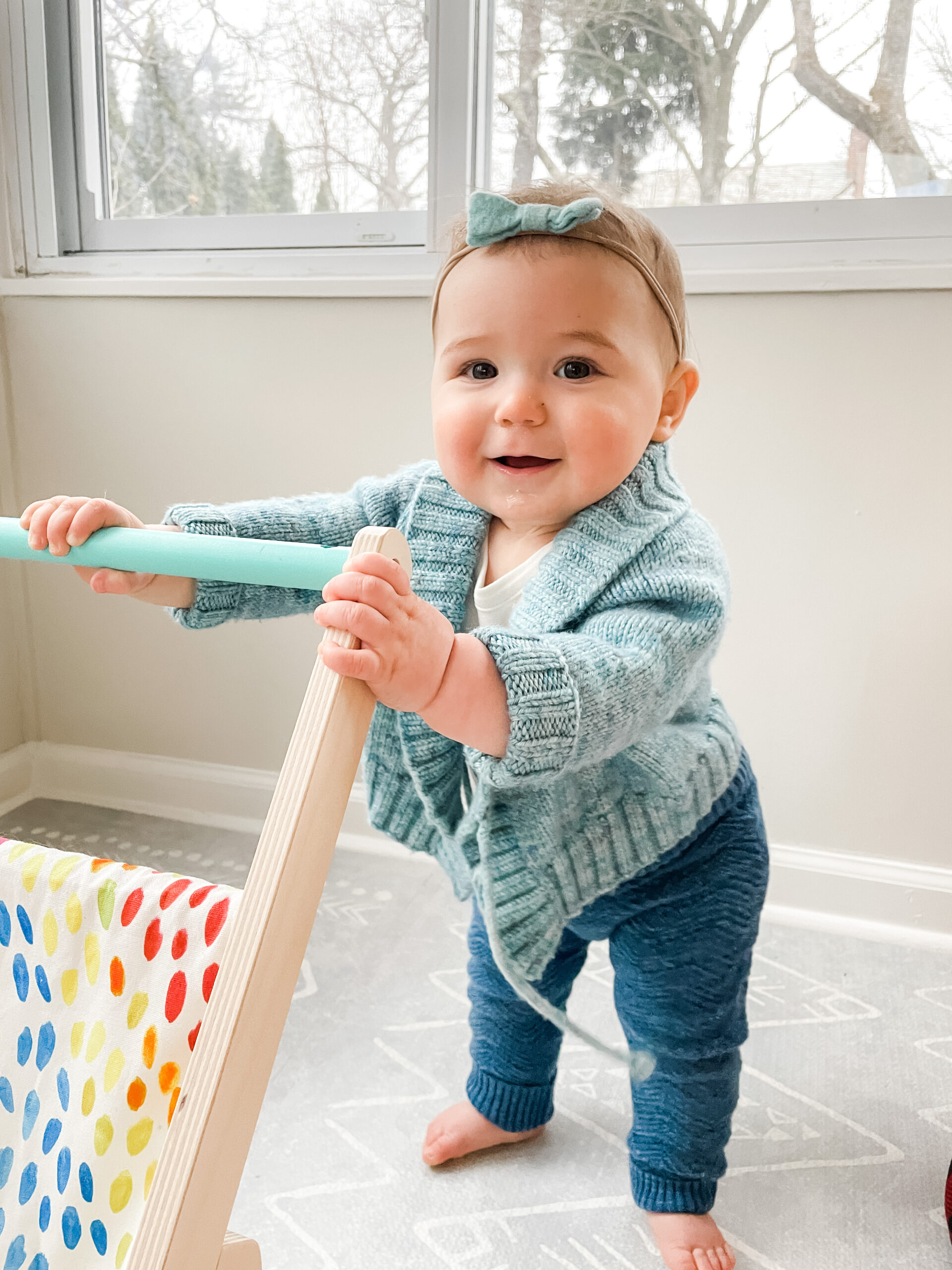 A little disclaimer: I'm NOT an expert, but I am a mom of two who's lived in an apartment with one baby and now a house with another. I've had a little bit of experience and I've seen what has worked and what's unnecessary (toilet seat locks for instance…just shut the bathroom door if you can).
Also note, we got rid of a ton of "unsafe" furniture with my son because he is quite accident prone. In fact, most kids will find a way to injure themselves on something you'd never expect. My sister baby proofed her rectangular glass coffee table with padding like this all around and guess what? Her son went underneath, broke through the glass and had to get stitches. (He's fine and just got accepted to his dream college, so all good!).
Here are my BABY PROOFING TIPS for the minimalist mama (or at least a parent who likes to have a nice looking home!):
GATES
This top of the stairs gate was the most highly rated gate I found (and recommended by my followers on Instagram) and after having buyers remorse on our previous gate (and happily gifted to the new owners of our apartment). This one is so strong that I'm not in fear when she's hanging on it like I was with my son on our old one.
A retractable gate is a great way to keep them contained safely in a room. We plan on using this retractable gate for the baby's room instead of a gate at the top of the stairs so that way my son can go up and down the stairs easily.
We never did a gate at bottom of the stairs for my son and to be honest, the top of the stairs gate wasn't used for long. He was walking at a year and by maybe 18 months we stopped closing the gate because we were worried he'd try to climb over it. With this strong kid, it was safer for us to teach him how to use the stairs, rather than living in fear about them.
We currently use a foldable gate like this one to enclose a play area for the baby. When we were in our apartment, I actually loathed it because it took up so much space, but my sitter loved it to keep my son out of the kitchen and stairs areas. Now it keeps the baby's play area separated from where my son plays to avoid any choking hazards when I'm not looking. It actually keeps my 3.5 year old penned in because he loves sitting in the area with her.
When I need to run to another room or even while we eat dinner and the baby wants to play, I have loved having this affordable pack-n-play / playard to put her in. It also comes in handy for travel because it's SO light and compact. We even take it outside! I  wrote about it more here when I first got it.
KITCHEN
I also am big on living minimally and aesthetically pleasing. Kids definitely throw a curveball in those plans, but instead of those eye-sore loops over cabinet doors, I discovered these magnetic locks for cabinets that are hidden. They're a game changer, but be warned, you may need to stock up on extras because we had some guests that weren't aware they were installed and used all their force to open the cabinets.
Stove knob covers are something I kept saying I needed to get the first time around, but never did. This time I likely will because I can't watch both kids with eagle eyes.
FURNITURE
There's nothing more gratifying than going around to all the sharp edges of your home with these clear corner protectors. I had L shape ones the first time around and somehow my son always ended up with them in his mouth. These seem to stay put and I put them all over my home, yet they look like they're part of the house.
If you don't plan on mounting your TV (which we did last time), then strapping it to the wall or to the stand is a great option in case it falls over.
Some furniture comes with these wall anchors nowadays, but it's a good idea to strap down any furniture that could fall over like dressers and bookcases (I'm planning on tying them directly around my open bookshelves).
OUTLETS
If I didn't have so many outlets to change out or if I had the time/patience, these outlet covers are something I'd love to have all over my home. Alas, I'm not that ambitious and decided that these affordable outlet plugs did the trick. The thing I like about these is that they have a grip. I have ones from the first time around that are flat, which are good in theory, but there were too many casualties with my nails thanks to them. Also note it's good to stock up on them. We brought them to the grandparents' and also when we travel!
BATHROOM
This seems like something for your kid, but this bath spout cover is incredibly helpful at preventing injury during bath time.
I found this textured baby bath mat to be the best one for avoiding slipping. It's also aesthetically pleasing when you hang it to avoid mildew (we use these bath/shower hooks).
I didn't find this toilet seat lock necessary because we just kept the bathroom door closed, but make sure you either are able to do that or get one of these toilet seat locks last time because babies can drown in toilets.
FIREPLACE SCREENS
If you're fortunate enough to have a fireplace, this one may seem obvious, but in case you haven't gotten one yet, this affordable fire place screen actually has been quite sturdy and helpful.
DOORS
Door knob covers are a great way to keep doors closed that you don't want a toddler to enter, or even lock themselves in. We ended up turning our doorknobs around to avoid this issue with my son.
CRIB
Keep crib away from windows, canopies, wall hangings/art, decor, lamps and heaters and the recommendation is no bumpers/blankets (use a sleep sack) and if your baby is sitting/pulling up, it's time to drop the crib lower! In the case they are planking at the rails of the crib like those little escape artists may do, you may need to drop the mattress completely to the floor.
WINDOWS
This totally didn't occur to me until I had kids, but now I only buy cordless blinds. Unfortunately my new home came with blinds with cords, which are a major strangulation hazard for children. Good news is that if you have these kind of blinds,  the Window Covering Safety Council will help you child proof your cord blinds at no cost! There are also these cord safety wraps if you must keep your cord as is in a rental.
You may also want to consider a window stop for your windows like this one.
OTHER THINGS TO MAKE SURE OF
Put non-slip pads under all rugs
You have smoke alarms and extinguishers on every floor
Buy a first aid kit / assemble one
Make sure you locate your local urgent care that takes your insurance
Put your pediatrician's info, as well as the baby's info somewhere visible for caregivers to see (I keep info taped to inside my kitchen cabinet)
Make sure any exposed nuts/bolts are tightened and radiator latches are secure (one broke off and was in my baby's mouth yesterday—EEK!)
Check for lead paint if you haven't already
Keep baby either barefoot or wearing good walking shoes when they're first learning how to walk.
Check radiators and cover if they may be too hot to touch
Check your home and yard for poisonous plants and make sure they are not accessible to your baby
Put a thick rug/padding under changing table in case of falls
Keep household products/cleaners locked in cabinets and better yet, high up away from baby's reach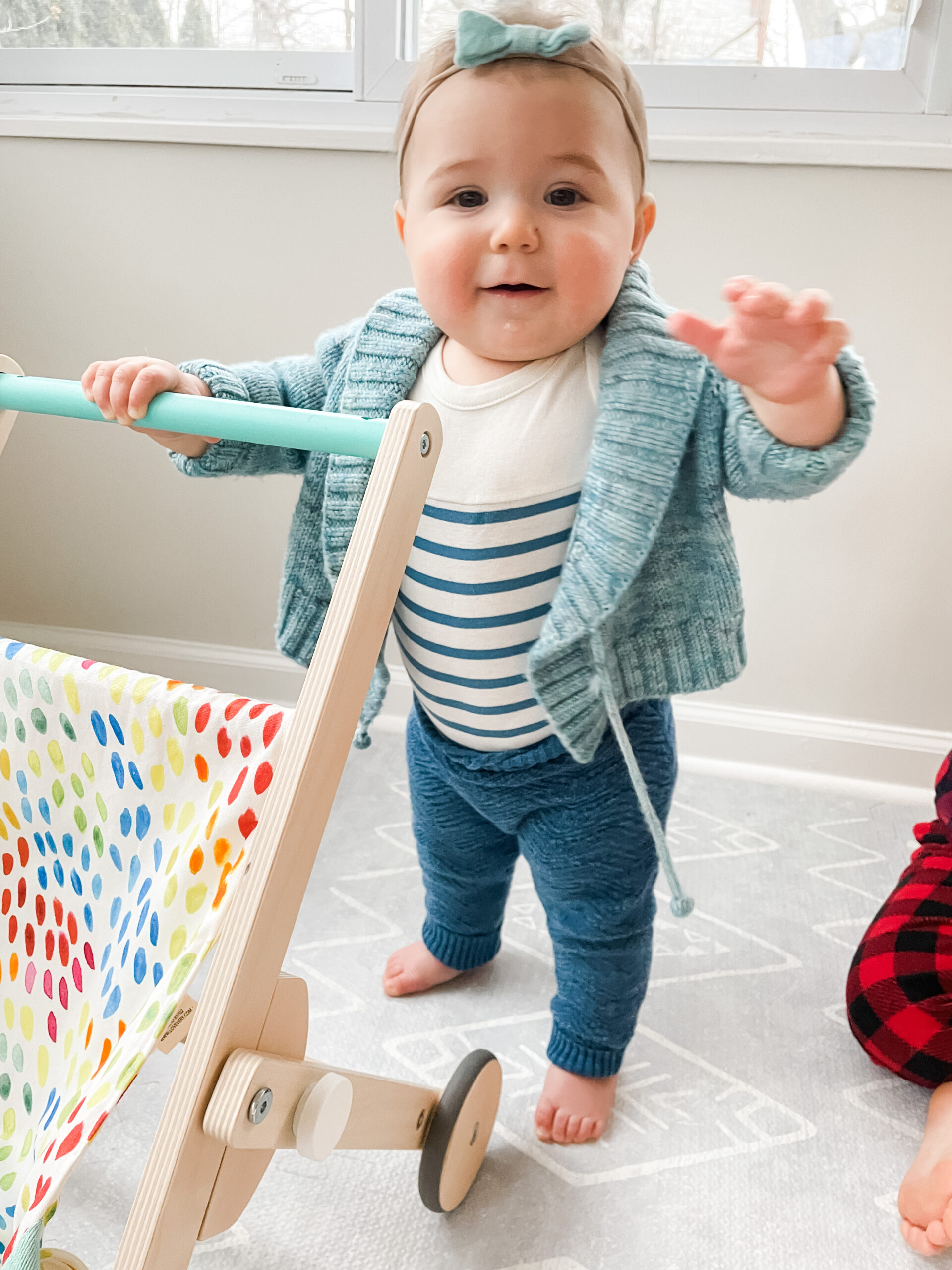 Evening Star Baby GREY SET and BRETON STRIPE ONESIE c/o (use code LIZ15 for 15% off) | Misha & Puff CARDIGAN and KNIT PANTS
I'd love to hear what you found helpful for baby-proofing. Please comment or DM me with anything that's working / not working for you and I'll continue to update this list. xLiz