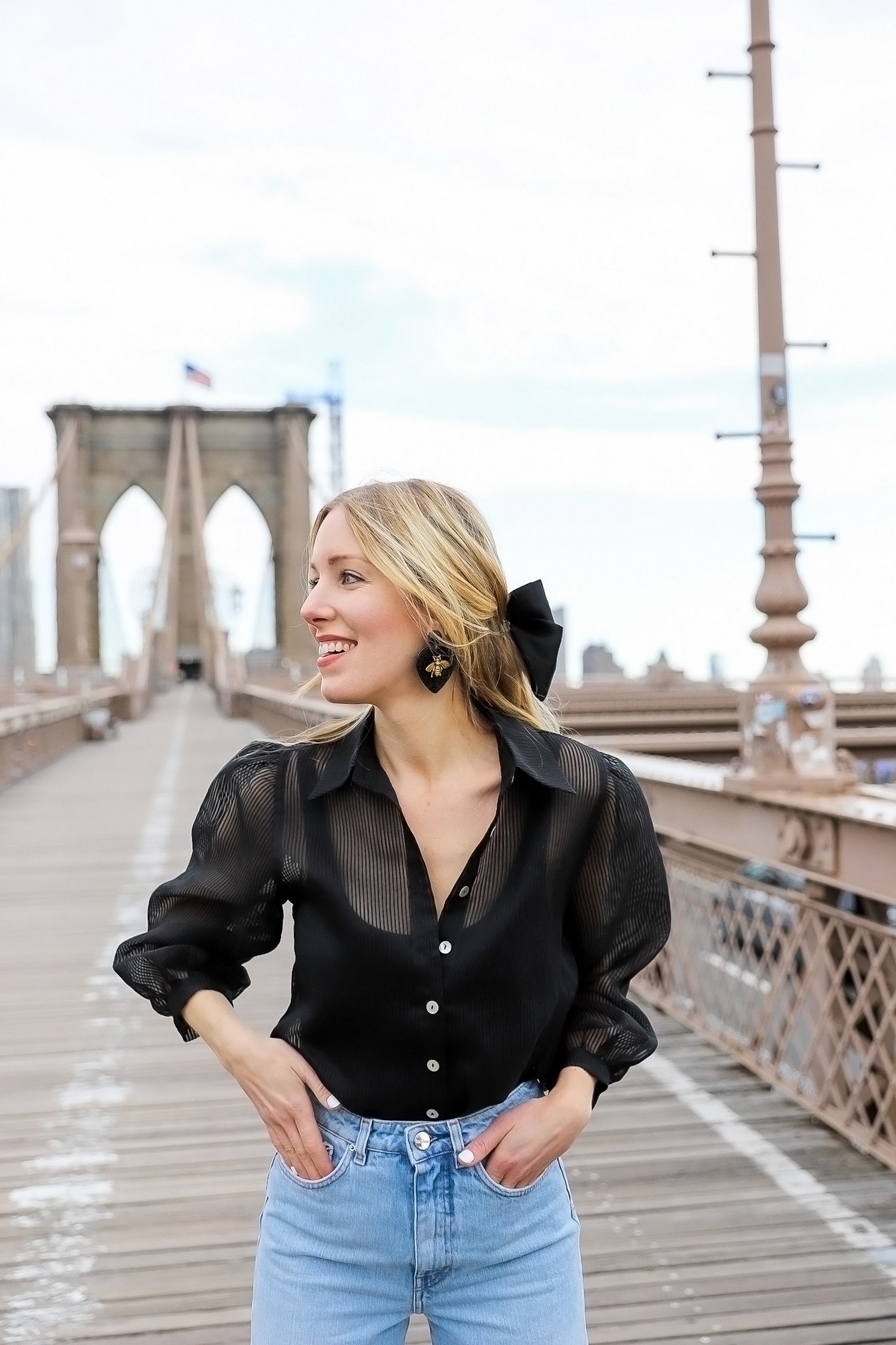 It's crazy to think that I once used to go by The Brooklyn Stylist, and I was trying to get everyone I know to move to Brooklyn with me over a decade ago. Now here I am, a year or so of living in the 'burbs of NYC, I'm excited to be a tourist in my former city, sharing where here to eat, drink, shop and stay in Brooklyn and more!
We took our first solo vacation in over 2 years recently and while it was only a one night "staycation," it was glorious! Now I'm sharing ALL of my favorite spots in Brooklyn in case you want to do the same and if you have more time to explore, make sure you WALK everywhere. It's our favorite thing to do there.
Here's our recent staycation itinerary:
Stay at One Hotel Brooklyn
Drinks at Clover Club (the best bar in Brooklyn in my opinion)
Dinner at Michelin-star-rated La Vara
Coffee at the hotel and walk over the Brooklyn Bridge (before all of the tourists arrive)
Brunch at East One
It was quick, but perfect.
Please note that I focused more on South Brooklyn, where I lived for 12 years, as it's always going to have a special place in my heart. While I spent a lot of time in Williamsburg and that side of Brooklyn, and even got married there at My Moon, it's constantly changing, so I'm less familiar with what's over there these days—especially during the pandemic. I'd love to hear which of my recommendations you end up trying and loving.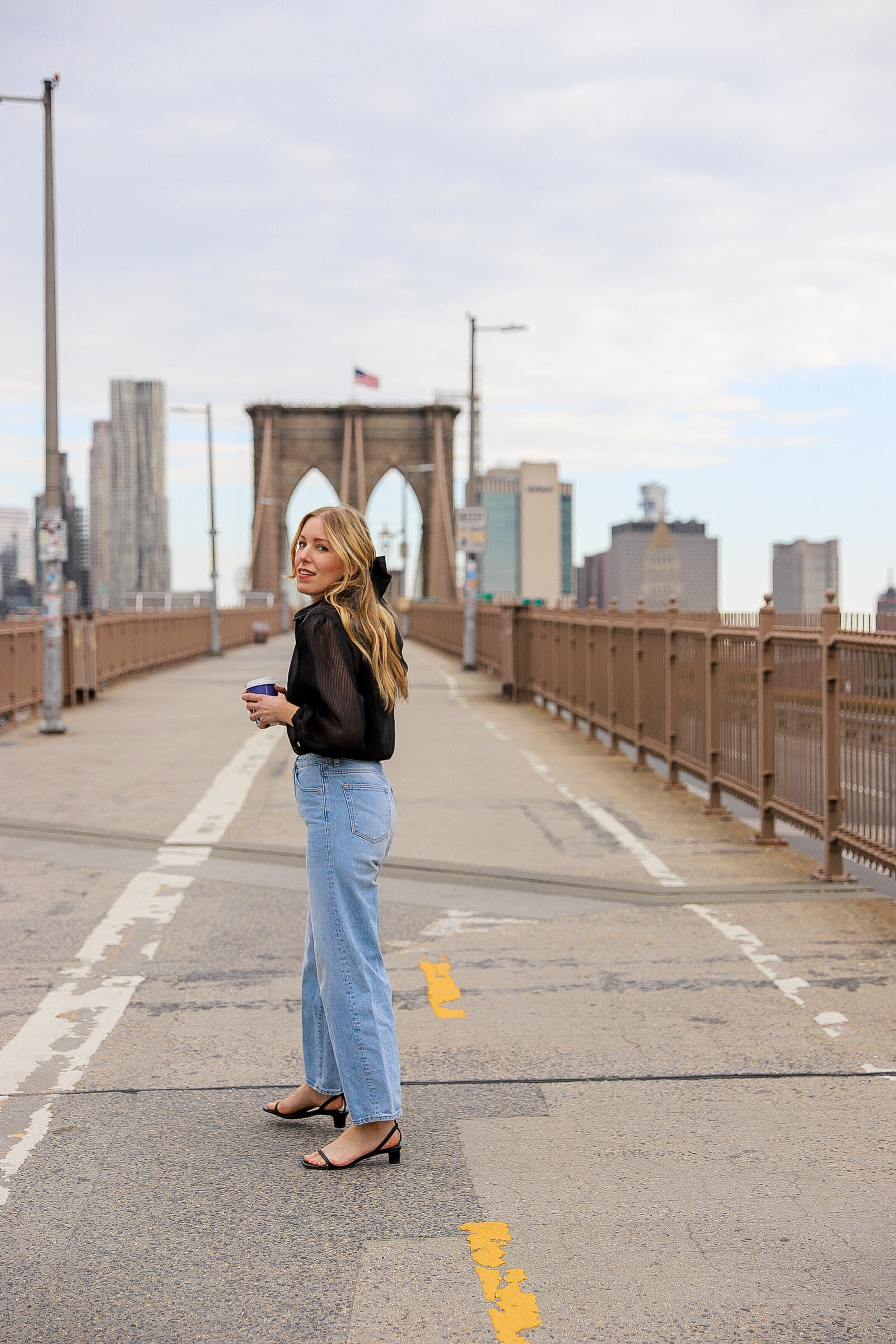 Top, hair bow, and earrings: LAUREN GABRIELSON (c/o) | Jeans: TOTEME via Rent The Runway (c/o, use code RTRLTEICH for 40% off your first two months) | Shoes: AND OTHER STORIES (c/o) | Bodysuit: Goldie (c/o, use code TEICH15 for 15% off through 5/31/2021)
Where to eat, drink, shop and stay in Brooklyn
(in BoCoCA, which is South Brooklyn or Boerum Hill / Cobble Hill / Carroll Gardens, as well as Downtown Brooklyn, DUMBO & Gowanus)
RESTAURANTS
La Vara
Ki Sushi
French Louie
Leyenda
Bar Tabac
HiHi Room
Black Forest
Cafe Luluc
Kittery
Frankie's 457 Spuntino
Buttermilk Channel
Rucola
Avlee
Layla Jones
Table 87 pizza
Lucali pizza (go at 4:45pm and put your name down and BYOB)
Grand Army
Colonie
Lobo
Bar Bete
Cafe Luluc (order the pancakes)
Ugly Baby
Claro
Dinosaur BBQ
Insa (get a karaoke room while there!)

COFFEE / PASTRIES
Bien Cuit
East One
Konditori
Blue Bottle
Planted
Stumptown
Mia's Bakery
The Chocolate Room
One Girl Cookies
Four & Twenty Blackbirds
BAGELS
Smith Street Bagels
SPECIALTY FOODS
Stinky Cheese
Court street grocers (my friend Eric owns)
Shelsky's
Fish Tales
Union Market
Brooklyn Fare
DELI
Mile End
BARS
Clover Club
Zombie Hut
Black Mountain Wine House
Frank's Wine Bar
Other Half Brewing Co
The Bell House
Park Life
Public Records
Pig Beach
Lavender Lake
ICE CREAM
Van Leeuwin
Ample Hills
Brooklyn Ice Cream Factory
WINE SHOP
Smith & Vine
Scotto's Wine Cella
Brooklyn Wine Exchange
SHOPPING
Article &
DNA Footwear
See Eyewear (mention me and you may get a discount)
Soula Shoes
Owl Tree Kids
Books Are Magic
Exit 9 Gift Shop
Brooklyn Circus
Yesterday's News Antiques
NAILS
PH7
Dashing Diva
FACIALS / BEAUTY PRODUCTS 
Tres Belle Spa
Shen Beauty
HAIR
Soon Beauty Lab (Mention me for a discount and ask for Megan)
FLORIST
Edelweiss
PLAYGROUNDS
Carroll Park
Cobble Hill Park
Henry Street (aka the Toy Graveyard)
St. Mary's Park on Smith Street
in PARK SLOPE
RESTAURANTS
Al Di LA
Miti Miti
COFFEE
Velvette Brew
in DUMBO / RED HOOK / WATERFRONT
RESTAURANTS
River Cafe
Fort Defiance
Vinegar Hill House
OTHER THINGS TO DO
Brooklyn Bridge Park
Jane's Carousel
Prospect Park
Farmer's Market at Prospect Park
Brooklyn Botanic Gardens
Brooklyn Museum
Old Stone Brooklyn House
Explore Vinegar Hill
Walk over the Brooklyn Bridge
Domino Park
Bathhouse Spa & Restaurant
WALK WALK WALK!!!!
OTHER PLACES RECOMMENDED BY YOU (Thank you for all your reco's via Instagram)
Noodle Puddle
Sociale
Della
Hamilton's
Ceno (Windsor Terrace)
Palo Santo (Park Slope)
L&B Pizza
Aurora
Setagaya
Bozu
12 Chairs
Gentile
Toby's Estate
WHERE TO STAY
One Hotel Brooklyn
Holiday Inn Brooklyn Downtown
New York Marriott at The Brooklyn Bridge
Nu Hotel Brooklyn
William Vale
The Wythe Hotel
Drop your favorite places and updates on openings / closings in the comments or email me them at info@thenewyorkstylist.com or DM them to me.  xLiz