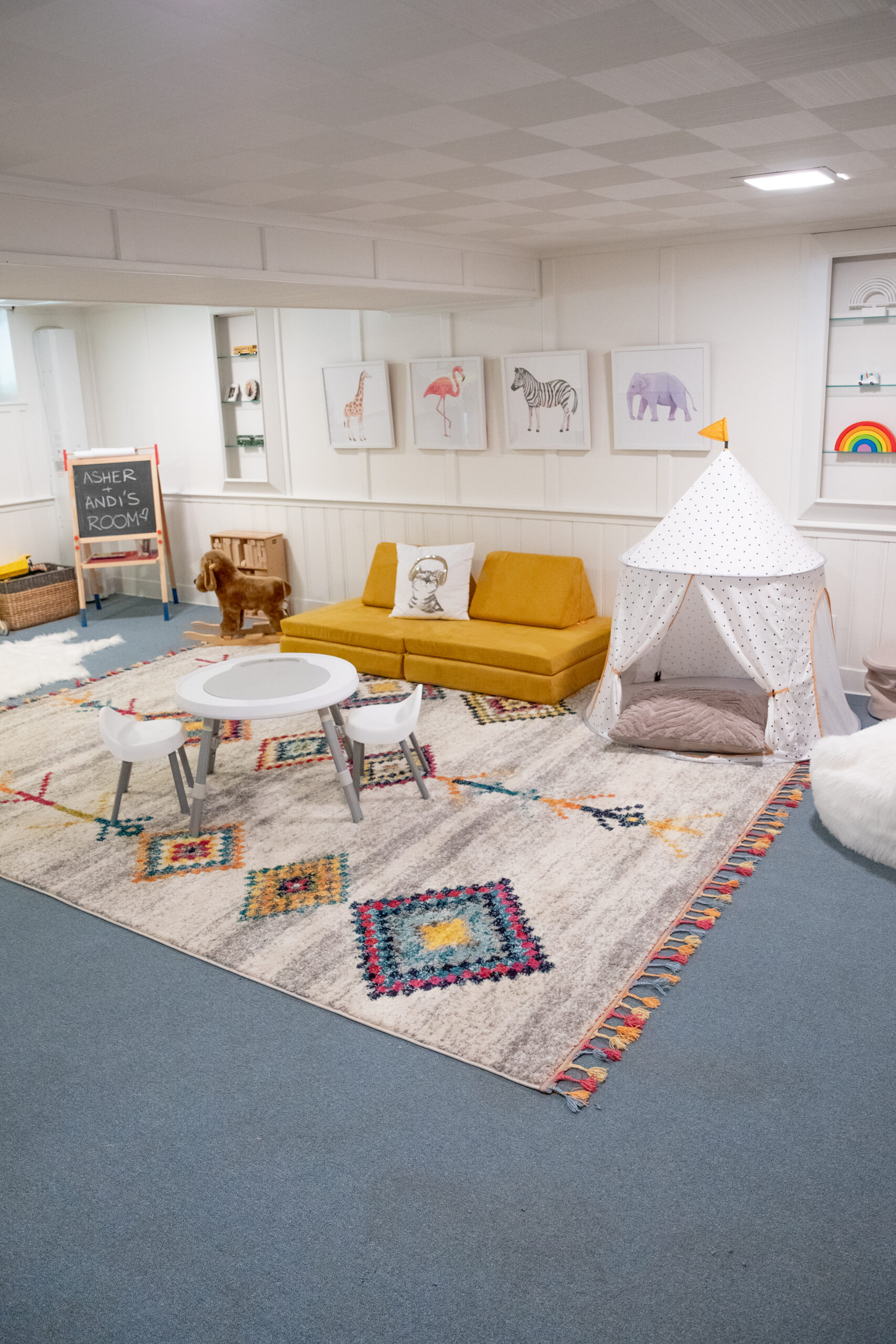 Before you read this and say, you should be so lucky to even have space to designate for play and toys, I am fully aware. I lived in a small 2 bedroom apartment up until last year and my entire living space was literally a playroom. I'm such a visual person (hence, I'm a stylist) that I crave well designed spaces throughout my home. I never thought that the basement would be one of the first rooms I'd tackle decorating in my new home, but here I am sharing a basement playroom makeover on a budget with you. It's been a place in my home that I've dreaded being in since we moved here a year ago and with my son spending so much time there, I wanted to make it a place we all want to be in, kind of like the baby's nursery.
We are on a tight budget, so we decided to work with what we had as much as possible. This meant keeping the existing flooring, which is a gross but functional carpet. We thought about installing cheap vinyl flooring, but it made the most sense with the kids on the floor all the time to keep it. I decided to add some plush rugs to make it more cozy and less cellar-like.
My goal of the space was to transform it into a playful, sunny and bohemian escape for the kids that I also wouldn't mind being in. I think for the limited budget I had to do that, not to mention all contractors being backed up right now, I accomplished exactly that with just beautiful decor.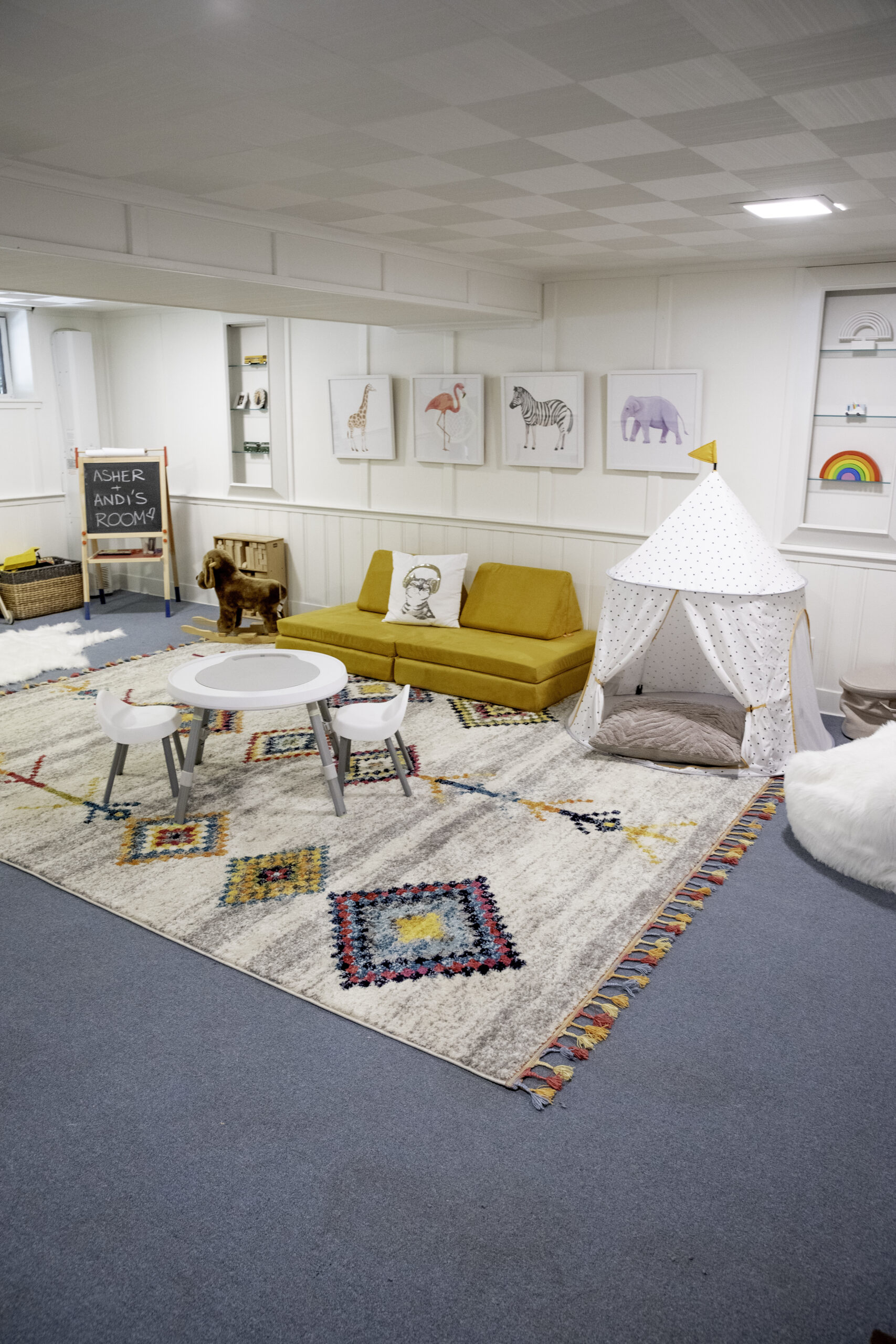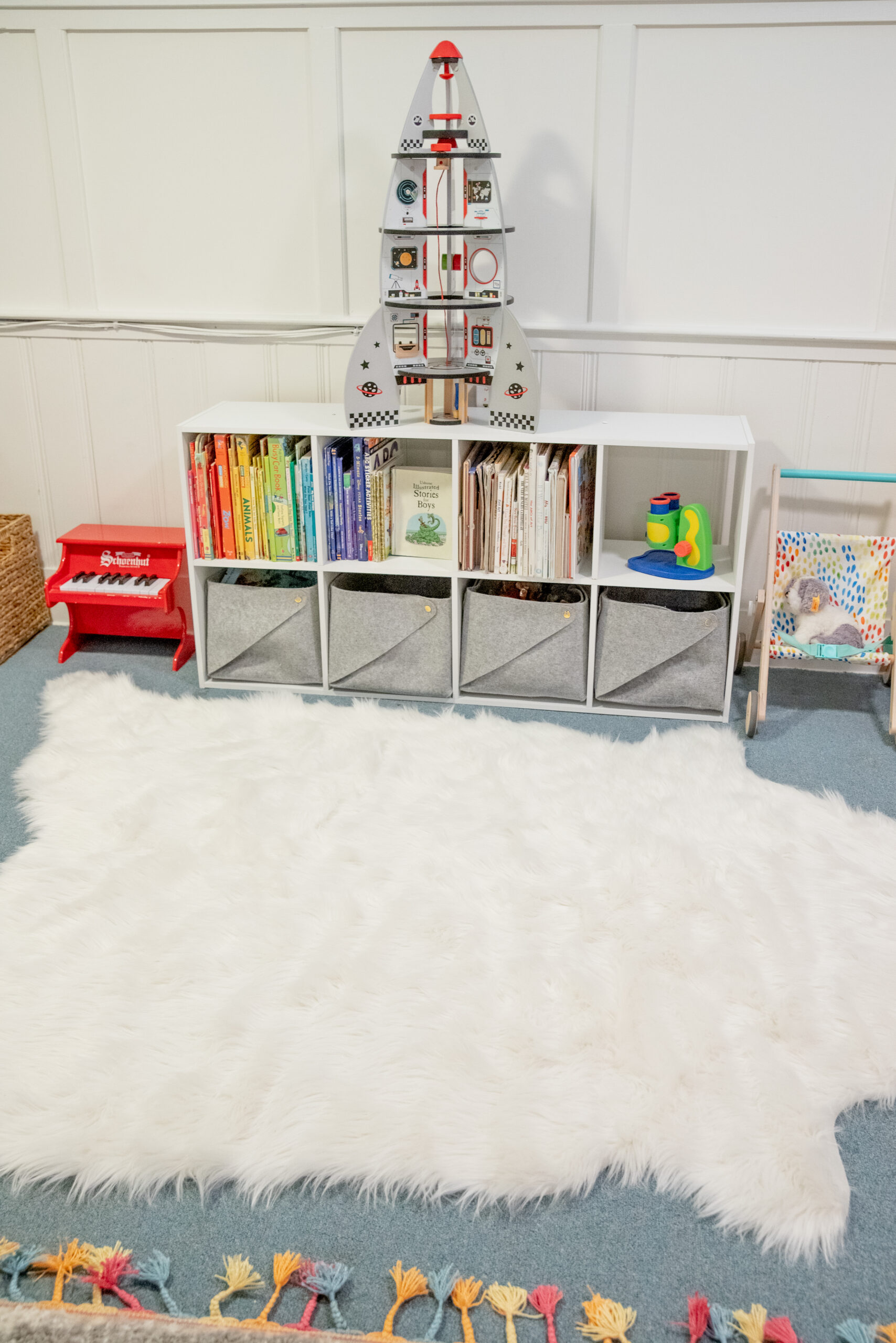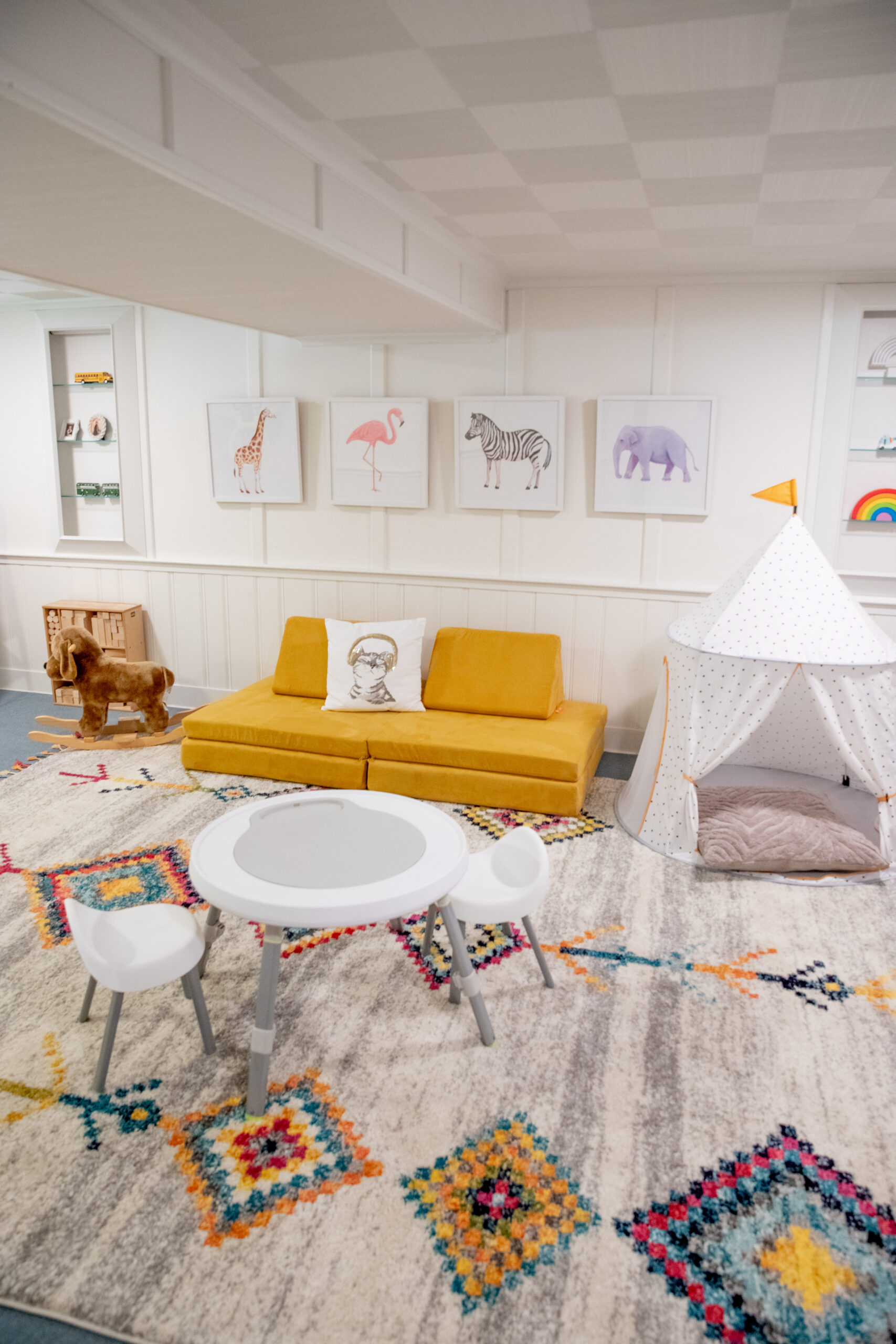 We attempted to fit a couch into our basement and ended up keeping it for our living room because it didn't fit through the doorways of the basement (homeowner fail), so we ended up going with the Nugget. It's been one of our favorite playroom purchases because the kids can play with it too and it's been so fun to configure in multiple ways (get your mind out of the gutter). I went with the limited edition yellow "saturn" for a fun pop of color—also better resale value—but the brilliant thing is that you can wash and change out the covers.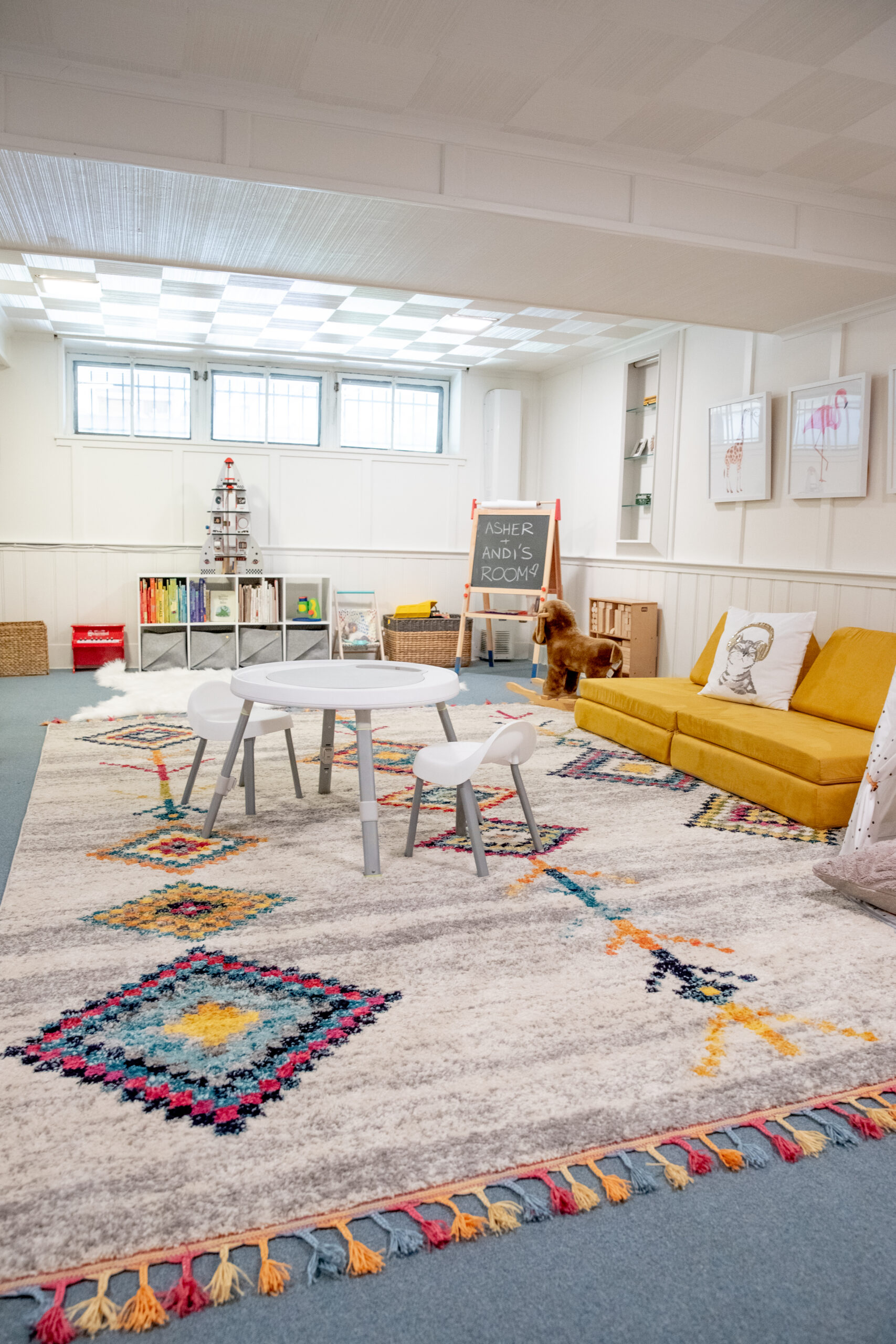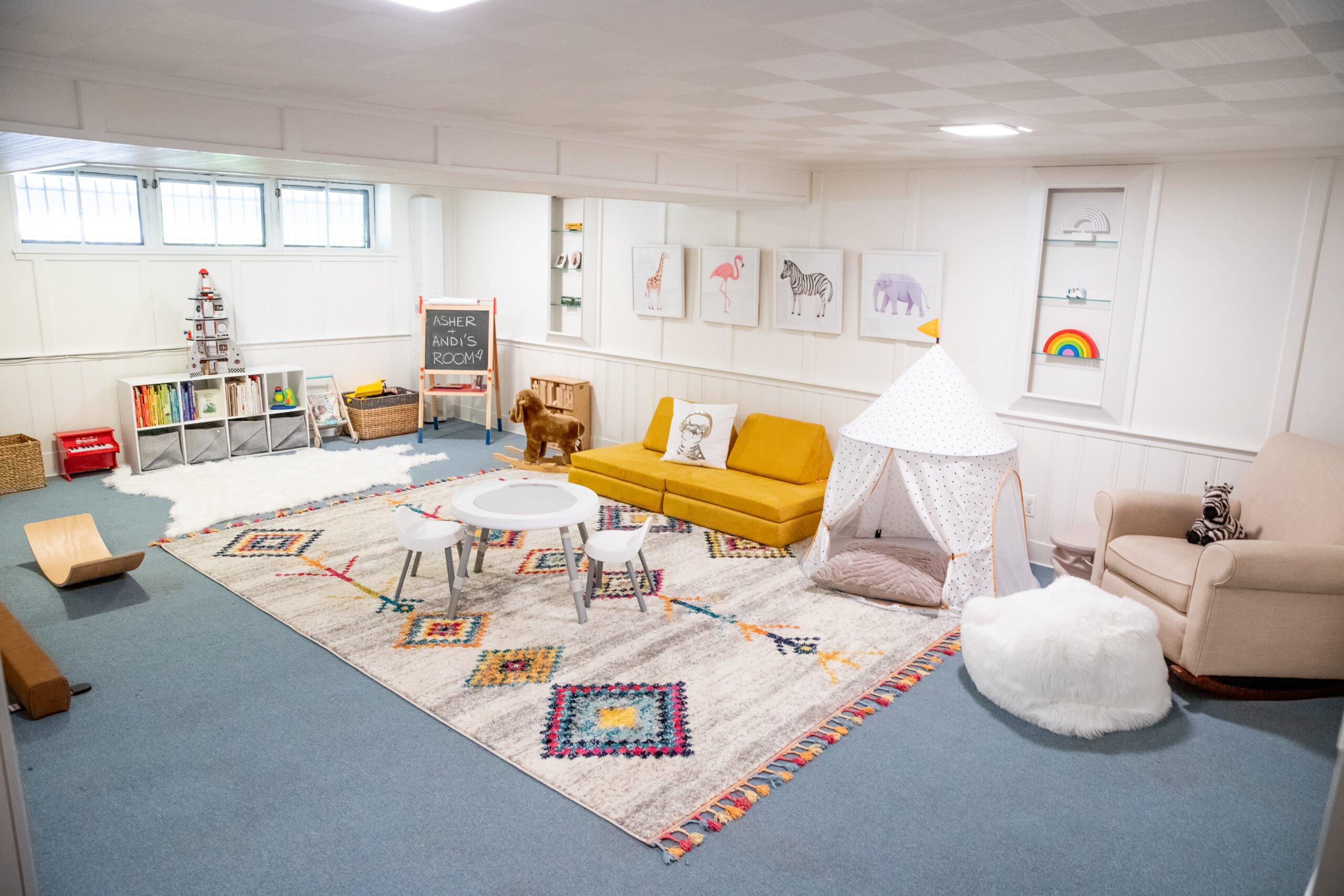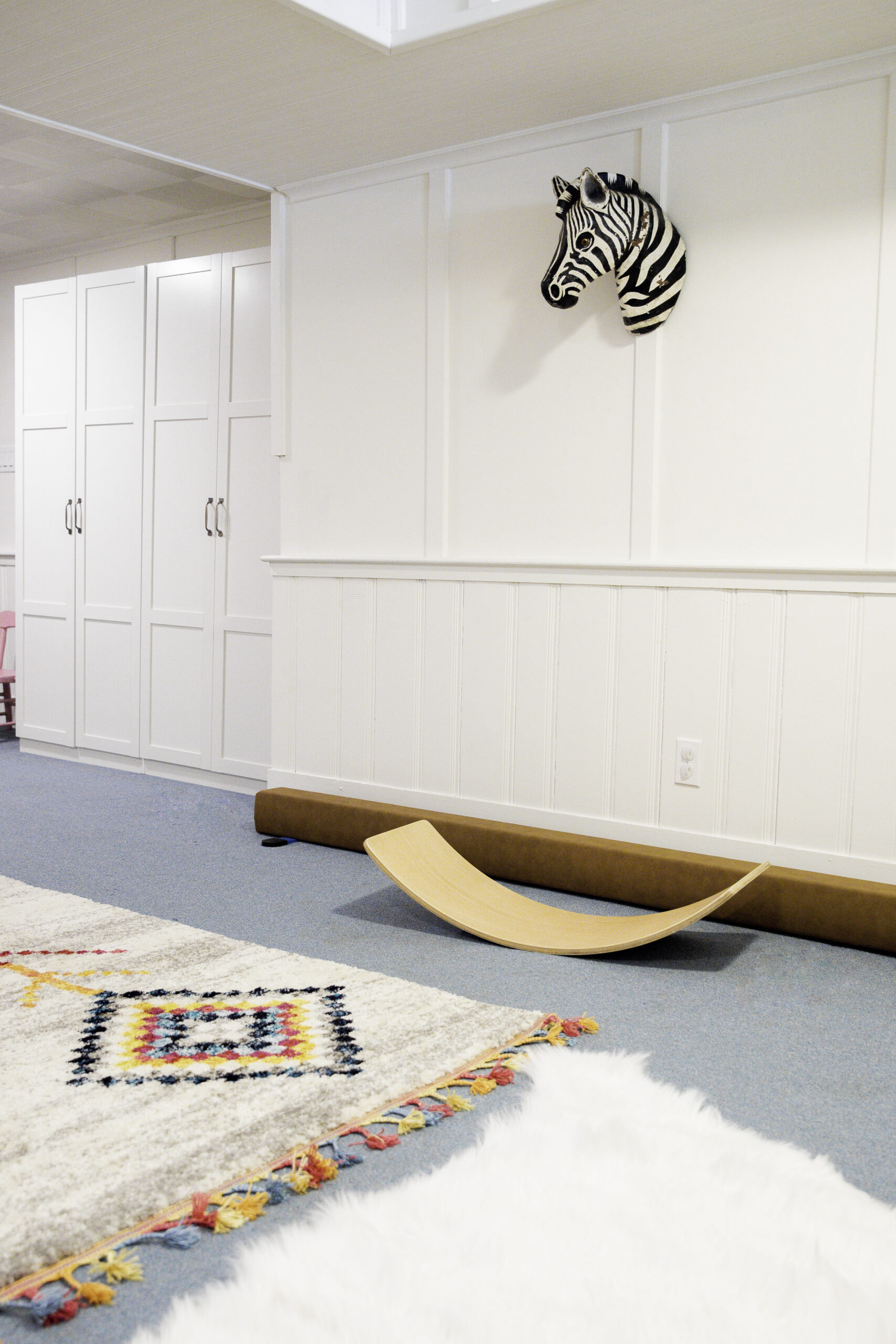 Part of what inspired this makeover was that I couldn't stand the constant sea of toys all over the floor. I was desperate for a better solution to store everything and also make it easy and not overwhelming. I had a cart of bins to start and my son would actually just dump all the toys out all over the place and play with the bins! It never got put away, toys were getting lost and I ended up stressed to set foot in this space.
I turned to Drea Montali of Dream Organization and we had a great chat about what could work best for this situation. She told me about these perfect and affordable clear storage boxes that made it easy for my son to find everything and also put everything away in its place. It's been such a game changer ever since!
Drea agreed that for my limited budget, these cabinets that I found would be best because they would conceal everything and for only $200 a piece, it gave the look of built-ins for much less. I will say, they're not the best quality, but for a space like this, they work fine. Drea recommended cabinets from Ikea, which would have been probably better, but I couldn't get to a store and the shipping costs were too high for me to justify at the time. She also gave a ton of great recommendations for storage cubes, but I actually worked with what I had already (though hers were much better—one day!). Some day I'd love to have her help with the rest of my home that I just haven't figured out yet… like the rest of the basement.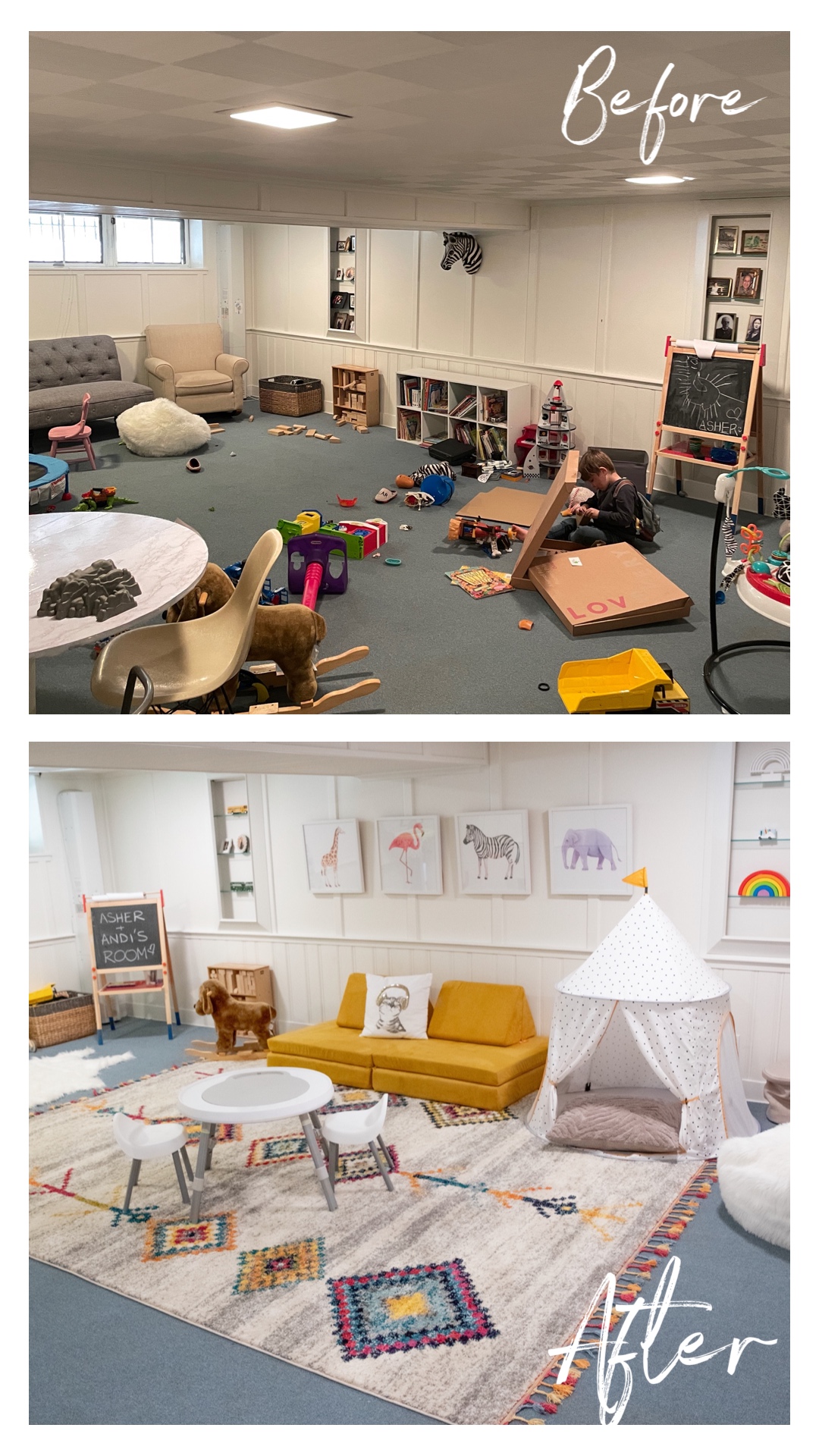 Shop my basement playroom makeover here:
SOFA: Nugget Comfort
RUG: Nourison (c/o) 
FAUX FUR THROW: Nourison (c/o), smaller version here
FAUX FUR POUF: Nourison (c/o)
CAT PILLOW: Nourison (c/o)
 PILLOW (on floor): Nourison (c/o)
TENT: Chelsea & West (c/o, use code THENEWYORKSTYLIST for 10% off)
ACTIVITY TABLE: Skiphop
CHAIRS: Skiphop (c/o)
ANIMAL PRINTS: Lovevery (c/o)
ART EASEL/CHALKBOARD: Costzon
RAINBOW NESTING BLOCKS: Lewo
WOOD BLOCKS: similar here and here
BALANCE BEAM: Amazon
BALANCE BOARD: Funny Supply
TOY STROLLER: Lovevery (c/o)
TOY PIANO: similar here
TOY ROCKET SHIP and MICROSCOPE: both via Penny & Ting
ROCKING HORSE: similar here
STORAGE CUBBIES: Target, larger version here
STORAGE CUBES: Ikea
STORAGE CABINETS: Wayfair
STORAGE CONTAINERS: The Container Store
ZEBRA HEAD: via Joanne Rossman, similar here
Thank you to Lovevery and Nourison for working with me on this project. What I choose to feature and write about is 100% my own choices and opinions.
What do you think of our makeover on a budget? Is there anything else you'd like to see? Please send me a message below or on Instagram and let me know!
xLiz
Pin this! 🙂