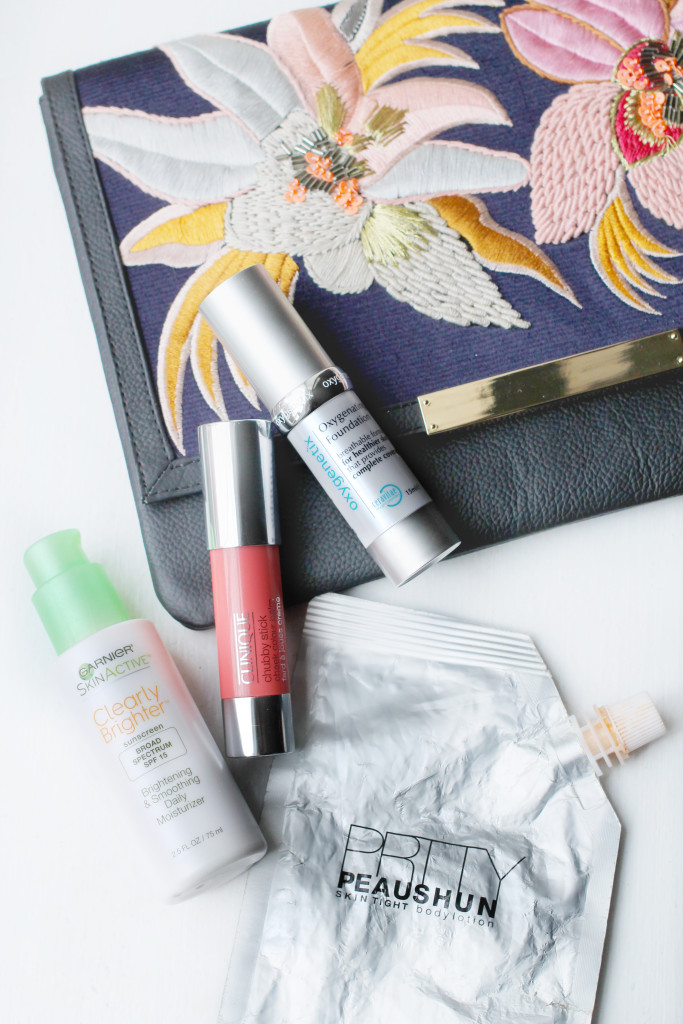 As you may have noticed around here, I've kind of sworn off beauty posts for a while. I have to be honest with you: When companies were constantly sending me beauty products to try out, post about and even go on TV about, I felt obligated to try and talk about them all.
Unfortunately while that sounds like a ton of fun, it was not a fun time for my skin. I can't pinpoint what exactly caused my breakouts, but it was the worst I've had acne in my life, beyond when I was a teen. Perhaps the free facials and oily products loaded up on my face, then harsh products and a lot of picking at my skin, but I ended up scarring. It was so bad, covered with deep reminders of pimples on my cheeks, that it was difficult to cover up with I was embarrassed to meet with clients and see my face in photos and on TV.
I decided to take action and met with one of the best Dermatologists in NYC (and maybe in the country), Dr. Bruce Katz at Juva Skin & Laser Center. You may have seen him pop up from time to time, advising on The Today Show, but he swore he could easily get rid of them with laser treatments, but for a price that insurance didn't cover. There was no miracle product that could change it all, so I gave in and spent the painful time and money on them. For the first time in my life, I was getting compliments on my skin! I was styling a photoshoot for Clinique and the makeup artist remarked what beautiful skin I had.
While not everyone can run out and get laser treatments for glowing fresh skin, there are other products in my regimen that I use to achieve the same thing. Here are the 4 beauty products to get you glowing for spring:
1 – This Garnier moisturizer was sent to me recently, and while I was hesitant to try another facial product that may cause me to have more skin issues than I already had, but I haven't found a daily moisturizer I like and I was intrigued by this one. For starters, it's oil free, which Dr. Katz said is incredibly important for me to use products that are free of oils, including even my hair products. It also says it won't clog pores and is gentle for the skin. The SPF 15 in it is another thing I need in my moisturizer, as my skin is now extremely sensitive to the sun. Within a couple of days the hubby even said why is your face looking like it's all glowy? That was enough of a reaction for me to stick with it.
2- I discovered this Clinique blush when I was styling a video for this product and as I watched the makeup artist apply it to the model's skin, I was amazed by how natural it looked. As I'm getting older, I'm trying to stay away from powders that look cakey and enhance lines on the face. When you use liquids/gels on your face, it creates more of a youthful glow on your skin. This is also one of the only non-powder blushes I won't break out from.
3- After I had my laser treatments at Juva and I asked begged Dr. Katz if there was any makeup I could wear to cover the extreme redness while I was healing. His medi-spa carried this Oxygenetix foundation and I loved how light and natural it was, so I continued to use it even after I didn't need it anymore. It's now expanding outside of just doctor's offices and I can see why. It's seriously the best every day foundation that I won't break out from and just evens out skin perfectly.
4 – Recently on a shoot I was styling for Lane Bryant, the makeup artist brought out this Prtty Peaushun body lotion while we were on set to make the models' legs glow. I couldn't believe my secret weapon for naturally killer gams (there's no crazy chemicals!) was now known, the models all went crazy over it and it even was sold in the gift shop of the Raleigh Hotel we were shooting at. It's becoming so popular now that they were completely sold out in my color for months and I've been on the waiting list to get more in time for summer. Better go get yours soon!
Garnier "Clearly Brighter" moisturizer (c/o) // Clinique "Chubby Stick" blush // Oxygenetix foundation (c/o) // Prtty Peaushun body lotion (c/o) // Lizzie Fortunato clutch via Rent The Runway (c/o)