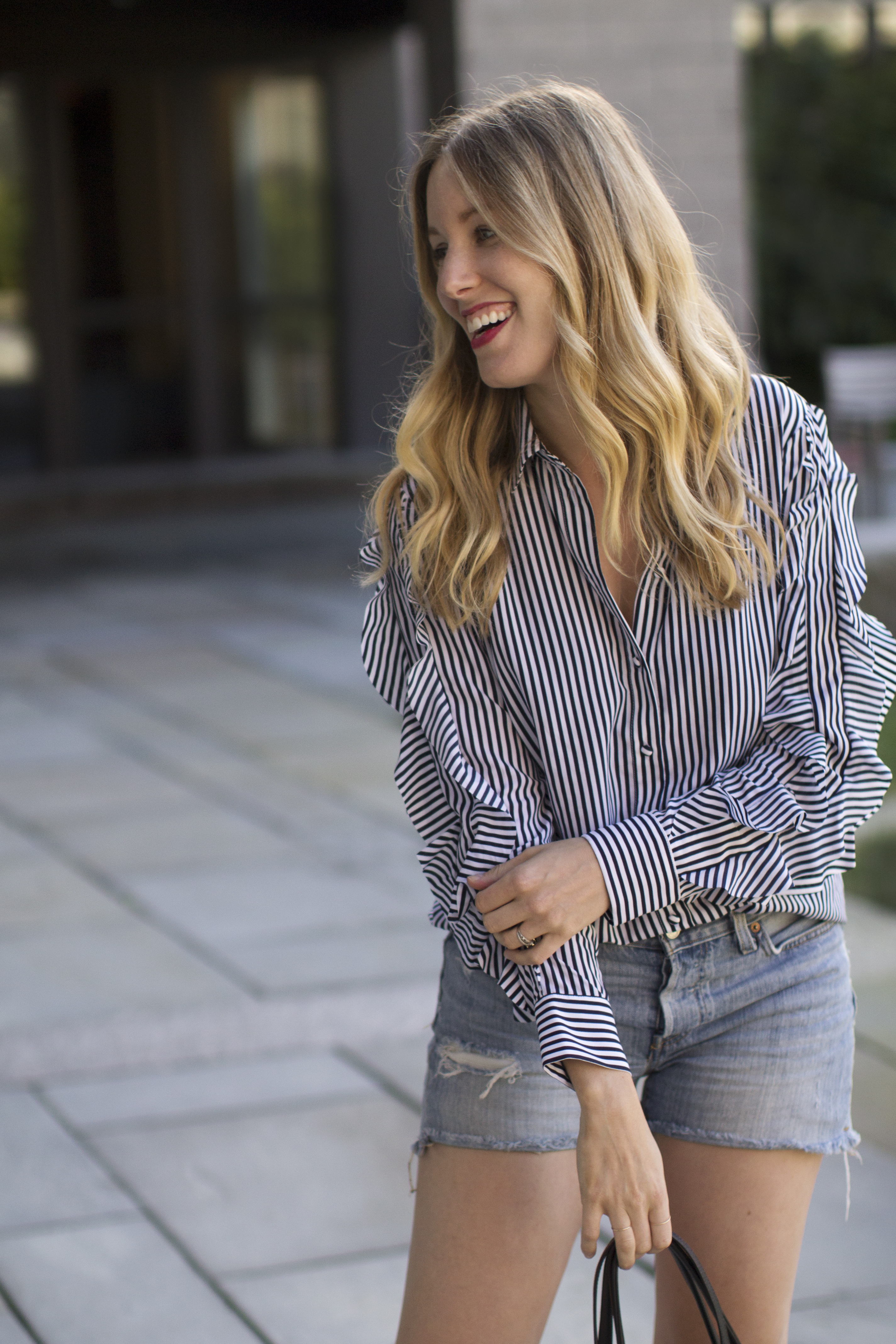 There are so many times that I've fallen into the trap of jumping on the trend train of the season and making the mistake of letting it wear me rather than the other way around.
Ruffles have been a trend for a couple of seasons now. It doesn't look like it's going anywhere. I've been a fan as much as the next fashionista, but it doesn't always translate to real life, especially one as a mom. There are some ruffled tops that are great in theory, yet would look ridiculous as I carried a baby around my neighborhood in Brooklyn.
I partnered with Banana Republic for the tail end of summer and got to pick a couple of my favorite pieces from the current collection. This ruffled button down stood out to me because it was both on trend and sophisticated. It's something that I probably would continue to wear even after we're sick of ruffles. It's an easy piece that looks effortless when styled with every day pieces and even dressed up when I want to wear it to work. I'm a sucker for an easy button down tucked into denim (especially now that I'm nursing). I was surprised to find that it's lightweight and was perfect for a cool summer evening on a recent summer trip so I could wear it already.
It's honestly one of my new favorite additions to my wardrobe this summer, but I can't wait to incorporate it into my fall wardrobe. I'm already envisioning it tucked into high waisted jeans and a pair of casual white sneakers. How would you wear your ruffles?
Banana Republic top and shoes (c/o), similar shorts and bag
Thank you to Banana Republic for partnering with me. What I choose to wear and all opinions are 100% honest & completely my own.
{SHOP THIS POST}