Happy New Year and sorry I've been M.I.A.lately. As you probably know, pregnancy takes a lot out of you both physically and mentally and it's been hard to get anything done between that and a toddler. I've received so many requests from you guys lately on Instagram about what the best maternity brands are and I decided to round up the ones I've been living in here in this post.
Whether you're looking for an excuse to get out of leggings, something that will take you through your postpartum journey, the best maternity / nursing bras, or even comfy loungewear, I've found it all this time around and with some discounts just for you!
My biggest regret of last pregnancy was not investing in some amazing maternity pieces I felt great in. I look back at photos and can't stand that I bought pieces just because they were cheap and got me through those 9 months. Don't make the same mistake I did — make sure you feel amazing during this time because it's too beautiful not to.
The Best Maternity Brands
(and Discounts Just For You!)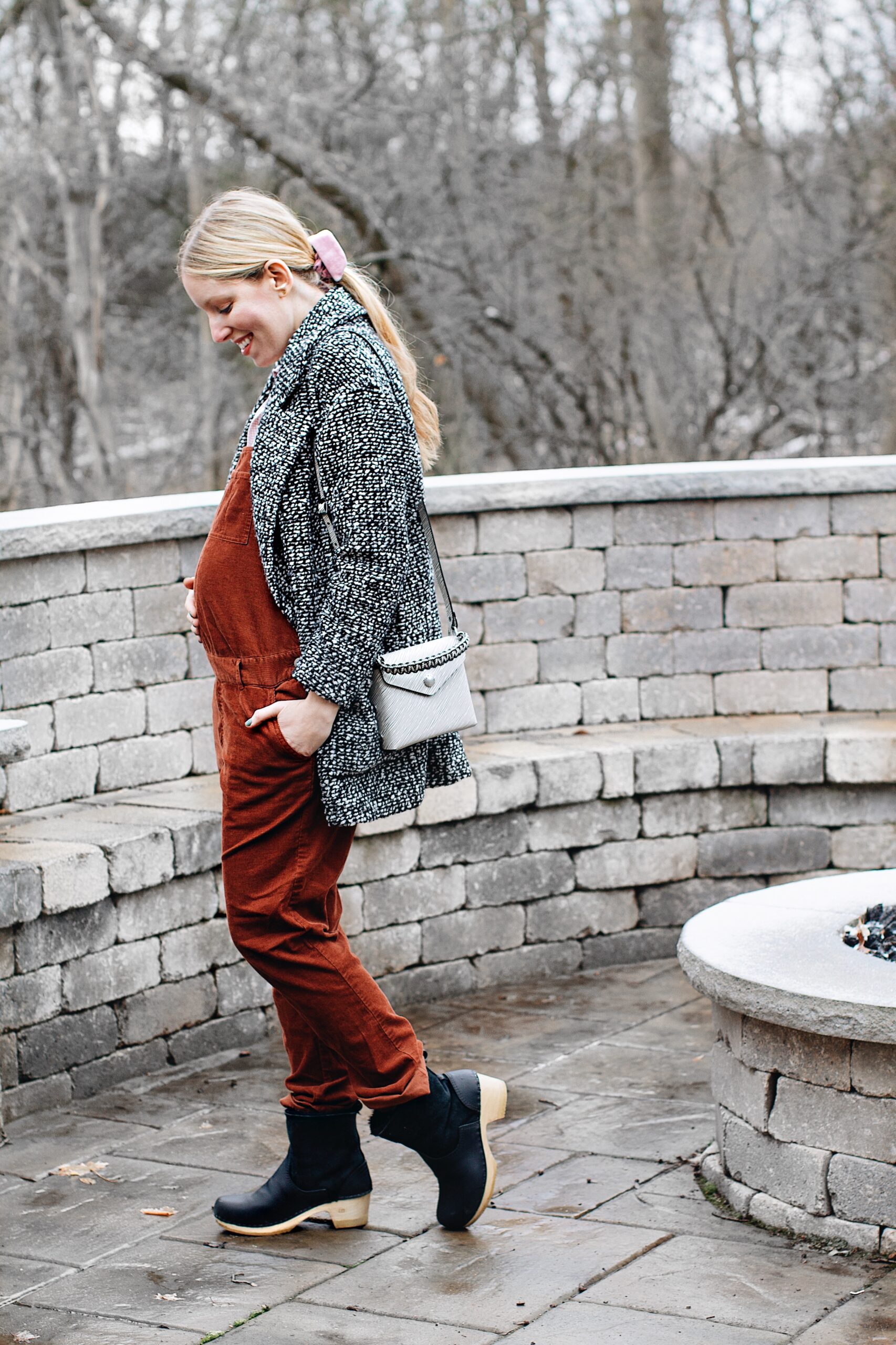 USE CODE LIZT15 FOR 15% OFF HATCH
It's no secret that I'm a big fan of Rent The Runway and that's how I mostly survived my last pregnancy with just renting designer pieces in a size up or extra stretchy/flowy.
This pregnancy, I'm even luckier that they started carrying maternity brands, and most recently one of the ones I was coveting the most for years, HATCH Collection. I regret not splurging on a couple of pieces from them because the clothes are gorgeous and pieces designed to work for life as a mom after pregnancy as well.
I'm really into this gorgeous sweater that I'll totally wear next winter too. I've been pairing it with these cute overalls and this cool girl coat (both of which you can also rent on Rent The Runway) and have been getting so many compliments on my outfit!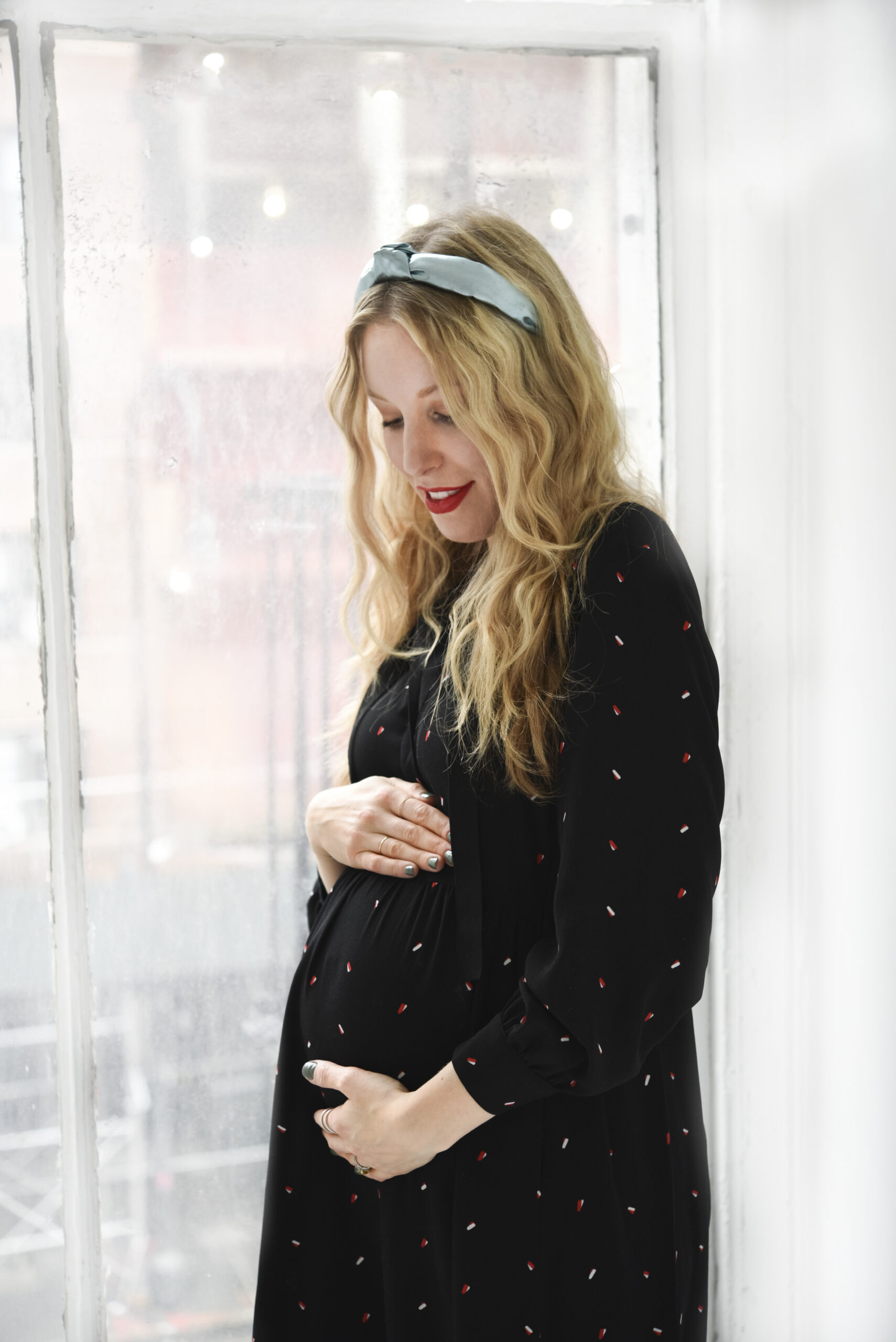 USE CODE NYS25 FOR 25 % OFF SITE
I was aware of Loyal Hana with my first baby and was like "why would I need clothes designed for breastfeeding??" I was wrong and wish I had pieces from this brand. I stretched out necks of my clothes and had a tough time being discreet to the point where I always had to have a nursing cover on hand.
I'm so glad I have some of their pieces to get me through my pregnancy and then will be able to use them to easily breastfeed. I feel my best when I through on this effortless dress and plan on living in this tank from now layered up and then through the summer. I also love this no brainer top that you could throw on and be comfy in.
photo by Michelle Rose Photo
HEADBAND: Lele Sadoughi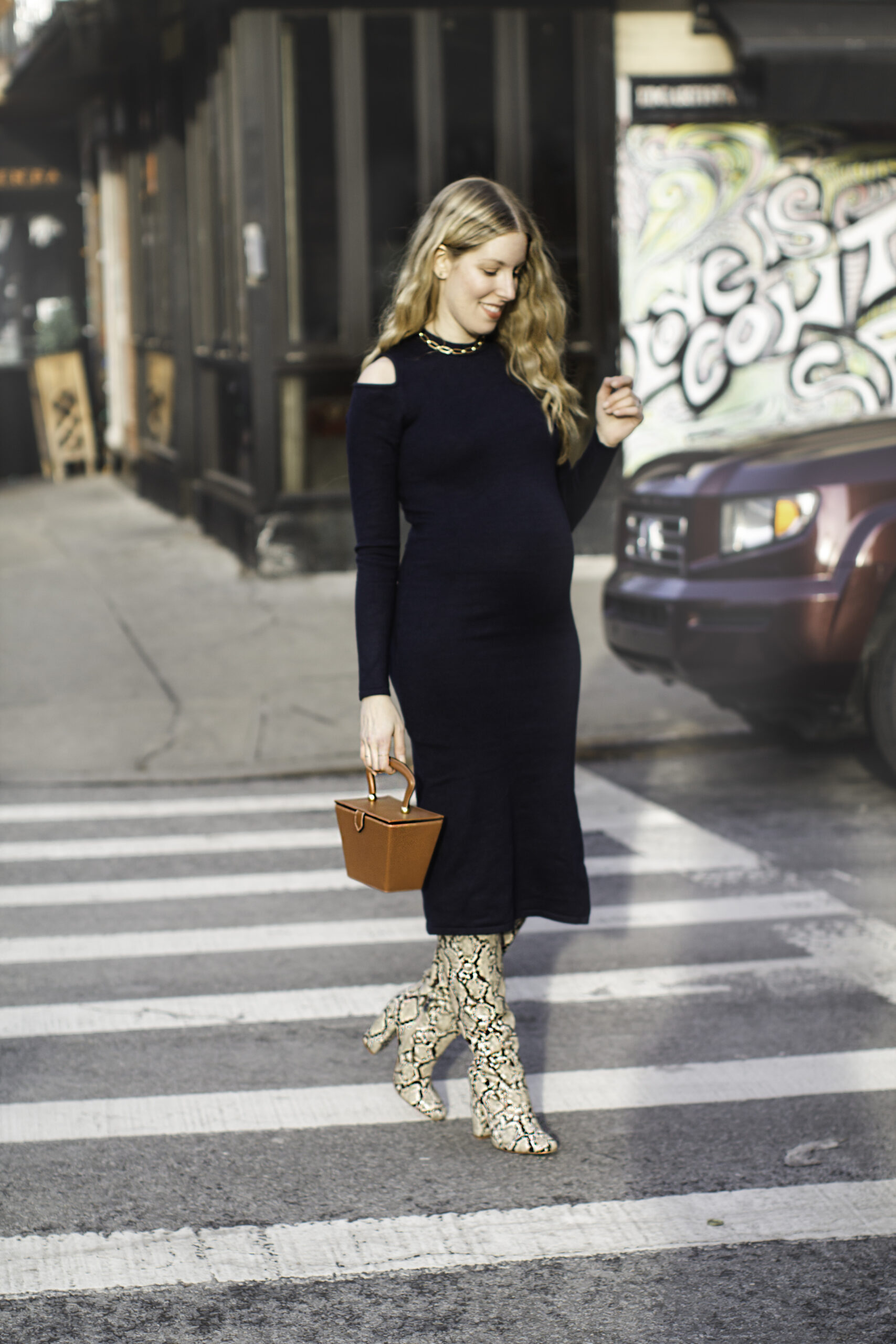 USE CODE LIZT15 FOR 15% OFF ENTIRE ORDER
You guys seemed to LOVE this post I recently shared. Maybe it's my confidence, maybe it's the dress, but either way, it's the dress! Every time I put something on from Aniche, I feel like I did in my pre-pregnancy state (aka not like a whale!) and I'll be able to wear all of the pieces down for years to come too. I also love that the brand gives back to women's charities every time you make a purchase.
THE dress I mentioned is this sexy dress that I can't help but strut my stuff in. I also wore this easy cotton dress on a date night recently and wowed the hubby. I also have been living in these overalls—because every pregnant gal looks adorable in overalls. It's a bonus they adjust while you grow!
BOOTS: Zara (from fall) | BAG: Staud | NECKLACE: Alex and Ani (c/o)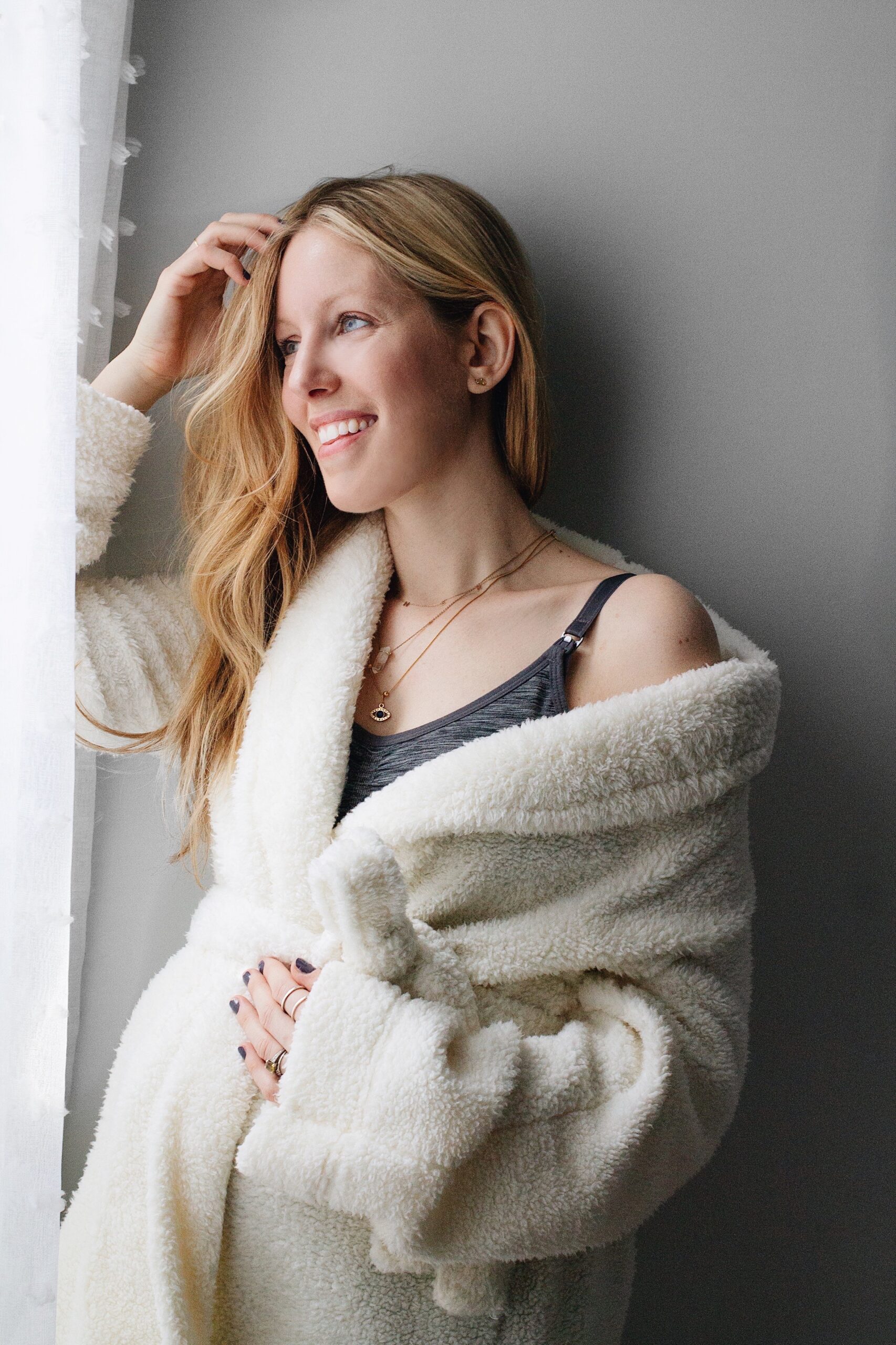 Nursing and maternity bras have been a big question I've been getting on Instagram lately and I honestly lived mostly in bras from Lamaze Intimates.
I LOOOOVE their sleep nursing bras last time I was breastfeeding and actually would wear them all day and all night! Lamaze kindly stocked me up again this time around because I wore them to the point of wearing them out!
I've also been wearing this super soft robe daily for a cozy layer at home that actually fits–and it's only $25!! Their lightweight pajamas are so comfortable and are going to be great for when I'm nursing and overheating by then too.
QUARTZ NECKLACE: Nashelle (c/o) | EYE NECKLACE: Alex and Ani (c/o)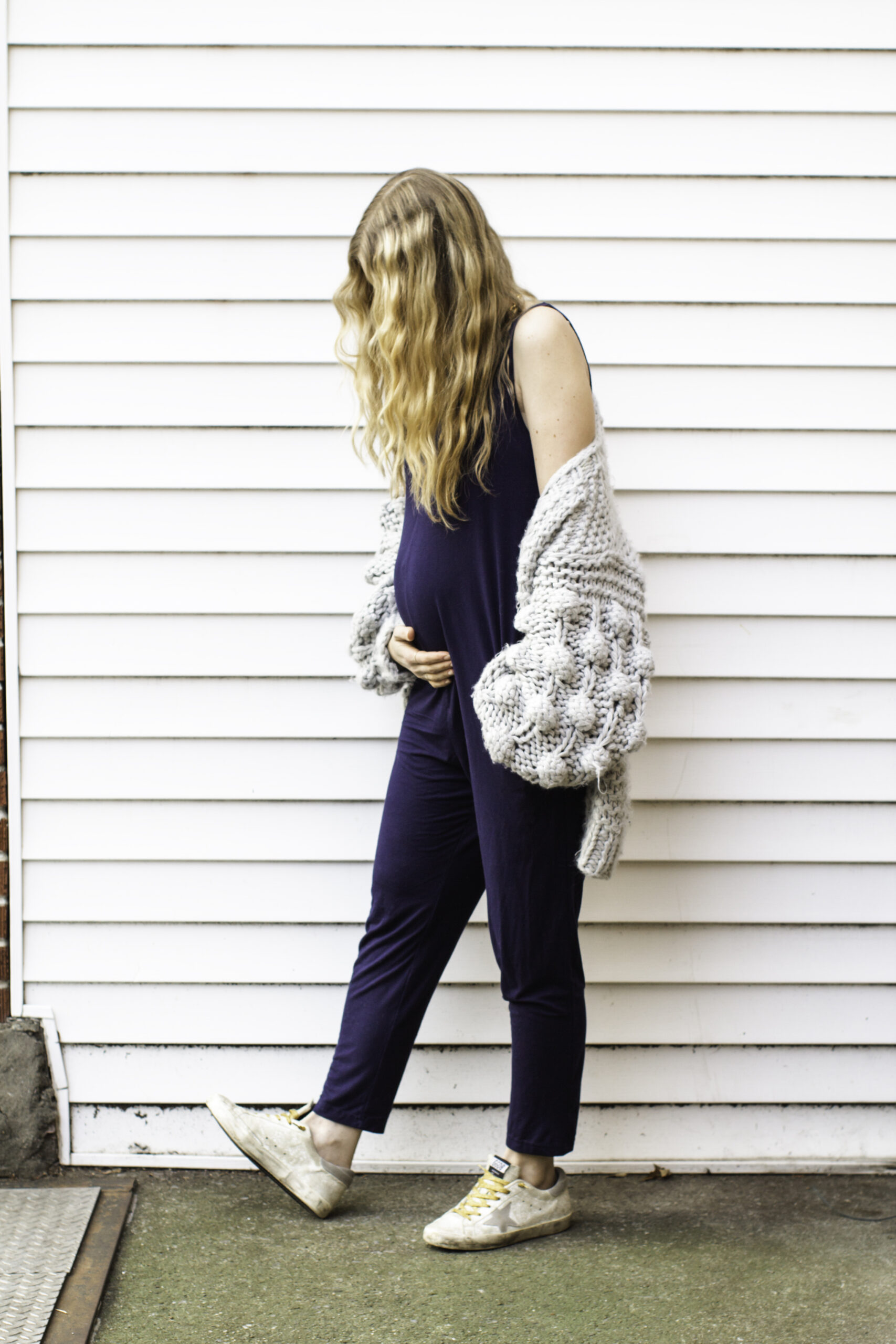 USE CODE NYCMom20 FOR 20% OFF ENTIRE ORDER
You may have heard the Van Morrison song where he sings "she's sweet like Tupelo Honey," well every time I put on pieces from the maternity brand Tupelo Honey, I think the same thing. It's the sweet life wearing their casual clothing, which may be some of the comfiest pieces that I own and can acceptably wear outside.
If I could get away with it, I'd wear this soft and comfy jumpsuit daily. I also have my eye on their sleepwear which is so luxe looking.
SWEATER: Chicwish (c/o)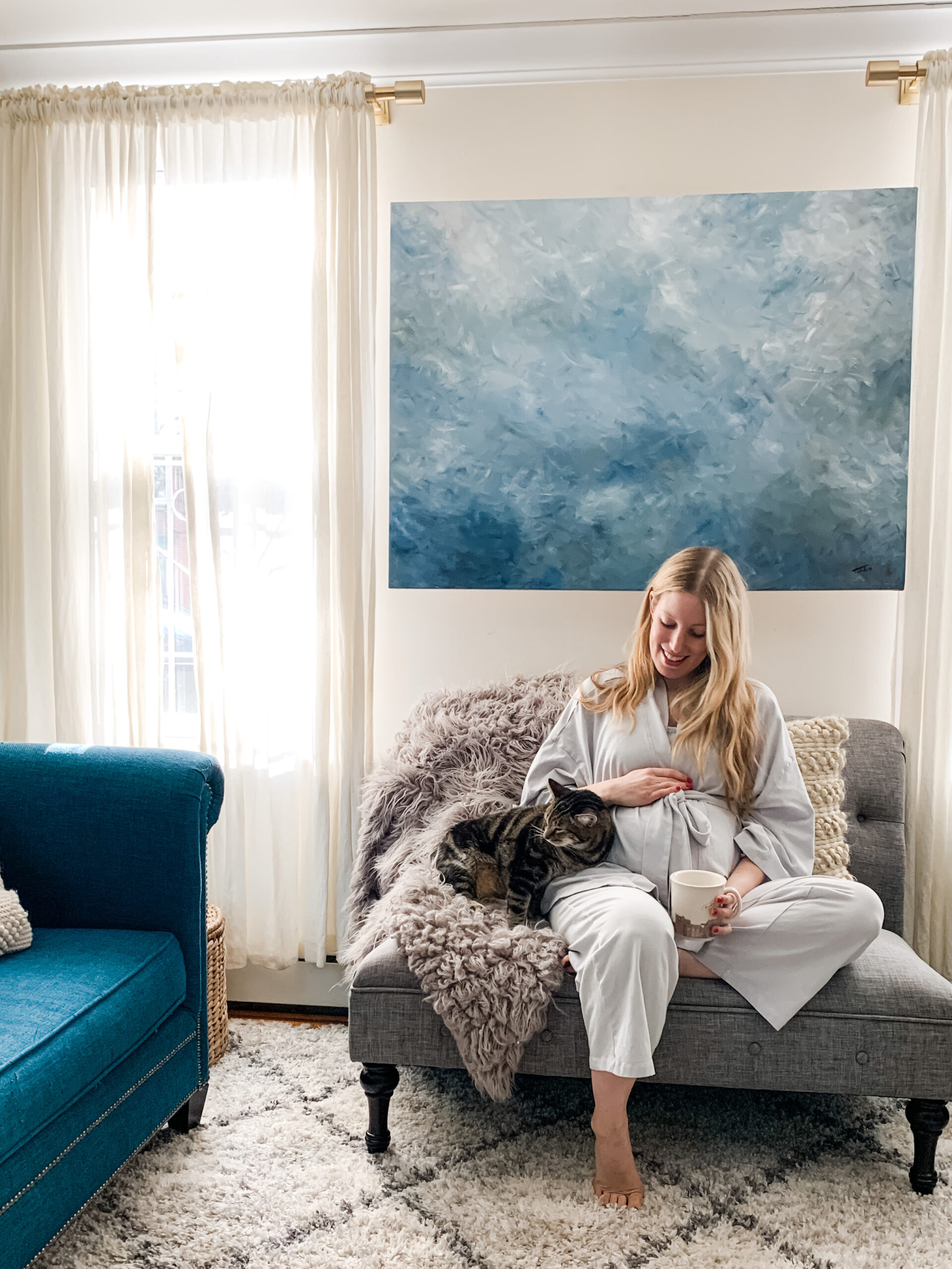 USE CODE THENYSTYLIST15 FOR 15% OFF ENTIRE ORDER
This brand seems to be the most loved by my followers, who messaged me that Storq was their favorite maternity brand that they wore during their pregnancies. I'm so glad I discovered it, so thank you all who sent me that message!
This lounge set is a must-have for every expecting mama. I'm wearing it now and plan on actually being seen in it a lot by visitors once the baby comes. I'd rather be seen in this put together set than disheveled in sweats and a tee (think about it!).
I've also been on the hunt for the perfect white button up for pregnancy and nursing and may have to get this one!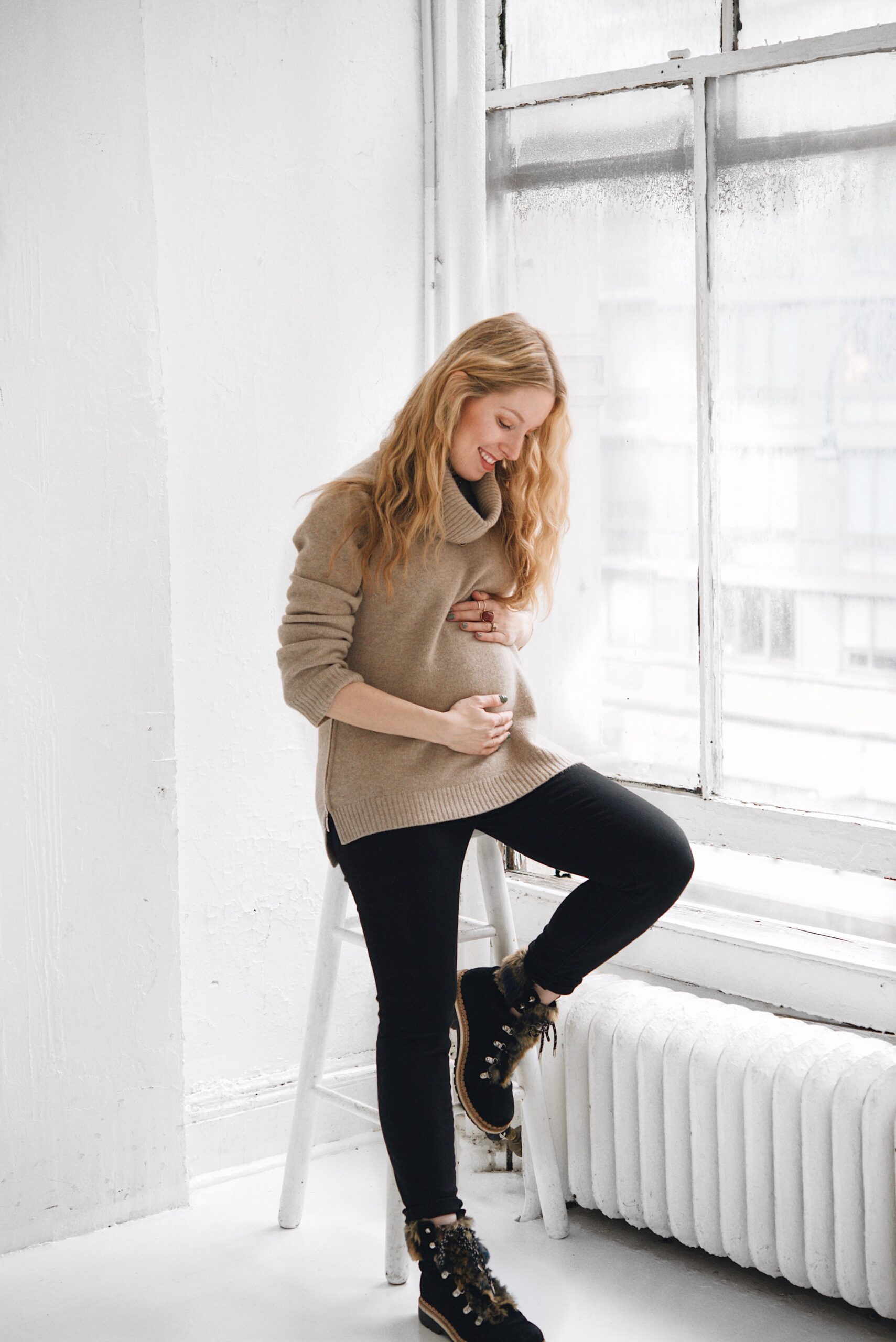 USE CODE LIZT15 FOR 15% OFF ENTIRE ORDER
Teat & Cosset was one of my favorite brands I discovered during my breastfeeding journey last time around and this time I'm so happy that I get more wear out of these luxurious pieces now that I'm wearing them in my pregnancy too.
They make the BEST sweaters (made in Italy!) and I found myself wearing them even when I wasn't pregnant or breastfeeding. This one I'm wearing here is a classic and I get the most wear out of in my life. I also get compliments every time I wear this classic sweater with a twist.
I also wear this maternity / nursing friendly sweatershirt all of the time to the point where my mother-in-law said she wants one too! They even have matching ones for kids, so may need for my little ones too.
This season they made a jumpsuit that's so flattering and polished that it's become my uniform lately.
photo by Michelle Rose Photo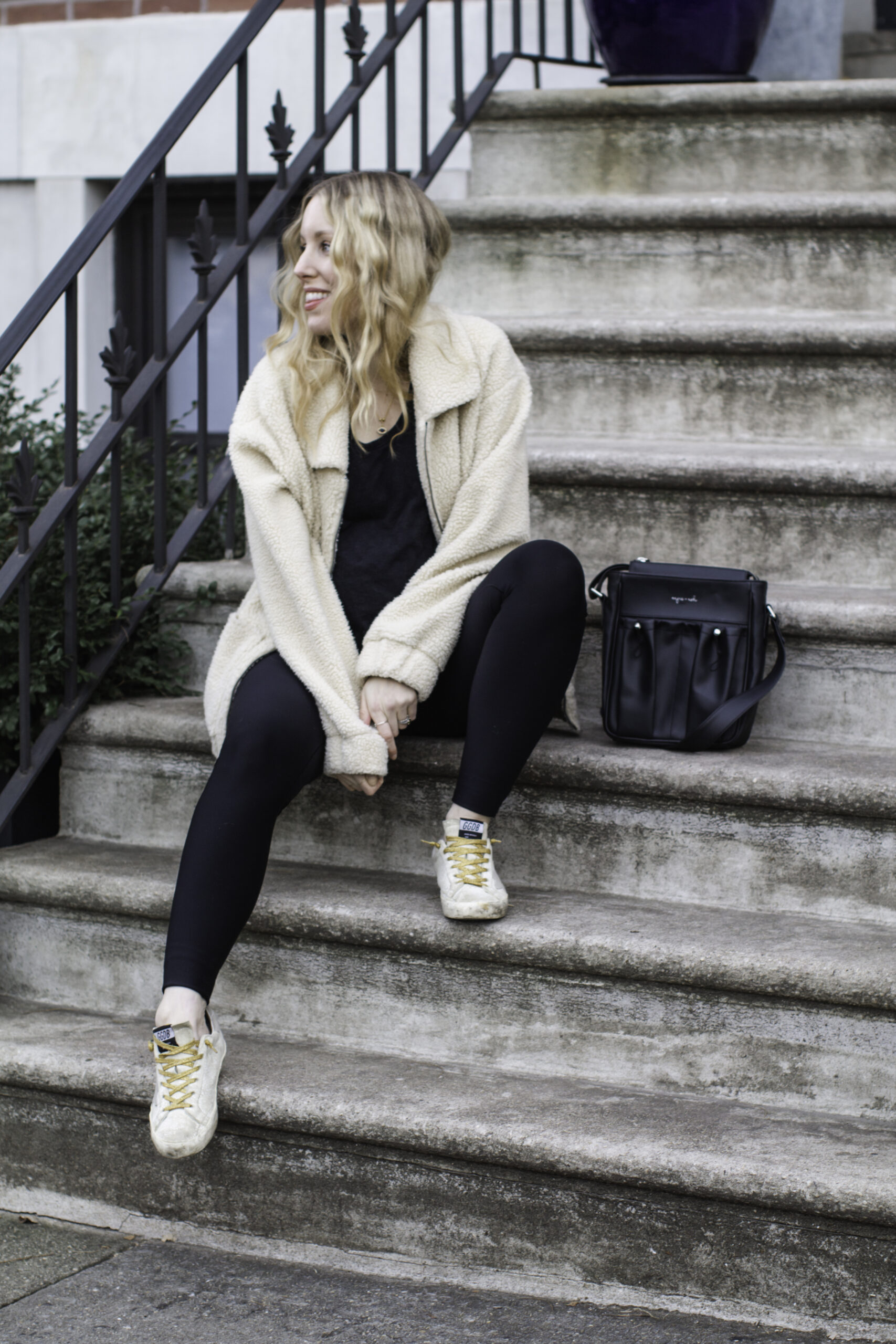 USE CODE nys25 FOR 25% OFF ENTIRE ORDER

(excluding gift cards. Cannot be combined with any other promotional code. Limit 1 per customer. Expires 1/31/20 at 11:59 PST)
You thought all leggings were created equally, but you probably haven't tried anything like these smart leggings from Glowe Collection. They designed an innovative fabric that stretches with you, but never stretches out, so you can wear it again post-pregnancy. During pregnancy, it gives you the support and comfort you're looking for. There's a stiffer back to help you carry that extra weight and the front sits comfortably over your bump without being uncomfortable or digging in like some maternity leggings.
I will say, they're like getting into your favorite skinny jeans sometimes where it takes a little more work to get on, but once they're on, you don't want to take them off!! I'm not normally a leggings person, but I wear these for EVERYTHING from working out to under dresses with boots and especially running errands.
 JACKET: Marc New York MNY (c/o) | DIAPER/BOTTLE BAG: Anje & Ash (c/o) | SNEAKERS: Golden Goose (similar here)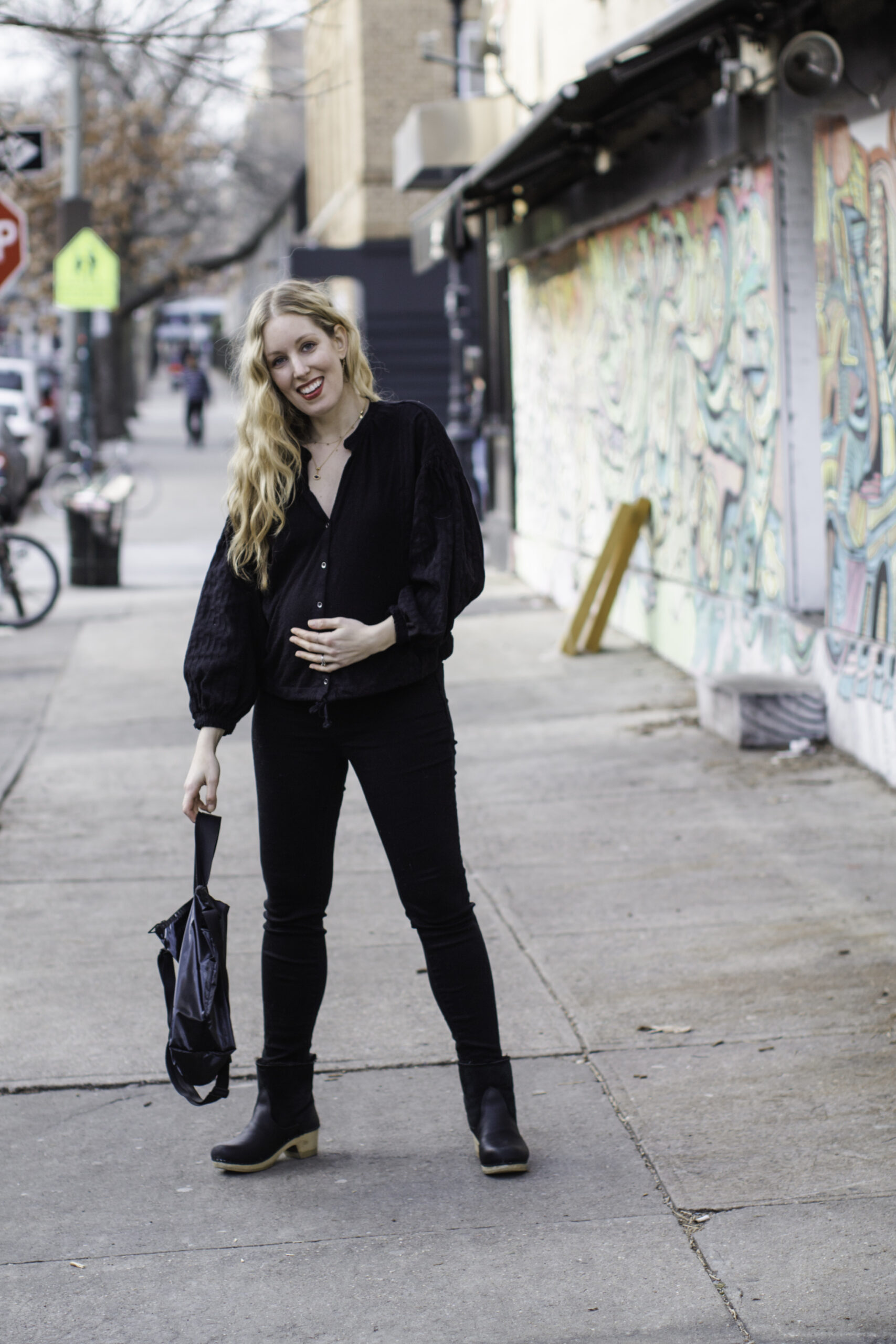 Okay so Grey State is NOT technically maternity clothing, but the pieces are totally made for mamas who want to look  effortlessly polished yet stay comfy. I had to include this brand because I've been living in their easy to wear pieces like this boho top during my pregnancy and will continue to for years to come. I love that beyond the effortless and affordable style, they're a sustainable company and donate money to plant trees with every purchase.
I love the side detail of this top, which makes it great for this stage of my pregnancy. Dare I say that this cotton jumpsuit is actually sexy and I can't wait to wear it all of the time after the baby comes.
MATERNITY JEANS: Madewell via Rent The Runway (c/o) | BOOTS: No. 6 | BAG: LeSportsac (c/o)
_____________________________________________
Thank you HATCH, Rent The Runway, Loyal Hana, Aniche, Lamaze Intimates, Tupelo Honey, Storq, Teat & Cosset, Glowe Collection and Grey State for partnering with me for this post. All opinions and what I choose to write about are 100% my own. 
Please let me know if there are any amazing maternity / breastfeeding-friendly brands I may have missed and need to know and as always, if there is anything you'd like to see on here!
xoLiz