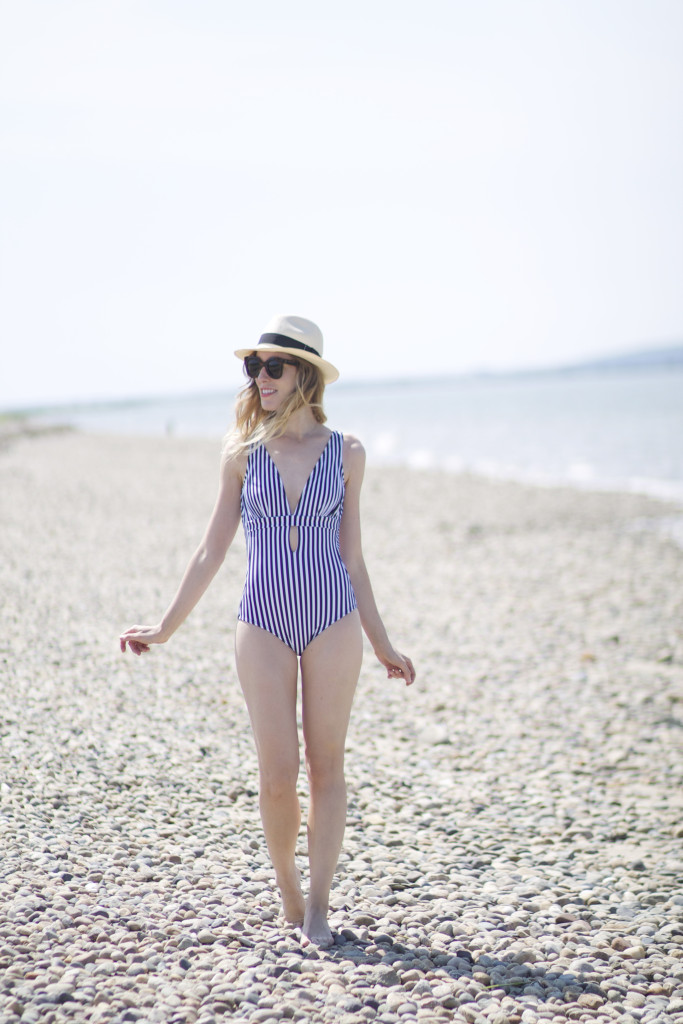 K. Belo swimsuit (c/o) // Celine sunglasses // Havaiana flip flops // Lands' End tote (c/o) // hat by the same manufacturer for J.Crew // Bare Minerals Complexion Rescue Tinted Hydrating Gel Cream with Broad Spectrum SPF 30 // Juva Skin & Laser Center paba-free oil-free sunblock

Last weekend I had a quick little getaway to both Duxbury Beach, on the South Shore of Boston near where my sister lives,  as well as Cape Cod, where I attended a wedding. These were my first beach trips this season and I felt like I needed to re-think packing.
There are kids on every inch of these beaches over the holiday weekend, so I wanted to go a bit more conservative with my swimwear. Duxbury beach is literally lined with SUV's along the water, with families unpacking their cars and setting up camp for the day. I watched my nephews hit each other with Nerf balls while I opted for a stroll on the rocky bay side of the beach.
I'm making the case for the one-piece swimsuit. It provides coverage where I don't feel like I'm baking in the sun. I recently had pre-cancerous moles removed, so being protected from the sun is my number one priority while at the beach nowadays—though looking good is a close second.
I'm also at the point where I feel like I've outgrown string bikinis. There's something about the beach where I can't sit still for more than a few minutes to read my book and need to either be in the water, walking, on a paddle board, boat, playing catch, or some other active thing, so they won't work anyway. I'll leave that to the sorority girls and swimsuit models. There's something so chic and sophisticated about a beautifully cut one-piece, don't you think?
Stay tuned for more sun-savvy posts coming soon…