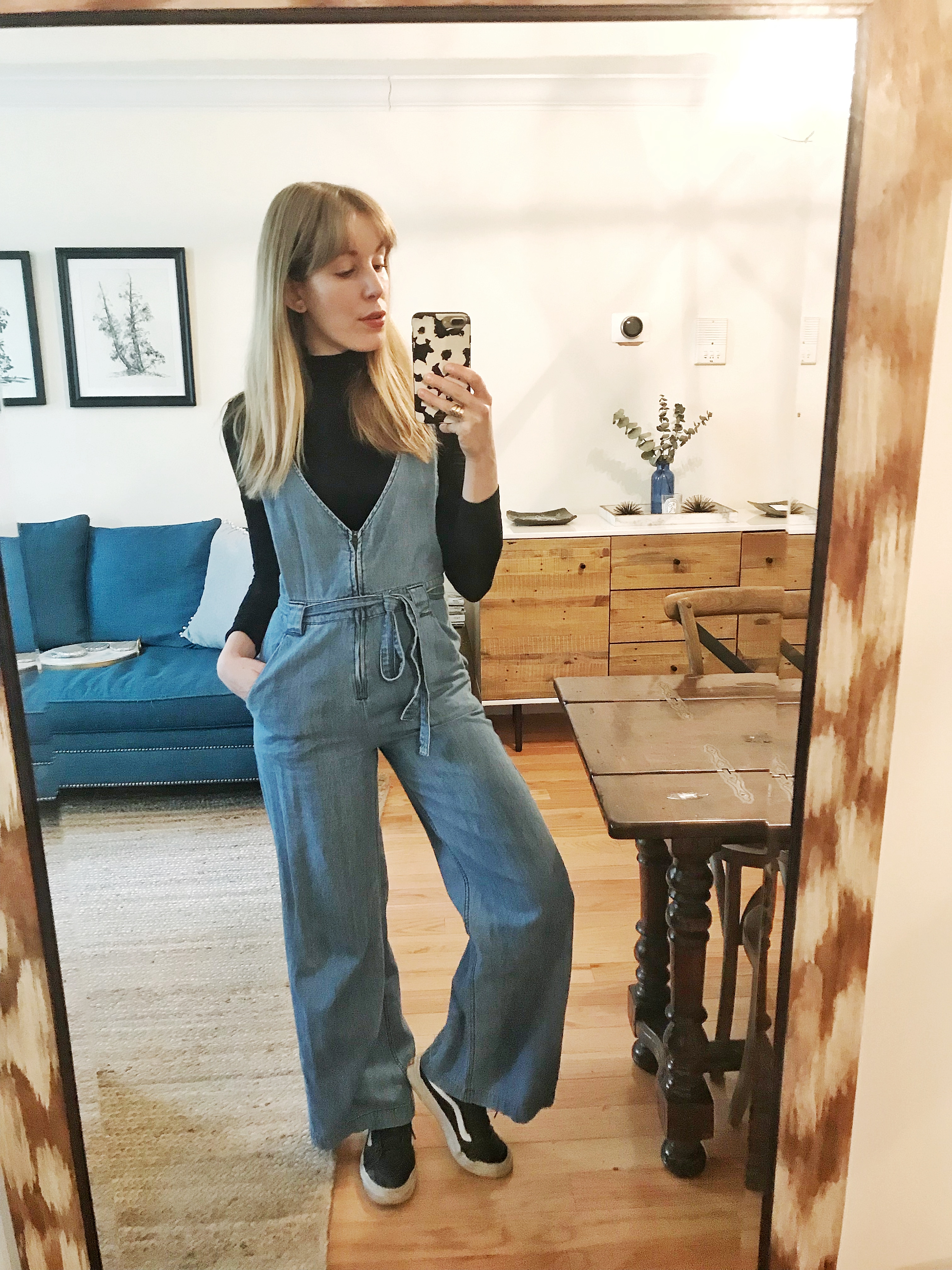 Jeans are just the easiest thing to throw on and look like you aren't wearing your pajamas. They go with everything. If you're lucky you can find a pair as comfortable as pajamas, but it's easy to fall into the habit of wearing them too much.
I've been guilty of this my whole life. When I was nominated for "best dressed" in school and didn't win, someone said to me well it's probably because you wear a lot of jeans and the other girl wore lots of skirts. People take notice of that apparently, but I still haven't been able to shake my denim habit after all these years.
When you're a mom and working a lot, not to mention dressing other people for a living, it's easy to get lazy when it comes to getting dressed in the morning. I had a few other busy moms ask me to post ideas on what to wear other than jeans (I'm not the only one!), which we all tend to resort to when all else fails. One mama suggested it would be a good challenge to feature outfits without jeans. Well, I'm a competitive person by nature and I accepted this challenge for one week. The #NOTmomjeans challenge was born and I decided to document how I went a week without jeans — here's what happened.
DAY 1
It was hard to part with my beloved denim, so I figured I'd start with baby steps: a hybrid of a denim jumpsuit and overalls. Hey, it's not exactly jeans (okay, I know it's not far off), but it's equally as easy and comfy. It's an added bonus that I can chase my active little guy in them. I paired it with a chic turtleneck and comfy plus trendy Vans.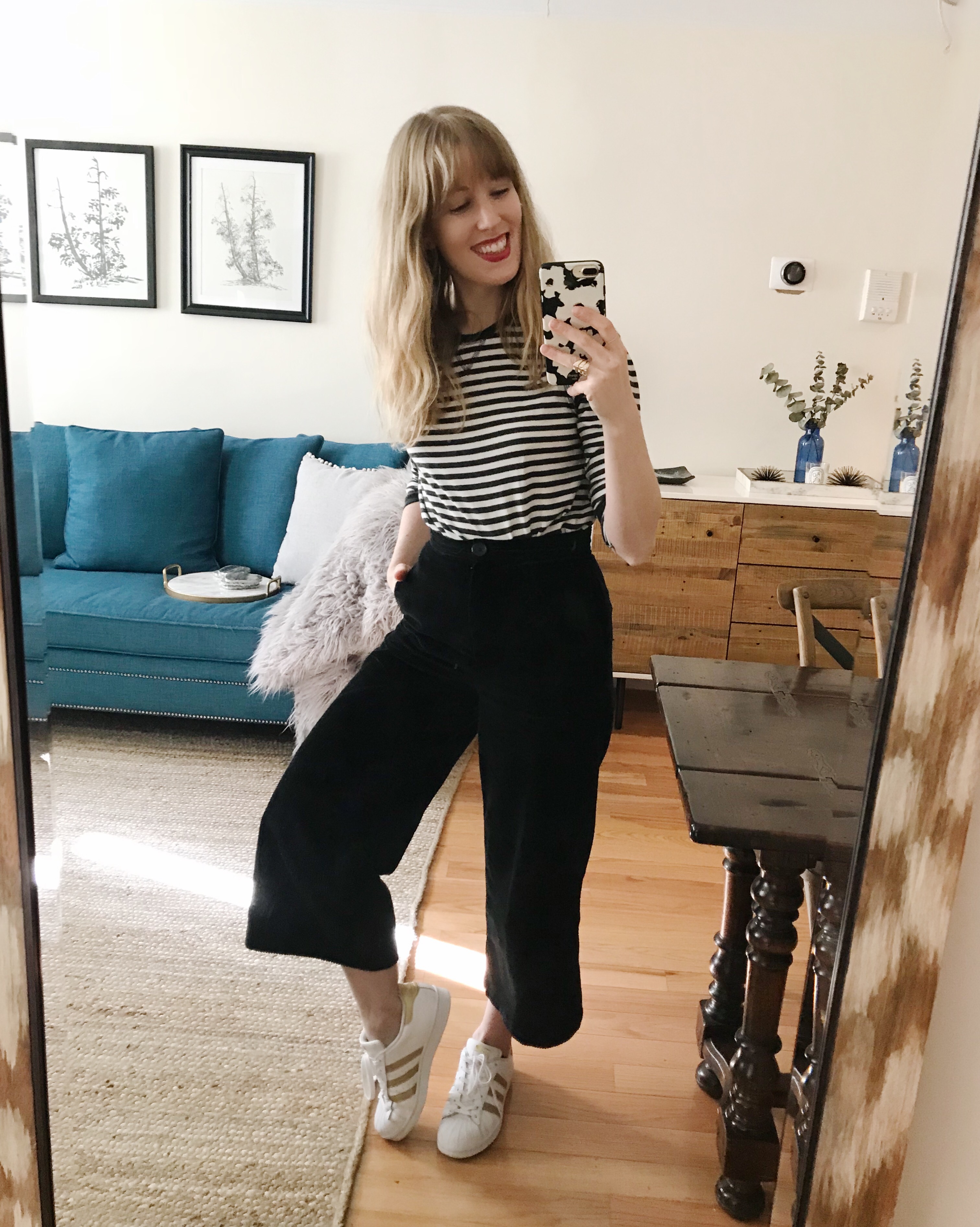 DAY 2
I started this challenge mid week when I was home with my baby, so I wanted to show you guys how I don't always dress fabulously when at home with a baby. I wore this when I took him to his play gym, sitting on the floor, chasing him while he's crawling everywhere. You can't see the texture on the iPhone snap, but I'm actually wearing high waisted corduroy culottes. It happened to be warmer that day so I was able to expose a little ankle with one of my favorite pairs of sneakers at the moment, but normally when it's cold I'll pair them with stylish socks peeking out of ankle boots. I tucked in a long sleeve striped shirt for an easy classic look.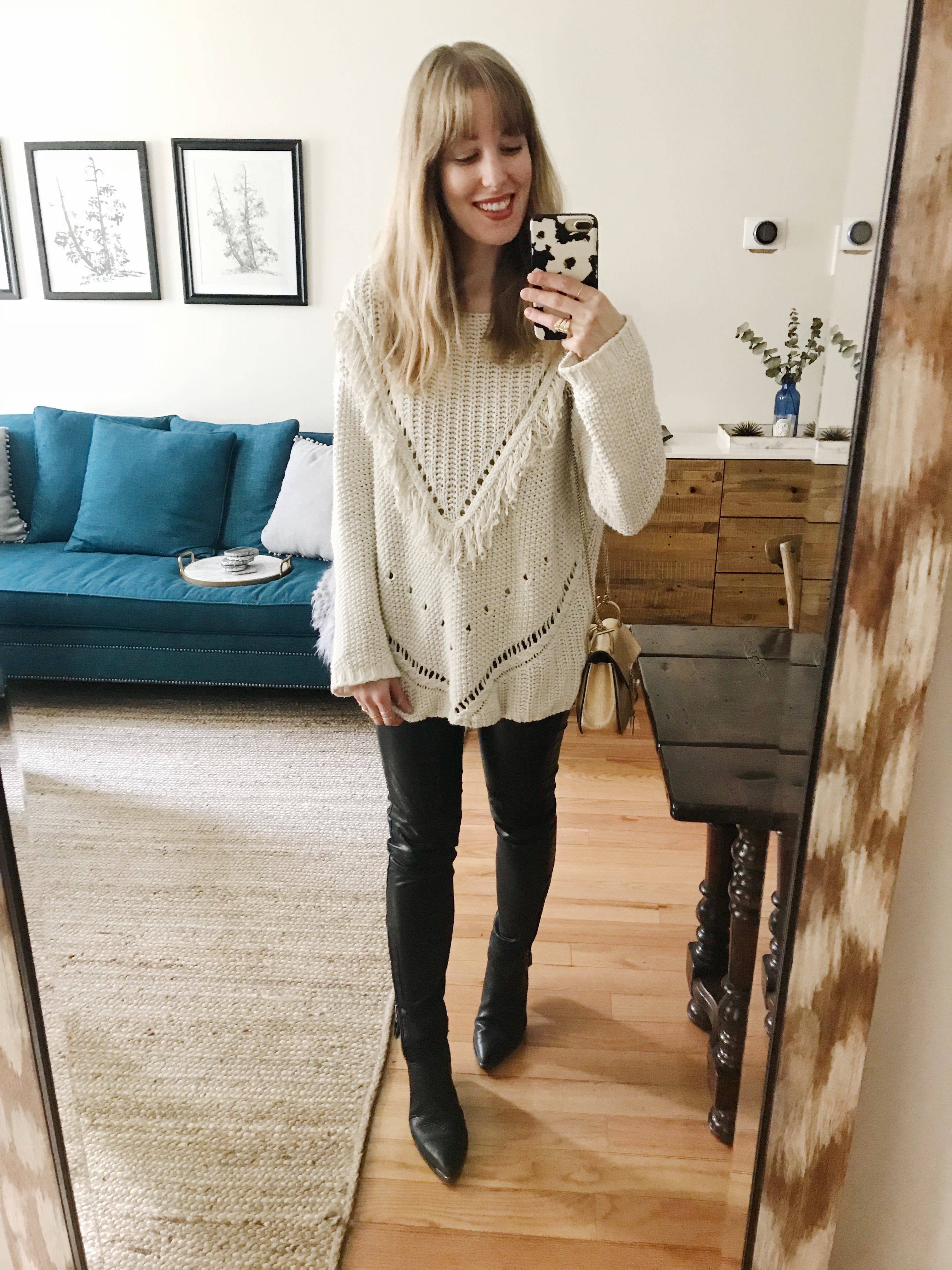 DAY 3
These pieces are all oldies but goodies that I still get compliments on after all these years, but I never thought to pair them all together until this challenge. Leather leggings always seem to be in style and faux leather leggings are an affordable and easy way to wear this look. I'm not a leggings person, as they just seem lazy to me (I know, I just finished saying that wearing jeans was but leggings seem so, for lack of a better term, basic). Leather leggings elevate a look. Bet you would never guess my sweater was from H&M! I found a similar sweater if you want to try this look out. The boots were one of my biggest splurges but I seriously wear them all of the time—even to the park with my baby—so it's worth every penny.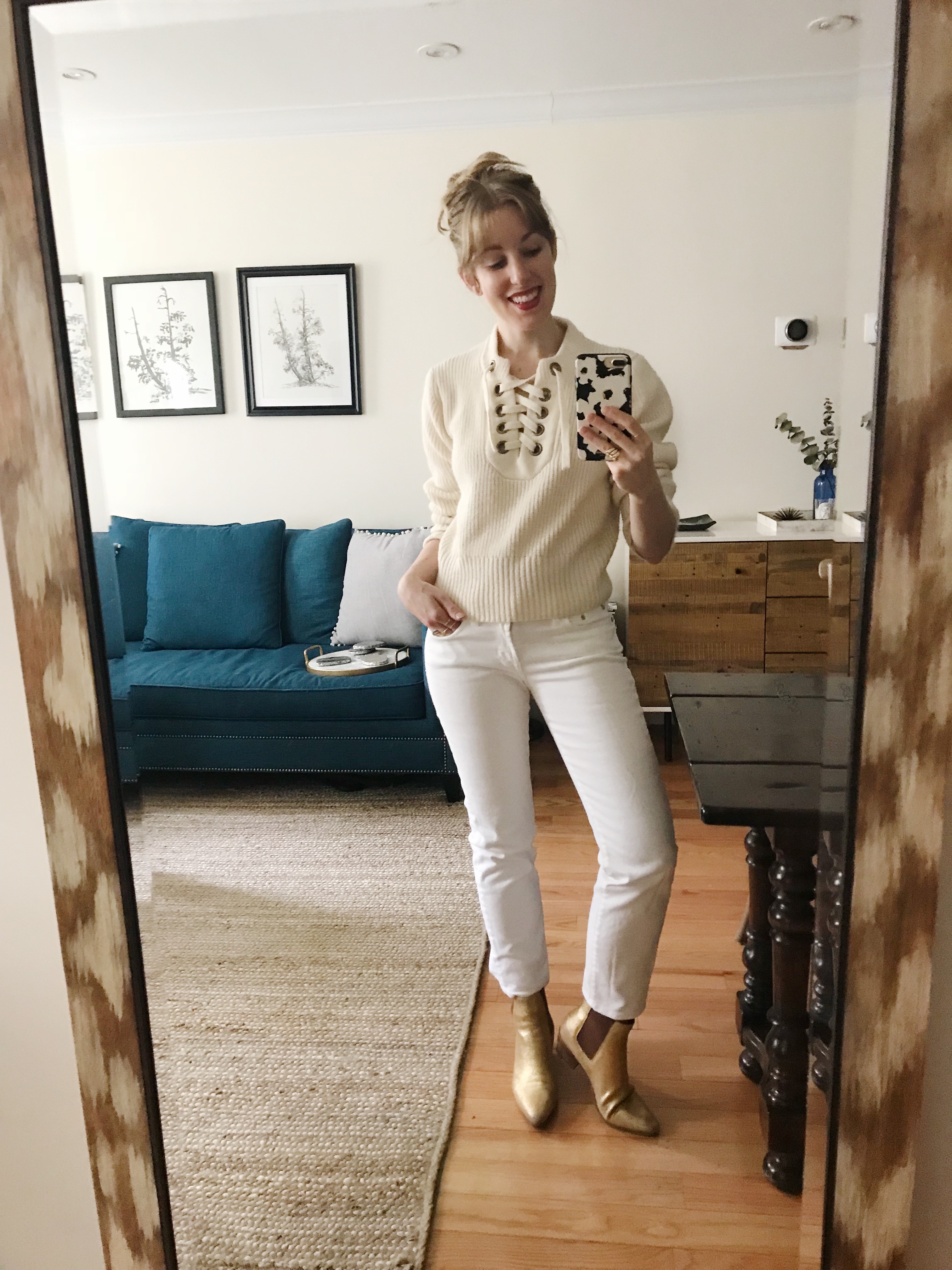 DAY 4
I think this was the day I started prepping for a shoot, so I got lazy again. I technically didn't wear blue jeans, but a small percentage of you on Instastories polled that white jeans were still jeans. Even if they are, I felt like I stepped out of my daily comfort zone and wore my white jeans in winter. I went for it. I styled them with a whole winter white look, complete with this lace up sweater and a pop of gold in my boots. I actually ordered another pair of white jeans because I loved how fresh this looked. I love this trendy pair and this pair that I can't wait to wear all summer too. I decided to pair with an unexpected gold boot to break up the white. My boots are from Saint Laurent, but I found a great pair of gold boots here if you're looking for an affordable pair.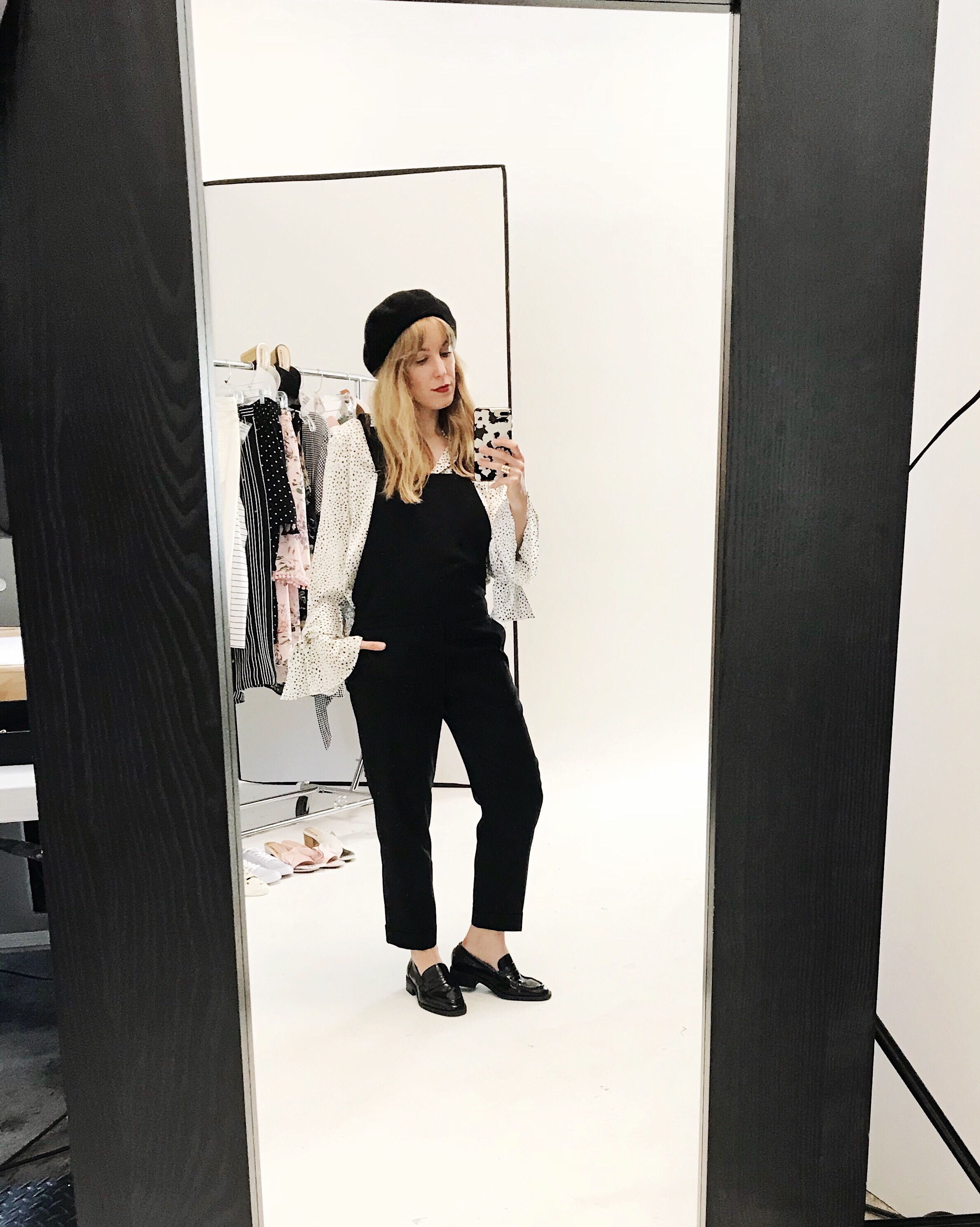 DAY 5
I was back on a photoshoot set on this day so I had to step it up a bit, but even when I'm working I still need my clothes to be comfortable and functional. As you know, I'm a fan of overalls and jumpsuits but sometimes they don't cut it for when you need to look polished and not like a kid in OshKosh. I got this polished jumpsuit/overalls from Club Monaco while shopping on a shoot and they've become one of my favorite pieces to wear to work. I found a similar black jumpsuit that you can wear on its own or layered like I did here. I got a ton of compliments on this look that day so in case you want to try this yourself, here's the top (on sale!), beret and loafers.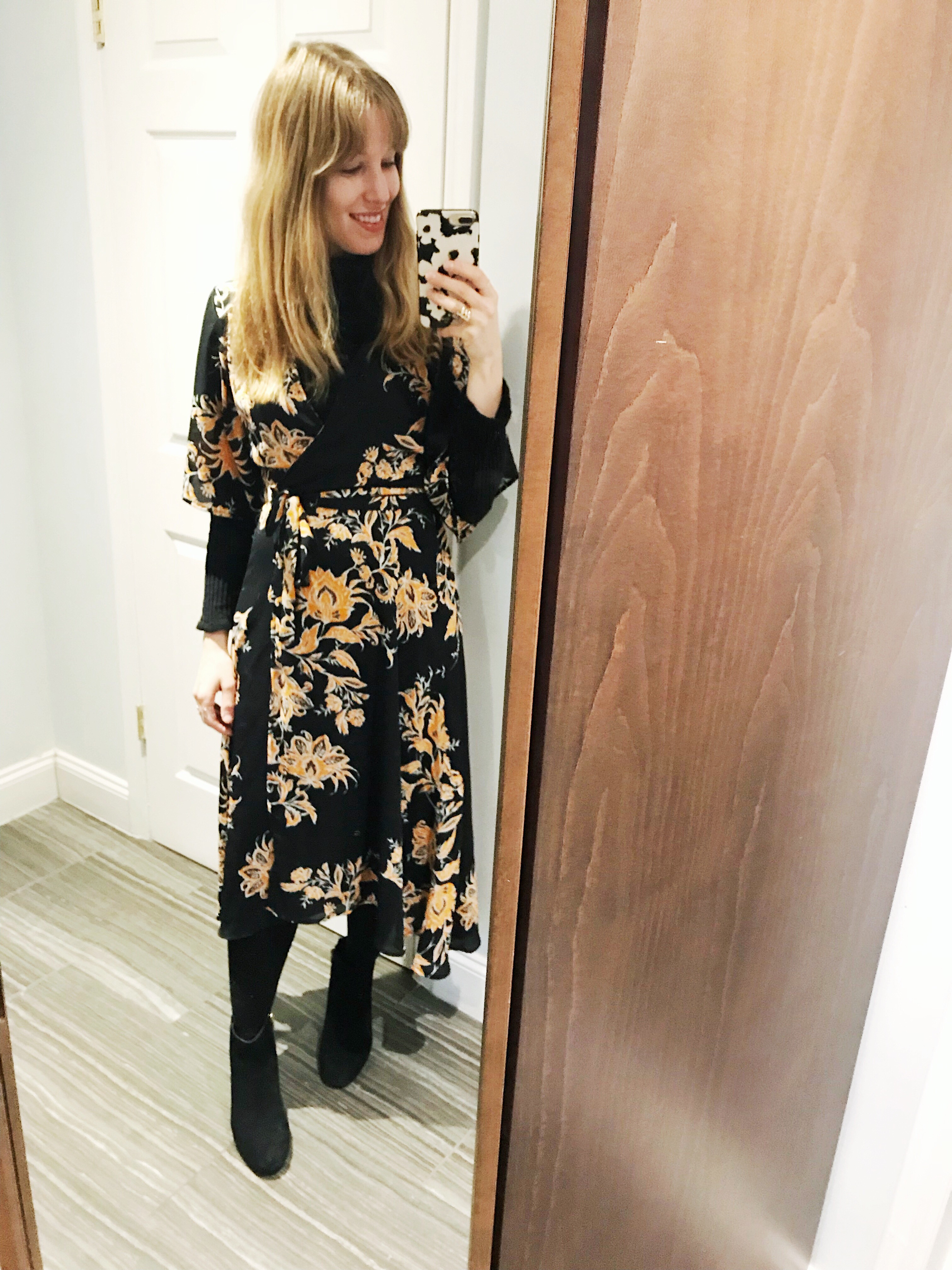 DAY 6
I nearly made it a week without jeans and decided to switch it up with a dress. It got pretty cold by then so I layered one of my favorite warm weather dresses OVER a wintery turtleneck dress, which is a great way to get more mileage out of your pieces you may have stored for the season. Add some heat tech tights to keep you warm and some comfy suede boots, and you'll forget that jeans ever existed.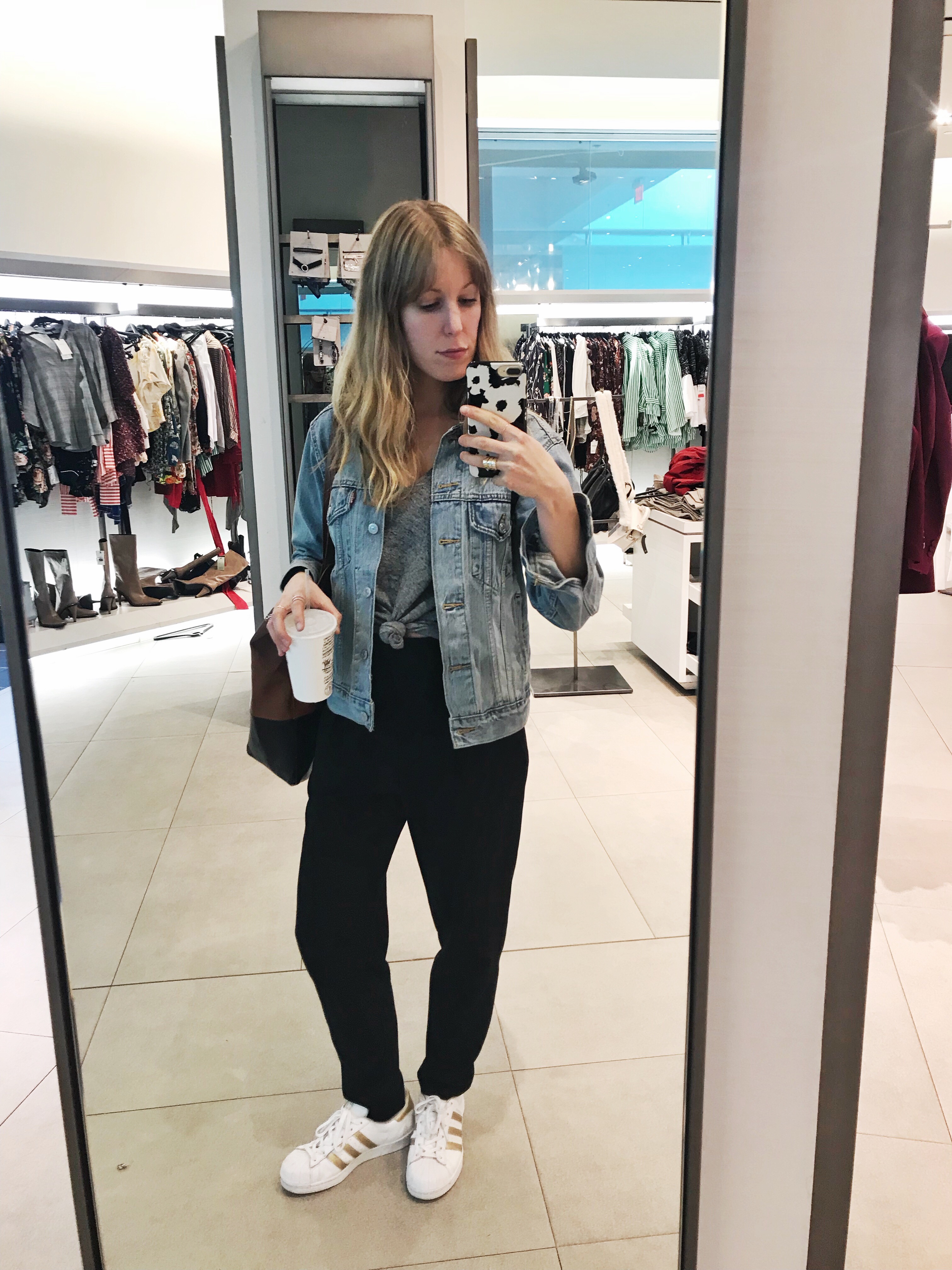 DAY 7
I was exhausted at this point between juggling 4 different styling projects in one week, but managed to somehow look put together without my beloved jeans while prepping for a shoot. These may be the most comfortable pants ever and you have no excuse not to wear nice pants when these exist! My sneakers, go-to Madewell tee tied up and a classic denim jacket made these polished pants look casual enough to run around all day, but maybe cool enough to maybe retire my mom jeans for a while. Maybe.
I'd love to see how you guys style your daily looks without jeans. Post your looks with #NOTmomjeans and tag me so I can share on Instastories how my readers are doing this challenge too.