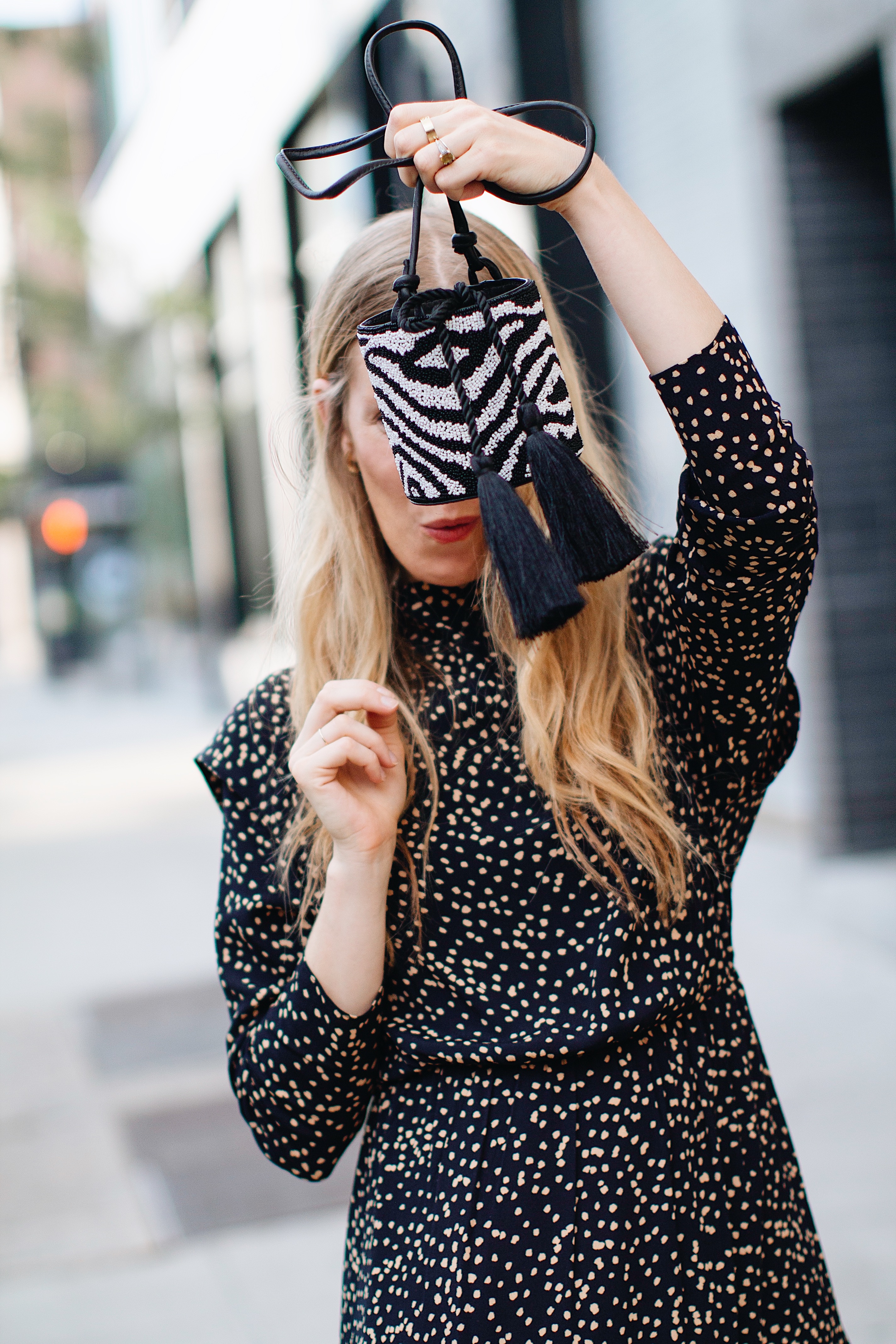 In the wake of everything going on in our country, and for that matter, the world lately, I'm so happy to see the trickle down effect of brands finally focusing on sustainability in fashion. Climate change marches are great, but we as consumers can make a difference every day by shopping sustainable fashion. It's likely a sign of the times that major retailers are going bankrupt, but the ones that are taking more conscious approach are prevailing.
According to Wikipedia, "the fashion industry is one of the major polluting industries in the world. The production and distribution of the crops, fibers, and garments used in fashion all contribute to differing forms of environmental pollution, including water, air, and soil pollution." Scary, right?
As a fashion stylist, it's always plagued me that I'm often helping brands sell their cheap made in China clothes that are going to end up in a landfill. As a blogger, I've even had to turn down partnerships because I'm trying to just say no to clothes that will fall apart after a season and also end up in a landfill. At the same time, I don't have the kind of life where I can afford a whole designer wardrobe.
Did you ever think what YOU wear can make a difference in the world? I think more people are starting to catch on. We're seeing fast fashion is starting to become less popular lately and more consumers are actually wanting to be more sustainable. Well, then why is it so difficult to know what fashion is or isn't doing good for the world?
I'm breaking down my favorite brands that you may not realize are actually sustainable and helping the world (some of which I'm wearing here)!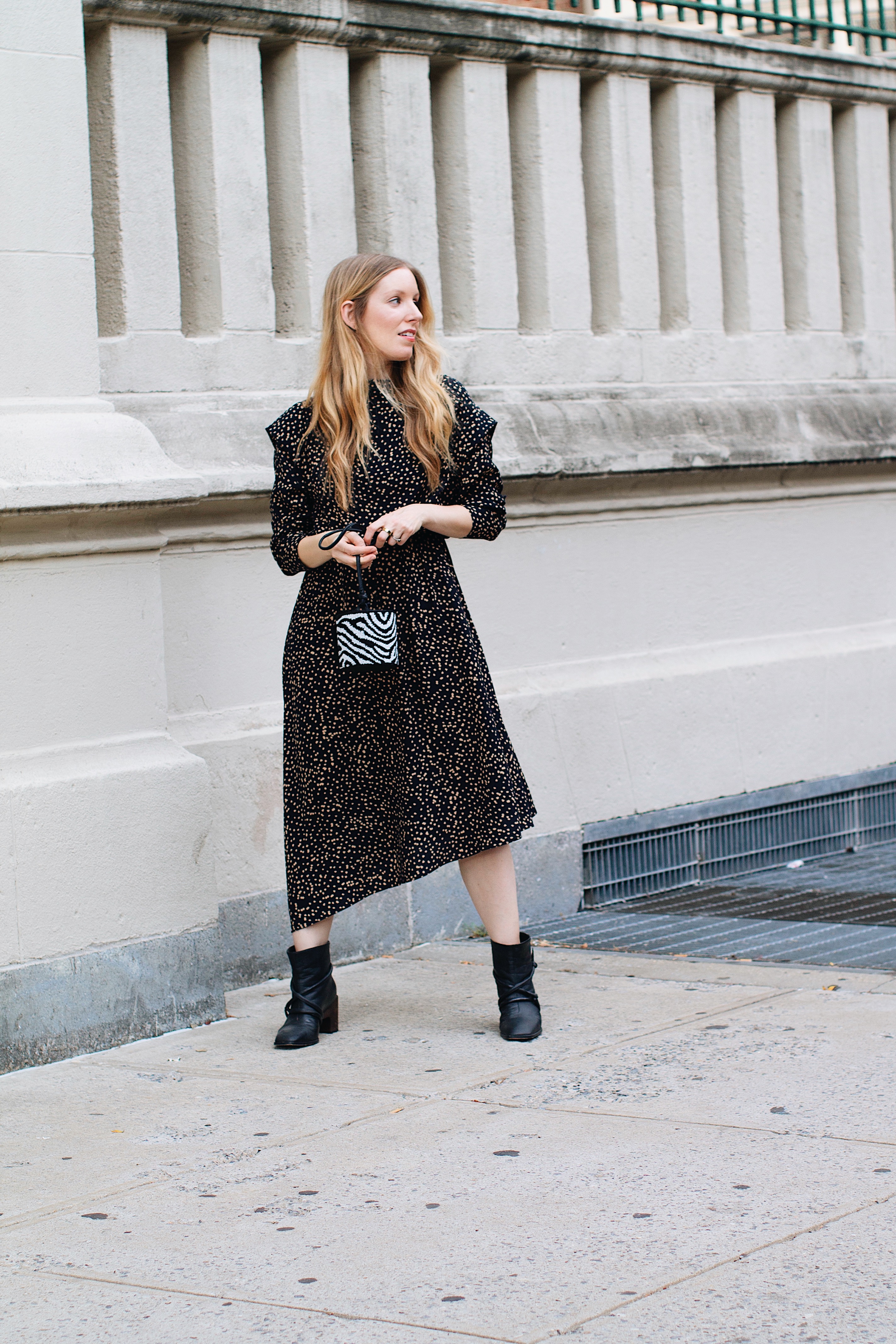 My favorite sustainable brands to shop:
H&M / & OTHER STORIES / COS
You may have seen my love for these brands on here and Instagram and thought, why is she wearing fast fashion when she's all about sustainability? The thing I love about these brands, especially & Other Stories, is that they offer a fabric recycling program. Did you know you can bring old garments in to recycle at any of their stores and get 10% off your purchase? They often use recycled fabrics in their clothing as well. & Other Stories designs pieces that are on trend yet timeless, so I can honestly say that everything I own from & Other Stories are still pieces I wear and have not gotten rid of. As they state on their site, "the H&M Group is working towards becoming climate positive across their entire value chain by 2030." H&M Group also just signed, along with other retailers, the New Plastics Economy Global Commitment, aiming to create a circular economy for plastics. I wish more major brands would take note of this and follow similar practices.
Not only are they the brand for cool girls (models I work with are constantly wearing Reformation!), but they're the brand for cool conscious people. When you order a garment on their site, they'll let you know how much water you saved by shopping with them—which is especially important when buying denim. According to Sustainable Fashion Matterz, it takes an average of 7,000 liters of water to produce one pair of jeans, That's about the amount of water you drink in 5-6 years!! 
They have high fiber standards in their materials, even before the garment is made, so that means contributing to less pollution and waste. I even own a coat from there made from vintage dead-stock material that was given a new life! About 2–5% of their clothes are made out of vintage clothing and can save more than 13,000 pounds of CO2 emissions a year. Now you'll feel cooler knowing you're helping the planet and also wearing some of the most effortlessly chic clothing. They even added plus size to their collection recently!
It's no secret that Rent The Runway Unlimited is one of my fashion best kept secrets and how I'm always so stylish on a budget! It's also how I  shop smarter and only invest in pieces I know I'm going to get a lot of wear out of. I can even purchase something I rented and know I need in my closet.
The average woman throws away about 82 pounds of clothing per year. Renting things you'd only wear a few times is a more sustainable answer. Not only am I saving my bank account (last year alone, I rented around $25k worth of clothing!!!), but I'm saving the planet because I'm shopping much less and contributing to less waste. They even use eco-friendly packaging and recycle their hangers/plastic.
It seems more people are catching on to this idea of renting your wardrobe and it's actually making a difference. My favorite little known fact is that RTR even has a sustainable designer section on their site that I try to rent from as often as possible!
Use my code RTRLTEICH for 40% off
One of my go-to sneakers lately has been by this brand. I recommend it to my styling clients who are looking for a great classic sneaker but don't want to splurge on designer ones. They're even my husband's favorite sneakers as well. The best part is that they're probably the most sustainable sneaker. According to Zappos, Veja uses "organic or recycled and fairly traded cotton for the canvas of the shoes and wild & fairly traded rubber for the soles. Recycled plastic bottles are also used to create technological fabrics." Veja uses vegetable-tanned leather, as most tanning of leathers uses heavy metals, generating high levels of pollution in the waters close to tanneries. It's an added bonus that their sneakers are seriously cool.
Maria Cornejo makes clothes for the minimalist lover and her popular silky dresses with innovative cuts and shapes have made her an indie star in the fashion world, with famous clients who are known to take fashion risks like Tilda Swinton, Cindy Sherman and First Lady Michelle Obama. Her efforts in sustainability is what won me over most. She's an original member of the CFDA Sustainability Committee and most recently launched an up-cycled capsule collection, which features repurposed car seat waste, partnering with car maker Hyundai. While it's a slow conversion to take a luxury brand and make it completely sustainable, according to The Cut, her brand's "current goal is to make sure 50 percent of its textiles are eco-friendly by 2020."
You may have seen that I basically only wear Reformation or Levi's most of the time for jeans and that's because jeans / denim are one of the biggest pollutants and uses the most water of any fashion product! Levi's has been coming up with innovations to use less water, using sustainable cotton, working often with recycled denim (and giving denim a new life with the Re/Done line), working with fabrics that are made from sustainably harvested wood, and using responsible down fill. They even have a Cotton's Blue Jeans Go Green™ program, an initiative dedicated to turning old denim into new insulation for homes and buildings. Bet you'll think twice before you buy your next pair of jeans. It also helps that Levi's makes the best cut high waisted jeans out there and most are under $100! The "wedgie" cut jeans is even usually part of my "momiform."
EVERLANE (SEE NOTE BELOW)*
Okay, I have to admit, I don't wear Everlane myself (though I have been meaning to—$100 cashmere sweaters, yes please!),  it's one of my favorites to shop for others. You can't go wrong with their classic staples and I know when I gift something from here, the receiver is going to love it. They design fashion that lasts and not what's trendy, and without retail mark ups. Also, according to Everlane's site, their denim factory is a "LEED-certified facility that recycles 98% of its water, relies on alternative energy sources, and repurposes byproducts to create premium jeans—minus the waste." They use solar energy and air dry the jeans, saving more energy than you can imagine. All of the factories they work with are ethical and have quality standards, so this is a brand you know you can get behind.
[UPDATE]
*I discovered the site Good On You, which rates brands for their sustainability and it only gave Everlane a score of 2 out 5 and that overall "Everlane is not taking adequate steps to manage water use in its supply chain." Good to know! I'm taking this with a grain of salt at the same time and totally support if you want to buy a cashmere sweater or two from them instead of fast fashion.
You may have heard me preach about this app, but Poshmark has really been a game-changer for me. It's how I find unique pieces for the whole family (lately cool vintage finds for my son!) and sell my once loved items on there as well. It's a great way to recycle fashion and keep the sustainability going.
Come follow me on there @lizteich and get $10 off your first purchase with the code "LIZTEICH"
Alternative Apparel has become the standard for blank tees and I'm so happy to see that because they focus on using organic cotton and recycled materials, low-impact dyes and water-conserving washes. They also use oxo-biodegradable mailer bags & have implemented a vendor recycling program. Approximately 1.8M plastic bottles recycled annually used in their Alternative Eco® fabrics as well. My husband's favorite tees are from this brand and I totally support that.
It's no wonder why this is one of the top selling shoe brands at the moment. The shoes are insanely comfortable, but they're also insanely sustainable. Allbirds shoe soles are made from sugarcane and its upper fabrics from either eucalyptus trees or naturally-made merino wool, making them eco-friendly. I bought a pair for my husband as slippers and they've held up when normally I have to replace his slippers almost yearly!
Just as we as consumers are demanding more sustainable actions, brands are beginning to notice. Sezane is one of those brands that has made recent changes and have a program to show it. Just as I couldn't love this cult favorite French line enough, I'm even more thrilled to support them because of their actions to revamp their denim production! They now produce all their denim with eco-responsible line certified GOTS and OEKO-TEX" materials, as well as organic cotton and using 50% less water used and 100% less chemical products (compared to traditional denim production), these are jeans I can get behind. Tres chic! 
This brand is new to me, but one of you sent it to me on Instagram as a favorite sustainable brand and I think I'm in love (or amour).
Their clothing is affordable, yet 97% made in California, which means more sustainable practices and less pollution (we have higher standards than say, Asia).  They use the most sustainable fibers including TENCEL Modal, Lyocell, certified silk, hemp, ethical wool, and organic cotton.
Not only is their process of making clothing sustainable, but they're giving back in sustainable ways. For every tee you buy, they plant a tree, in collaboration American Forests®.
While they aren't 100% sustainable yet, they have been taking so many actions that I'm thrilled to support this brand. They're shifting towards more sustainable fabrics and other conscious efforts. They even started a peer-to-peer archive resale site called M.M. LaFleur Second Act where you can buy / sell pre-loved M.M. to give garments a longer life!
(use code THENEWYORKSTYLIST20 for 20% off)
THE NEW YORK STYLIST'S FAVORITE SUSTAINABLE BRANDS/RETAILERS TO SHOP
WOMEN:
& OTHER STORIES  (Search for "Conscious") 
COS (Search for "Conscious")
GOLDIE TEES (use code TEICH15 for 15% off)
H&M (Search for "Conscious")
MISHA NONOO (LIZ25 for $25 off one full priced item)
M.M.LAFLEUR (use code THENEWYORKSTYLIST20 for 20% off)
NOTHING FITS BUT (use code LIZ10 for 10% off)
VAGAMUNDO (use code LIZ15 for 15% off)
ATHLEISURE / ACTIVE:
COZY EARTH (use code CE-NYLIZ for 40% off)
MODIBODI (use code LIZ15 for 15% off period/postpartum underwear)
NAP LOUNGEWEAR (use code LIZ20OFF for 20% off)
PRINT FRESH (use code THENEWYORKSTYLIST for 15% off)
SHOES: 
JEWELRY: 
KIDS:
EVENING STAR BABY (use code LIZ15 for 15% off)
H&M (Search for "Conscious")
NOTHING FITS BUT (LIZ10 for 10% off)
PIP PEA POP (LIZ15 for 15% off)
ROMP & TUMBLE (use code NEWYORKSTYLIST for 20% off the first month of baby/toddler clothing rental)
SUSTAINABLE STYLIST TIPS:
-When shopping look for fabrics like:
TENCEL Modal or Lyocell
certified silk
hemp
ethical wool
alpaca
viscose/rayon (which may be up for controversy)
organic cotton
linen
ECONYL® regenerated nylon
 recycled/up-cycled/deadstock/vintage fabrics

-Be a more conscious consumer and check the rating of a brand on Good On You before buying
-Ask yourself before purchasing, is this something I can see myself wearing for years to come?
-Consider buying second hand from *local* second hand shops and retailers like eBay, Poshmark, Vestaire Collective, The Real Real and also renting from sites like Wardrobe, Tulerie, Rent The Runway and Romp + Tumble (for kids). 
-Oh, and hire a stylist to get the most out of your existing wardrobe and shop for the right things.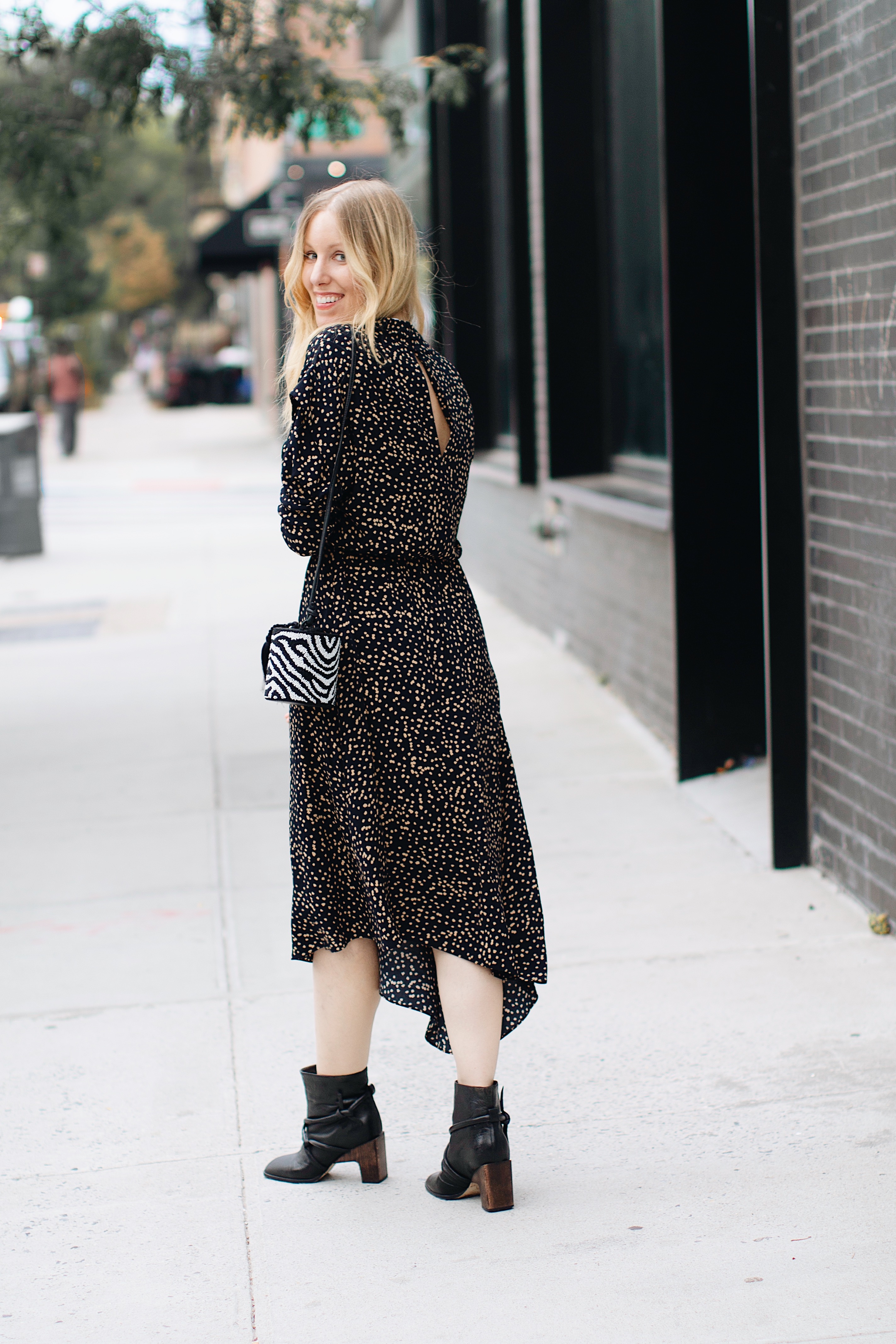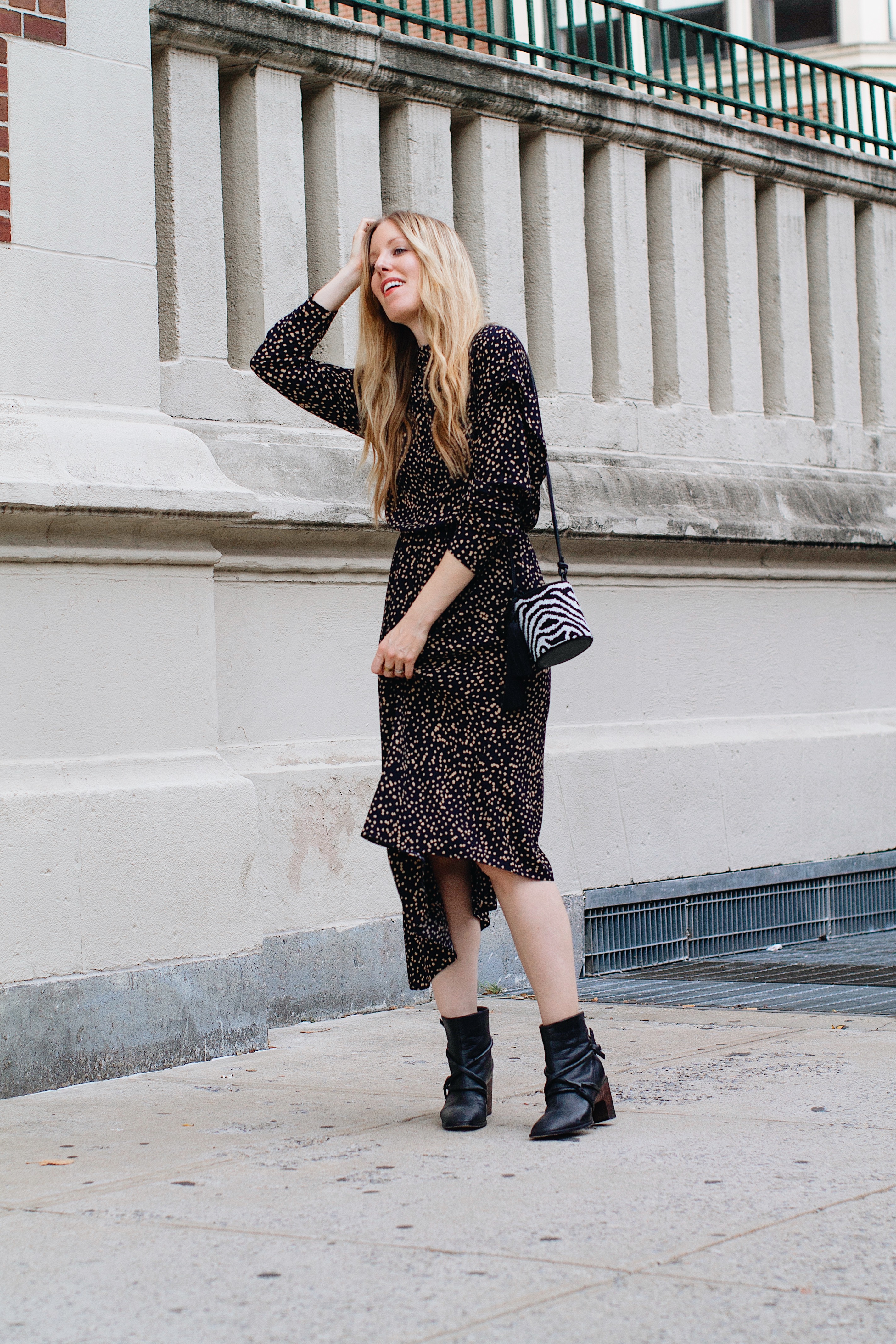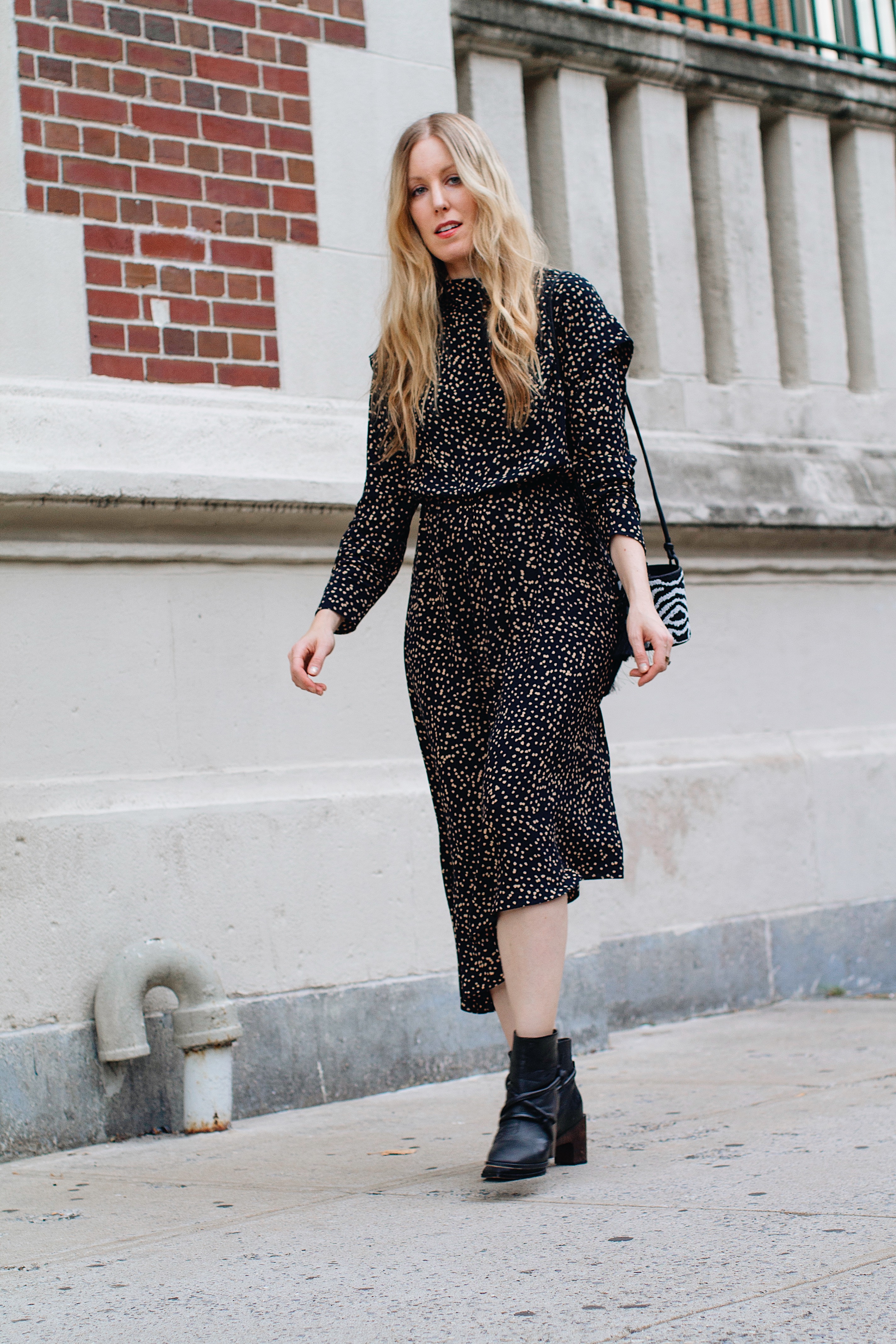 DRESS: & Other Stories (c/o) | BAG: & Other Stories (c/o) | BOOTS: Zero Maria Cornejo (similar)
*SUSTAINABLY* SHOP THIS POST 
I'm hoping in the next few years, sustainable fashion is not just a movement, but becomes the new standard of fashion, making it affordable and accessible to all. Let's join together and be more conscious with our shopping to drive the industry in that direction.
Please let me know what your favorite sustainable brands are and I'd love to add them to this list!